Looking for a super simple and easy side dish? I know I personally have been looking for easy recipes–the easier the better to be honest! Today I've got a simple and delicious BLT Pasta Salad that you likely already have all the ingredients for.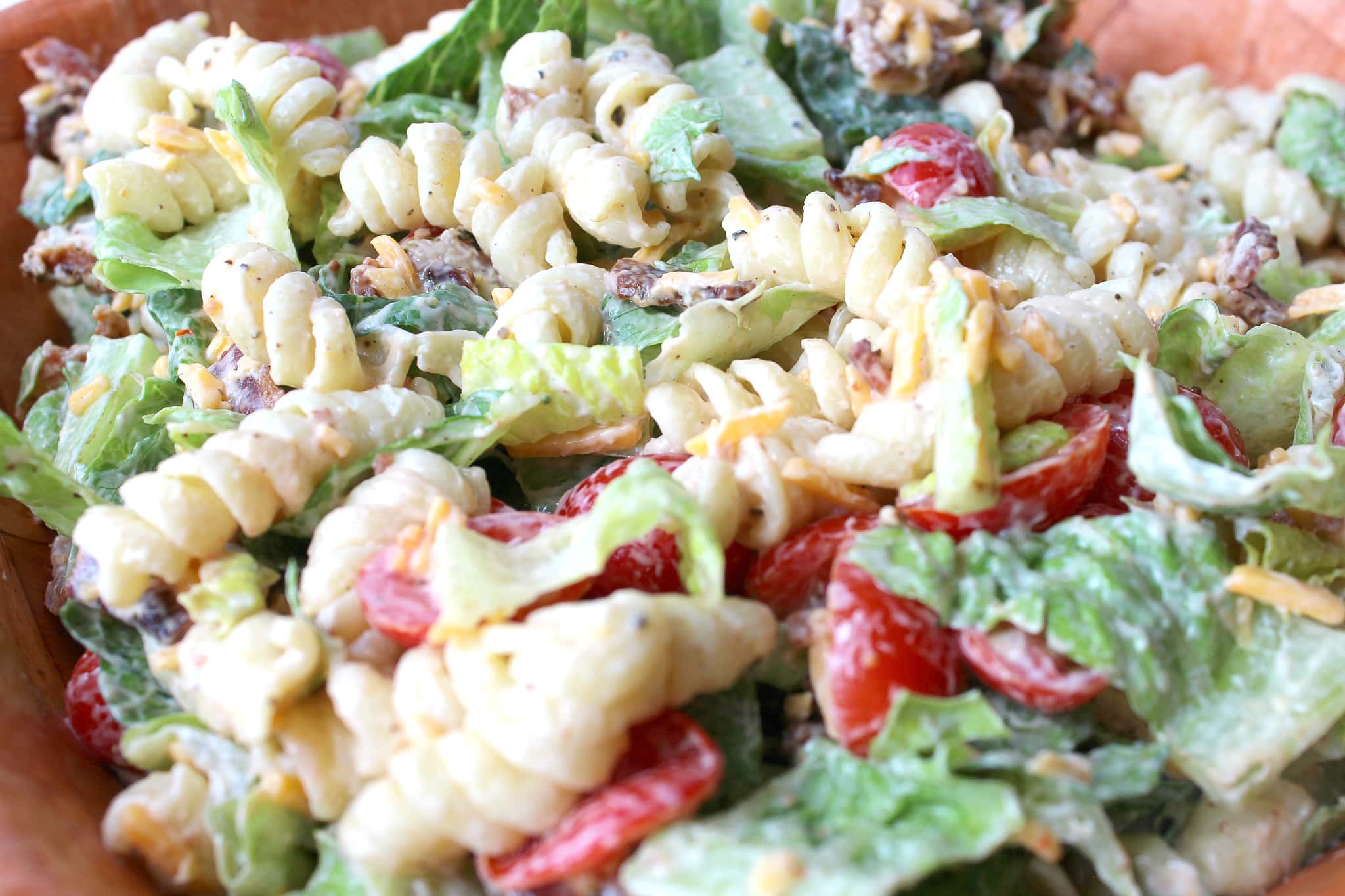 Lately I have had a love hate relationship with cooking. Some days I am eager to try new things or an old classic dish, other days I am over food and eating and anything associated with it! It's been a wild ride, especially being on lockdown and not going out to restaurants nearly as often as we used to.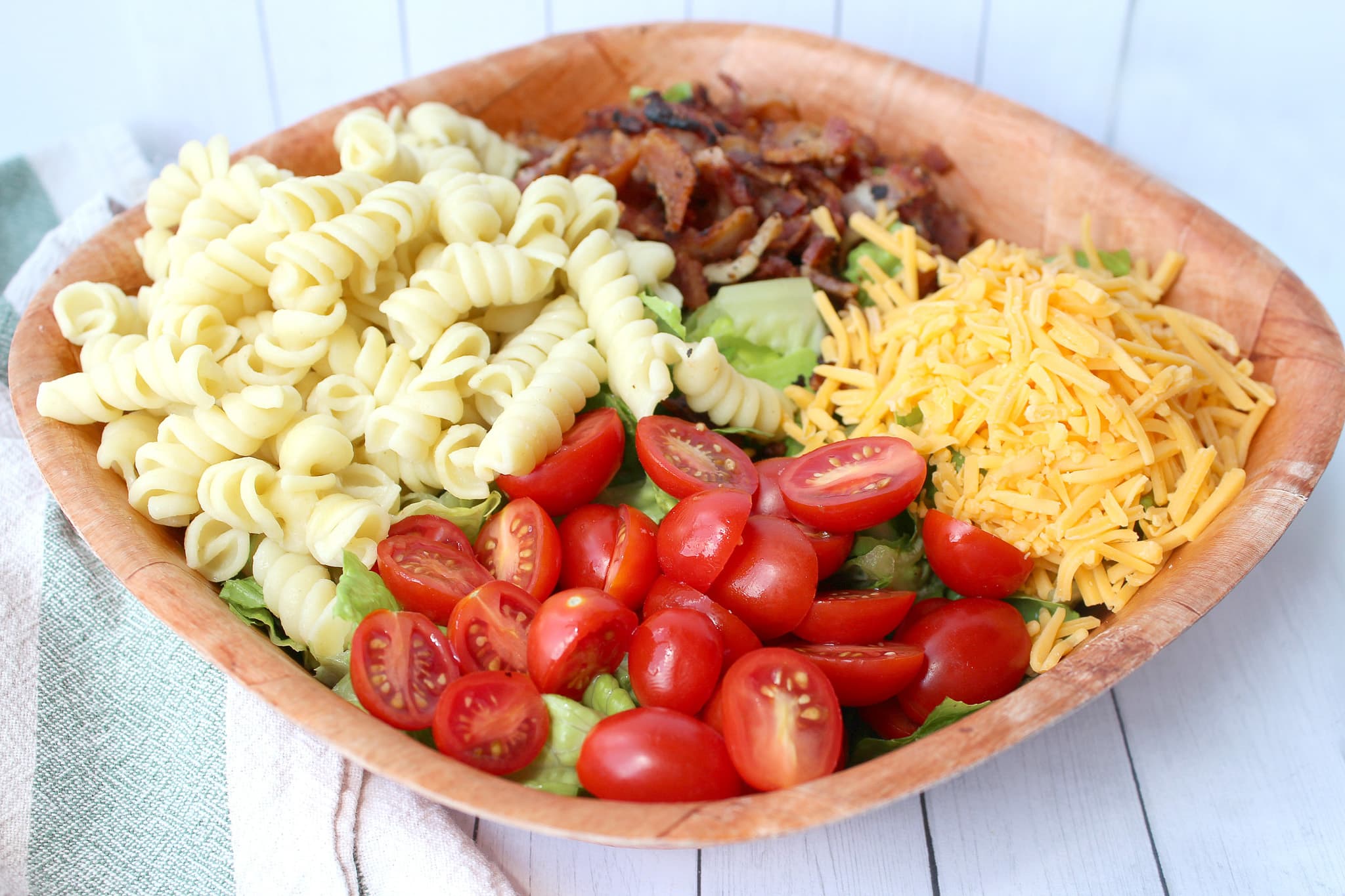 I particularly like this side dish for the meats that may not have any gravy. So this would be perfect on the side of fried chicken, BBQ chicken, flank steak and so much more. It is light and super easy to add to any dish. Plus the best part for me is that you don't have to use the stove! It can be such a relief, especially in the summer to cook without fire.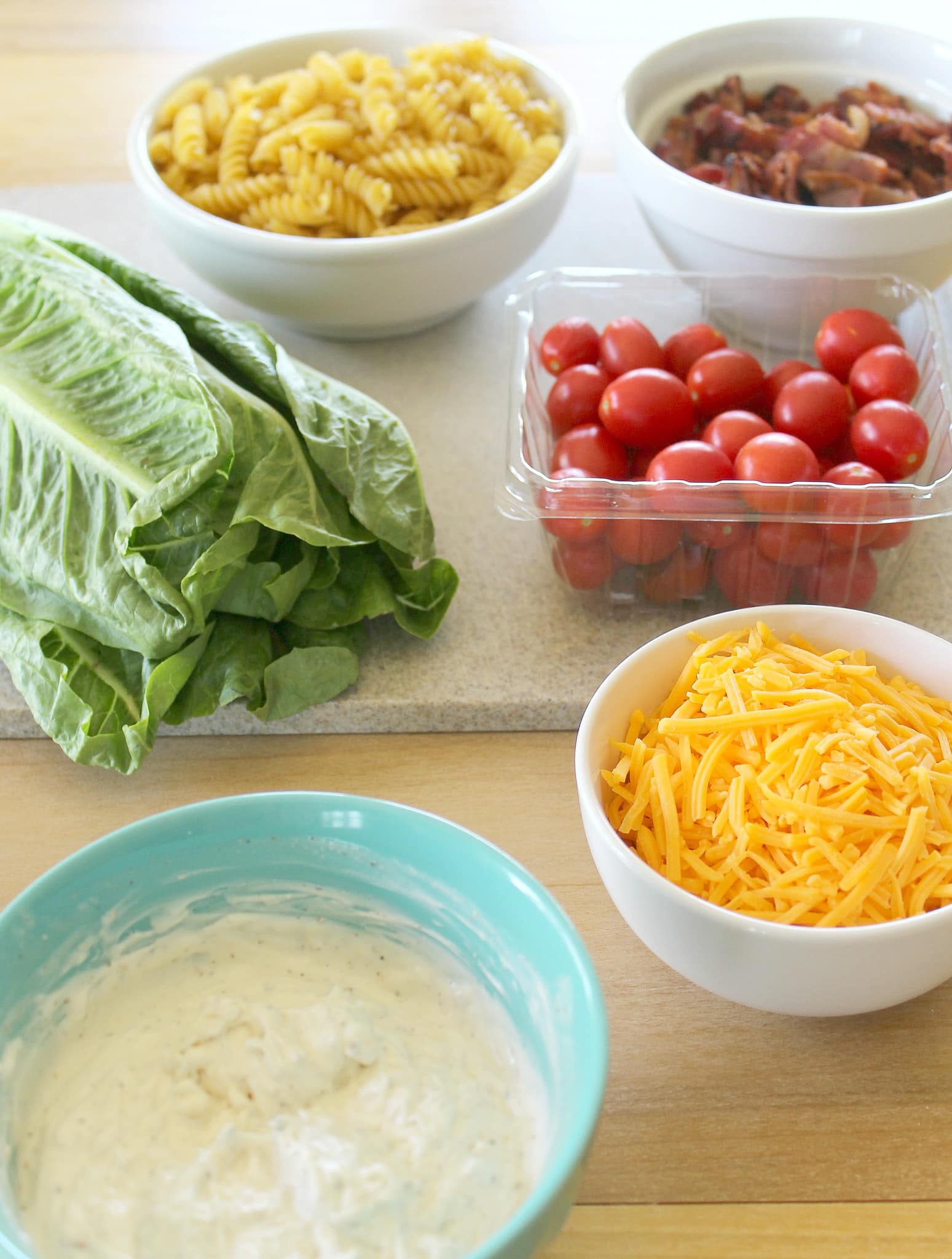 The ingredients for this simple salad require bacon, sour cream, mayo, lettuce, tomato, milk, rotini pasta, cheese and seasonings. It's important to note that bacon bits should not be used for this recipe, you will need to cook a few pieces of bacon for the best flavor.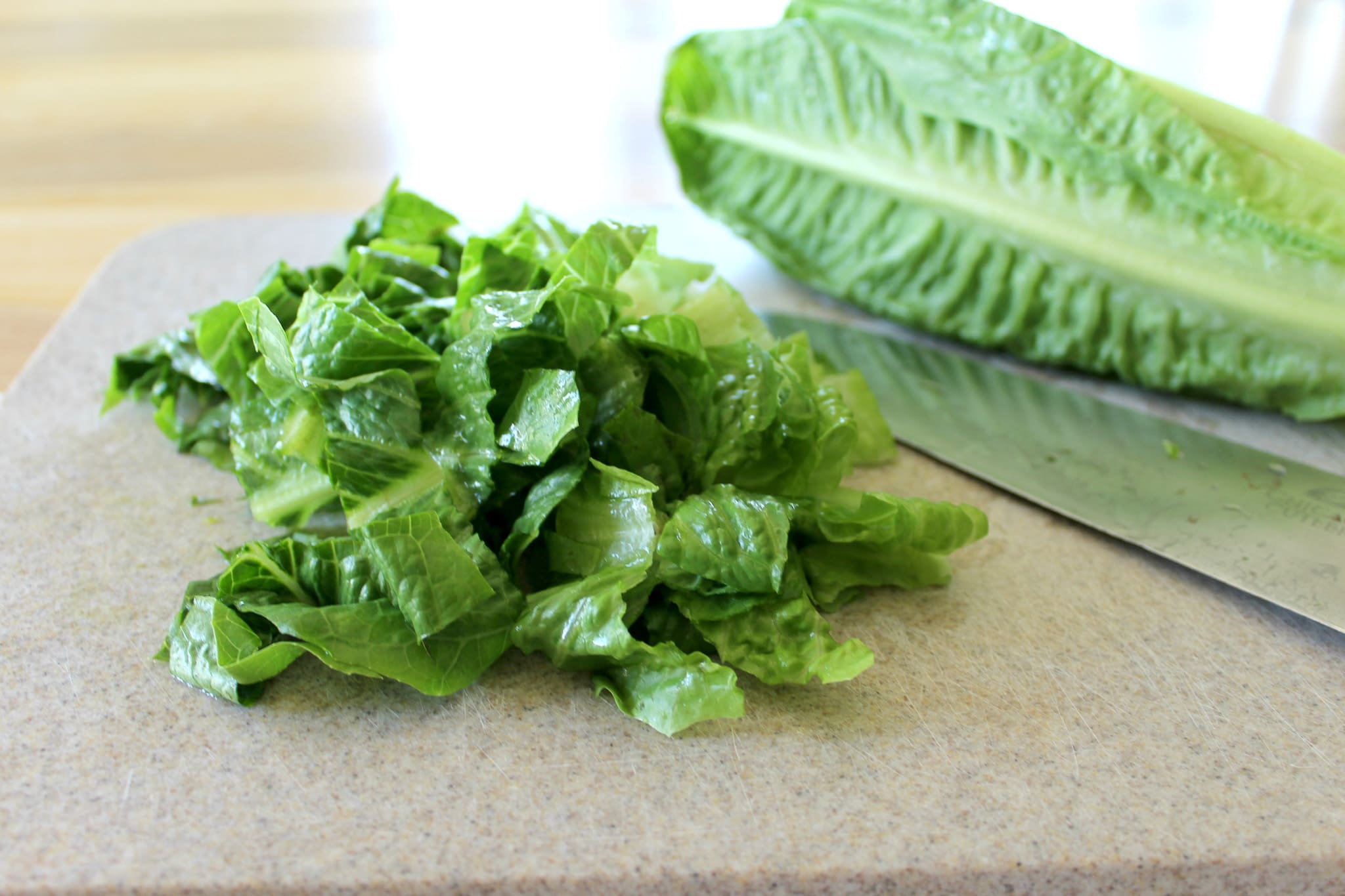 I have used this recipe MANY times and with different types of pasta. My other alternate favorite pasta to use is bowtie, because let's be honest it's the prettiest type of pasta!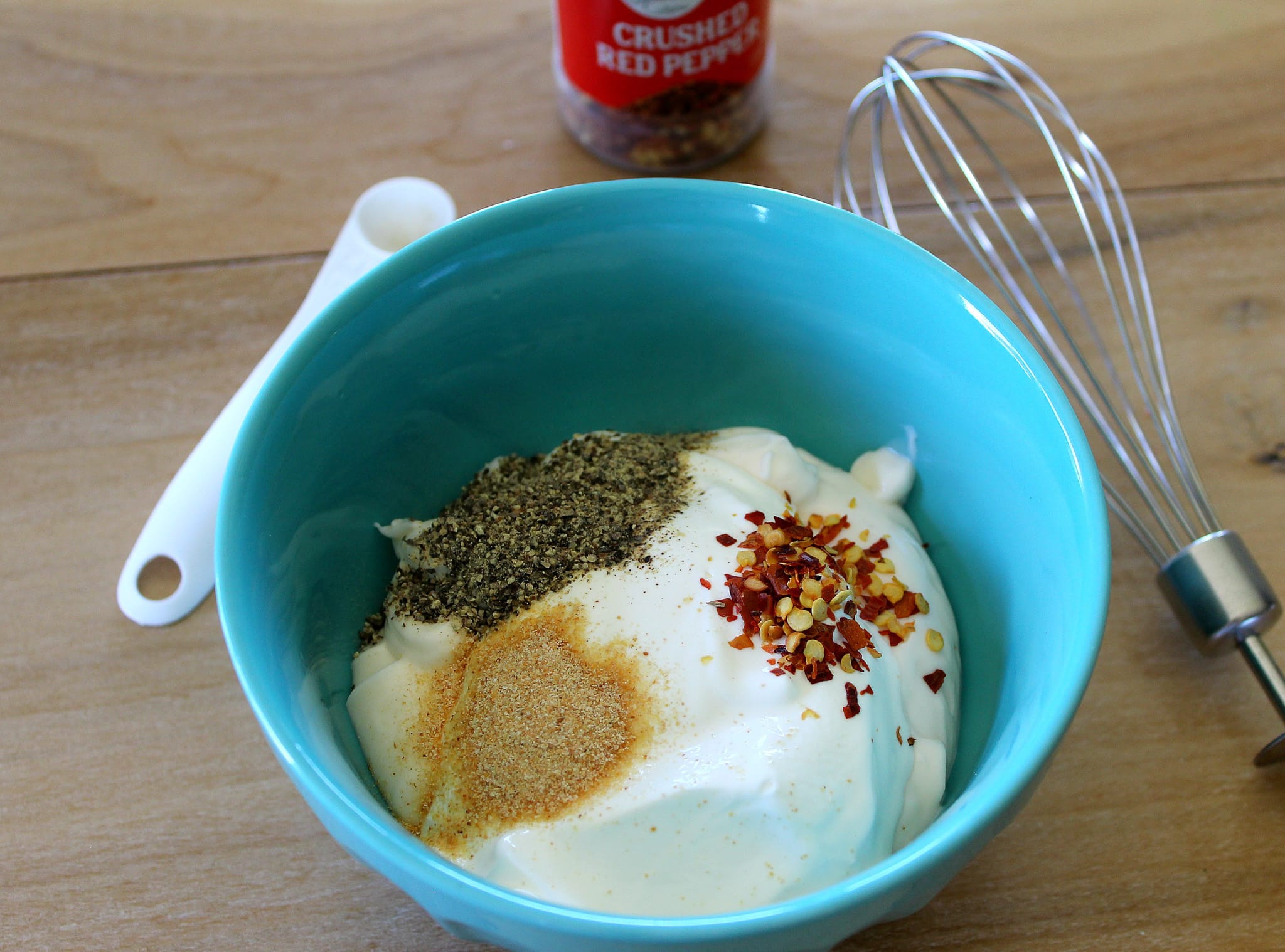 Included for you is a fantastic dressing that brings together all of the salad elements perfectly!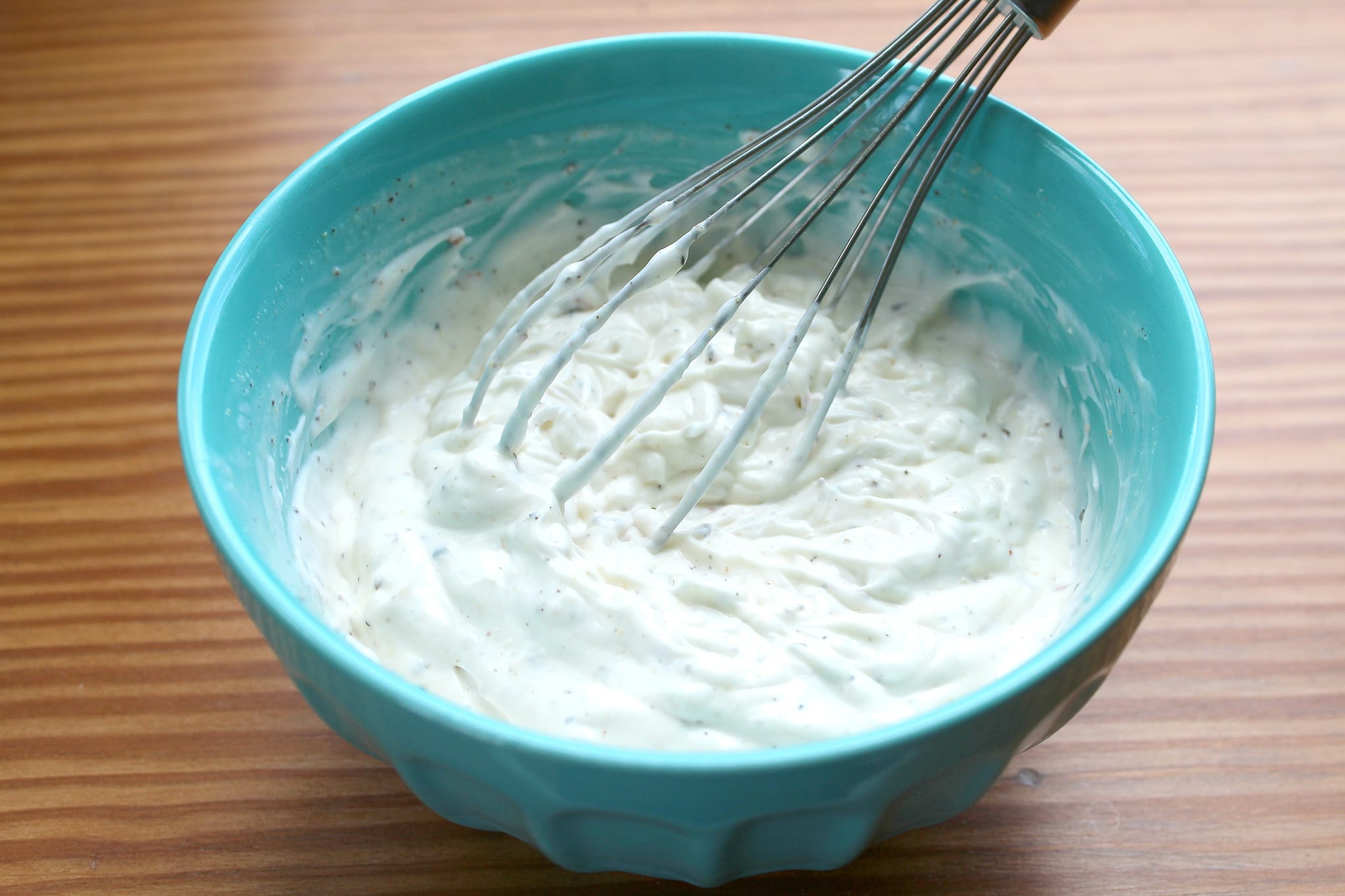 Here is the recipe, enjoy!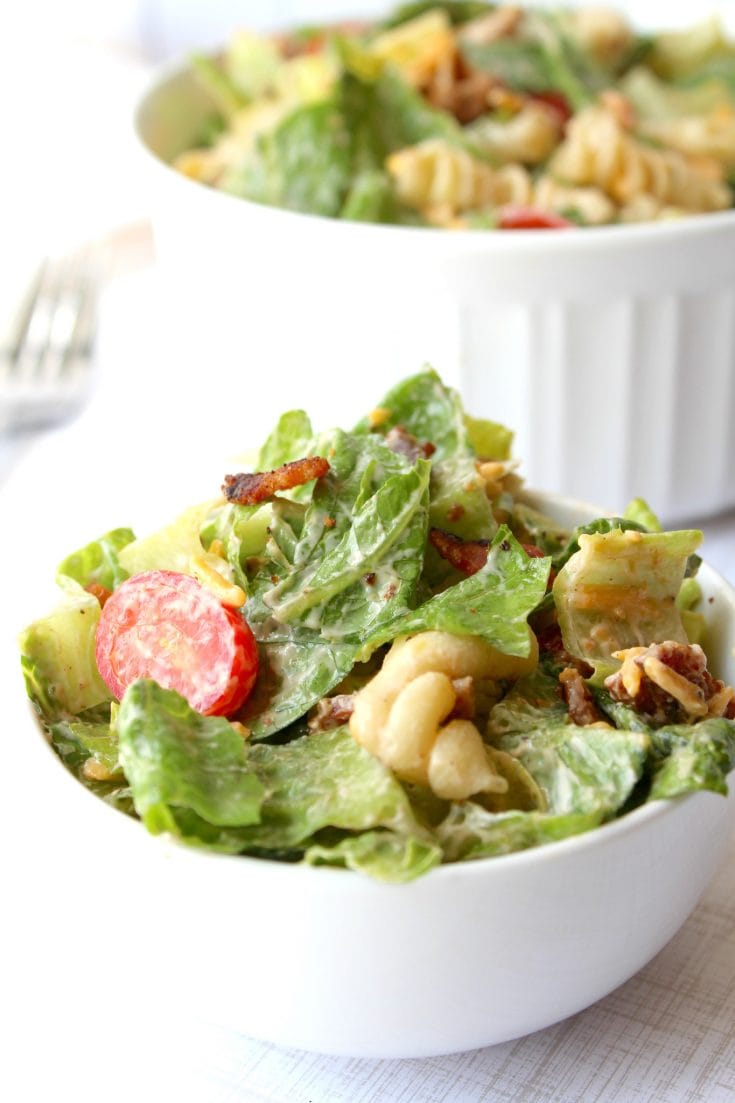 Yield:

8-10 servings
BLT Pasta Salad
This BLT Pasta includes all your favorites: Crunchy bacon, Crisp lettuce, tomatoes, pasta, shredded cheese and a delicious homemade dressing!
Ingredients
Salad:
8 oz rotini pasta
3-4 cups chopped romaine lettuce or about 2 romaine hearts
1 pint grape tomatoes — cut in halves
1 ½ cup shredded cheddar cheese
1 ½ cup bacon bits or pieces – not canned bacon bits
Homemade Dressing:
¾ cup mayo
¼ cup sour cream
1 Tbsp. milk
½ teaspoon pepper
1/4 teaspoon salt
¼ teaspoon garlic powder
¼ teaspoon crushed red pepper — This is optional but gives it a nice little kick
Instructions
Start with the dressing, by stirring together sour cream, mayo, milk, pepper, salt, garlic powder and crushed red pepper. Whisk until smooth and well mixed
Cook pasta according to package instructions. When al-dente drain and transfer to a large bowl.
To your pasta bowl add in chopped lettuce, tomatoes, shredded cheese, bacon and your dressing.
Toss all ingredients until they are well combined.
Chill in the fridge if you like it cold like I do or you can serve immediately.