This tomato cucumber greek pasta salad is perfect for parties or just a nice side salad. Featuring fresh vegetables, bowtie pasta and more fresh ingredients, this dish is so good!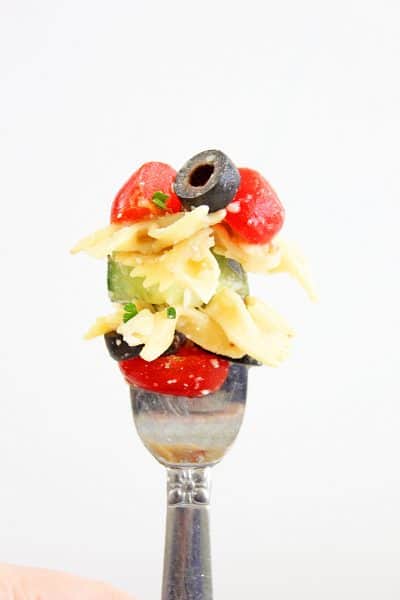 One thing I love about the summer is the awesome summer foods. Although I am a strong believer that you can eat ANY food year-round…something makes seasonal foods more special when you have them during the "special" season. Today I have a pretty amazing Tomato Cucumber Greek Pasta Salad that is perfect for any summer soiree (or any time you are in the mood for pasta salad!)
Side dishes, and especially cool, refreshing salads, have become as much a part of summer picnics as sandwiches and chips. Many picnic guests would gladly make their entire meal from nothing but these tasty treats, and in hot weather, nothing is more refreshing. There are some old favorites that consistently show up at the family picnic, and others that have been included through the years.
Best Salad Ideas For Summer Picnics
Potato Salad: The old favorite potato salad is one dish that everyone looks for. There are variations on this standby salad. Made basically with potatoes, hard boiled eggs, onion, celery, and a sauce made from mayonnaise, mustard and milk, it can also include green and red peppers, olives, and even hot peppers. Some varieties are made with red potatoes, with a slightly sour vinegar base.
Pasta salad: These include a variety of different kinds of pasta and ingredients, which are determined by personal taste. Whatever vegetables go into the salad, they are refreshing.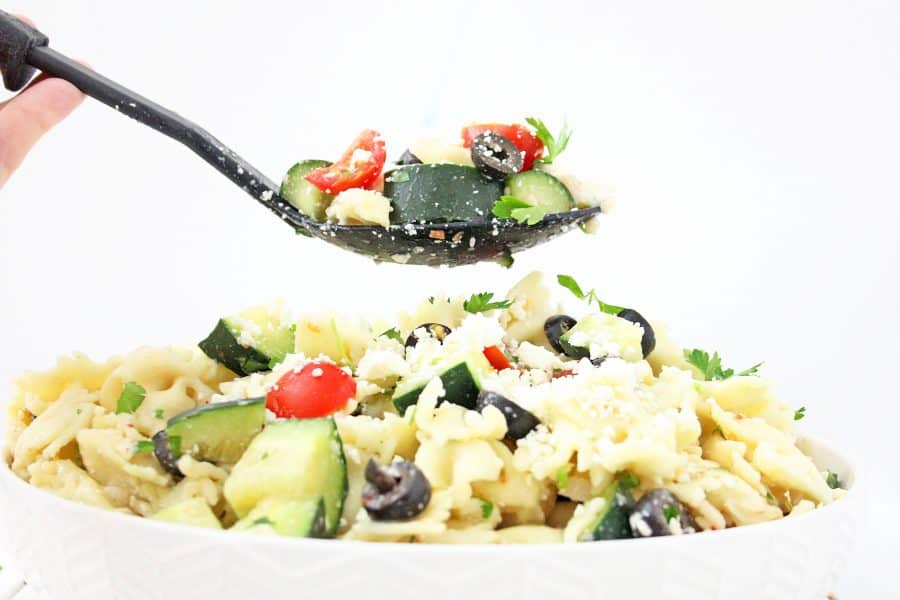 Taco salads: These have been around for some time, and are a favorite of anyone who likes a little spice in their salad. Made similar to a tossed salad, they may include beans, corn, tomatoes, peppers and onions, and the dressing involves salsa, shredded cheese and taco chips. Corn is a summer staple that can also be used to make a corn, tomato and avocado salad that is refreshing.
Fruit Salads: Fruit shouldn't be overlooked at the family picnic, and fruit salads are not only easy to prepare, they are cool and delicious. A watermelon, cut in two and carved out makes the perfect bowl for a mixture of watermelon balls, strawberries, apples, mandarin oranges, blueberries or raspberries, and some chunks of pineapple. Here is a recipe for a favorite old fashioned fruit salad.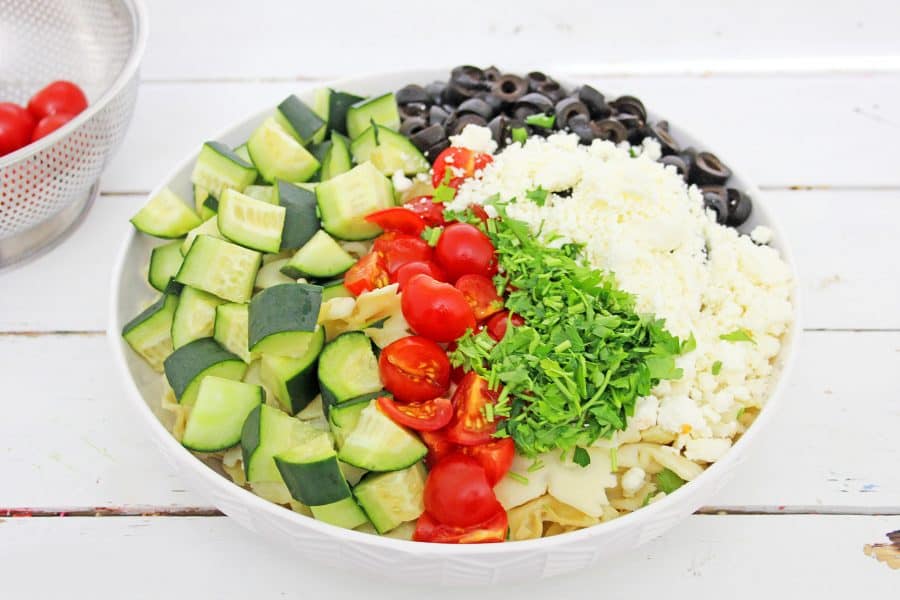 Seafood Salad: For those special events, a cold seafood salad with tiny shrimp and crab meat is always popular. This is prepared much like the pasta salad, normally using small seashell pasta. It also includes vegetables and a topping normally made from French dressing. Of course, the salad may be simply a tossed salad, dressed with fresh vegetables from the garden. Diced ham, beef, or seafood can be added to this as well.
A good array of salads makes the picnic even more inviting and interesting, and there can never be too many varieties.
Tomato Cucumber Greek Pasta Salad Recipe
Check out the yummy recipe below!
Yield:

8 servings
Tomato Cucumber Greek Pasta Salad Recipe
A super delicious twist on a greek pasta salad perfect to serve for your next party or event!
Ingredients
1 pound of Bow Tie Pasta
1 six - eight ounce can of sliced black olives - drained
1 large cucumber - washed and chopped
1 cup of cherry tomatoes - washed and chopped
1 white onion - chopped
1/2 of a red bell pepper - washed and chopped
1/4 cup Italian Parsley - washed and chopped
1 12 - 14 ounce container of crumbled Feta cheese
FOR THE DRESSING:
1/4 cup of red wine vinegar
1/2 cup of extra virgin olive oil
2 lemons - squeezed for the juice
2 teaspoons of minced garlic
1 1/2 teaspoons of honey Dijon mustard
1 teaspoon of Italian seasoning
2 heaping Tablespoons of Greek Yogurt
1 Tablespoon of honey
pinch of salt (about 1/8 of a teaspoon)
pinch of pepper (about 1/8 of a teaspoon)
Instructions
In a medium stock pot: fill the pot about 3/4 full with hot water, add about a Tablespoon of butter, and a teaspoon of salt, and bring to a boil, and add the Bow Tie pasta.
Turn the heat down to medium low, and cook for about 11 minutes, just until the Pasta is tender, but still a little firm.
Remove from heat, and carefully pour Pasta into a Colander in the sink. Drain all water off the pasta, and return pasta to stock pot.
Allow to cool for about 10 minutes, stir, and place stock pot in the refrigerator to completely cool the pasta.
While Pasta is cooling, wash the cucumber, cherry tomatoes, red bell pepper, and Parsley, and dry vegetables on a kitchen towel.
Chop cucumber, cherry tomatoes, red pepper, and parsley, and set aside. Peel and chop onion. Drain the sliced black olives.
Remove pasta from refrigerator, stir, and add chopped cucumber, cherry tomatoes, red pepper, parsley, onion and black olives, and stir until well mixed.
Place pasta salad back in refrigerator.
In the blender, blend on low; red wine vinegar, extra virgin olive oil, lemon juice, minced garlic, honey Dijon mustard, Italian seasoning, Greek yogurt, honey, salt and pepper, until well mixed and all ingredients are completely blended.
Remove Pasta salad from refrigerator, and pour dressing over pasta salad, and using two large spoons, toss salad to coat pasta and vegetables in dressing.
Place pasta salad in a bowl, or serving platter, and sprinkle crumbled Feta cheese over the top. Serve immediately. Enjoy!
If you're making the pasta salad ahead, wait until you're ready to serve salad to mix pasta and vegetables together, and pour dressing over salad and top with cheese. You can make the pasta, and prepare all vegetables ahead, and keep in separate covered containers in the refrigerator until time to serve the salad. Make the dressing fresh before you serve the salad.
Notes
Italian parsley, also called Italian flat parsley is different from parsley that's used as a garnish. Most Produce departments carry Italian parsley. It does have a different flavor than regular parsley. The lemon juice squeezed from the lemons may vary slightly, but you'll typically end up with 1/4 to 1/3 cups of lemon juice from two lemons. If you have a little more or less, that's okay, the dressing will still have the flavor from the fresh squeezed juice
If you like this Greek Pasta Salad recipe be sure to check out this Easy Anti Pasto Salad!
For more recipes check out:
Easy and Amazing BLT Pasta Salad
Perfectly Seasoned Potato Salad For Every Event
Vegan Strawberry Smoothie Bowl Recipe + Quick and Healthy Breakfast Ideas
Hi! I'm Nellie. I am a busy mama of three, wife to my high school sweetheart who loves to cook, workout and stay organized! I love to share helpful printables, the best recipes and fitness tips for the modern mom. I strongly believe that every mom can feed their family well, take proper care of themselves and have fun along the way! Read my story.
Get comfortable and be sure to come hang out with me on social. Don't grab your free fitness journal before you go!