When you go into a bakery, one of the first thing you notice are the chocolate chip muffins sitting on the shelf. You notice them because they are so delicious! Now you can save money and skip buying those muffins because I am going to teach you how to make Bakery Style Chocolate Chip Muffins.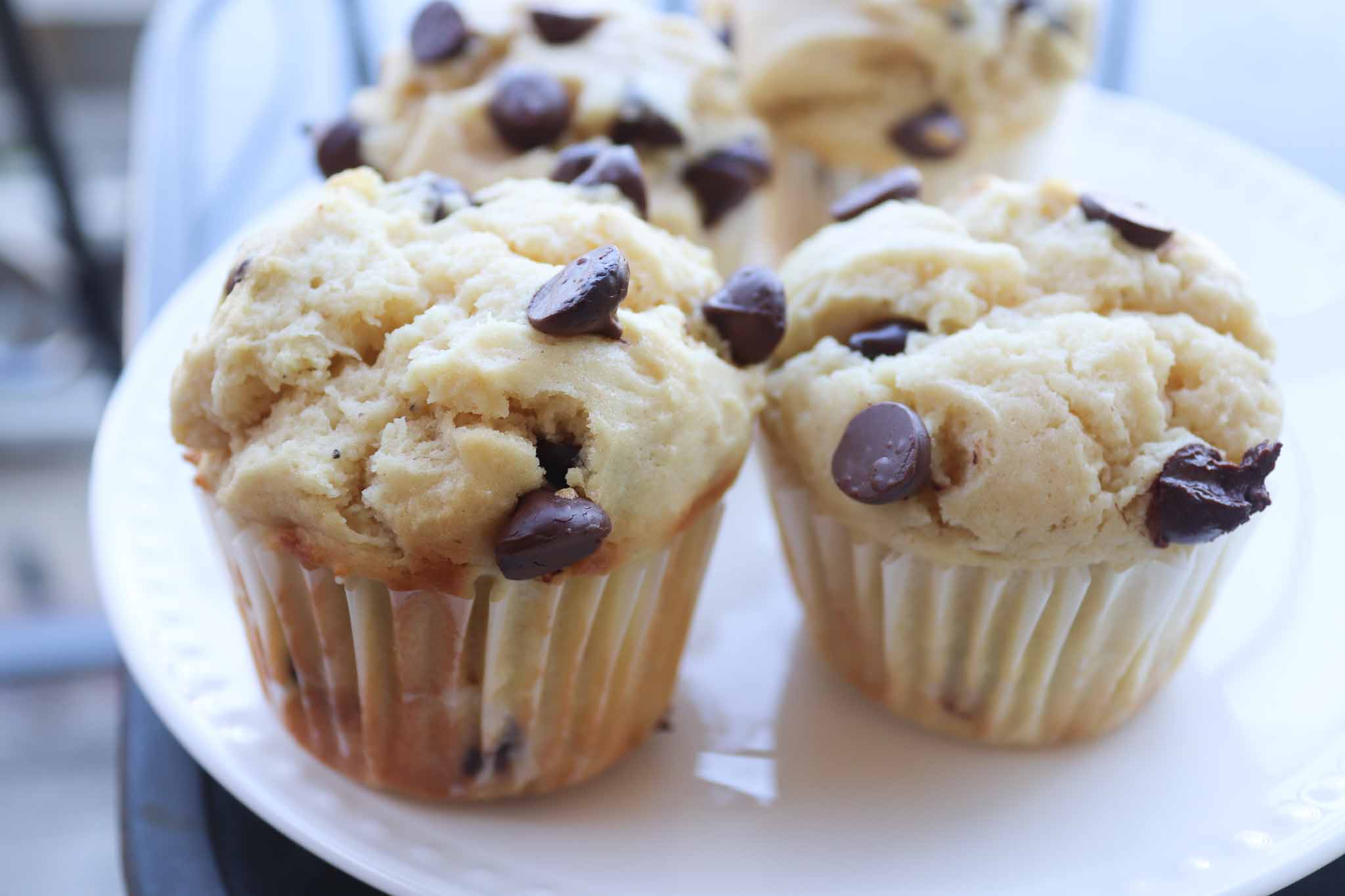 Bakery Style Chocolate Chip Muffins
These aren't just any type of muffins, they are the best muffins you can make at home. As soon as you bite into these, you know they are awesome! Making these is quite easy.
I don't know about you, but baking hasn't always come naturally to me. When I make something, I don't want to spend hours trying to figure it out. With these muffins, I can follow the recipe and everything comes out fantastic.
Classic Chocolate Chip Muffins: The Ultimate Crowd-Pleaser
Craving the ultimate comfort food? These chocolate chip muffins are fluffy, moist, and brimming with gooey chocolate goodness. They're perfect for breakfast, a snack, or as a delightful treat any time of the day. Here's everything you need to know to make these delicious muffins at home.
FAQs
Do I need a mixer for this recipe?
No, you can easily mix the ingredients by hand using a whisk or a wooden spoon.
Can I use whole wheat flour instead of all-purpose flour?
Yes, you can substitute whole wheat flour, but it will yield a denser and chewier muffin.
What can I use in place of vegetable oil?
You can use melted coconut oil or canola oil as a substitute.
Tips and Tricks
Make sure to sift the flour before mixing to avoid lumps and ensure a light texture.
Use room temperature eggs and milk for more even mixing.
Don't overmix the batter, or the muffins will be tough.
Variations
For a healthier twist, replace 1 cup of all-purpose flour with 1 cup of oat flour.
Add 1/2 cup of nuts like walnuts or pecans for added crunch.
For a citrusy zing, add the zest of one orange.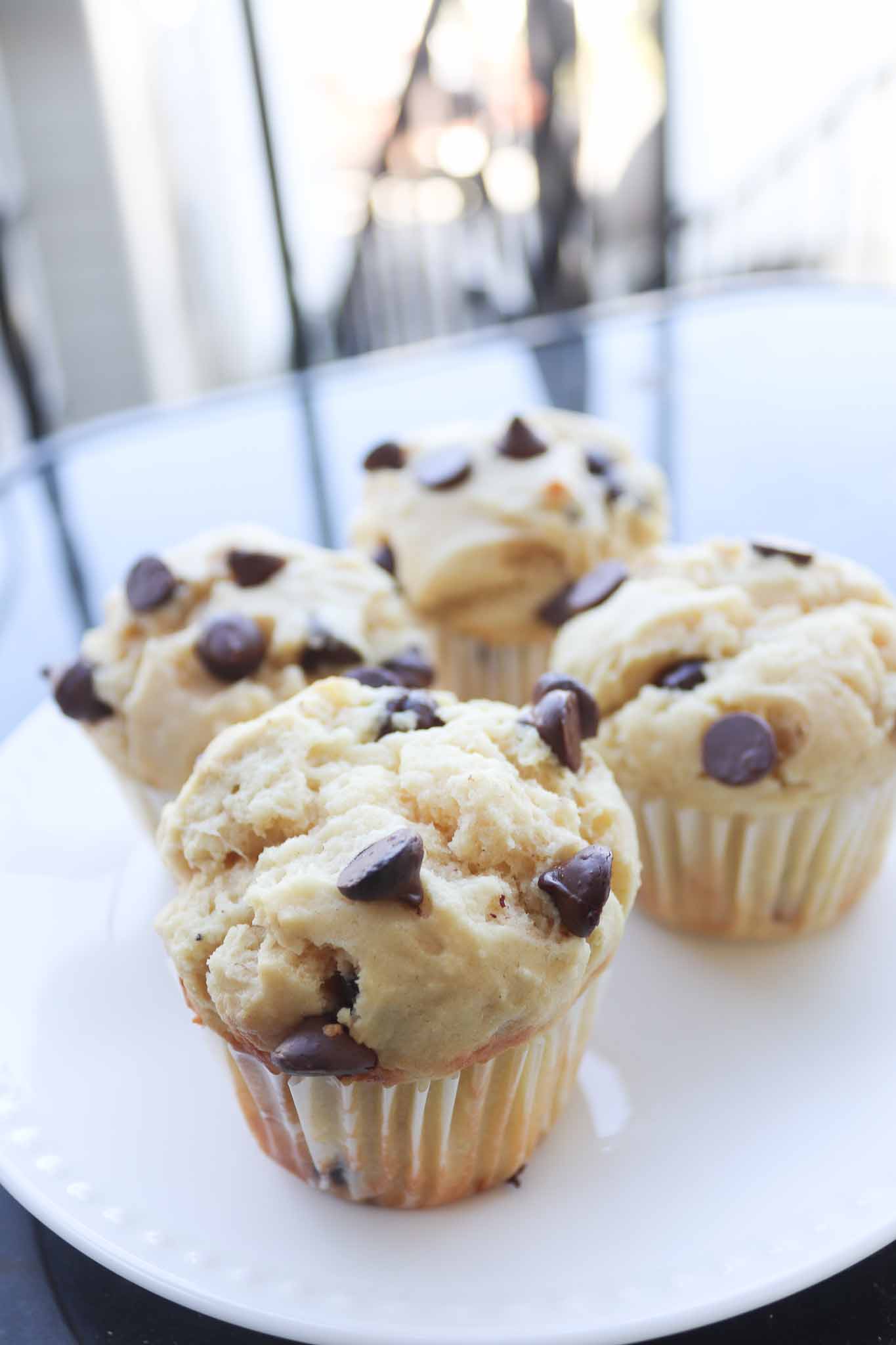 Best Ingredients for Making Bakery Style Chocolate Chip Muffins
If you decide to make these at home, then you may be wondering what delicious ingredients they have in them. My mouth is watering thinking about these muffins!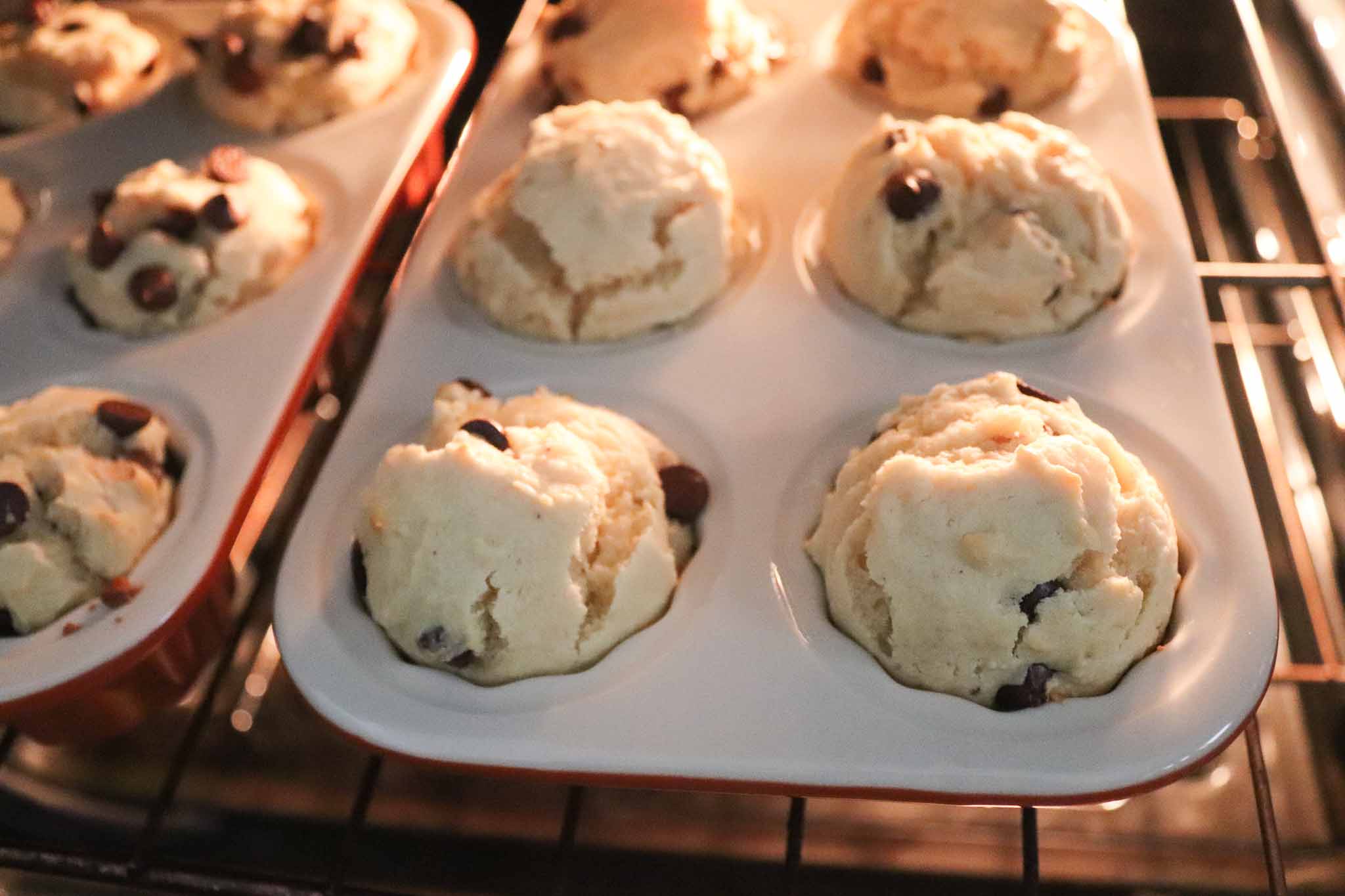 All-purpose flour – One of the stars of the show is all-purpose flour. You may find that you already have this ingredient in your pantry.
Semi-sweet chocolate chips – I used mini and regular in this recipe, but you can use whatever you have on hand. This recipe is flexible!
Vanilla extract – A lot of the yummy flavor comes from the vanilla extract. There are so many homemade and store-bought versions of vanilla extract out there.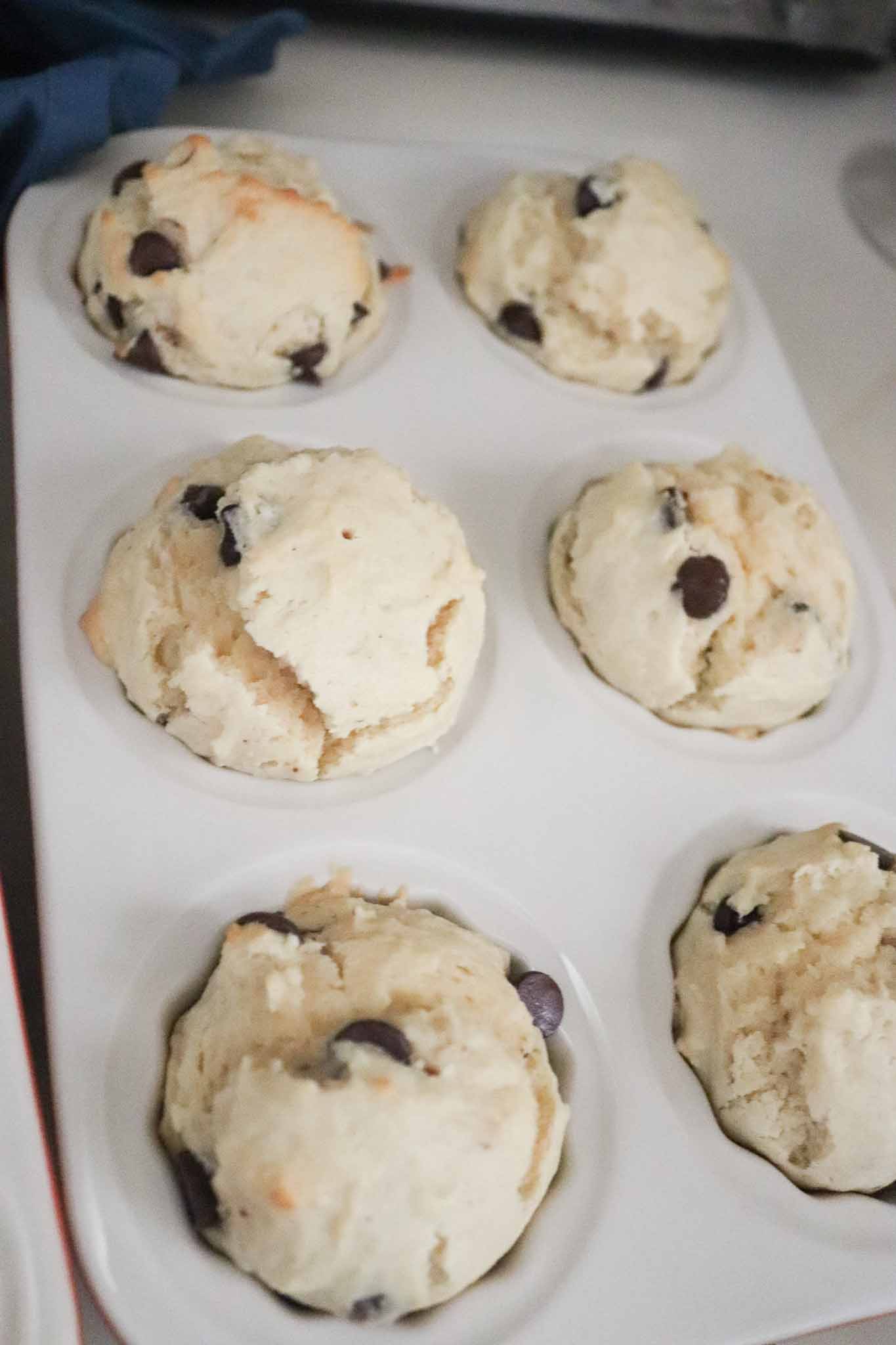 These are some of my favorite ingredients in this recipe, but it also uses unsalted butter, vegetable oil, milk, and eggs. Make sure you check out the recipe card for a full list of ingredients and directions.
Where to Serve
These muffins are versatile and perfect for various occasions:
Breakfast and brunch
After-school snacks
Picnics
Potlucks
Corporate meetings
Storage
Store the muffins in an airtight container at room temperature for up to 3 days.
These muffins freeze well. Wrap them individually and store in a ziplock bag for up to 3 months.
Common Problems and How to Avoid Them
Dry Muffins
Cause: Overbaking Solution: Keep an eye on the muffins and perform a toothpick test to ensure they are done but not overbaked.
Unevenly Cooked Muffins
Cause: Oven temperature inconsistencies Solution: Rotate the muffin tray halfway through the baking time.
Muffins Stick to the Pan
Cause: Lack of greasing Solution: Make sure to either grease the muffin tin well or use muffin liners.
Tips for Making This Recipe With Kids
Let them measure the dry ingredients.
Kids love pouring the chocolate chips into the batter.
Allow them to fill the muffin cups using an ice cream scoop or a large spoon.
Topping Options
A sprinkle of coarse sugar for added crunch
Drizzle some chocolate sauce for a double-chocolate delight
A dollop of whipped cream for extra decadence
Why This Recipe Works
The combination of vegetable oil and melted butter provides a perfect balance of moisture and flavor.
Nutmeg adds a hint of warmth and complexity.
The generous use of chocolate chips ensures that each bite is loaded with chocolatey goodness.
Creating these chocolate chip muffins is more than just a cooking project; it's an exercise in indulgence, a treat for your taste buds, and potentially a bonding activity with little ones. Follow these tips, and you'll be well on your way to creating the perfect chocolate chip muffin that everyone will love.
Here are some more delicious muffin recipes to try!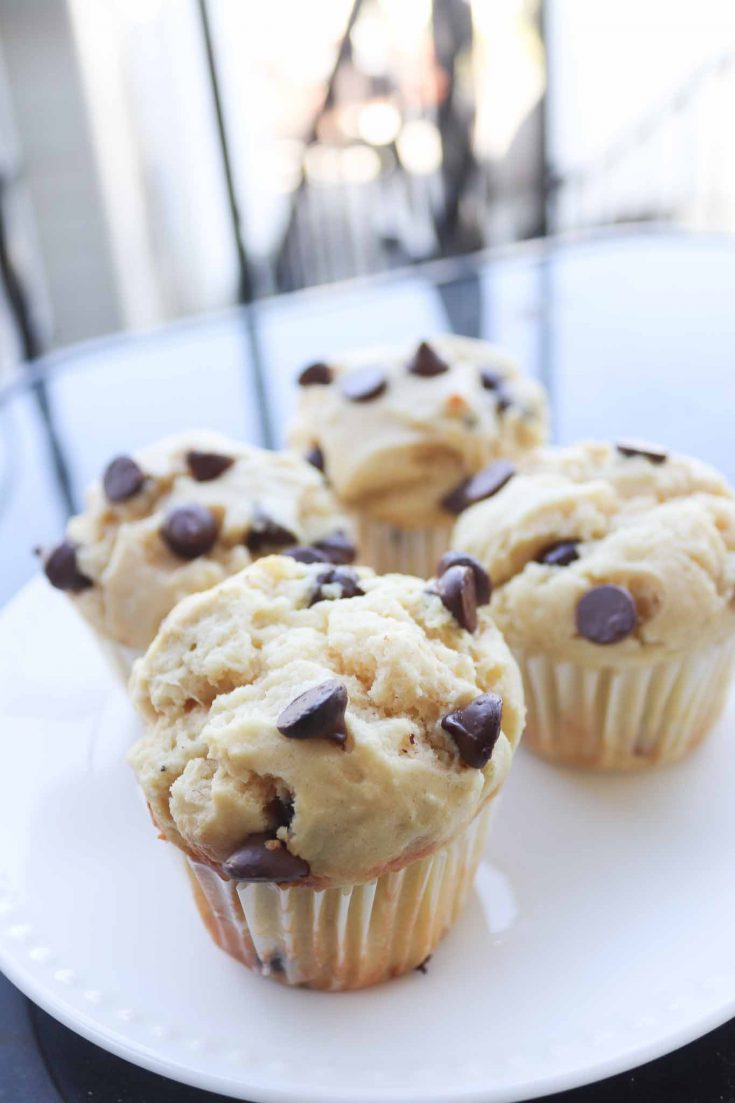 Yield:

12-15 Muffins
Bakery Style Chocolate Chip Muffins
Additional Time:
10 minutes
These bakery style chocolate chip muffins are great for breakfast or anytime! If you love chocolate chips, these are for you!
Ingredients
4 cups all purpose flour
1 cup granulated sugar
4 tsp baking powder
1 tsp salt
1/4 tsp nutmeg
1 & 1/2 cups semi-sweet chocolate chips, divided (I used regular and minis)
4 eggs
1 cup milk
1/2 cup vegetable oil
4 tbsp melted unsalted butter, cooled for 5 minutes
2 tsp vanilla extract
Instructions
In a mixing bowl combine the flour, granulated sugar, baking powder, salt, nutmeg and 1 cup chocolate chips. Stir together and set aside.
The other 1/2 cup of chocolate chips will be used for the tops of the muffins.
Preheat the oven to 425ºF. In a large mixing bowl combine the eggs, milk, vegetable oil, cooled melted butter, and vanilla extract. Combine using a whisk.
Gently pour the dry ingredients into the wet ingredients and stir by hand with a spatula just until the batter is combined.
Cover the bowl with a towel and allow it to rest for 15 minutes. This is a critical step in making bakery style muffins with domed tops.
Line a muffin pan with 12 paper liners. After the 15 minute rest, use a large cookie scoop to fill the muffin cups completely full. Fill them with as much batter as each cup can possibly hold.
Add the additional 1/2 cup of chocolate chips to the tops of the muffins. (optional) sprinkle generously with sanding sugar.
Note if you don't have any muffin liners, the muffins rise a bit more.
Bake at 425ºF for 7 minutes, then keeping the oven door closed, turn the temperature down to 350ºF and bake for 14-16 minutes, or until a toothpick inserted in the center comes out clean.
Allow the muffins to cool in the pan for 10 minutes before moving them to a cooling rack.
Nutrition Information
Yield
12
Serving Size
1
Amount Per Serving
Calories

402
Total Fat

18g
Saturated Fat

5g
Trans Fat

0g
Unsaturated Fat

11g
Cholesterol

74mg
Sodium

392mg
Carbohydrates

55g
Fiber

2g
Sugar

22g
Protein

7g
Hi! I'm Nellie. I am a busy mama of three, wife to my high school sweetheart who loves to cook, workout and stay organized! I love to share helpful printables, the best recipes and fitness tips for the modern mom. I strongly believe that every mom can feed their family well, take proper care of themselves and have fun along the way! Read my story.
Get comfortable and be sure to come hang out with me on social. Don't grab your free fitness journal before you go!