When you go into a bakery, one of the first thing you notice are the chocolate chip muffins sitting on the shelf. You notice them because they are so delicious! Now you can save money and skip buying those muffins because I am going to teach you how to make Bakery Style Chocolate Chip Muffins.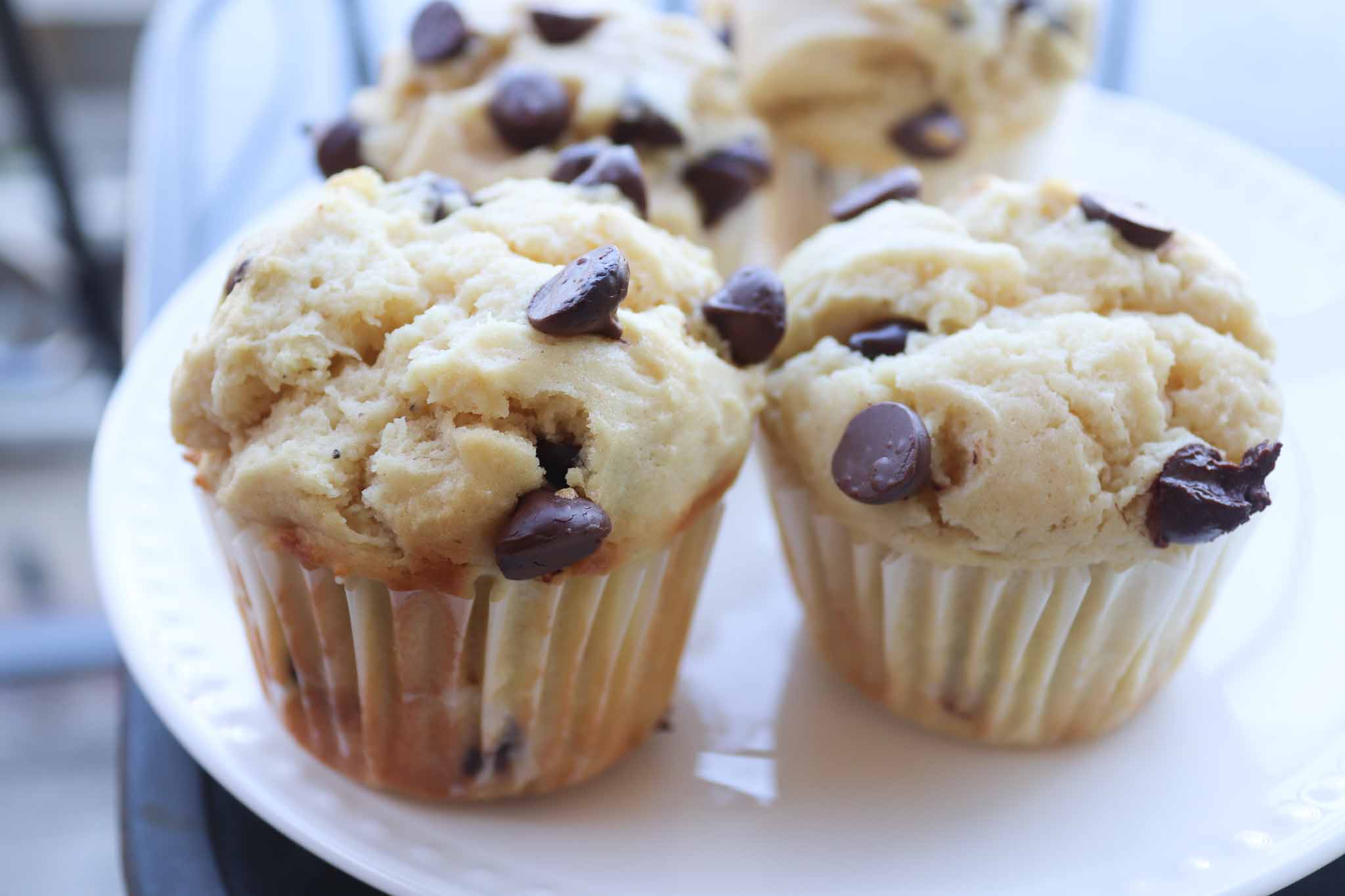 Bakery Style Chocolate Chip Muffins
These aren't just any type of muffins, they are the best muffins you can make at home. As soon as you bite into these, you know they are awesome! Making these is quite easy.
I don't know about you, but baking hasn't always come naturally to me. When I make something, I don't want to spend hours trying to figure it out. With these muffins, I can follow the recipe and everything comes out fantastic.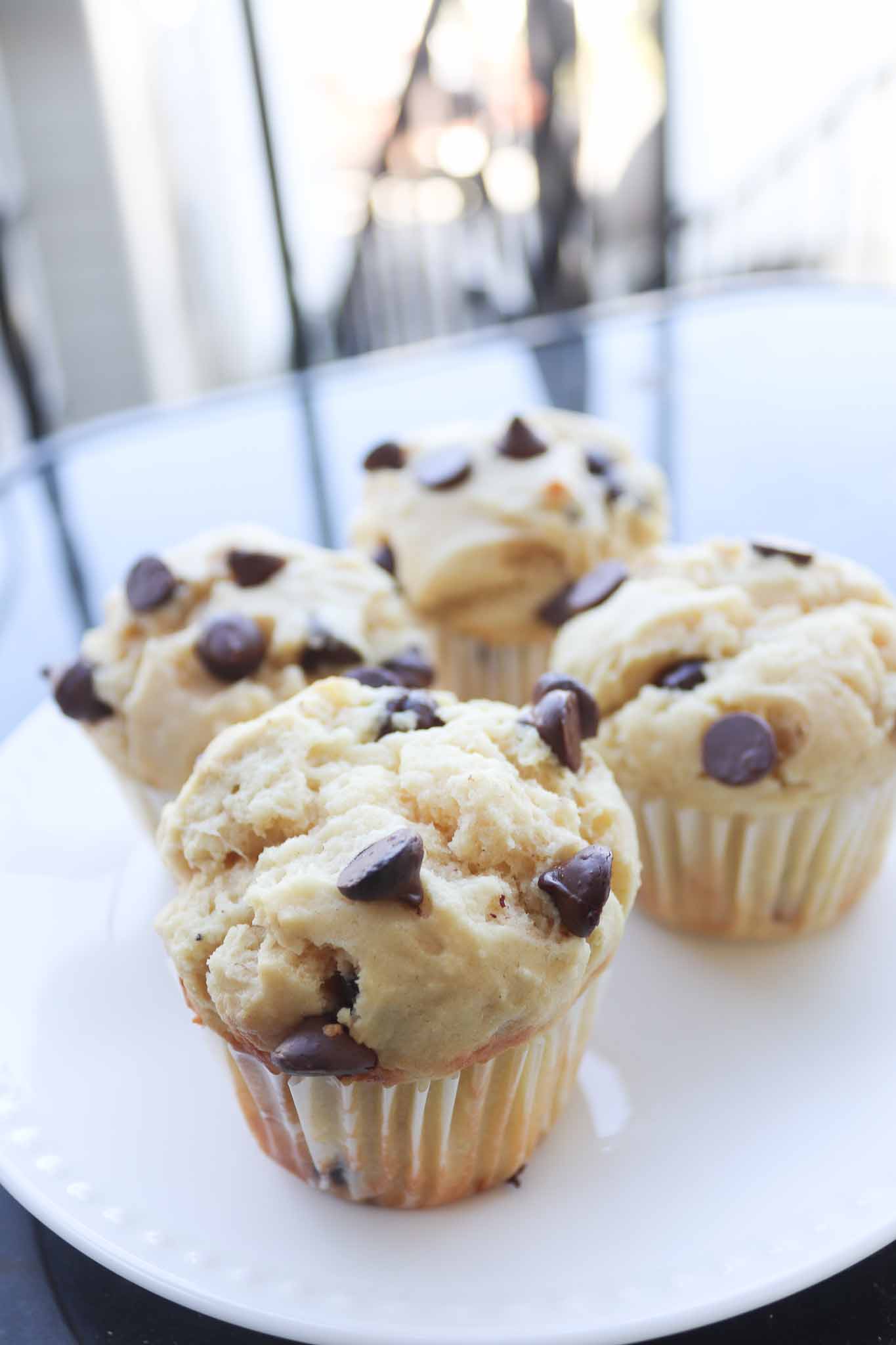 Best Ingredients for Making Bakery Style Chocolate Chip Muffins
If you decide to make these at home, then you may be wondering what delicious ingredients they have in them. My mouth is watering thinking about these muffins!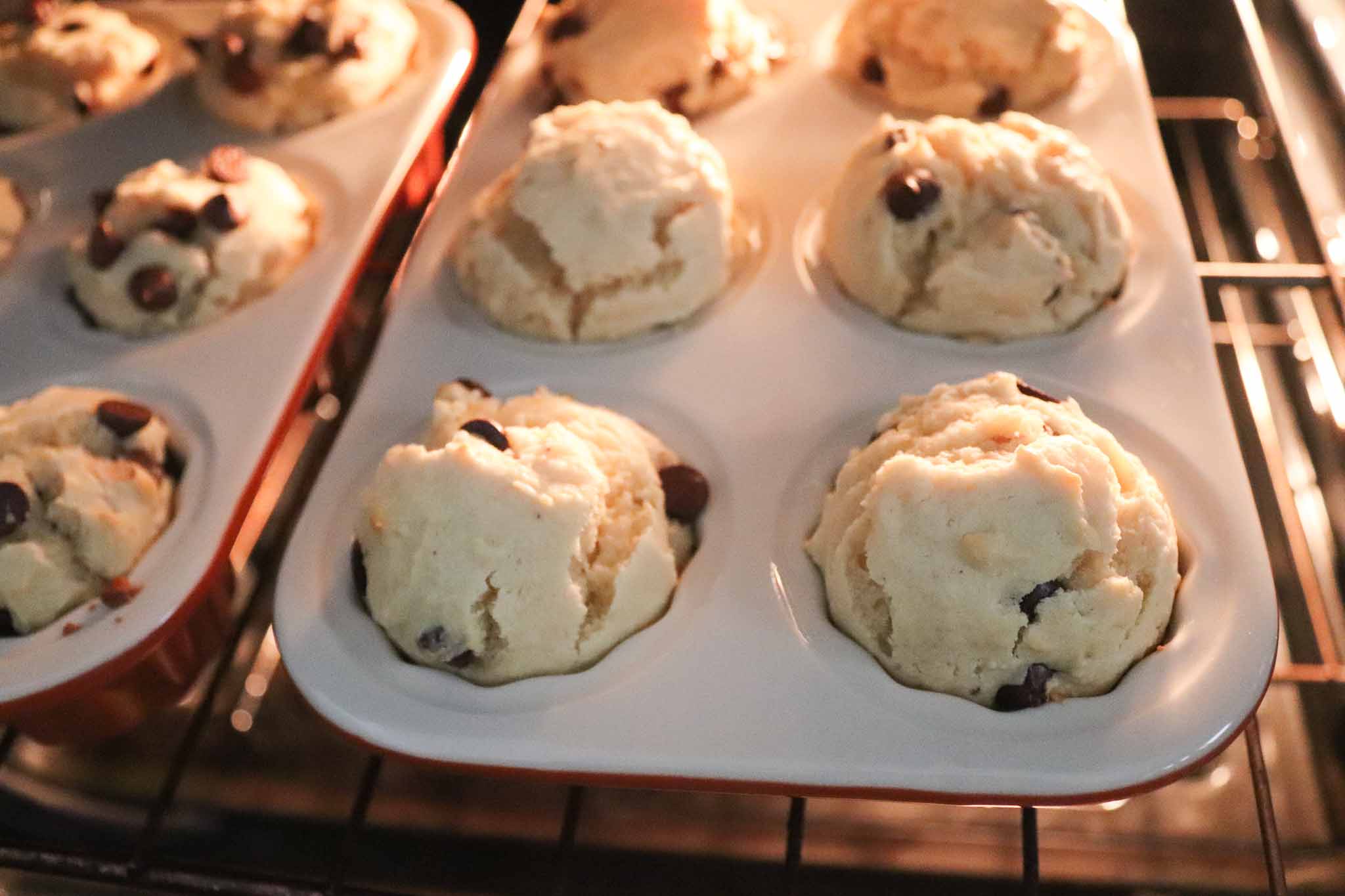 All-purpose flour – One of the stars of the show is all-purpose flour. You may find that you already have this ingredient in your pantry.
Semi-sweet chocolate chips – I used mini and regular in this recipe, but you can use whatever you have on hand. This recipe is flexible!
Vanilla extract – A lot of the yummy flavor comes from the vanilla extract. There are so many homemade and store-bought versions of vanilla extract out there.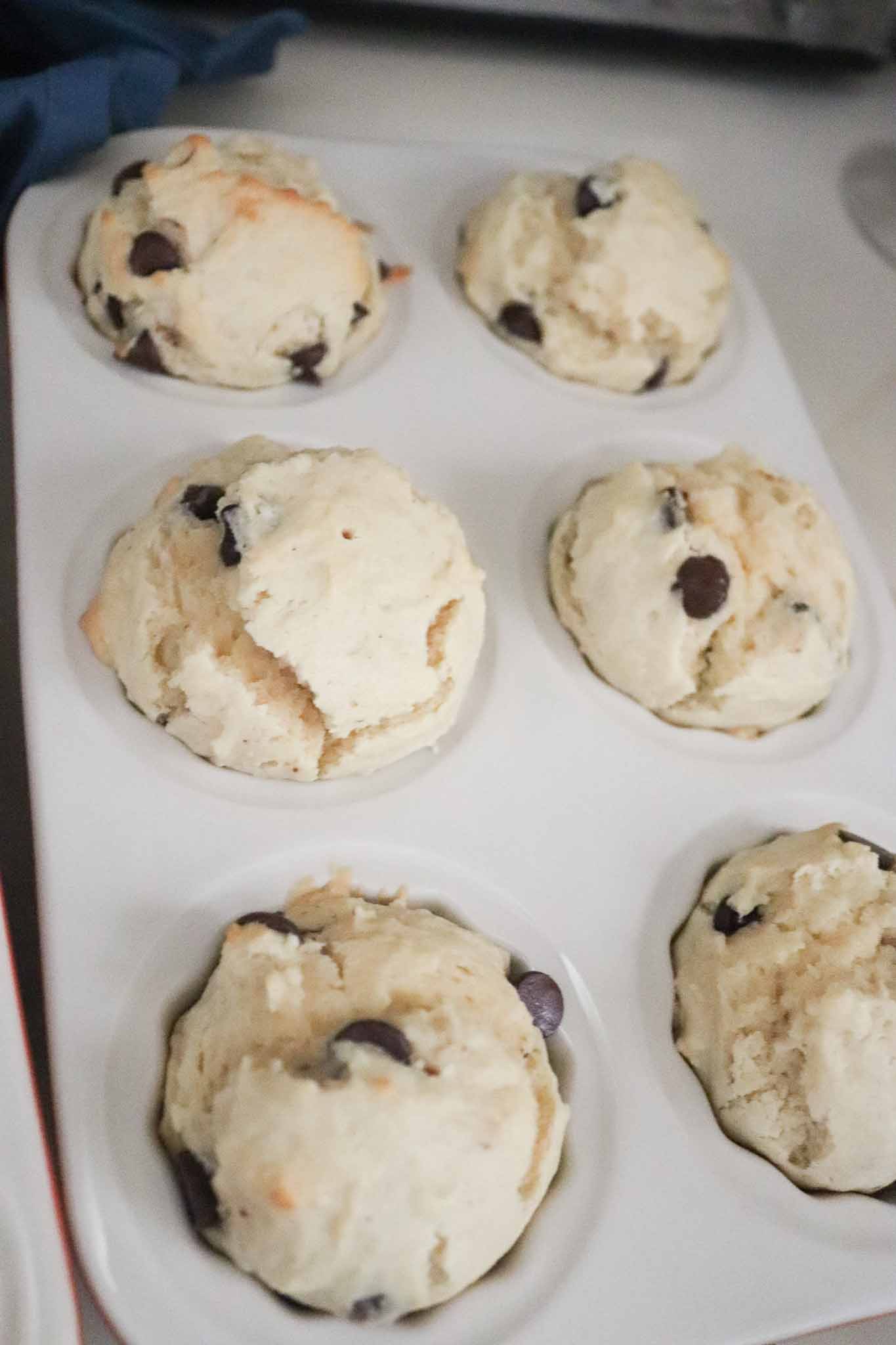 These are some of my favorite ingredients in this recipe, but it also uses unsalted butter, vegetable oil, milk, and eggs. Make sure you check out the recipe card for a full list of ingredients and directions.
If you choose to make this recipe, let me know what you think in the comment section.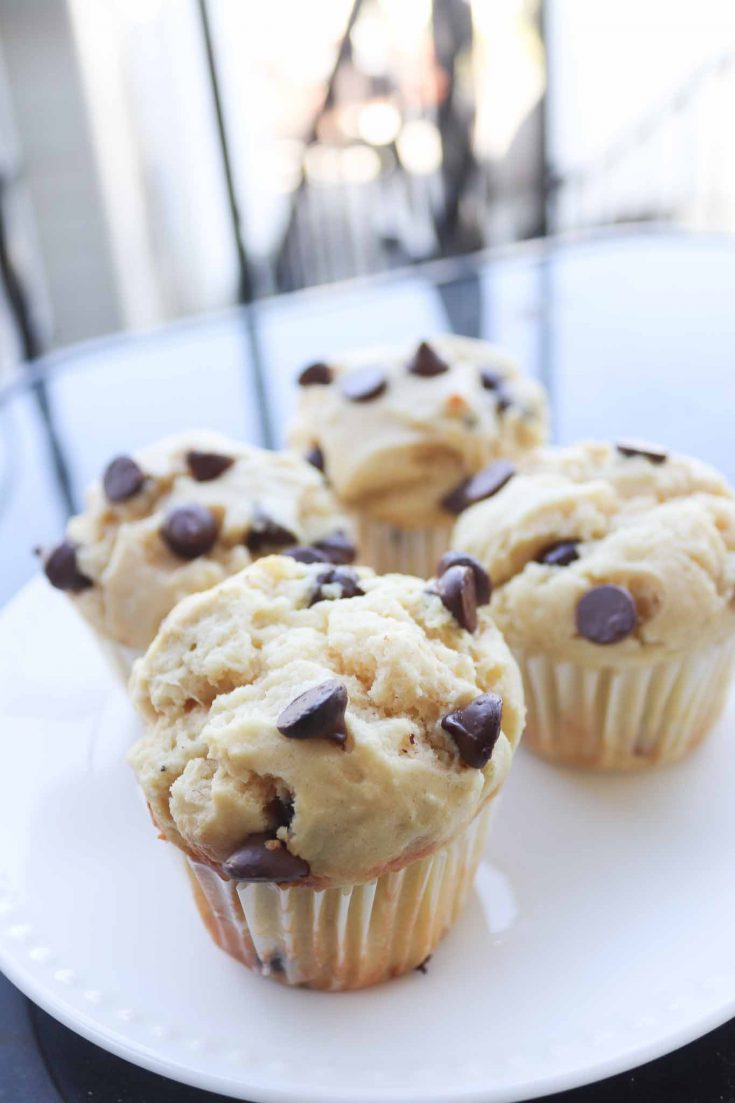 Yield: 12-15 Muffins
Bakery Style Chocolate Chip Muffins
These bakery style chocolate chip muffins are great for breakfast or anytime! If you love chocolate chips, these are for you!
Ingredients
4 cups all purpose flour
• 1 cup granulated sugar
• 4 tsp baking powder
• 1 tsp salt
• 1/4 tsp nutmeg
• 1 & 1/2 cups semi-sweet chocolate chips, divided (I used regular and minis)
• 4 eggs
• 1 cup milk
• 1/2 cup vegetable oil
• 4 tbsp melted unsalted butter, cooled for 5 minutes
• 2 tsp vanilla extract
Instructions
In a mixing bowl combine the flour, granulated sugar, baking
powder, salt, nutmeg and 1 cup chocolate chips. Stir together and set aside.

The other 1/2 cup of chocolate chips will be used for the tops of the muffins.
Preheat the oven to 425ºF. In a large mixing bowl combine the
eggs, milk, vegetable oil, cooled melted butter, and vanilla extract. Combine using a whisk.
Gently pour the dry ingredients into the wet ingredients and stir by hand with a spatula just until the batter is combined.
Cover the bowl with a towel and allow it to rest for 15 minutes. This is a critical step in making bakery style muffins with domed tops.
Line a muffin pan with 12 paper liners. After the 15 minute
rest, use a large cookie scoop to fill the muffin cups completely full. Fill
them with as much batter as each cup can possibly hold.
Add the additional 1/2 cup of chocolate chips to the tops of the muffins. (optional) sprinkle generously with sanding sugar.
Note if you don't have any muffin liners, the muffins rise a bit
more.
Bake at 425ºF for 7 minutes, then keeping the oven door closed,
turn the temperature down to 350ºF and bake for 14-16 minutes, or until a
toothpick inserted in the center comes out clean.
Allow the muffins to cool in the pan for 10 minutes before
moving them to a cooling rack.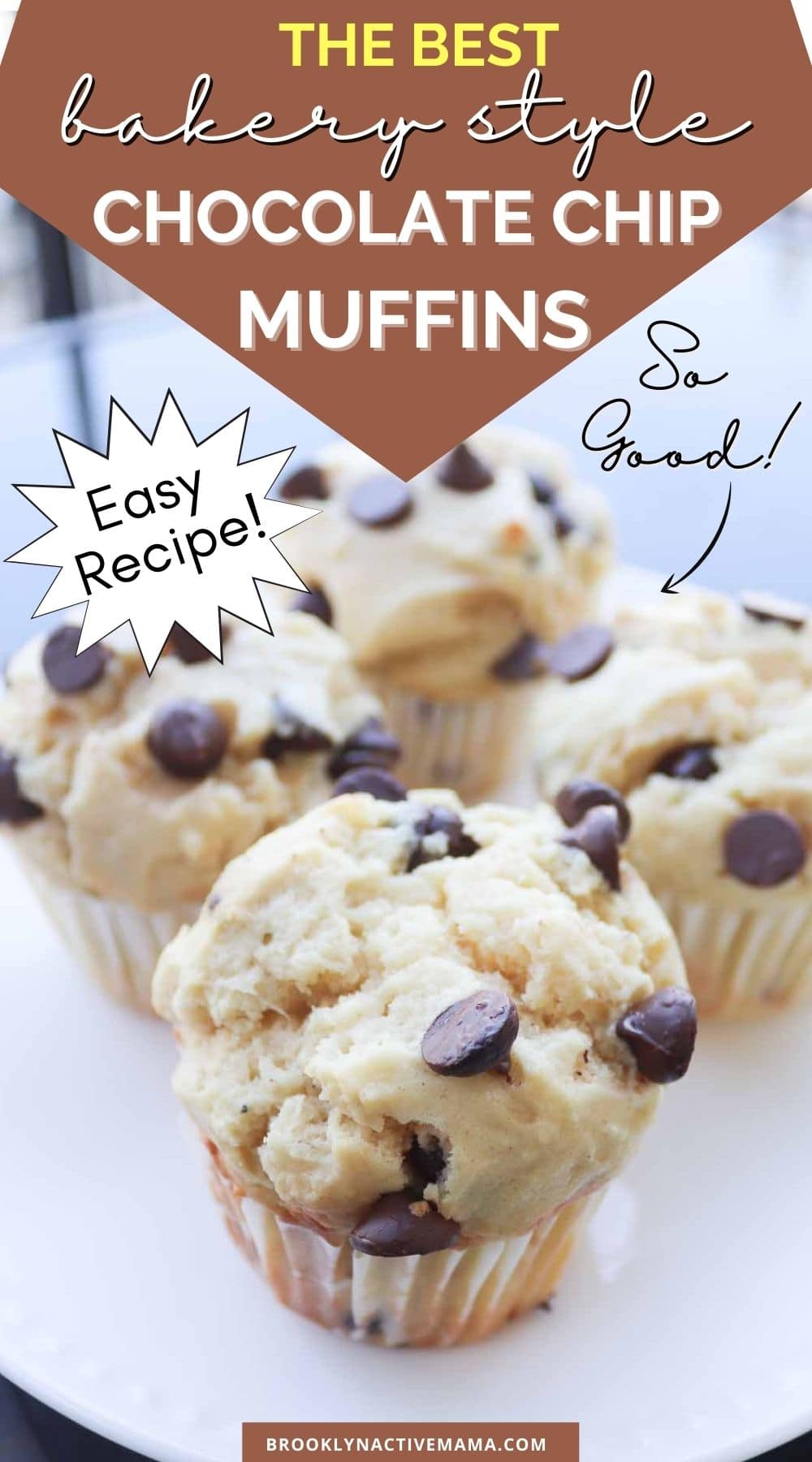 Hi! I'm Nellie. I am a busy mama of three, wife to my high school sweetheart who loves to cook, workout and stay organized! I love to share helpful printables, the best recipes and fitness tips for the modern mom. I strongly believe that every mom can feed their family well, take proper care of themselves and have fun along the way! Read my story.
Get comfortable and be sure to come hang out with me on social. Don't grab your free fitness journal before you go!