I have always been a fan of strong arms on ladies. For some reason a lot of women believe that lifting weights and doing arm specific exercises will result in super bulky scary man arms–this is completely untrue. When you lift weights and train your arms, you get a gorgeous defined womanly upper body that make any sleeveless dress look amazing! Plus it doesn't hurt to look even better in your running tanks in your race photos!
Not to mention that upper body strength is essential for good running posture. Since running is a complete body sport, in addition to the squats/lunges/calf raises we do, we need to make sure we are paying equal attention to the biceps and triceps too so that we can stay upright at the end of races.
Just in time for sleeveless tops for the summer I have teamed up with my favorite group of bloggers for our Monthly Workout For Runners, and for April we are focusing on Upper Body Workouts. So here are 6 upper body workouts for sexy arms!!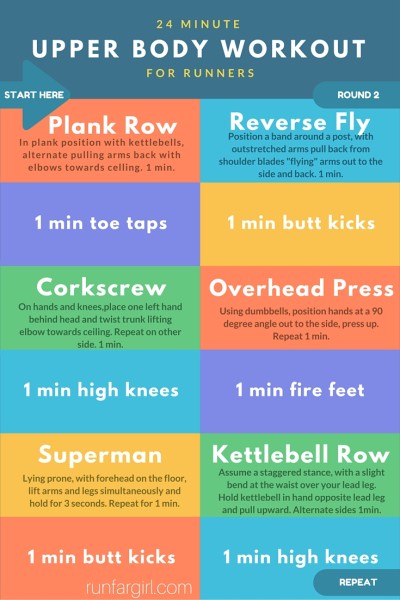 [Tweet "Summer is almost here! Get a Strong Upper Body with these 6 Upper Body #WorkoutsForRunners!"]
For more strength training posts check out:
10 Strength Training Exercises for Strong Legs
Two A Day Workouts For Runners
Weekly Wednesday Workout: Tricep Pushups
5 Practical Reasons Why All Women Should Be Lifting Weights
Weekly Wednesday Workout: Dead Lifts
How often do you work on your upper body? What is your favorite upper body workout?