This post is sponsored by Premier Protein.
I'll admit it. It took me a super long time to jump on the green smoothie craze. Somehow whenever I thought of green smoothies, I was instantly grossed out. I mean spinach and kale is yummy and all but I'm no rabbit. I like to make it all taste good. 🙂
That was up until a couple of years ago when I was at a fitness event and someone suggested that I take a taste of a green smoothie. I instantly turned my nose up in the air and said "no, thanks". They asked again and I said okay and tasted it just to be polite. It was SO good! I had to verify what the ingredients were–it was like my eyes were opened to a whole new realm of smoothies.
Since I got my Nutribullet, I have been making quick and easy smoothie recipes daily. I stress the quick and easy part because no one has time to be making smoothies with dozens of ingredients. I definitely don't.
Today I am sharing my favorite daily recipe which only uses 4 ingredients and it is packed with 30g of protein from Premier Protein! The best part about using the Premier Protein Shakes is that you don't have to worry about adding any other liquid to your smoothie! Plus it has lots of great benefits like:
 They are packed with 30g of delicious protein to give you the good energy you need every day – they are low in fat, with 160 calories, only 1g of sugar, and 24 vitamins and minerals.
Perfect for breakfast on the go, a healthy afternoon snack or post workout recovery, Premier Protein Shakes are available for purchase in 4-count, 12-count and 18-count 11-oz packs. They come in five rich and creamy varieties: Chocolate, Vanilla, Strawberries & Cream, Bananas & Cream and Caramel. (I've been a fan of the Vanilla shakes since just about forever! I love the fact that the protein taste is not overwhelming.)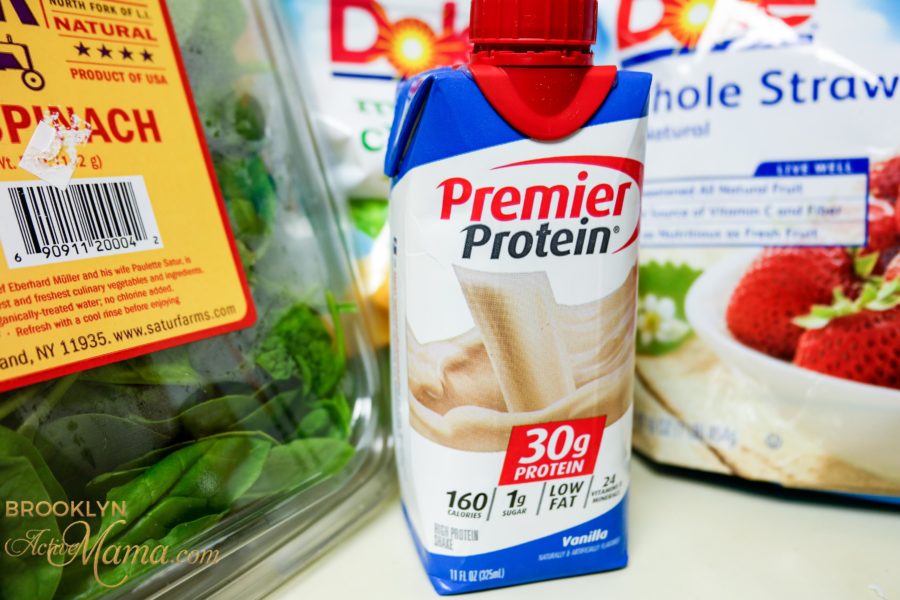 A Simple and Delish Green Protein Smoothie Recipe
1-1/2 cups of fresh Spinach or Baby Spinach
4-5 frozen strawberries
6-7 small frozen sliced frozen peaches
1 full container of Premier Protein Vanilla Shake
Combine all ingredients in order. Blend until smooth. Add a little orange juice if you want a sweeter taste.
Enjoy!
A super easy tasty 4 ingredient #greensmoothie recipe using @PremierProtein Shakes! #TheDayisYours ad
As a Premier Protein Ambassador I am giving away a box of Premier Protein Shakes in the flavor of your choice! Enter the rafflecopter below to win!
a Rafflecopter giveaway

What is your favorite smoothie recipe? Are you into green smoothies?