Last weekend I had the pleasure of participating in a fun staycation YOTO Explorer Weekend where I got to be a part of fun audio experiences and checkout the YOTO Audio Player!
Family Adventures In Brooklyn
When I first got the invitation to stay at the Ace Hotel in Brooklyn, it was an IMMEDIATE yes. The hotel is super gorgeous and located downtown Brooklyn where we frequent A LOT.
When we arrived we had an amazing bag food of YOTO Player (3rd Generation) goodies including fun games, A YOTO Player (3rd Generation), accessories and more. We had a super fun time exploring all of the gifts.
We spent the night in the posh hotel, and had a yummy breakfast in the morning at the on property restaurant.
The next day we headed over to Playday which is a fun and interactive space in Brooklyn. We were able to hear a fun presentation from World Beatboxing Champion Kaila Mullady, and the kids really had so much fun exploring and making sounds in the space.
Check out more about our experience at the YOTO Adventure Weekend in this fun video!
YOTO Players
I had heard about the YOTO Player (3rd Generation) before but never got to fully try it out until just then! It's a really good player that plays everything from stories, to music to podcasts. This player is made for kids and has over 1000+ titles in the catalog! Check out the library!
"Yoto Player (3rd Generation) builds on the features beloved by families around the world. Yoto Cards give kids control over 1,000 audio titles from the world's greatest creators. And its seven-color night light – improved for a more vibrant glow – helps parents get "nighty-night"s and wake-ups right.

And now the new, acoustically-engineered Yoto Player (3rd Generation) sounds better than ever. Families can now enjoy more than 24 hours of play on a single charge. And a new room thermometer lets parents of newborns ensure their baby is always sleeping comfortably."
The sound quality is fantastic and my (4 year old) girl has been playing and listening all by herself since we came home. What I love about the YOTO Player (3rd Generation) is that the options are endless. We set our YOTO Player (3rd Generation) up right by my daughters bed and even though she is not reading time yet, she has the benefit of having a clock right next to her.
The YOTO Player (3rd Generation) stimulates the imagination of everyone within earshot. The sounds and the descriptions are so awesome to hear because it immediately makes you want to form an image in your mid versus watch one on a screen.
As a household we have become more conscious about screen time, and being sure to turn off screens when no one is watching.
One of my favorite features from the YOTO player (3rd Generation): You can get a loved one (local, far away etc.) to record a bedtime story, make a great music mix or capture singalongs. You can play them whenever you like! I'm going to get my mom to record a story for my daughter. I have no doubt it will be her favorite.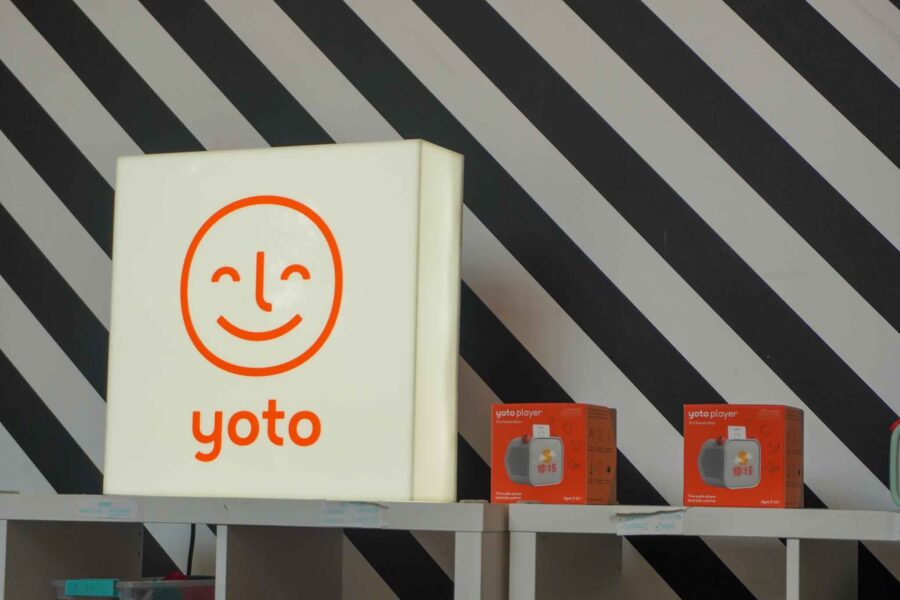 YOTO MINI PLAYER
"Yoto Mini lets kids explore their imaginations as they explore the world. Kids from 3-12+ use physical cards to explore the best audiobooks, music, activities and educational audio on the move."
This player is PERFECT for travel. (We have already packed it for our international trip!) There is a headphone jack and it's perfect for little hands. It's also a great tool to help them get some rest on the plane with a great story, or even help them feel at home when they are in a hotel.
Make Your Own YOTO Card
"Get a loved one to record a bedtime story, make a great music mix or capture singalongs and share them with friends and family."
Sometimes kids want to hear their family members voice at night or anytime. With this cool feature you can record anyone's voice singing, reading a story or doing whatever they like. It's a great feature to have especially when you little one is missing someone special in their lives. Check out how you can make your own YOTO card!
Final Thoughts
I absolutely love the YOTO Player (3rd Generation), we have both the big one and the mini. The 3rd generation player lives next to our daughter's bed and the mini comes with us on trips and even if we have a long train ride to Manhattan. The collection of titles are really comprehensive and there is truly something for everyone!
This is a great player to have in your house and on the go!
Hi! I'm Nellie. I am a busy mama of three, wife to my high school sweetheart who loves to cook, workout and stay organized! I love to share helpful printables, the best recipes and fitness tips for the modern mom. I strongly believe that every mom can feed their family well, take proper care of themselves and have fun along the way! Read my story.
Get comfortable and be sure to come hang out with me on social. Don't grab your free fitness journal before you go!