Right at the very beginning of what we would now know as a worldwide health crisis, I decided to pull the trigger on my very own Peloton bike. It was one of the best decisions I ever made and today I am going to share with you why I ride my Peloton Bike every single day.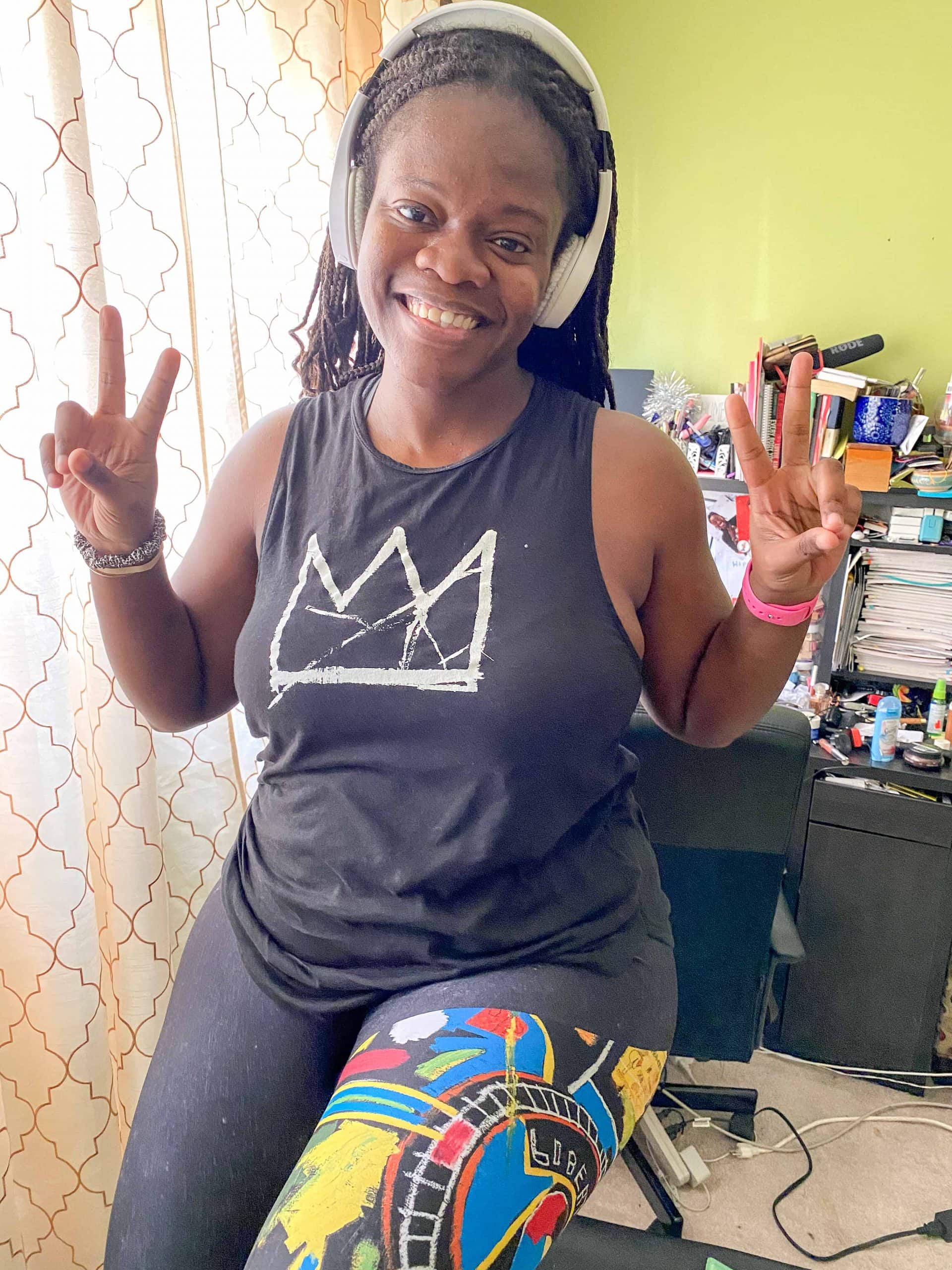 One Good Thing To Focus On
I have been a long standing fan of the Peloton brand since 2016. I remember getting an media invitation to come to a new spin studio in Chelsea. I couldn't make the event but I took classes as a part of my classpass membership and knew right away something was remarkably different about this company.
After months and months of consistent rides on the Peloton Digital App using my Horizon IC7.9 bike, I made the decision to upgrade to the Peloton Bike. I loved my Horizon bike but I really, really like data. I wanted to know if I was pushing as hard as the instructors were asking, and I wanted to compete on a live leaderboard, the same way I do when I visit the studio.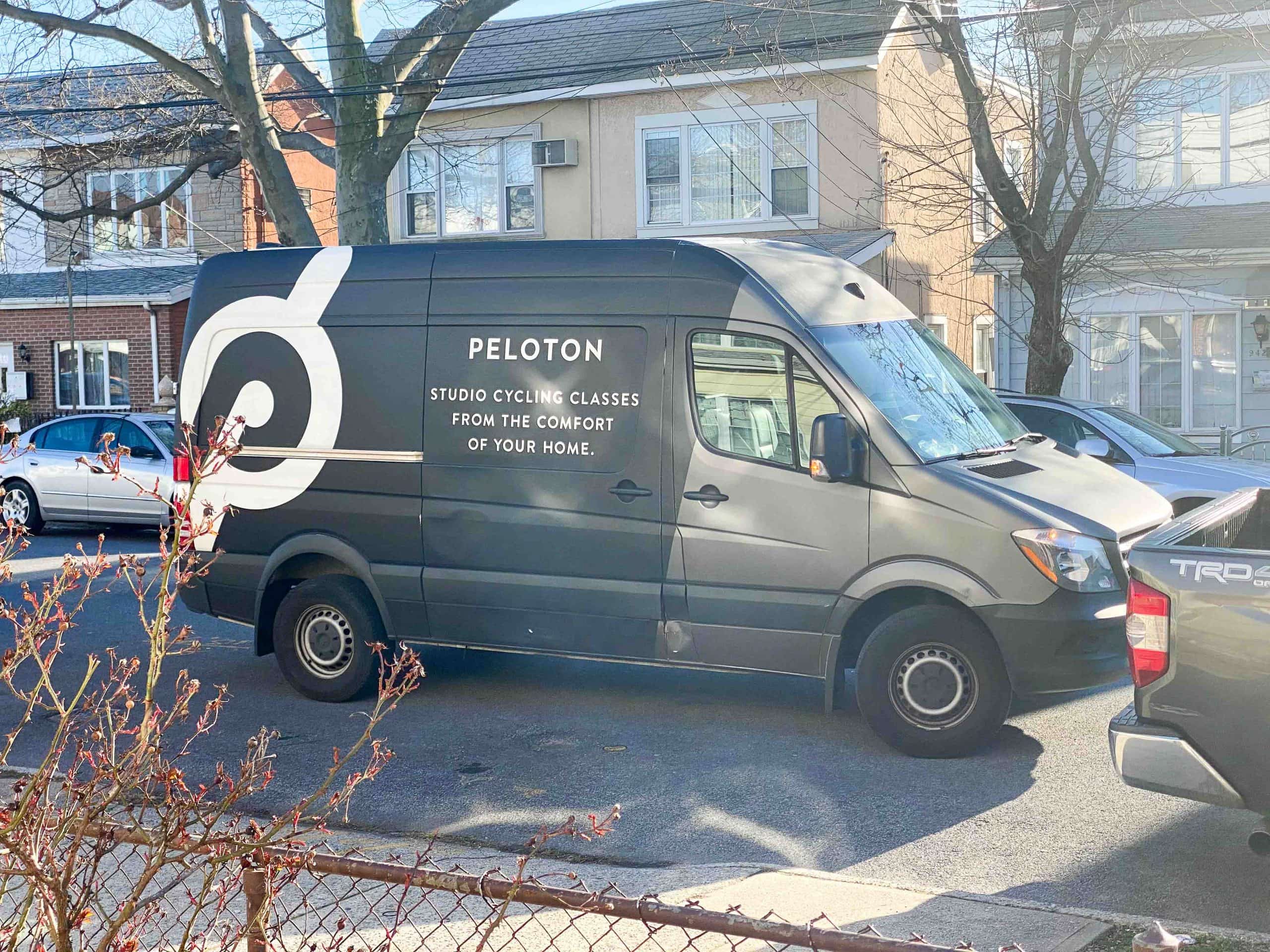 A few weeks before the COVID-19 crisis, I finally got my bike. If I could backflip I would have done it right down the block. To be honest, I still have that feeling every single day. During the height of the crisis in NYC, I suddenly had no gym, and to be completely transparent, I was afraid to leave my house–even for a walk.
Having the bike right there helped me to focus on all the good I could provide for my body every single day. I was scared, a close family member had caught the virus, friends and family were losing loved ones all around me but the bike was consistent. Although the lives rides were few, There was so much content for me to catch up on from 80s rides, hip hop rides and the dozens of legendary rides I was yet to take.
The Peloton Instructors
Speaking of legendary rides, I have to give it to the talent managers at Peloton. Each instructor is perfect for someone, and if you are like me, a LOT of them are perfect for you. I have been obsessed with Alex for years…some of you may remember this. However, the instructor list has only gotten bigger and better.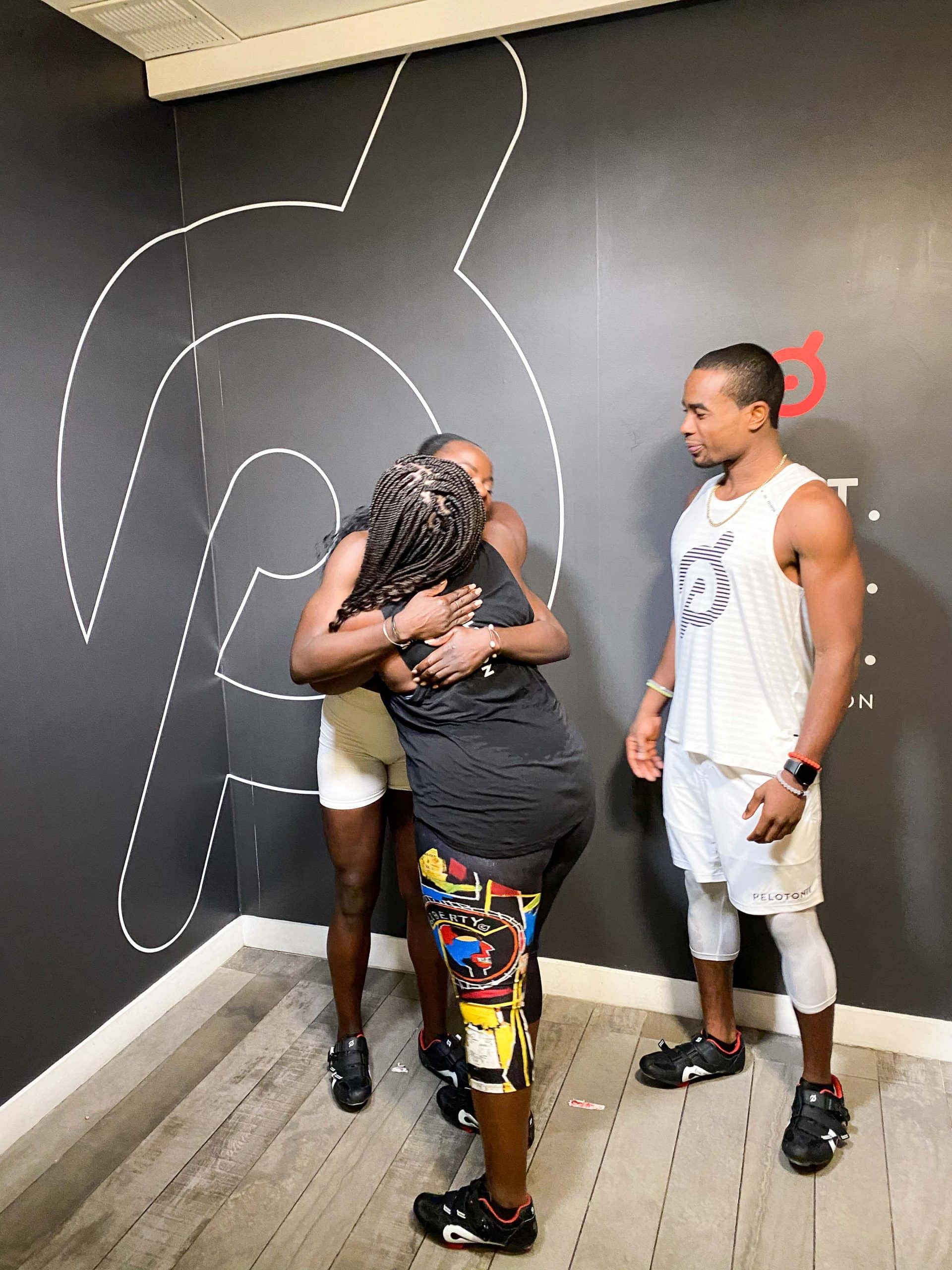 The content library is extremely impressive. Most days I ride on feel–so maybe I might feel like an 80s ride because who doesn't love 80s music?! Some days I need a hip hop ride, some days I love a pop right or even a themed ride like the one Head Instructor Robin Arzon did for The Greatest Showman.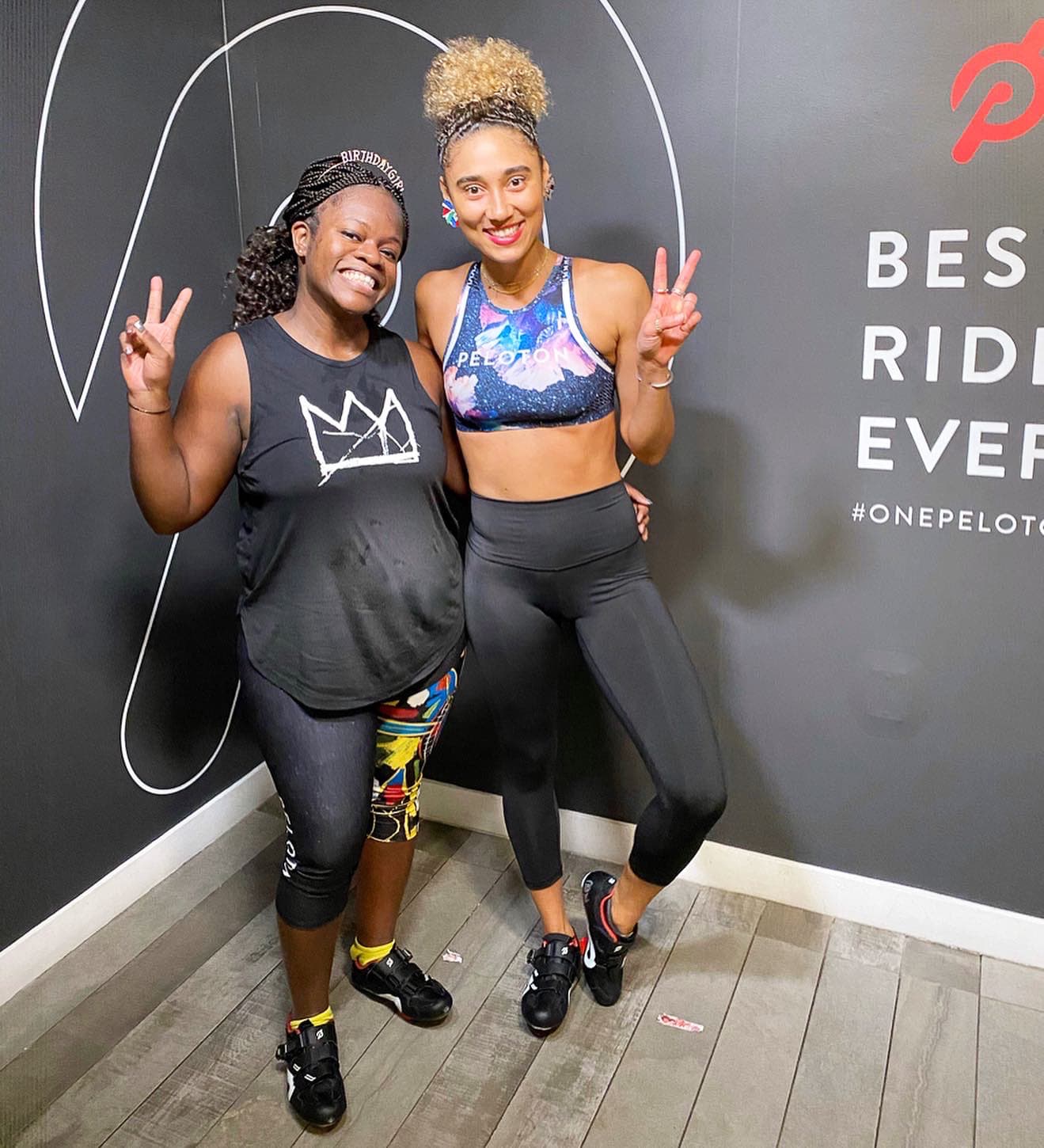 Then there are groove rides, low impact rides and of course plenty beginner rides. The point is, whether I'm feeling super energetic, or dragging to get on the bike–there are plenty options to match what I'm feeling.
It's Me vs. Me
The leaderboard can get really competitive in the Peloton community. When you purchase a bike there is a lot of focus put on the output or kilojoules that you are producing during the ride. You get your KJ number by combining how fast you are going (cadence) with how heavy the resistance is. The higher the resistance, the faster you go, the more power you produce.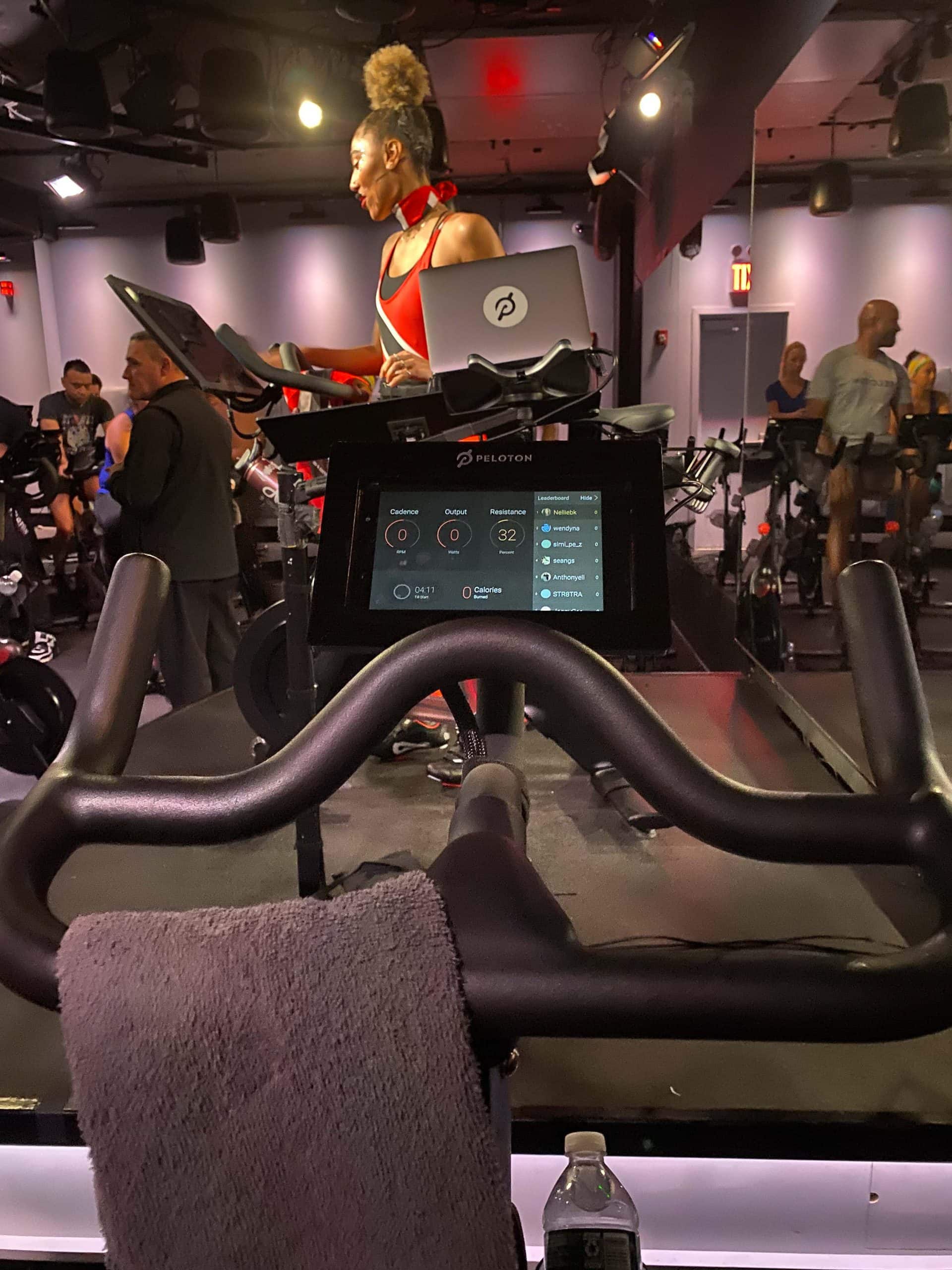 These stats are really what pushed me to purchase the Peloton. I really love data, it helps me to move forward and it makes me want to do better the next time I ride. As you can imagine, the output numbers range from high to low. What I love is that like running, the option gain a new personal record is ALWAYS there. It doesn't always happen, but when it does….magic.
I just completed my 250th ride with the amazing Ally Love! I PR'd too!! I'd been chasing this 30 min PR for a smooth 3 years. I've gotten close so many times, and today I finally got it. ? #peloton pic.twitter.com/pT4CKBq4h3

— Nellie *ClassyBougieRatchet* ??? (@BklynActiveMama) May 20, 2020
Ride Milestones
Before I started riding with the app, I didn't realize that milestones were a THING. Riders are generally celebrated for getting to their 50th, 100th, 150th etc ride. You even get a cool T-shirt for completing your century (100th) ride. The best part? You might even get a shout out from your favorite instructor when you ride LIVE! I got one for my 150th with Ally Love. I was over the moon!
Not just cycling
With your monthly membership you get access to the strength, running, yoga, cardio, bootcamp, walking, and meditation content as well! I love to mix things up during the week with different instructors. They also have plenty of time options too from 10 minute to 60 minute classes. All levels.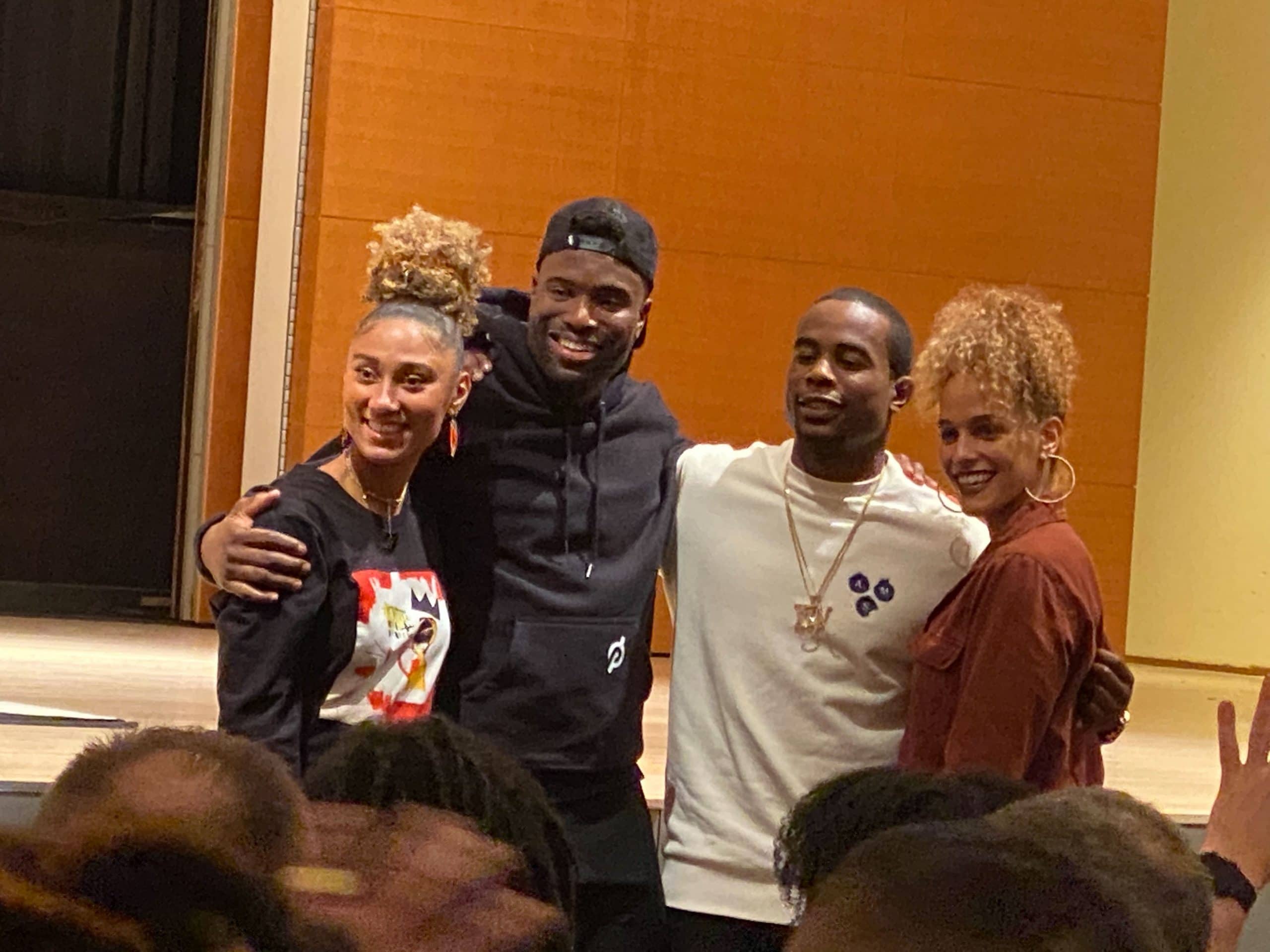 Training Programs
When you get the bike you get access to awesome programs that will guide you with set workouts. The have a PowerZone program that helps you improve your output on the bike. A beginner program that helps you get acquainted with the different types of rides, a sleep program, a strength program–you name it. I especially love these programs because while the content library is HUGE it can also be super overwhelming if you don't know where to start.
The community
I've met a ton of amazing people since starting to faithfully ride. I am apart of many different facebook communities including instructor communities! Each instructor has their own "tribe" and riders tend to swarm rides set a certain time together.
My own personal favorite is the Black Girls Magic Peloton Community filled with black women riders of all ages and levels who take classes together all times of day. Earlier this year I attended a Black History Month event with them that featured Grammy award winning artist Common and Peloton Instructor Tunde Oyeneyin. It was so much fun!
You also have the option of putting TAGS on your leaderboard name so you can ride with like minded folks too. You can actually filter and see how many people from your tribe are riding with you at any time!
Is it the Peloton Bike worth the money though?
I personally think it is. Keep in mind, I was a fan of spinning for a really long time before Peloton. If you are looking for a way to exercise at home, with a pretty small footprint, this is it. I have convinced friends and family to get a bike and now we ride together and they absolutely love it.
If you feel like you would enjoy it, don't hesitate. It's the best purchase I've made all year. When you buy, make sure to join the community of your choice. It is extremely motivating and helpful to know that you are apart of something so special.
Did I tell you about that one time Peloton featured me on their social pages? OMG!
Peloton Bike Discount Code: UZN77X
This code will give you $100 off accessories and that includes shoes, weights, a mat and more! All things you need to get riding so you might as well save some money! When you use this code (UZN77X) when you check out, I get workout clothes (not that I need any more, but it is ALWAYS appreciated :)).
Grab your bike here and I will see you on the leaderboard!
If you already ride come hang out with me! My leaderboard name is glamnellie.
What do you think? Can you see yourself buying a Peloton bike?
Hi! I'm Nellie. I am a busy mama of three, wife to my high school sweetheart who loves to cook, workout and stay organized! I love to share helpful printables, the best recipes and fitness tips for the modern mom. I strongly believe that every mom can feed their family well, take proper care of themselves and have fun along the way! Read my story.
Get comfortable and be sure to come hang out with me on social. Don't grab your free fitness journal before you go!