This is a sponsored post on behalf of Welch's. All opinions and stories are my own.
I've heard legendary talk about boys and their appetites. Usually I hear things like "these boys eat me out of house and home" or "they have bottomless stomachs" or my personal favorite from my mom: "I'll pay for their education but You have to feed them, because I can't afford that"
Thanks mom.
Lately I am starting to feel the effect of have two male spawns. They eat everything and they are planners as well. My preschool often plans his meals and snacks for the day way ahead in advance. While he is eating lunch he is discussing his post dinner snack! I can barely keep up with my own meals much less his!
So I am constantly looking for things that he can eat and drink anytime of day. I try to keep fruit in my house at all times but sometimes if I don't make it to the market on the weekends I don't have any handy which makes for a very grumpy preschooler.
Welch's Frozen Fruit is a really fun way to always have fruit handy to keep the little guy happy. I first tasted the frozen fruit a few weeks ago and I was pleasantly surprised at how yummy it is! Usually when I think about frozen fruit, it goes straight from the bag and into the blender for my smoothies.
Not only is it a anytime snack for the kids it's an amazing snack for me too! I actually love strawberries in any form other that it's natural state. I love it blended, on top and inside of things like cake, strawberry flavored Greek Yogurt–you name it. I can't handle it in its natural state, but I love it frozen! This is also an easy healthy snack for when you have the munchies.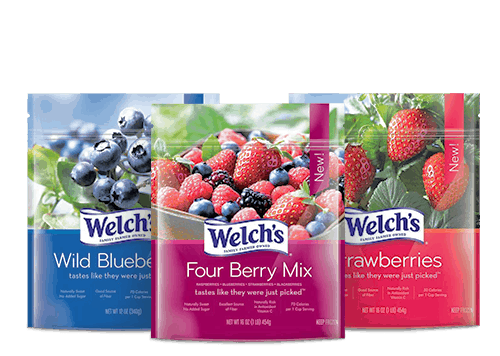 I am also a fan of Welch's 100% Grape Juice because there is no High Fructose Corn Syrup and no sugars added. There is an insane amount of HFCS in everything with a cartoon on it lately and I have made a vow to keep that stuff away from my kids! The grape juice is naturally sweetened so there is no need for extra sugar. Besides, my kids kinda love anything purple. 🙂
Have you tried Welch's Frozen Fruit or 100% Grape Juice? Do your kids eat you out of house and home?
Hi! I'm Nellie. I am a busy mama of three, wife to my high school sweetheart who loves to cook, workout and stay organized! I love to share helpful printables, the best recipes and fitness tips for the modern mom. I strongly believe that every mom can feed their family well, take proper care of themselves and have fun along the way! Read my story.
Get comfortable and be sure to come hang out with me on social. Don't grab your free fitness journal before you go!