Juggling the day to day: mommyhood, work life, relationships and moments for self-care we all know can get chaotic & finding the time to squeeze in a workout can seem downright impossible. With their recent U.S debut on television, thank goodness for yoga and fitness resources like the Asana Rebel app that inspires a healthier lifestyle with ease for those of us looking to get fit and lose weight.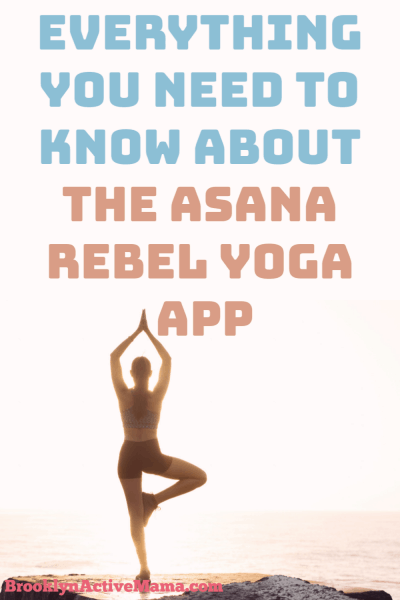 Asana Rebel is an app that makes the ancient practice of yoga accessible for today's generation with crazy hectic schedules. The app pulls together years of yoga knowledge, and combines it with other popular fitness styles such as HIIT and pilates, to make hundreds of workouts which are all designed to be fast and really effective.
Last week I headed downtown to Industria Studios for an afternoon of fitness inspired by the app. Guests hit their mats in Blank label Active activewear that were beyond comfortable to work out in & came in fun colors that we all felt empowered to move in.
To be able to appeal to people all over the world, whether a beginner or more advanced, each Asana Rebel workout is labeled with an intensity level and fits into 5 distinctive categories such as: Fatburn, Strength, Flexibility, Balance + Focus and Relaxation.
Although set at a comfortable pace and with encouragement from our instructor to do what felt good for us individually, the class had a focus on strength and flexibility. I tried to get into some of the inversions and trickier movements but made sure to listen to my body.
Truth be told I had know idea that yoga burpees were even thing, but I definitely know now! It honestly felt great to wake up the next day and my body felt elongated and muscles sore but in that good way.
In order to enable users to get the most out of their workouts, each desired outcome (weight loss, increased flexibility, etc.) is split into two types of workouts: short and long. This gives everyone using Asana Rebel the opportunity to achieve any goal, no matter how busy their schedule may be.
Wipe away the guilt of where else your time could be spent because you're worthy of dedicating a few moments of your day to a healthier you both physically and mentally.
With Asana rebel you can exercise anytime, anywhere and make every second count with 5-minute workouts to start. With the app you can track your progress with daily challenges, get up to date with fun quizzes, bring clarity into your workouts with guided mindful sessions and get in the zone with Music for Focus and more!
If you haven't spotted it yet, you may catch the latest television commercials that Asana Rebel has recently launched here in the U.S to reach a wider audience. Currently with over 10 million users worldwide, the app has become a leader in helping people to stay fit and lean, with personalized workout videos, all available on your smartphone.
You can start your yoga inspired fitness journey and join the #RebelSquad by downloading the app here for free (there are paid monthly subscriptions) and if you do, let me know what you think!
For more Yoga content check out:
---
Guest Contributor Danielle Wilson is a blogger at Dellah's Jubilation, a lifestyle blog about celebrating life, finding inspiration in everyday things & reveling in everything fabulous about NYC. You can find her on Instagram, Facebook, Pinterest, and Twitter!
Hi! I'm Nellie. I am a busy mama of three, wife to my high school sweetheart who loves to cook, workout and stay organized! I love to share helpful printables, the best recipes and fitness tips for the modern mom. I strongly believe that every mom can feed their family well, take proper care of themselves and have fun along the way! Read my story.
Get comfortable and be sure to come hang out with me on social. Don't grab your free fitness journal before you go!