Spooky Halloween Tortilla Chips: A Ghoulish Treat
When the time of year comes around where ghosts and goblins wander about, you'll want a delicious snack for your Halloween party that screams festive fun. These spooky air fryer halloween tortilla chips are so good and easy to make. Perfect for any fun Halloween party or celebration!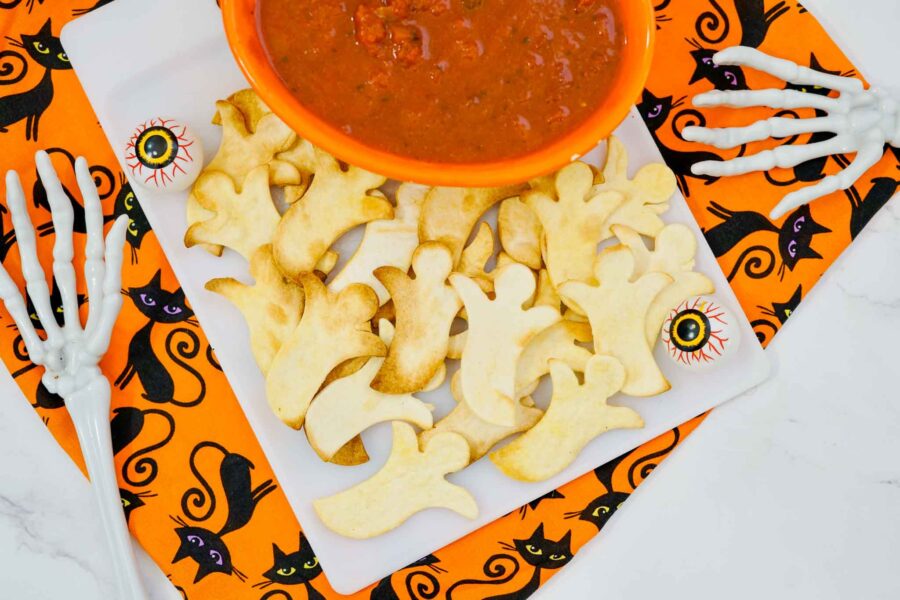 Enter: Halloween tortilla chips! Using flour tortillas or corn tortillas, you can create cute, themed recipes for a party favorite that both kids and adults will adore. Dunk these ghoulish shapes in your favorite dips or salsa and let the haunting begin!
Let's delve into the Halloween tortilla chips and understand the role of each ingredient: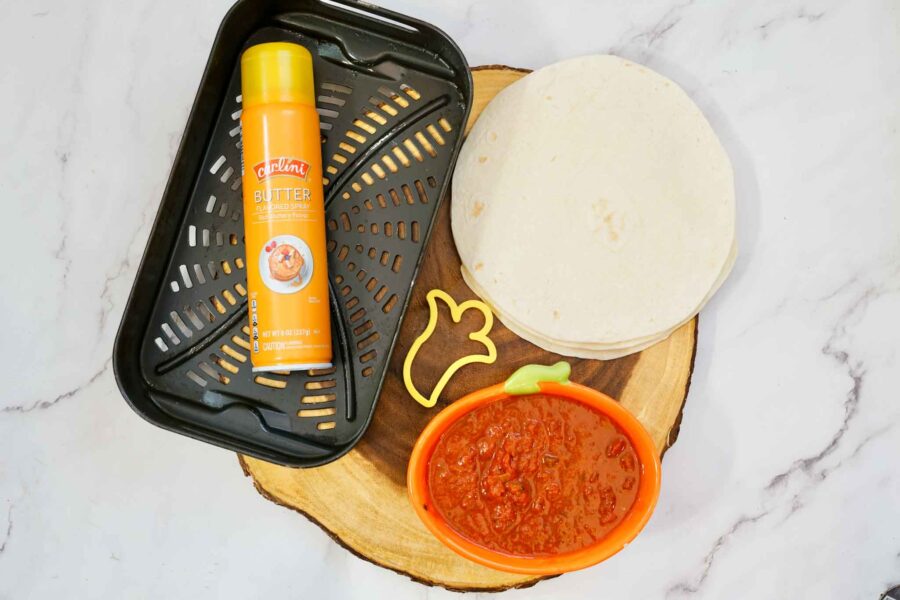 Flour Tortillas (or Corn Tortillas): The primary base for the chips. Whether you choose flour or corn largely depends on your flavor preference. Flour tortillas tend to be softer and yield a milder-flavored chip, while corn tortillas have a more distinct, earthy flavor.
Cooking Spray (or Olive Oil/Avocado Oil): This helps to crisp up the tortillas when baking. A light coating ensures the chips get that delightful crunch without being overly greasy. If you opt for olive or avocado oil, it adds a richer flavor and can make the chip's texture a bit more luxurious.
Halloween Cookie Cutters: This tool is essential for shaping the tortillas into fun shapes fitting for the Halloween theme. The shape not only makes them visually appealing but can also affect the crunch factor, with smaller shapes crisping faster than larger ones.
Salsa (For Dunking): This ingredient elevates the snack experience. The spicy, tangy, and savory notes of the salsa perfectly complement the mildness of the chips. It's an essential dip for those who love a burst of flavor with every bite. Check out my favorite salsa recipe here!
Why are these elements crucial?
Variety in Tortillas: By offering a choice between corn tortillas and flour tortillas, this recipe caters to different taste preferences and dietary needs. Corn tortillas are naturally gluten-free, whereas flour tortillas might appeal to those who prefer a softer, milder chip.
Homemade vs. Store-bought Chips: Making your own chips ensures there are no additional preservatives or additives, often found in store-bought chips. Plus, there's an unparalleled freshness to homemade chips.
Thematic Relevance: The Halloween cookie cutters are what transform this from a regular chip recipe to a thematic Halloween delight. It's a simple yet effective way to bring in the festive spirit.
Dipping Experience: Including salsa or any of your favorite dips enhances the overall eating experience. The contrast between the crunchy chip and the smooth, flavorful salsa is a match made in culinary heaven.
Why This Recipe Works:
The beauty of this idea lies in its simplicity. Store-bought chips have nothing on these homemade tortilla chips!
Whether you opt for flour tortillas or the slightly earthier taste of corn tortillas, you control the salt, the type of tortilla, and the overall flavor. The best part? It's such a cute idea that it becomes a topic of conversation, making it a hit at any Halloween gathering.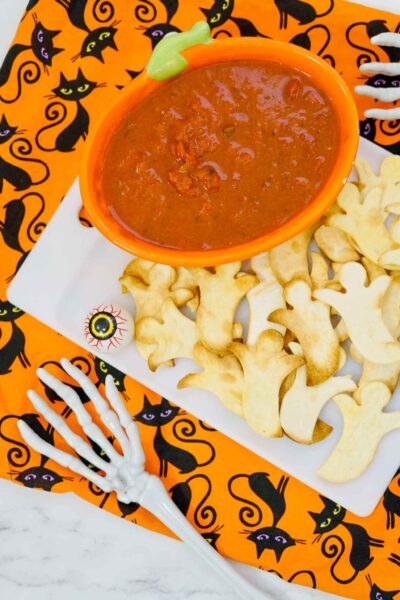 FAQs:
Can I use corn tortillas instead of flour tortillas?
Absolutely! Corn tortilla chips are just as delicious and give a different texture and flavor profile.
Where can I find Halloween-themed cookie cutters?
Most grocery stores carry them around this time of year. However, if you're looking to save on the delivery fee, you can also find a wide variety on Amazon.
Can I flavor the chips?
Definitely! Whether you're looking to drizzle a bit of soy sauce or brush with olive or avocado oil for a richer taste, go ahead and experiment!
Tips and Tricks:
Pre-cut Tortillas: For easier cutting, stack a few tortillas and use small Halloween cookie cutters to press through.
Oil Brushing: Instead of cooking spray, brush each tortilla piece with olive oil or avocado oil for a richer flavor before baking.
Variations:
Wheat Lovers: You can opt for whole wheat or wheat tortillas for a healthier twist to the original recipe.
Spice It Up: For those looking for a kick, sprinkle some cayenne pepper or paprika on your tortilla pieces before baking.
Where to Serve:
Halloween Bash: These chips are the perfect addition to your Halloween party spread.
Kid's Halloween School Lunches: A fun surprise in their lunch box that is sure to get them excited.
Movie Night: Watching spooky movies at home? This is your go-to snack.
Storage:
Store your homemade chips in an airtight container to maintain their crispiness. They should last up to 4 days, but honestly, they rarely last that long in my house!
Common Problems and How to Avoid Them:
Not Crispy Enough: Ensure your oven is preheated to the right degrees F and bake until they're golden brown.
Cookie Cutter Issues: Plastic cookie cutters might not be sharp enough. Opt for metal ones or place a smaller board on top and press down for easier cutting.
Sticking Issues: Always place the tortilla pieces on a greased baking sheet or parchment paper to prevent sticking.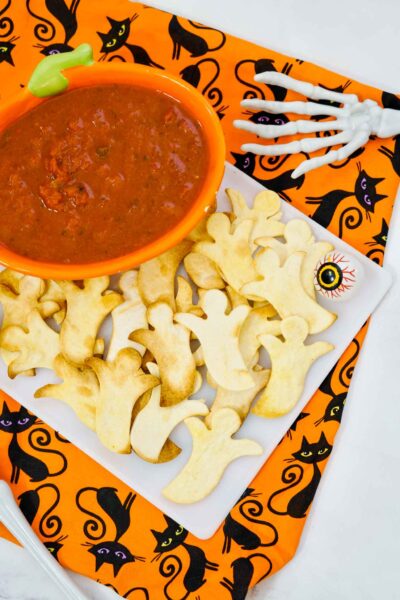 Tips for Making This Recipe with Kids:
Safe Cutting: Use plastic cookie cutters, which are safer for kids.
Decorating Fun: Let them brush the tortillas with oil and sprinkle seasonings.
Learning Time: A great way to teach them about the difference between homemade chips and store-bought chips.
Topping Options:
Salt Variations: From kosher salt to sea salt, choose what suits your palate.
Herb Delight: Consider sprinkling dried herbs like rosemary or thyme for an elevated taste.
Cheesy Delight: A sprinkle of nutritional yeast before baking gives a cheesy note to the chips.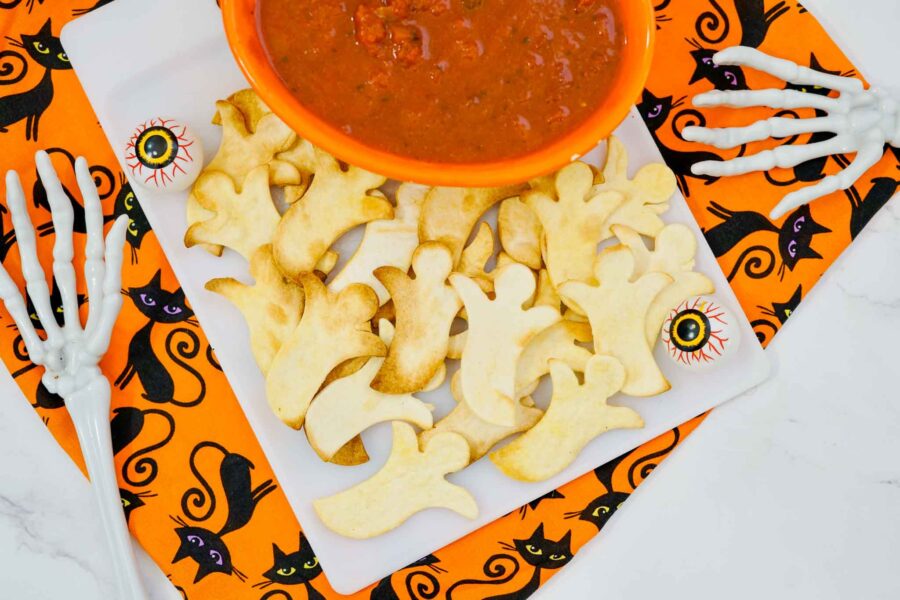 Remember, whether you're shopping at Trader Joe's or using what you have in your pantry, making your own chips is a delicious experience. Next time, try pairing with homemade guacamole or your favorite salsa for an even more delicious experience!
What are some more fun Halloween treats to check out?
If you are looking for more Halloween treats be sure to check out 50 Fun And Creative Halloween Treats For Kids!
Yield:

20 chips
Easy Halloween Air Fryer Tortilla Chips
These yummy tortilla chips are easy to make and so fun for any Halloween party!
Ingredients
Flour Tortillas
Cooking Spray
Halloween Cookie Cutters
Salsa (For Dunking)
Instructions
Pre-heat air fryer to 350 degrees.
Using a cookie cutter, cut chips out of the tortillas.
Place the cutouts on the air fryer rack.
Lightly spray with cooking spray.
Air fry for 5 minutes.
Remove from air fryer.
Dunk in salsa and enjoy.
Nutrition Information
Yield
4
Serving Size
1
Amount Per Serving
Calories

80
Total Fat

3g
Saturated Fat

1g
Trans Fat

0g
Unsaturated Fat

2g
Cholesterol

0mg
Sodium

146mg
Carbohydrates

12g
Fiber

1g
Sugar

3g
Protein

2g
If you enjoyed this recipe be sure to check out my Instagram Page for the latest posts!
Before you go, check out these great posts!
Ghostbusters Green Slime Filled Halloween Cupcakes
Spooky and Fun Halloween Charcuterie Board
Spooky Witches Hat Halloween Cupcakes
Hi! I'm Nellie. I am a busy mama of three, wife to my high school sweetheart who loves to cook, workout and stay organized! I love to share helpful printables, the best recipes and fitness tips for the modern mom. I strongly believe that every mom can feed their family well, take proper care of themselves and have fun along the way! Read my story.
Get comfortable and be sure to come hang out with me on social. Don't grab your free fitness journal before you go!