Looking for a crazy good strawberry sweets recipe? Check out these incredible strawberry bars made with fresh strawberries and a delicious shortbread crust!
If you're anything like me, you have bought delicious strawberry bars at the store, but they get old very fast. I got the idea to make my own Strawberry Bars at home because I wanted a healthier alternative and I thought for sure they would taste better. Follow along as I teach you how to make these bars!
As we dive into strawberry season, there's no better way to showcase these juicy strawberries than in a delicious, easy-to-make dessert bar. Picture a buttery shortbread crust, topped with a layer of sweet strawberries, all finished off with a crumbly, buttery topping. Whether you're a fan of strawberry oatmeal bars, strawberry crumble bars, or strawberry cheesecake bars, today's recipe for Strawberry Bars hits all the right notes!
Strawberry Bars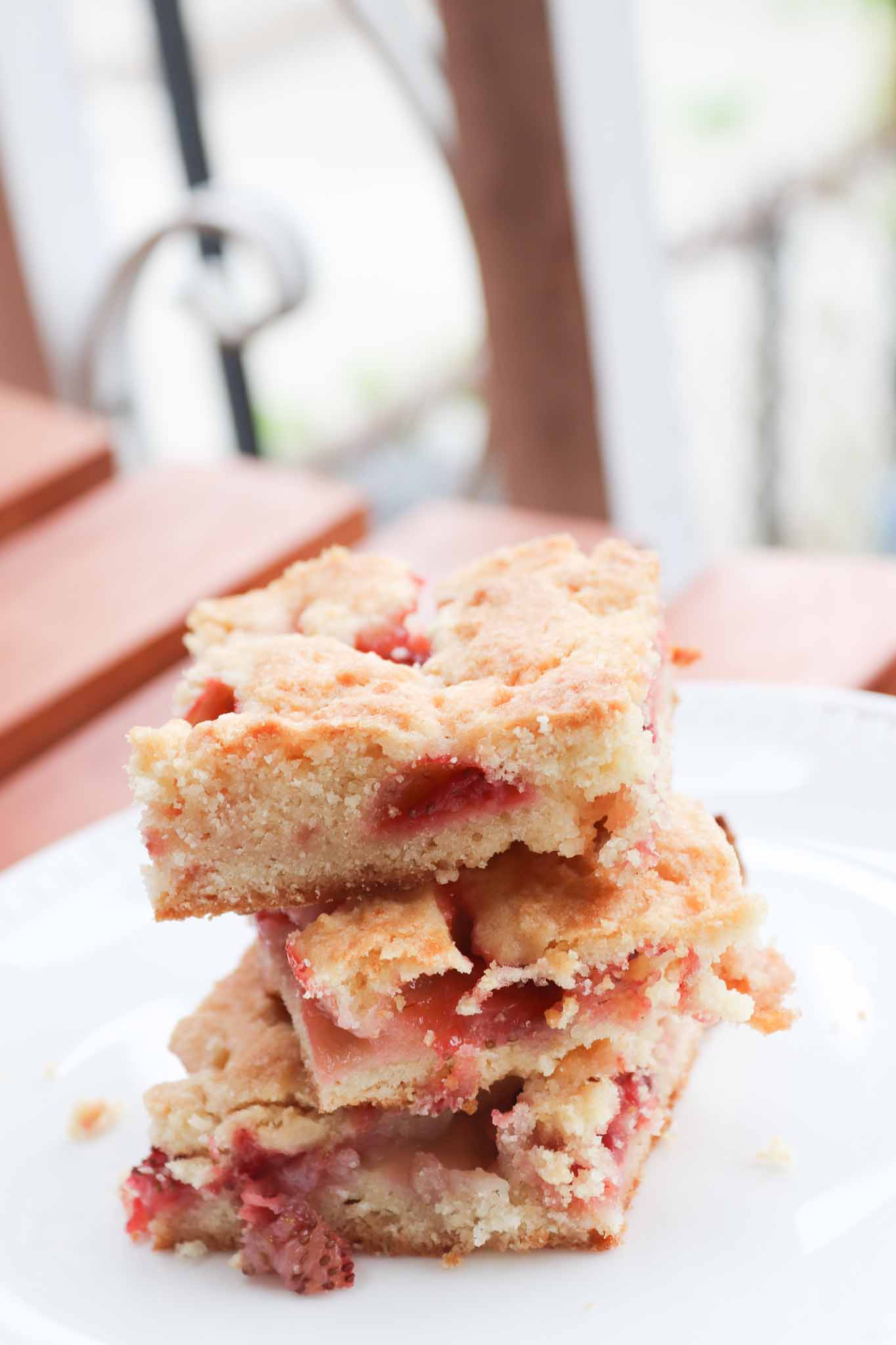 These bars are perfect for packing lunches with. They're the ideal sweet treat to enjoy just after you eat your lunch. They aren't too sweet though! If you're going out for the day and need something to pack in a picnic, these Strawberry Bars would be an excellent treat.
Frequently Asked Questions (FAQs)
Can I use frozen strawberries instead of fresh? Yes, but make sure to thaw and drain them well before using.
Can I use other berries? Absolutely! Blueberries, raspberries, or a mix of berries would work well.
Is there a gluten-free option? Yes, you can substitute the whole wheat flour with a gluten-free blend.
Tips and Tricks
To get the perfect bar, ensure your butter is at room temperature before starting the recipe. This will help you achieve a smooth, buttery crust.
When creating your strawberry filling, a food processor can be a great tool to get that perfect consistency.
Spray your parchment paper with a little bit of cooking spray before pressing the bottom crust into the baking pan. It helps the bars come out cleanly after they're baked.
All-purpose flour – This is the key ingredient to making these bars from scratch. All-purpose flour is inexpensive and something you can stock up on when it's on sale.
Baking powder – You cannot get that perfect baked good without the baking powder in this dish.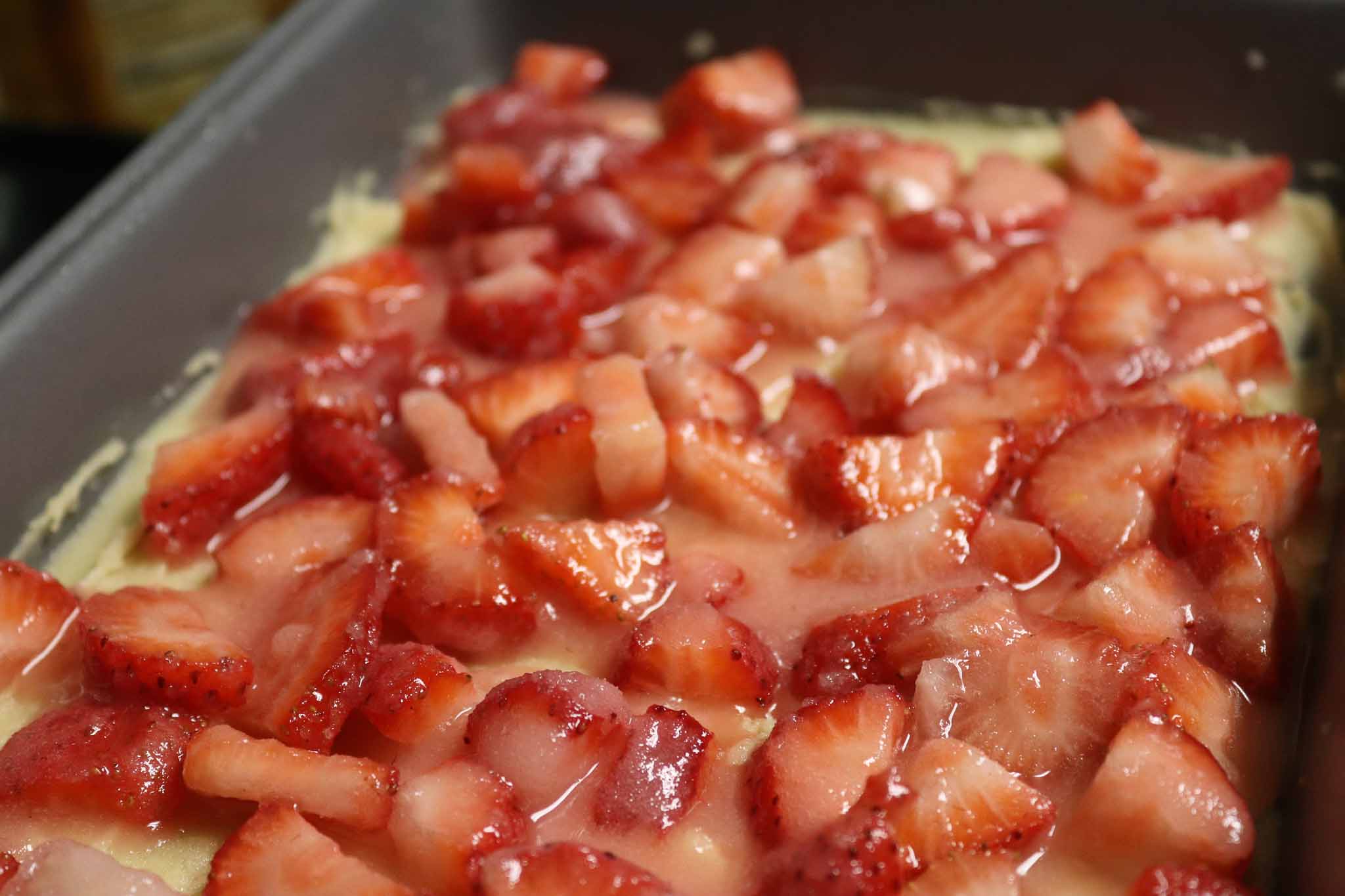 Vanilla – Honestly, you need vanilla to help the flavor of these bars come out. You'll appreciate the vanilla in these baked bars.
Fresh strawberries – My favorite part about this entire recipe is the fact that it uses fresh strawberries. Anytime I can use fresh fruit or veggies in my dishes, I do!
Cornstarch – Let's talk about cornstarch for a minute. Sometimes you need it in dishes to help the product come out thicker! You don't use a lot, but it does make a big difference.
White sugar – You don't use a lot of sugar in this dish, but you do need some to help bring out the sweetness.
In no time, you'll be enjoying these strawberry bars! You can pour a glass of milk or make a cup of coffee to go with. I think you'd be surprised as to how quickly these get eaten too. They easy to make and delicious to eat, which makes it a perfect combination.
Variations
Strawberry Lemon Bars: Add lemon zest to your strawberry mixture for a refreshing citrus twist.
Brown Butter Strawberry Crumb Bars: Brown your butter before using it in the recipe to add a nutty, caramel-like flavor.
Strawberry Cheesecake Bars: Add a layer of cream cheese to the bars before adding the strawberry filling for a cheesecake twist.
Where to Serve
These Strawberry Bars make for an easy summer dessert that's perfect for picnics, BBQs, and family gatherings. They're also a lovely sweet treat to enjoy on a regular day!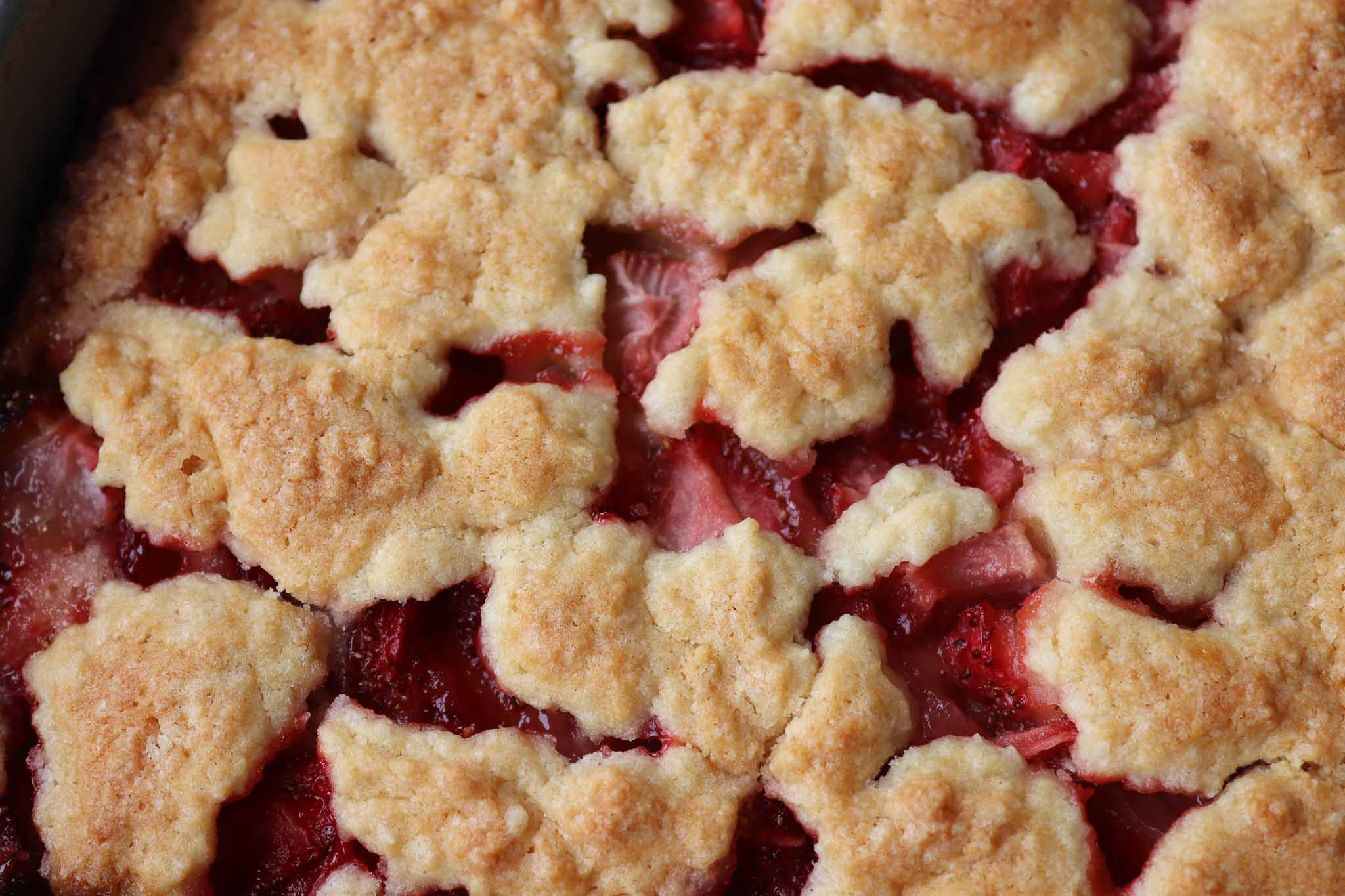 Storage
Store your cooled strawberry bars in an airtight container at room temperature for up to 3 days, or in the fridge for up to a week. You can also freeze them: wrap each bar individually and place them in a freezer bag for up to 3 months.
Topping Options
Ice Cream: A scoop of vanilla ice cream makes these bars even more decadent.
Whipped Cream: A dollop of whipped cream or a drizzle of sour cream adds a creamy contrast to the sweet strawberries.
Extra Crumble: Sprinkle extra crumble on top before baking for an even crunchier texture.
Why This Strawberry Bars Recipe Works
Strawberry Bars are a great recipe for so many reasons. First, they're a delicious way to use a lot of strawberries, perfect when you've just been strawberry picking or have a surplus from the grocery store. Secondly, they're simple to make with pantry staples, and the whole wheat flour and old-fashioned oats mean they're packed with whole grains. The bars combine the best elements of pie bars and fruit crisps, with a buttery crust and crumb topping and a sweet, juicy strawberry filling. So why not give these Strawberry Bars a try? They're the perfect way to celebrate the fresh strawberry flavor of the season!
What are some other fun dessert bars recipes to try?
Enjoy!
Yield:

20 Bars
Easy Strawberry Bars
Looking for a crazy good strawberry sweets recipe? Check out these incredible strawberry bars made with fresh strawberries and a delicious shortbread crust!
Ingredients
• 1/2 cup white sugar
• 1/2 teaspoon baking powder
• 1-1/2 cups all-purpose flour
• 1/4 teaspoon salt
• 1/2 cup very cold butter, (8 Tablespoons or 1 stick of butter)
• 1 egg, beaten
• 1 teaspoon vanilla
• 2 cups fresh strawberries, chopped
• 1/3 cup white sugar
• 2 teaspoons cornstarch
Instructions
Preheat the oven to 375 degrees F.

Place parchment paper on the bottom of the 8x8 pan that hangs
over the side of the pan. (This is to make it easier to remove the Strawberry Crumb Bars after cooking.)

In a medium bowl, stir together 1/2 cup white sugar, flour,
baking powder and salt.

Using a fork or a pastry cutter, cut the butter into the flour mixture. (VERY IMPORTANT: Make sure the butter is very cold.) Work with the dough until the pieces are very small. Dough will be crumbly. You can also pulse in a food processor to until you get pea sized crumbs.

In a separate measuring cup or small bowl, beat an egg with a fork. Add the egg and vanilla to the flour mixture, and combine until you have a crumbly mixture.

Pat half of the dough evenly into the bottom of the prepared
pan.

In another bowl, stir together 1/3 cup sugar and cornstarch.
Stir in the strawberries.

Spoon the strawberry mixture evenly over the bottom crust.

Crumble the remaining dough over the strawberry filling layer.

Bake in a preheated oven for 45 minutes, or until top is
slightly golden brown. (My oven runs hot and baked in about 38 minutes.)

Cool completely before cutting into squares. I recommend refrigerating until ready to serve.
Notes
1. It is very important that your butter be very cold. Also, when
working with the crumb crust, be careful not to over work it because you don't want your hands to warm up the crust. You want the crust to be very cold.
2. The sweetness of the strawberries used is important. If your strawberries are not very sweet, you can increase the amount of sugar
used in step 7 to about 1/2 a cup.
Hi! I'm Nellie. I am a busy mama of three, wife to my high school sweetheart who loves to cook, workout and stay organized! I love to share helpful printables, the best recipes and fitness tips for the modern mom. I strongly believe that every mom can feed their family well, take proper care of themselves and have fun along the way! Read my story.
Get comfortable and be sure to come hang out with me on social. Don't grab your free fitness journal before you go!