Looking for a crazy good strawberry sweets recipe? Check out these incredible strawberry bars made with fresh strawberries and a delicious shortbread crust!
If you're anything like me, you have bought delicious strawberry bars at the store, but they get old very fast. I got the idea to make my own Strawberry Bars at home because I wanted a healthier alternative and I thought for sure they would taste better. Follow along as I teach you how to make these bars!
Strawberry Bars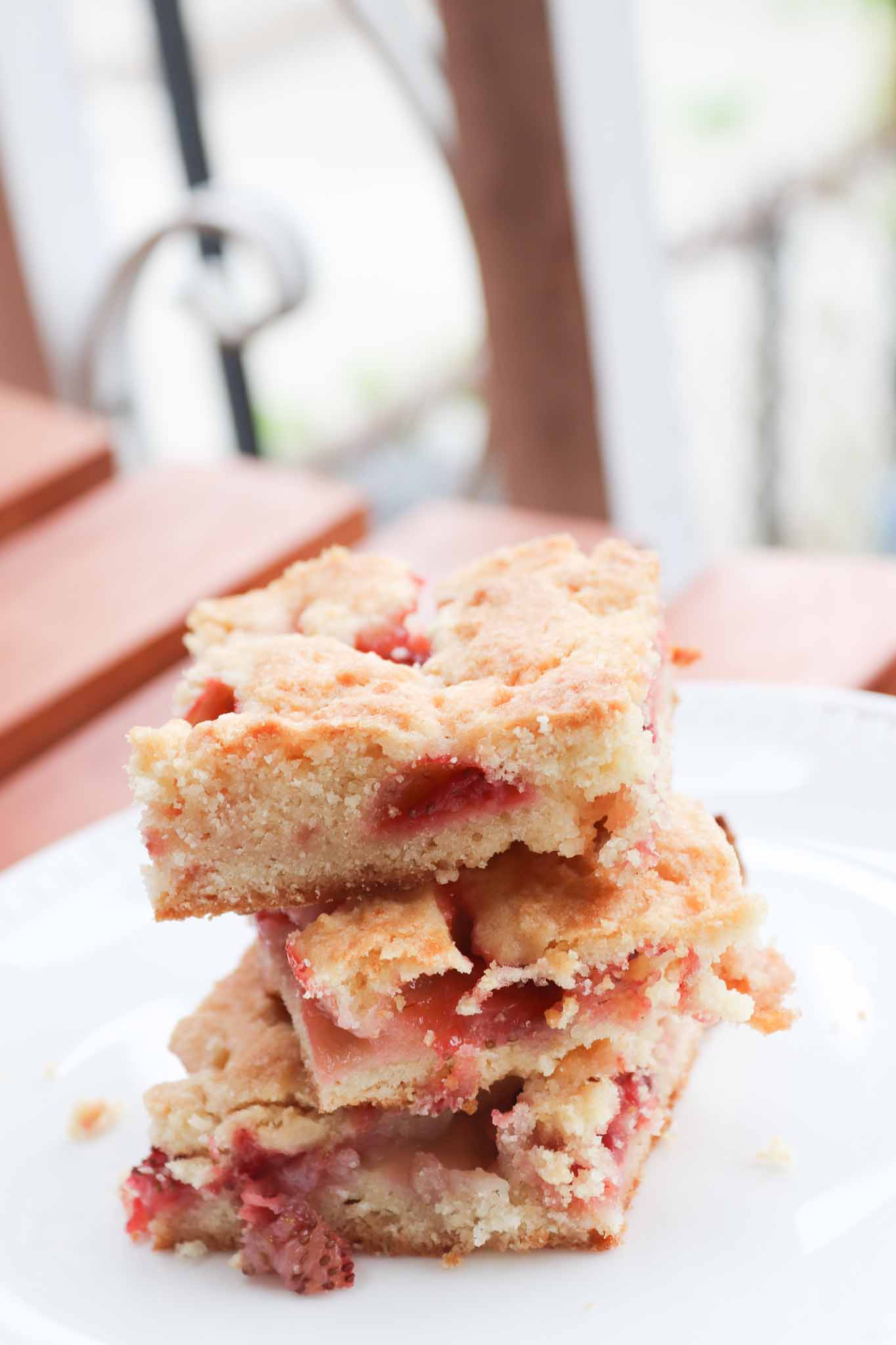 These bars are perfect for packing lunches with. They're the ideal sweet treat to enjoy just after you eat your lunch. They aren't too sweet though! If you're going out for the day and need something to pack in a picnic, these Strawberry Bars would be an excellent treat.
All-purpose flour – This is the key ingredient to making these bars from scratch. All-purpose flour is inexpensive and something you can stock up on when it's on sale.
Baking powder – You cannot get that perfect baked good without the baking powder in this dish.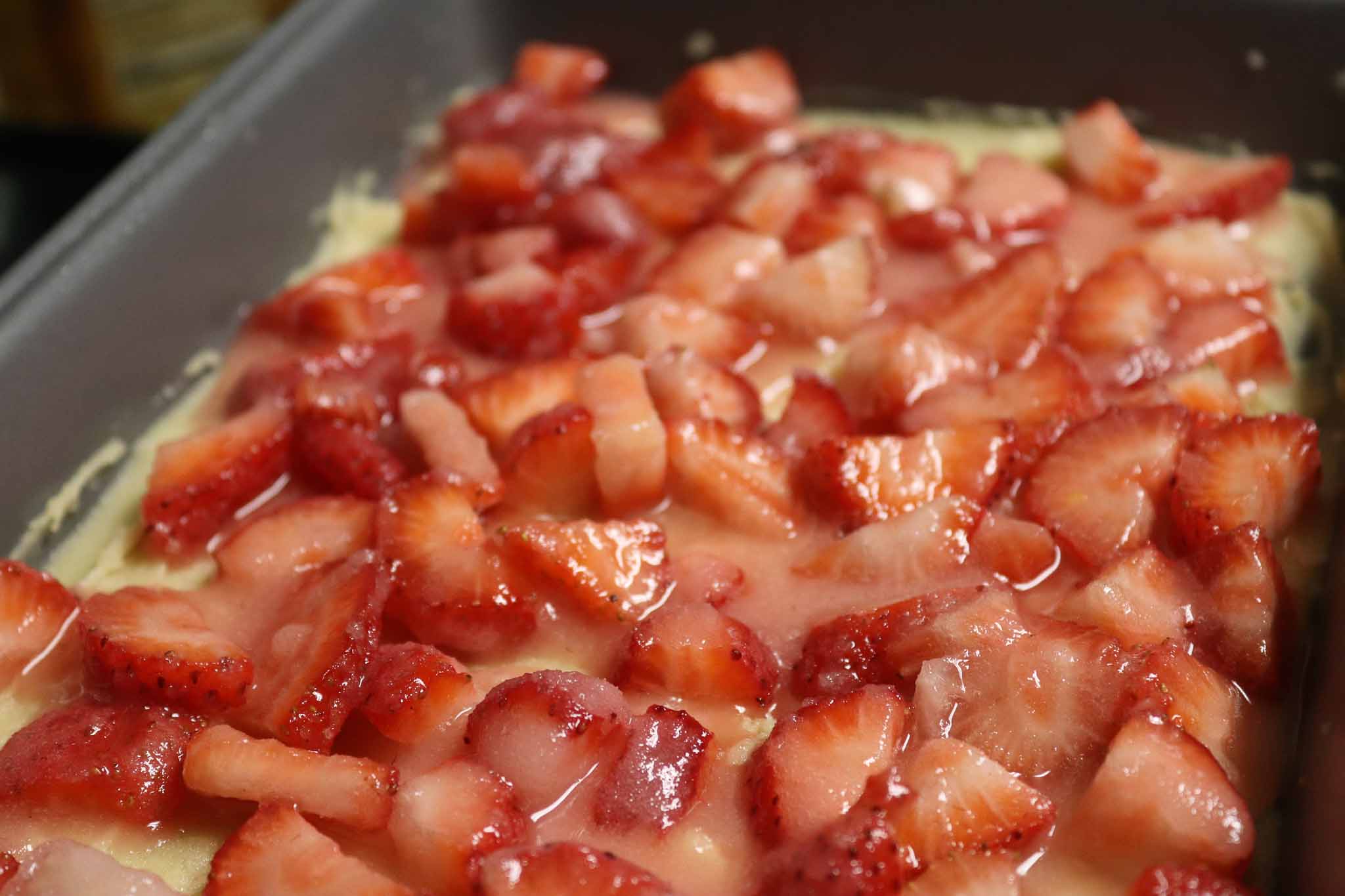 Vanilla – Honestly, you need vanilla to help the flavor of these bars come out. You'll appreciate the vanilla in these baked bars.
Fresh strawberries – My favorite part about this entire recipe is the fact that it uses fresh strawberries. Anytime I can use fresh fruit or veggies in my dishes, I do!
Cornstarch – Let's talk about cornstarch for a minute. Sometimes you need it in dishes to help the product come out thicker! You don't use a lot, but it does make a big difference.
White sugar – You don't use a lot of sugar in this dish, but you do need some to help bring out the sweetness.
In no time, you'll be enjoying these strawberry bars! You can pour a glass of milk or make a cup of coffee to go with. I think you'd be surprised as to how quickly these get eaten too. They easy to make and delicious to eat, which makes it a perfect combination.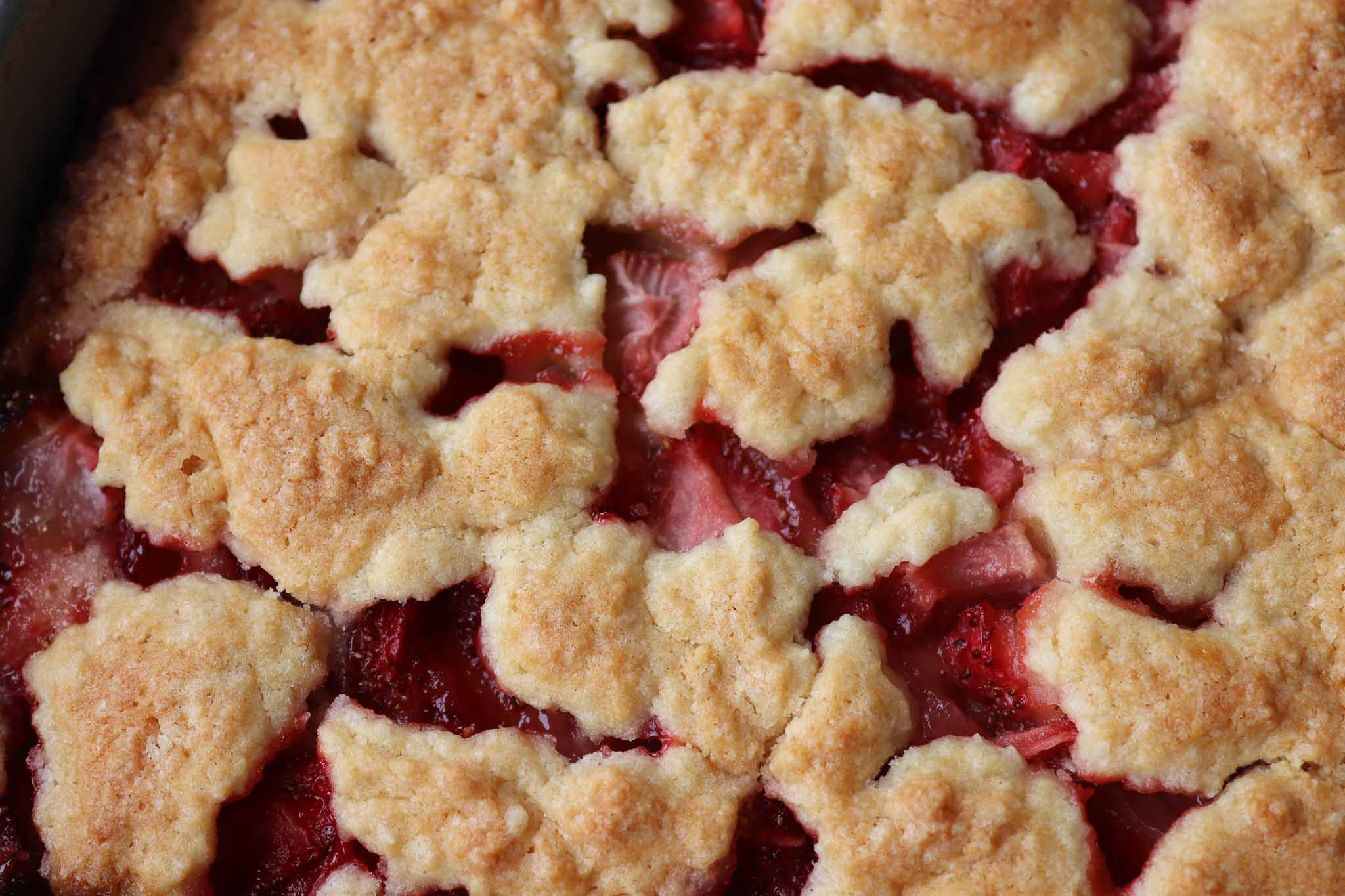 Enjoy!
Yield:

20 Bars
Easy Strawberry Bars
Looking for a crazy good strawberry sweets recipe? Check out these incredible strawberry bars made with fresh strawberries and a delicious shortbread crust!
Ingredients
• 1/2 cup white sugar
• 1/2 teaspoon baking powder
• 1-1/2 cups all-purpose flour
• 1/4 teaspoon salt
• 1/2 cup very cold butter, (8 Tablespoons or 1 stick of butter)
• 1 egg, beaten
• 1 teaspoon vanilla
• 2 cups fresh strawberries, chopped
• 1/3 cup white sugar
• 2 teaspoons cornstarch
Instructions
Preheat the oven to 375 degrees F.

Place parchment paper on the bottom of the 8x8 pan that hangs
over the side of the pan. (This is to make it easier to remove the Strawberry Crumb Bars after cooking.)

In a medium bowl, stir together 1/2 cup white sugar, flour,
baking powder and salt.

Using a fork or a pastry cutter, cut the butter into the flour mixture. (VERY IMPORTANT: Make sure the butter is very cold.) Work with the dough until the pieces are very small. Dough will be crumbly. You can also pulse in a food processor to until you get pea sized crumbs.

In a separate measuring cup or small bowl, beat an egg with a fork. Add the egg and vanilla to the flour mixture, and combine until you have a crumbly mixture.

Pat half of the dough evenly into the bottom of the prepared
pan.

In another bowl, stir together 1/3 cup sugar and cornstarch.
Stir in the strawberries.

Spoon the strawberry mixture evenly over the bottom crust.

Crumble the remaining dough over the strawberry filling layer.

Bake in a preheated oven for 45 minutes, or until top is
slightly golden brown. (My oven runs hot and baked in about 38 minutes.)

Cool completely before cutting into squares. I recommend refrigerating until ready to serve.
Notes
1. It is very important that your butter be very cold. Also, when
working with the crumb crust, be careful not to over work it because you don't want your hands to warm up the crust. You want the crust to be very cold.
2. The sweetness of the strawberries used is important. If your strawberries are not very sweet, you can increase the amount of sugar
used in step 7 to about 1/2 a cup.
Hi! I'm Nellie. I am a busy mama of three, wife to my high school sweetheart who loves to cook, workout and stay organized! I love to share helpful printables, the best recipes and fitness tips for the modern mom. I strongly believe that every mom can feed their family well, take proper care of themselves and have fun along the way! Read my story.
Get comfortable and be sure to come hang out with me on social. Don't grab your free fitness journal before you go!