Halloween Slime Cookies: A Ghoulishly Delicious Delight!
When the spooky season rolls around, these Halloween Slime Cookies are a must-bake. Imagine biting into a soft lime cookie and getting a burst of electrifying lime curd – an experience not just for the palate, but also for the eyes, as they ooze eerie green 'slime'.
Using lime zest and juice, these cookies marry the brightness of citrus with the mystery of Halloween, thanks to a playful dash of black food dye and electric green gel.
Slime Cookies Ingredients:
Let's break down the ingredients and their purpose in the Halloween Slime Cookies recipe:
Lime Cookie Dough:
Unsalted Butter (½ cup): Provides moisture, flavor, and structure. It also gives cookies a rich, buttery taste and a tender crumb.
White Granulated Sugar (¾ cup): Sweetens the cookies and helps in creating a crispy outer edge.
Salt (½ teaspoon): Enhances flavor and balances out the sweetness.
Lime Zest (½ tablespoon): Adds a natural lime flavor, giving the cookie a refreshing citrus kick.
Egg (1): Binds the ingredients together, provides moisture, and contributes to the overall texture of the cookie.
Lime Juice (1 teaspoon): Intensifies the lime flavor in the cookie and can react with baking powder to help the cookies rise.
Vanilla Extract (1 teaspoon): Enhances flavor and adds a subtle depth to the cookies.
Baking Powder (1 teaspoon): Helps the cookies rise and become light.
All-Purpose Flour (2 cups): Provides structure to the cookie, making it hold together and maintain its shape.
Black Food Dye: Used to give the cookie a Halloween-themed appearance and make it look more spooky and appealing.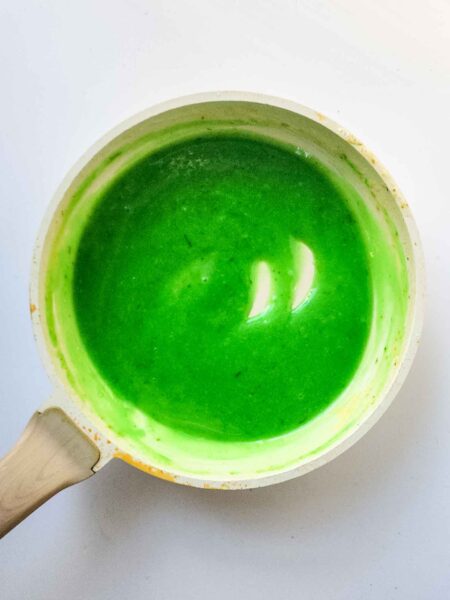 "Slime" Lime Curd:
Eggs (1 ½): Acts as a thickening agent and provides richness to the curd.
White Granulated Sugar (⅓ cup): Sweetens the curd, balancing out the tartness of the lime.
Salt (¼ teaspoon): Enhances the flavor of the curd.
Lime Juice (¼ cup): Gives the curd its distinct lime flavor and contributes to its tartness.
Lime Zest (1 tablespoon): Intensifies the lime flavor in the curd, adding depth and zestiness.
Unsalted Butter (3 tablespoons): Adds richness, creaminess, and a smooth texture to the curd.
Electric Green Food Gel: Used to give the curd a bright, fluorescent green color, making it resemble "slime," which adds to the Halloween theme.
FAQs
Do the cookies taste like lime? Absolutely, the combination of lime zest and lime juice ensures a refreshing citrus kick with every bite.
Can I use regular green food dye? You can, but electric green food gel gives a brighter, more fluorescent color that's perfect for the slime effect.
Tips and Tricks
For uniform cookies, use a cookie scoop. If your curd isn't setting, try refrigerating it a bit before filling the cookies.
Variations
Blood Curd Cookies: Swap out the lime curd for a raspberry or strawberry filling and use red food gel for a blood-curdling effect.
Zombie Cookies: Use blue and purple food dyes in the cookie dough for a 'zombie flesh' appearance.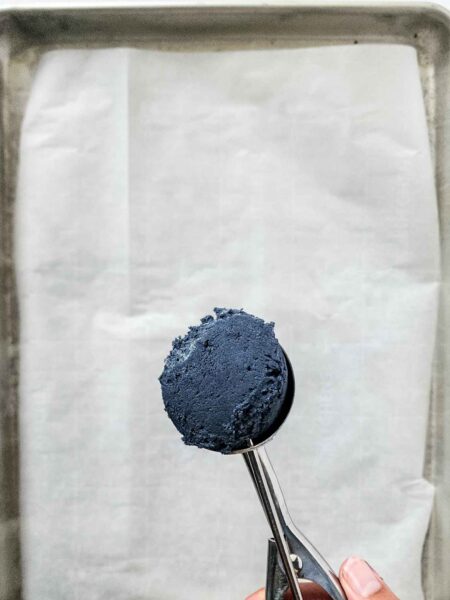 Where to Serve
These cookies are perfect for Halloween parties, fall gatherings, and themed school events.
Storage
Store in an airtight container. They'll stay fresh for 3-5 days. The lime curd can be refrigerated separately for up to a week.
Common Problems and How to Avoid Them
Cookie spreading too much: Ensure the dough is chilled before baking.
Curd too runny: Ensure you cook the curd over low-medium heat until it thickens.
Tips for Making This Recipe with Kids
Let the little ones help with zesting the limes. They can shape the cookie dough balls – it's like playdough but tastier! Kids love the 'slime' part! Allow them to fill the cookies and see the slime ooze out.
Topping Options
Ghoulish Sugar: Sprinkle some green sugar crystals on top for an added sparkle.
Chocolate Drizzle: Melt some dark chocolate and drizzle over the cookies for a rich contrast.
Why This Recipe Works
The beauty of this recipe lies in its ability to blend fun aesthetics with delicious flavors. The lime offers a zesty freshness that pairs wonderfully with the sweet cookie dough. The surprise element of the "slime" curd, both in color and taste, makes it a hit among both kids and adults. This is Halloween baking at its finest – spooky, fun, and oh-so-delicious!
What are some more fun Halloween treats to try?
Yield:

16 cookies
Super Fun and Spooky Slime Cookies For Halloween
Additional Time:
5 minutes
If you are looking for a super fun Halloween recipe be sure to check out these fun slime cookies! A zesty citrus cookie that will be the star of your Halloween party.
Ingredients
Lime Cookie Dough
½ cup unsalted butter
¾ cup white granulated sugar
½ teaspoon salt
½ tablespoon lime zest
1 egg
1 teaspoon lime juice
1 teaspoon vanilla extract
1 teaspoons baking powder
2 cups all purpose flour
Black food dye
"Slime" Lime Curd
1 ½ eggs
⅓ cup white granulated sugar
¼ teaspoon salt
¼ cup lime juice
1 tablespoon lime zest
3 tablespoons unsalted butter
Electric Green Food Gel
Instructions
Start by making the lime curd first. In a saucepan add the lemon, sugar, salt, lime juice and lime zest. Whisk together.
Transfer the saucepan to the stove and heat over medium, whisking constantly.
Heat until all the ingredients melt together and the mixture begins to thicken (about 4-5 minutes)
Be sure to not stop stirring so the eggs in the mixture don't start separating and cooking.
Remove from the heat when the mixture has thickened. Add the butter and stir until melted. Color the curd with the green food dye until it becomes a bright neon like green.
Set this lime curd aside.
Preheat the oven to 350 degrees Fahrenheit. Prepare a baking sheet with parchment paper and set aside.
In a separate bowl, add the softened butter, salt and sugar. Blend together with a spoon, whisk or hand mixer.
Add the egg, lime juice, lime zest and vanilla extract to the butter mixture. Mix until combined. The mixture will look a bit separate at this point and that is normal.
Dye the wet ingredients with black food dye until a deep black color.
Add the baking powder and flour. Fold everything together until a thick cookie dough has formed.
Use a 2 inch scooper to create equal balls of cookie and place on the prepared baking sheet. Place each about 2 inches apart from each other.
Use the back of the scooper or your fingers to create a well in the middle of each cookie.
Pour a large teaspoon of the lime curd into each pocket of the cookie dough, filling up completely.
Bake in the oven for 15 minutes. Remove from the oven and let cool for about 5-8 minutes, then enjoy!
Notes
For an extra gooey look, add more of the lime curd "slime" on top of each cookie after baking.
If you enjoyed this recipe be sure to check out my Instagram Page for the latest posts!
Before you go, check out these great posts!
Free Printable Family Friendly Halloween Movie List and Bingo Game
No Bake Mummy Oreo Halloween Cookies
Hi! I'm Nellie. I am a busy mama of three, wife to my high school sweetheart who loves to cook, workout and stay organized! I love to share helpful printables, the best recipes and fitness tips for the modern mom. I strongly believe that every mom can feed their family well, take proper care of themselves and have fun along the way! Read my story.
Get comfortable and be sure to come hang out with me on social. Don't grab your free fitness journal before you go!