Today I've got a super fun Pumpkin Baked Oatmeal recipe for you to try! For those of us who love pumpkin there are so many different ways to use it! In our muffins, cakes and even in our coffee!
The first time I tried baked oatmeal was when I was at my first real job out of college. Someone (I trust! lol) brought some in and I was super skeptical. Like with all of the amazing things you can do with oatmeal, why on earth would you bake it?!
Fall into a cozy embrace with our Pumpkin Baked Oatmeal. This seasonal sensation is the quintessential blend of heartwarming spices and subtly sweet pumpkin puree, all perfectly nestled into a bed of wholesome oats.
It's a hearty, healthy, and heavenly delight to kickstart your autumn mornings or to unwind with on a cool evening. The natural sweetness of the pumpkin is complimented by the nuttiness of the oats and the warm spice blend. This is more than a meal; it's a soulful experience.
It wasn't until I tried it that I understood–I pretty much love oatmeal in all of it's forms, including baked! It has a chewy consistency similar to a soft granola bar. Today's Pumpkin Baked Oatmeal recipe is the perfect healthy snack for fall!
Baked Pumpkin FAQs
Q: Can I use steel-cut oats instead of rolled oats?
A: While steel-cut oats are a healthier option, they require a longer cooking time and may not be as tender in this baked recipe. For best results, stick to rolled oats.
Q: Can I use fresh pumpkin instead of canned?
A: Absolutely! Fresh pumpkin will deliver a more pronounced flavor. Simply roast, puree, and strain your pumpkin before using.
Tips and Tricks For This Yummy Breakfast
Always preheat your oven for consistent results.
When mixing the wet and dry ingredients, ensure they are well incorporated for even flavor distribution.
For extra creaminess, add a dollop of Greek yogurt to the mix.
A pinch of salt can enhance the flavors significantly.
This Pumpkin Baked Oatmeal recipe is vegan (no vegan substitutes are also listed in the ingredients) Grain Free and can be gluten free if you use certified gluten free oats. Think of it as a breakfast casserole the kids can grab on their way to school or have as a snack when then come home.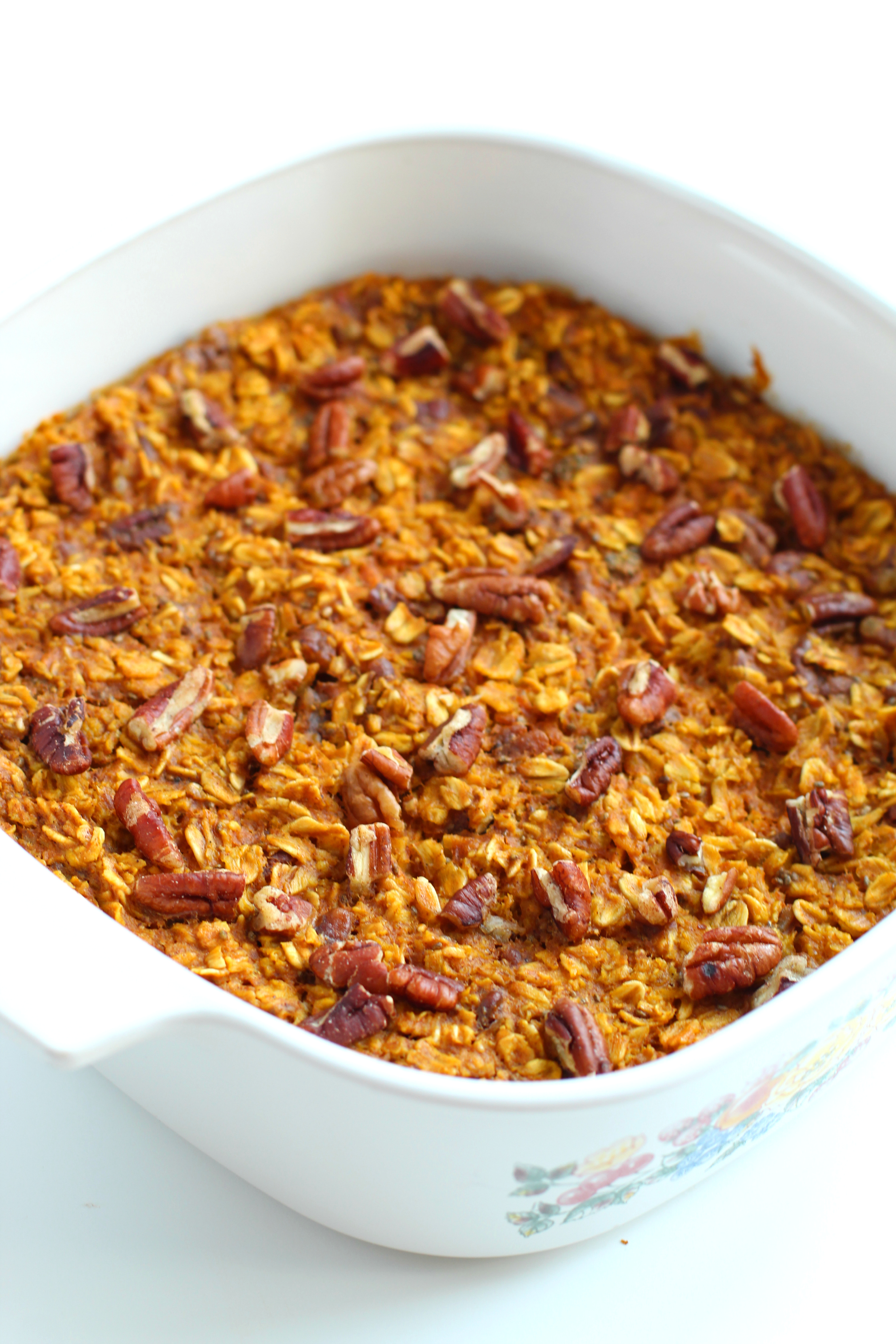 Whenever you decide to try it, enjoy! If this is your first time trying baked oatmeal — welcome! Tell me how you love it!
Variations
Chai Pumpkin Baked Oatmeal: Add a teaspoon of chai spice blend to your mixture for a unique, warming twist.
Pecan Pumpkin Baked Oatmeal: Mix in some chopped pecans for added crunch and nutty flavor.
Where to Serve
This pumpkin baked oatmeal is a versatile dish that's perfect for breakfast or brunch. It can also serve as a healthy dessert or a festive contribution to a fall potluck.
Storage
Store leftovers in an airtight container in the refrigerator for up to 4-5 days. For longer storage, freeze individual portions and reheat in the microwave when ready to eat.
Common Problems and How to Avoid Them
Problem: The oatmeal is too dry.
Solution: Ensure you have enough liquid in your recipe. The oats absorb a lot of moisture, so don't skimp on the milk or pumpkin puree.
Problem: The oatmeal is too bland.
Solution: Don't forget your spices! Cinnamon, nutmeg, and a pinch of salt can really enhance the flavor profile.
Tips for Making this Recipe with Kids
Let the kids help measure and mix the ingredients. This is a great way to teach them about portions and consistency.
Kids can also help with spreading the mixture into the baking dish. Just be sure they understand to spread it evenly.
Allow them to pick and sprinkle their own toppings – it makes the dish more enjoyable and personal for them.
Topping Options
Greek Yogurt: Adds creaminess and a tangy contrast.
Maple Syrup: Drizzle for a touch of added sweetness.
Fresh Fruit: Sliced bananas or berries provide a fresh, juicy contrast.
Nuts and Seeds: For added texture and nutritional value.
Why This Recipe Works
The magic of this recipe lies in its perfect balance of flavors and textures. The hearty oats and creamy pumpkin make for a filling, satisfying meal, while the spices create a warm, comforting aroma and taste. It's also a versatile dish that can be tailored to individual tastes with various toppings and is both easy to prepare and healthy, making it a surefire hit with adults and kids alike.
What are some other fun pumpkin recipes to try?
If you want more pumpkin recipes be sure to check out 50 Healthy Pumpkin Recipes You Need In Your Life!
Yield:

6 Servings
Pumpkin Baked Oatmeal Recipe - The Perfect Fall Breakfast
Super yummy fall twist on a classic healthy breakfast. This baked oatmeal recipe features pecans and gluten free and vegan alternative ingredients.
Ingredients
2 cups old fashioned rolled oats (certified gluten free if necessary)
½ teaspoon baking powder
¼ teaspoon salt
1 ½ teaspoons pumpkin pie spice
½ cup chopped pecans (plus extra for garnish)
1 ½ cups milk (non-dairy if vegan)
1 cup pumpkin puree
¼ cup pure maple syrup
1 tablespoon chia seeds + 3 tablespoons water (may substitute with 1 egg if not vegan)
½ teaspoon vanilla extract
Instructions
Preheat oven to 350 degrees F. Spray a 2 quart baking dish with cooking spray and set aside.
In a large bowl, add oats, baking powder, salt, pumpkin pie spice and nuts. Stir to combine.
In a medium bowl, add milk, pumpkin puree, maple syrup, chia egg and vanilla extract. Whisk to combine.
Pour wet ingredients into dry ingredients and stir to combine.
Pour mixture into prepared baking dish and place in preheated oven for 28-30 minutes or liquid is absorbed and center is set.
Serve warm with a drizzle of maple syrup and add a splash of milk if desired.
Oatmeal may be stored in the refrigerator for up to 4-5 days.
Notes
The perfect recipe to make ahead!
Pin it for later!
If you enjoyed this recipe be sure to check out my Instagram Page for the latest posts!
Before you go, check out these great posts!
Easy Baked Frittata With Vegetables Cheese and Bacon
Easy Spinach and Feta Cheese Quiche
Delicious Easy Fall Drinks: Pumpkin Vanilla Espresso
Hi! I'm Nellie. I am a busy mama of three, wife to my high school sweetheart who loves to cook, workout and stay organized! I love to share helpful printables, the best recipes and fitness tips for the modern mom. I strongly believe that every mom can feed their family well, take proper care of themselves and have fun along the way! Read my story.
Get comfortable and be sure to come hang out with me on social. Don't grab your free fitness journal before you go!