This Nutty Buddy ice cream recipe is so good and easy to make at home! A classic ice cream flavor with delicious taste, no ice cream machine needed!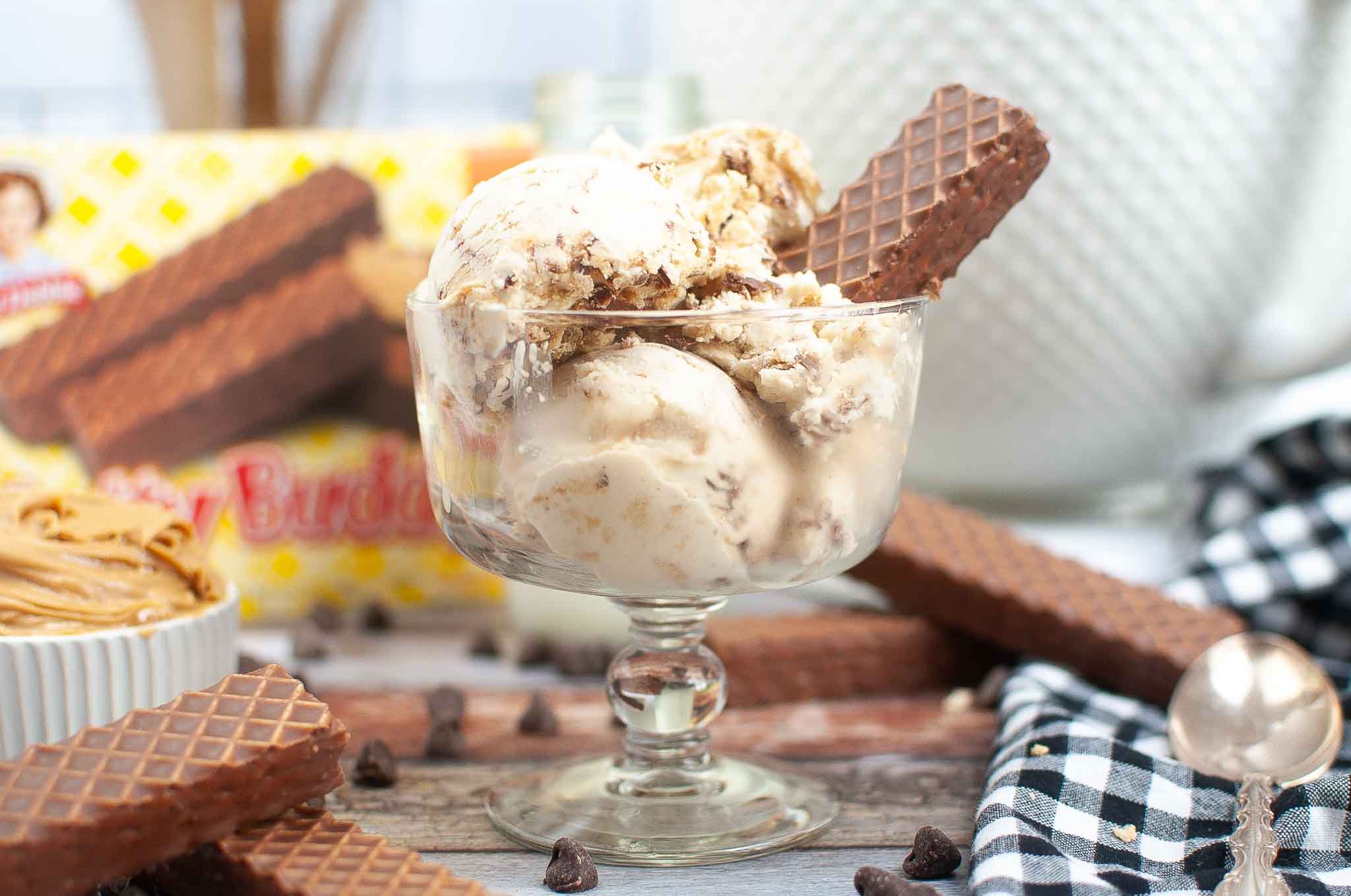 What is Nutty Buddy Old School Ice Cream?
Nutty Buddy is a classic ice cream flavor that has delicious taste. It is made with vanilla ice cream, chocolate, and peanut butter. This Nutty Buddy yummy ice cream recipe is so good and easy to make at home!
Indulge in our decadent Nutty Buddy Ice Cream, an irresistible blend of creamy vanilla ice cream, a swirl of rich chocolate sauce, and a satisfying crunch of roasted peanuts. This nostalgic dessert offers a symphony of flavors and textures, taking you back to the joy of ice cream truck treats. With our easy-to-follow recipe, you can now recreate this beloved classic at home anytime the craving strikes.
Do they still make Nutty Buddy ice cream?
Yes, they still make Nutty Buddy ice cream. It is a classic flavor that has been around for many years. You can find it at most ice cream shops. The ice cream cone is super popular and this ice cream envelops the taste of the nutty bars.
FAQs:
1. Can I use store-bought ice cream? Yes, you can use store-bought vanilla ice cream as a time-saving option. Just soften it slightly before layering with the chocolate sauce and peanuts.
2. Can I use a different nut? Absolutely! While traditional Nutty Buddies use peanuts, feel free to substitute with your favorite nuts like almonds, hazelnuts, or pecans.
3. What type of chocolate should I use for the sauce? A good-quality dark or semisweet chocolate would work great and provide a nice balance to the sweetness of the ice cream.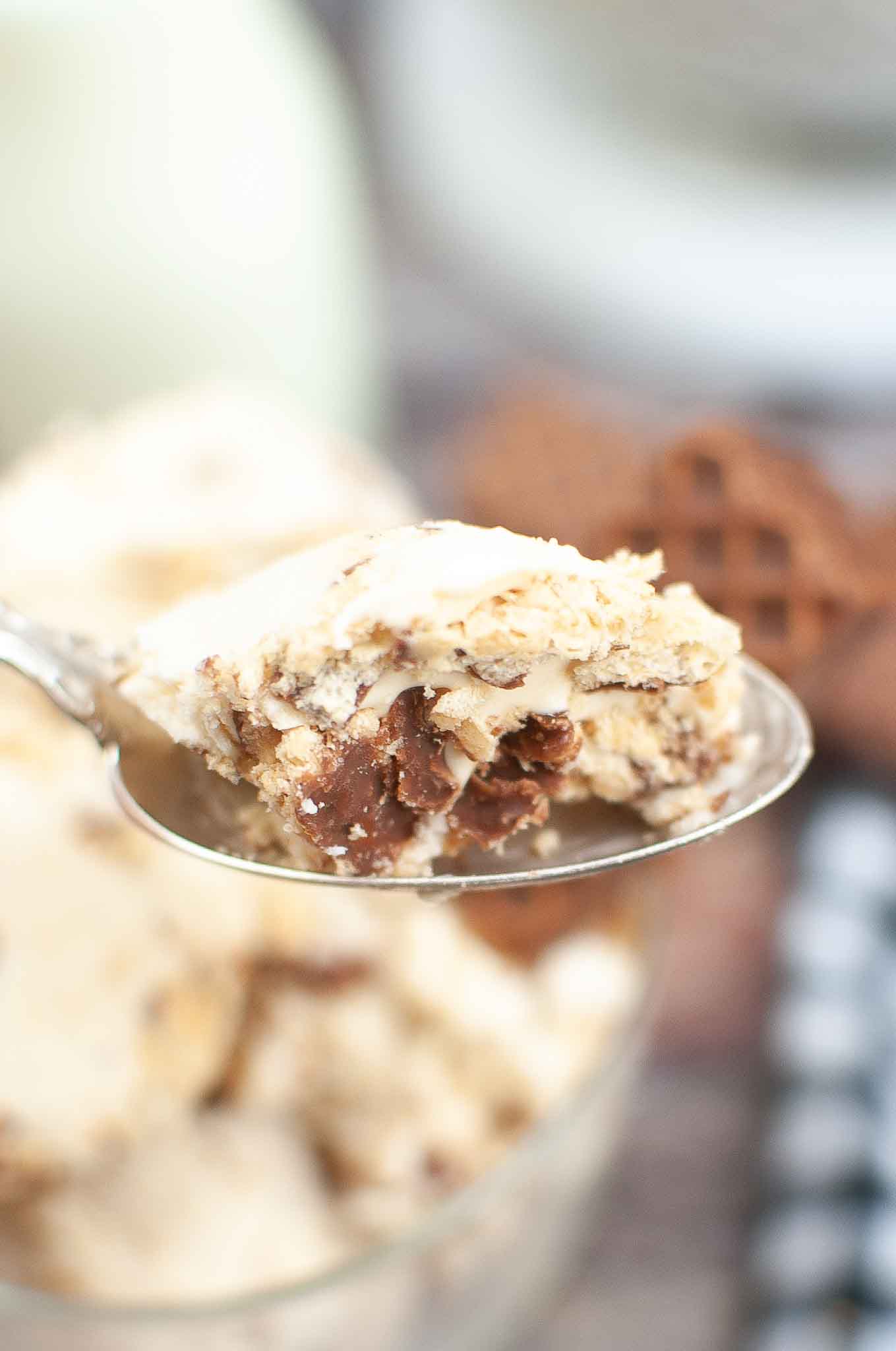 Tips and Tricks For Making This Ice Cream
Make sure to freeze your ice cream well between layers to maintain distinct layers of ice cream, chocolate, and peanuts.
When making the chocolate sauce, be careful not to overheat the chocolate to avoid scorching.
Use a loaf pan or silicone molds for easy layering and unmolding of the ice cream.
Variations Of This Recipe
Nutty Buddy Ice Cream Sandwiches: Sandwich the ice cream between two cookies for a fun twist.
Nutty Buddy Sundae: Instead of layering, create a sundae with scoops of ice cream, drizzled chocolate sauce, and a sprinkle of peanuts.
Double Chocolate Nutty Buddy: Use chocolate ice cream instead of vanilla for a double dose of chocolate.
What are the ingredients in this classic ice cream?
The ingredients in Nutty Buddy treat are vanilla ice cream, chocolate, and peanut butter. These flavors work together to create a delicious and classic ice cream flavor. You can make nutty buddy ice-cream old-fashioned ice cream treat right at home! You don't have to churn ice cream in an ice cream maker for this perfect treat.
2 cups heavy cream
1 can sweetened condensed milk
1/2 cup peanut butter
3/4 cup semisweet chocolate chips
1 tablespoon half and half
6 little Debbie nutty buddy bars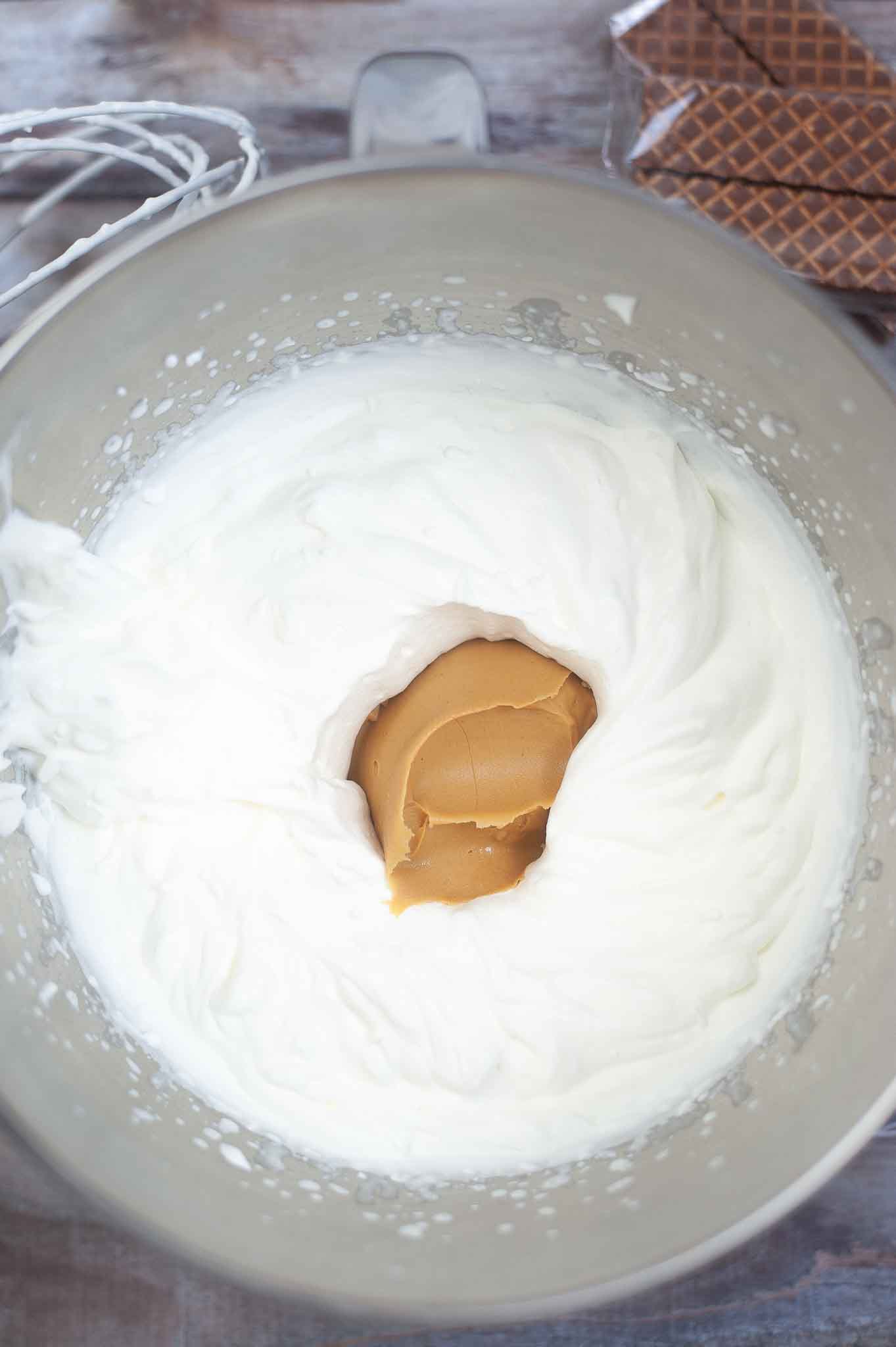 Super simple ingredients for this little dessert. You won't need any coconut oil, vanilla extract, corn syrup, soy lecithin or xanthan gum for this drumstick ice cream pie.
Where to Serve:
This Nutty Buddy Ice Cream is perfect for backyard barbecues, birthday parties, or any summertime gatherings. It's also a delightful dessert to cool down on a hot day or a cozy treat to enjoy during a movie night at home.
Storage:
Store the ice cream in an airtight container in the freezer for up to 2 months. Remember to cover the surface of the ice cream with plastic wrap before putting the lid on to prevent ice crystals from forming.
Grab you ice cream scoop and maybe even some hot fudge sauce or caramel sauce for a topping. You can serve in sugar cones to replicate the taste of the drumstick cone! Who needs an ice cream truck when you can make fun treats at home?
Nutty Buddy Topping Options
While the classic combination of chocolate and peanuts is delicious on its own, you could also add whipped cream, a cherry on top, or even a sprinkle of sea salt to elevate the flavors.
Where do you serve this homemade ice cream?
This homemade ice cream is best served at home. You can enjoy it with your friends and family. It is also a great dessert to have after a meal.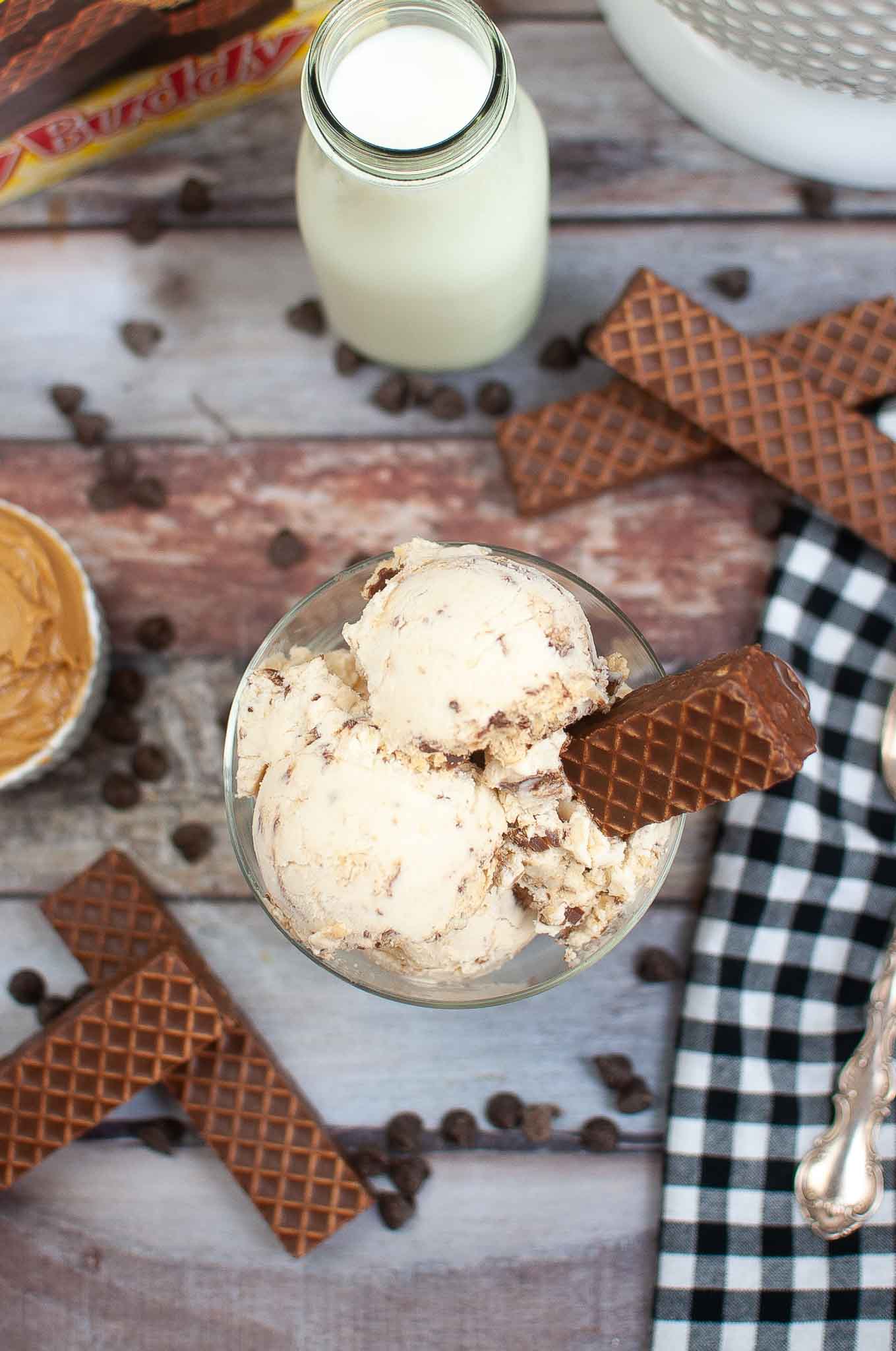 Can you make this ice cream with kids?
Yes, you can make this ice cream with kids. They will enjoy helping to mix the ingredients. It is a fun and easy recipe to make together.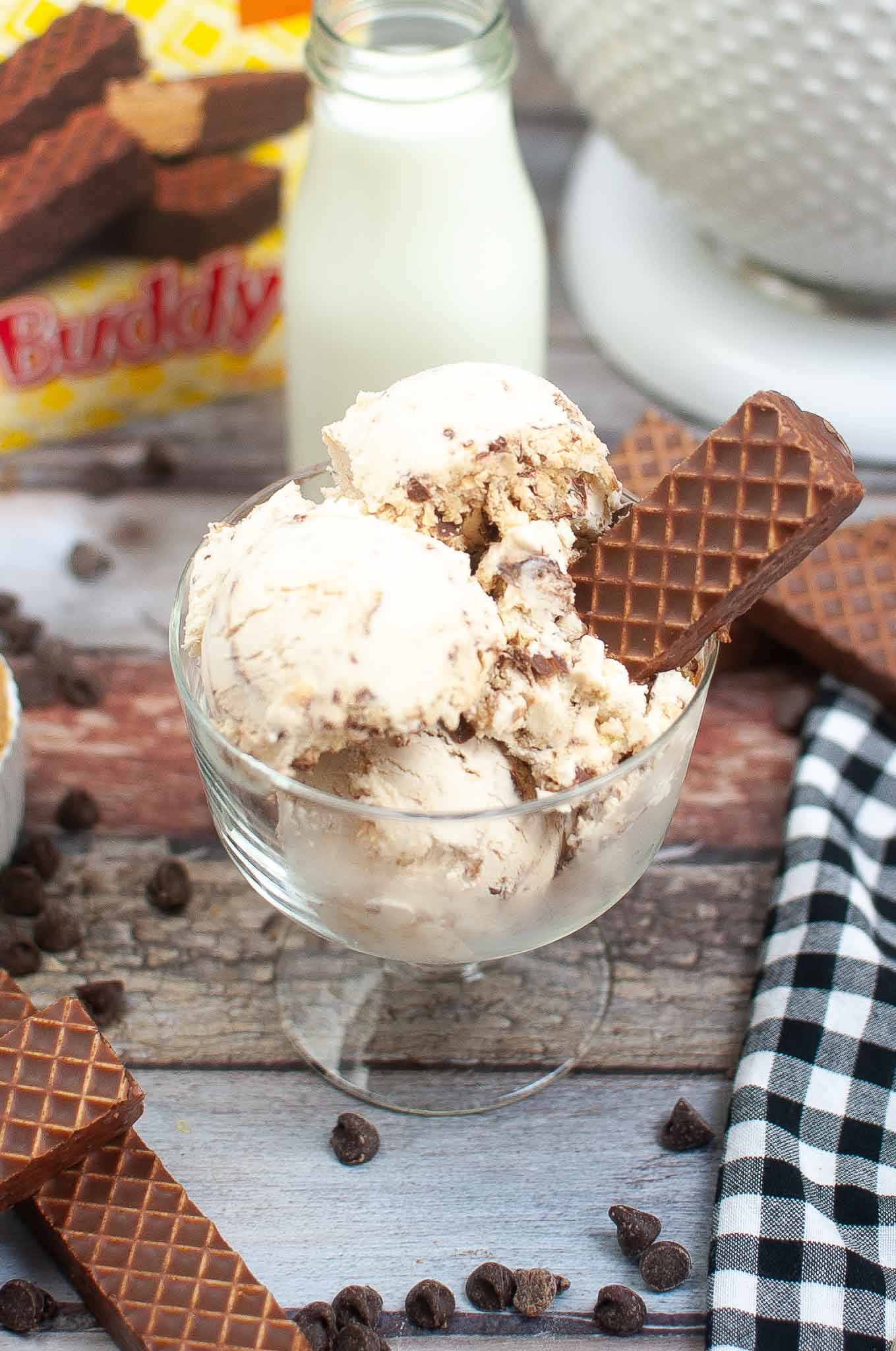 The best part is that there are little debbie nutty buddy bars pieces inside of the ice cream for a crunchy bite.
Why This Recipe Works:
Our Homemade Nutty Buddy Ice Cream recipe is a hit thanks to its delightful balance of creamy, crunchy, sweet, and salty elements. The homemade vanilla ice cream lends a creamy base, the chocolate sauce provides a decadent contrast, and the peanuts add a delightful crunch. This recipe not only captures the essence of the iconic Nutty Buddy but also allows you the joy of creating your favorite treat at home. Whether you're a seasoned home cook or a baking newbie, this recipe is sure to impress with its simplicity and delectable outcome. Enjoy the process and the praise that is sure to come your way once your loved ones take a bite of this homemade wonder!
If you are looking for some more amazing ice cream recipes be sure to check out this comprehensive list: The Best Homemade Ice Cream Recipes!
Yield:

1 quart
Easy Little Debbie Nutty Buddy Ice Cream Recipe
Total Time:
4 hours
20 minutes
This amazing little debbie nutty buddy can be easily made at home!
Ingredients
2 cups heavy cream
1 can sweetened condensed milk
1/2 cup peanut butter
3/4 cup semisweet chocolate chips
1 tablespoon half and half
6 little Debbie nutty buddy bars
Instructions
Whip the heavy cream until soft peaks form.
Add the peanut butter and combine with the whisk.
Add the condensed milk.
Melt the chip with a tablespoon of half and half, stir to form hot fudge.
Chop nutty buddy bars into pieces and fold into ice cream.
Pour ice cream mixing into bread pan 1/3 full. Add half of fudge. Swirl to make ribbons.
Repeat step 6 until completely full.
Then pour remaining ice cream mix in pan and top with a few nutty buddy pieces.
Freeze for 4-6 hours or overnight.
Nutrition Information
Yield
6
Serving Size
1
Amount Per Serving
Calories

623
Total Fat

53g
Saturated Fat

27g
Trans Fat

1g
Unsaturated Fat

21g
Cholesterol

94mg
Sodium

186mg
Carbohydrates

35g
Fiber

3g
Sugar

27g
Protein

10g
Pin it for later!
If you enjoyed this recipe be sure to check out my Instagram Page for the latest posts!
Before you go, check out these great posts!
Easy Homemade Rocky Road Ice Cream Recipe
The Best Homemade Red Velvet Ice Cream For Dessert
Yummy Starbucks Cream Cheese Pumpkin Muffins
Easy Homemade Strawberry Cheesecake Ice Cream Recipe
Homemade Pineapple Coconut Ice Cream
Hi! I'm Nellie. I am a busy mama of three, wife to my high school sweetheart who loves to cook, workout and stay organized! I love to share helpful printables, the best recipes and fitness tips for the modern mom. I strongly believe that every mom can feed their family well, take proper care of themselves and have fun along the way! Read my story.
Get comfortable and be sure to come hang out with me on social. Don't grab your free fitness journal before you go!