These rich and chocolatey hot cocoa cookies and soft and moist and so good! Filled with a marshmallow center and sprinkles of your choice, these cookies are perfect for any occasion!
I love baking during the holidays. It is one of my favorite things in the world. Something about the joy of sweets and the Christmas season just blends together so perfectly. This year has been so insane I think I bought Christmas sprinkles in the beginning of August.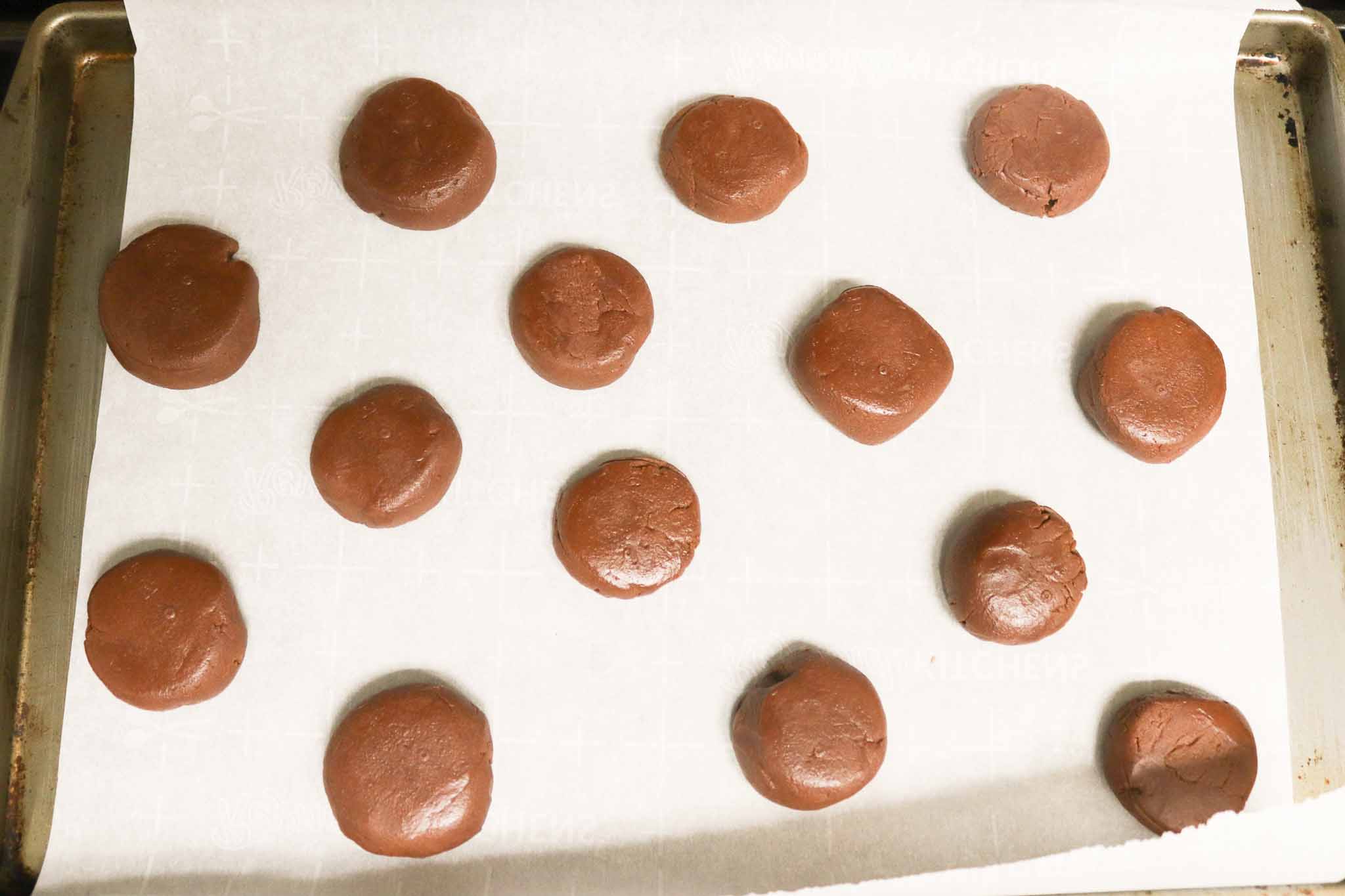 Last year I tried a bunch of cookie recipes–I tried Candy Cane Cookies which were fun, and even these fun Christmas Wreath cookies. This year though, I wanted to go for a really good chocolate cookie.
I have been having a strong hankering for Hot Chocolate and so I did a search for Hot Cocoa Cookies. I didn't know what I was getting into but the idea of marshmallows and chocolate frosting inside of a chocolate cake type of cookie didn't sound half bad.
One of the great things about having a hand to bake is that you keep certain ingredients on hand all times: butter, cocoa, baking powder and soda, eggs, flour, vanilla, brown sugar and white sugar too. Powdered sugar always ready for frosting options!
Most times I don't use my mixer, but this time I did. When it was time to chill the dough, I simply took the entire bowl and shoved it in the fridge. Since this is a crucial part of the recipe I was sure to pay attention and leave it in there for at least an hour. Trust me, it is so worth the wait!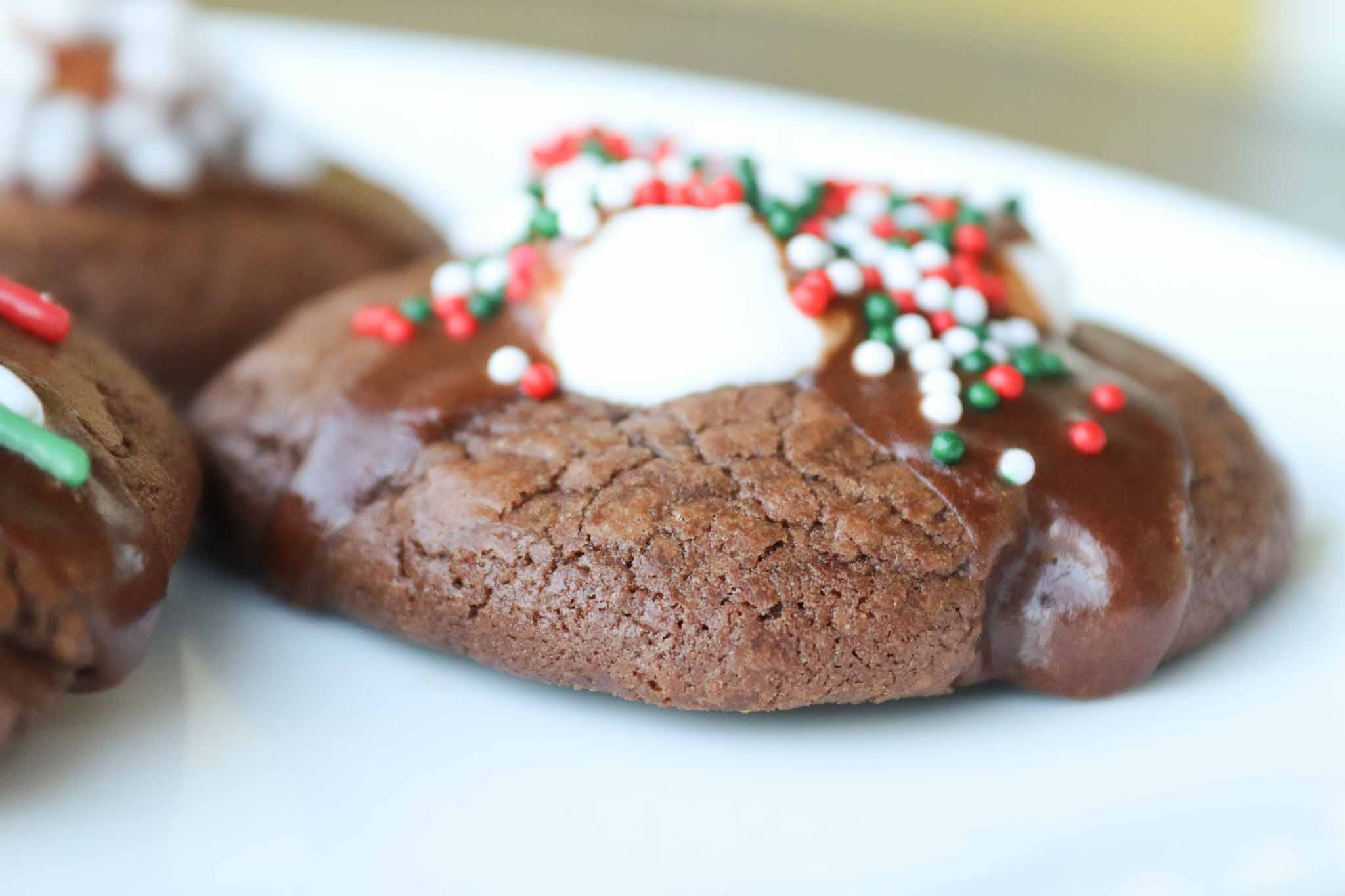 Decorate Hot Cocoa Cookies For Christmas or Anytime!
I used my Christmas Cookie sprinkles for this one, but I also used regular chocolate sprinkles. Yes, it's a great Christmas cookie, but honestly, I can make this in the middle of the summer and get a fantastic chocolate fix!
If you have anyone in your house that doesn't like marshmallows, feel free to leave a few cookies without them. I wasn't sure I was going to enjoy them, but I did! What I like most about the cookie was the cake like texture. I strongly believe that all cookies should be cake-like (but that's just me!).
Grab a glass of milk, the kids, your favorite sprinkles and get ready for a cookie that will blow your mind.
Yield: 40 cookies
Rich and Amazing Hot Cocoa Cookies
Prep Time: 15 minutes

Cook Time: 15 minutes

Additional Time: 1 hour 15 minutes

Total Time: 1 hour 45 minutes

These rich and chocolatey cookies have a marshmallow surprise in the middle and a delicious cake like texture. Perfect for the holidays or any time of year!
Ingredients
FOR THE COOKIES
• 1/2 cup unsalted butter 1 stick
• 12 oz semi-sweet chocolate
• 1 1/2 cups flour
• 1/4 cup unsweetened cocoa powder
• 1 1/2 teaspoons baking powder
• 1/4 teaspoon salt
• 1 1/4 cups brown sugar
• 3 eggs
• 1 1/2 teaspoons vanilla extract
• 25 large marshmallows approximately
FOR THE ICING
• 2 cups powdered sugar
• 4 tablespoons unsalted butter 1/2 stick, melted
• 1/4 cup unsweetened cocoa powder
• 1/4 cup hot water
• 1/2 teaspoon vanilla extract
• assorted sprinkles
Instructions
In a medium saucepan (or in a microwave safe bowl, using 50% power), melt the butter and chocolate, stirring frequently. Once melted, set aside to cool slightly.
In a medium bowl, whisk together the flour, cocoa powder, baking powder and salt.
In the bowl of an electric mixer, beat the sugar, eggs and vanilla on low speed until well combined.
Add the cooled chocolate mixture and blend until just combined.
While mixing, add the flour mixture slowly and blend until just combined.
Scrape down the sides of the bowl, then cover the dough and refrigerate at least 1 hour. The dough should be firm. If making the dough a day ahead, let sit at room temperature for 30 minutes before shaping.
Preheat oven to 325*F. and line 2 baking sheets with parchment paper or a silpat type liner. Use a tablespoon (or a tablespoon sized cookie scoop) to scoop the dough, then roll the dough in your hands to create balls. Arrange the balls about 2 inches apart on your baking sheets, then flatten slightly.
Bake cookies about 12 minutes.
While the cookies bake, cut the large marshmallows in half (crosswise). When the cookies have baked, remove from oven and press one marshmallow half (cut side down) into the center of each cookie. Return the cookies to the oven and bake another 2-3 minutes. Allow the pan of cookies to cool a few minutes, then transfer
cookies to cooling rack.


PREPARE COOKIE ICING
Prepare cookie icing by combining all ingredients in a medium bowl and mixing together with a whisk.
Place wire cooling rack (with cookies on it) over a baking sheet (to catch any excess icing). Spoon a small amount of icing onto the top of each marshmallow, and use the back of the spoon to spread it a bit.
After icing just a couple cookies, top with sprinkles before the icing dries.
Allow icing to set up about 30 minutes before serving.


Nutrition Information
Yield
24
Serving Size
1
Amount Per Serving Calories 274Total Fat 12gSaturated Fat 7gTrans Fat 0gUnsaturated Fat 4gCholesterol 39mgSodium 80mgCarbohydrates 43gFiber 1gSugar 32gProtein 3g
Hi! I'm Nellie. I am a busy mama of three, wife to my high school sweetheart who loves to cook, workout and stay organized! I love to share helpful printables, the best recipes and fitness tips for the modern mom. I strongly believe that every mom can feed their family well, take proper care of themselves and have fun along the way! Read my story.
Get comfortable and be sure to come hang out with me on social. Don't grab your free fitness journal before you go!