How to get the most out of your stay at Hershey Lodge
During the Sweet Welcome trip, I got an in depth super fun experience at all of the Hershey properties in Hershey, Pennsylvania. I had the really fun opportunity to stay two nights at the very popular Hershey Lodge. I learned so many fun and cool things about the resort and I am sharing them with you today!
Hershey Lodge is one of the official resorts of HersheyPark which also includes the Hotel Hershey and the Hershey Park Camping Resort.
Water Works at Hershey Lodge
Hershey Lodge offers of the most amazing Indoor Water Parks that I have ever seen. This is perfect for year round visits! From the moment I walked in, I was super overwhelmed (in a good way!) with all of the options. There were slides, sprinklers and so much more! The indoor pool is the coolest!
The indoor water park at @HersheyPA Hershey Lodge is pretty epic. A bar, tons of slides, arcade room, game room (with legos!) and a pretty dope fitness room. #HersheyPA #hersheyparkhappy #sweetwelcome #hosted pic.twitter.com/G6dSnTfCGj

— Nellie *meme cat's bff* ??? (@BklynActiveMama) April 12, 2019
"An exclusive and complimentary amenity for our overnight guests! Enjoy 30,000 square feet of splashing good times featuring Twizzlers Twists water slides and Reese's Water Walk! Plus, enjoy fun interactive water features including our zero entry pool, sand castle spray zone, lighthouse tipping bucket, basketball hoops, and more!"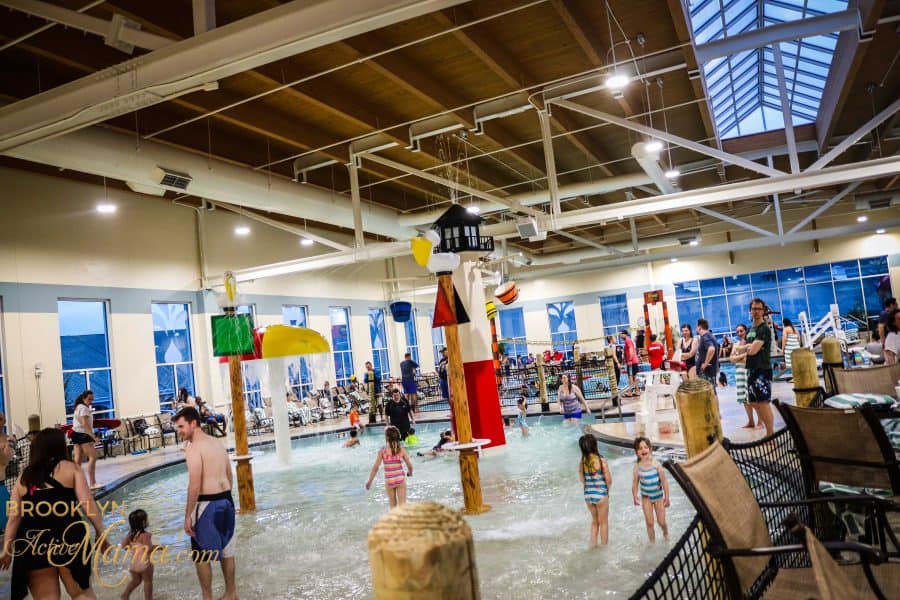 Chocolate everywhere!
Chocolate everywhere: The minute you walk into the lodge you are greeted with the delicious smell of chocolate, it's not too overbearing but just enough to make you want to eat some chocolate!
Plus the lobby area is super inviting with lots of fireplaces, a bar and just a great ambiance.
Delicious Restaurants
Two amazing restaurants Fire and Grain and Hershey Grill: There are many different options to grab something to eat at Hershey Lodge but my two favorites were Fire and Grain and Hershey Grill.
Fire and Grain is right at the front entrance of the lodge and it has some of the most delicious flatbread I have ever come across. They have plenty of great food choices but I personally recommend the flatbread and the world famous s'mores jar for dessert! Who knew that Hershey was such a fun place to play and eat?!
I was able to have a delicious breakfast at Hershey Grill while staying at the Hershey Lodge and it was really good! I had a traditional American Breakfast because…habit. However, I was able to take some really great pictures of the s'mores french toast that my table mates were having!
The s'mores French toast at the #hersheygrill looks amazing!! Thanks @suburbanwifedp for letting us take a pic !! ?? #sweetwelcome #hersheypa #hersheyparkhappy #hosted pic.twitter.com/xu2fyVVytD

— Nellie *meme cat's bff* ??? (@BklynActiveMama) April 13, 2019
Don't miss the Hershey Lodge Gift Shop!
Gift shop has all the candy and trinkets: The gift shop was one of the best I've ever seen! Since the trademark is owned by Hershey there are so many cute chocolate/candy themed trinket including t-shirts, swimwear, loungewear, emoji pillows and so much more! I was able to get toy chocolate cars and more for the kids. I even got some Reeces Pieces socks for my husband.
My favorite part though? The amazing selection of reasonably priced chocolates for you to take home or give as a gift. I personally loved the caramels, they were so good!
The Fitness Room is worth a visit!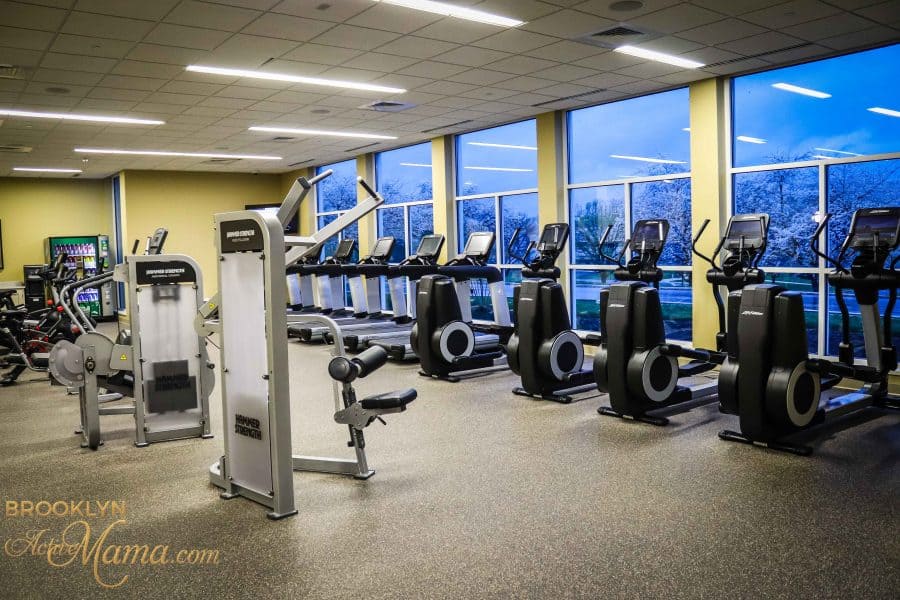 Fitness room is amazing: Fun fact about me, I love to check out the fitness facility of any hotel I stay in. I truly believe that the quality of the fitness room is directly connected to the quality of my stay.
I am happy to say that this fitness room is one of the biggest I've EVER seen (and I travel a lot!) It's super spacious with tons of treadmills and ellipticals. There are complimentary towels, water with lemon and everything else you would need to have a great workout.
My personal favorite? There are two peloton bikes in the fitness room! If you don't have a peloton account don't worry, there is a general login taped on the outside of the bike so that anyone can enjoy!
I was able to get in two amazing 30 minutes sessions with my favorite Peloton instructor, Alex. The perfect way to start off a sweet day!
Kids Activities at the Hershey Lodge
Game time: The arcade is also a lot of fun! There are tons of games for the kids to play and there is a separate game room full of legos, TVs and it's a fantastic (and somewhat quiet) place to relax and craft if that is what your kid needs to decompress from a day of fun.
Kids check in 4-6
A really fun way for the kids to feel as if they are a part of the fun is to head to the kids check in table which is right at the front entrance.
"At Hershey Lodge, kids are not just welcome, they're expected! Children experience their own check-in upon arrival, by signing the "Kids at Hershey Lodge" guest book, participating in a Hershey's candy guessing game, and receiving their own chocolate surprise. Kids even get a lanyard that can be personalized with their name and contact information."
Sweet Treats In The Guest Room
The guest rooms are simply gorgeous. They are spacious and the beds are comfortable! The best part though? Chocolates with turn down service!
Love this turn down service at the #hersheylodge ? #sweetwelcome #hersheypa #hersheyparkhappy pic.twitter.com/aYL6LpVCsB

— Nellie *meme cat's bff* ??? (@BklynActiveMama) April 13, 2019
Another great service are the awesome gifts you can give from concierge! If you have a special birthday or anniversary all you have to do is call ahead and let concierge know and they will get a nice basket or sweet gift of your choice delivered to your room before you get there!
When I arrived there were plenty of chocolate gifts getting ready to be delivered to rooms. It's a super sweet idea if you get what I mean.
If you do some preplanning you can have chocolate gift baskets delivered to your room for any celebration. ? ?? Just ring up concierge before your stay at the Hershey Lodge! @HersheyPA @Hersheypark #sweetwelcome #hersheypa #hersheyparkhappy #hosted pic.twitter.com/c0CyEaqdma

— Nellie *meme cat's bff* ??? (@BklynActiveMama) April 13, 2019
Hershey Lodge was definitely one of the best resorts I've stayed at in a long time. There is over 100,00 square feet of function space so you might even consider planning a fun event here too!
To check out the latest rates for summer (or any time of the year!) be sure to check out the discounted packages to save big!
For more on Hershey PA Check out:
How To Easily Travel To Hershey Park From NYC Without A Car
Everything You Need To Know About The King Size Shakes At Hershey Park
Hi! I'm Nellie. I am a busy mama of three, wife to my high school sweetheart who loves to cook, workout and stay organized! I love to share helpful printables, the best recipes and fitness tips for the modern mom. I strongly believe that every mom can feed their family well, take proper care of themselves and have fun along the way! Read my story.
Get comfortable and be sure to come hang out with me on social. Don't grab your free fitness journal before you go!