This post on being a girl mom was sponsored by Huggies and ShopRite, all opinions are my own.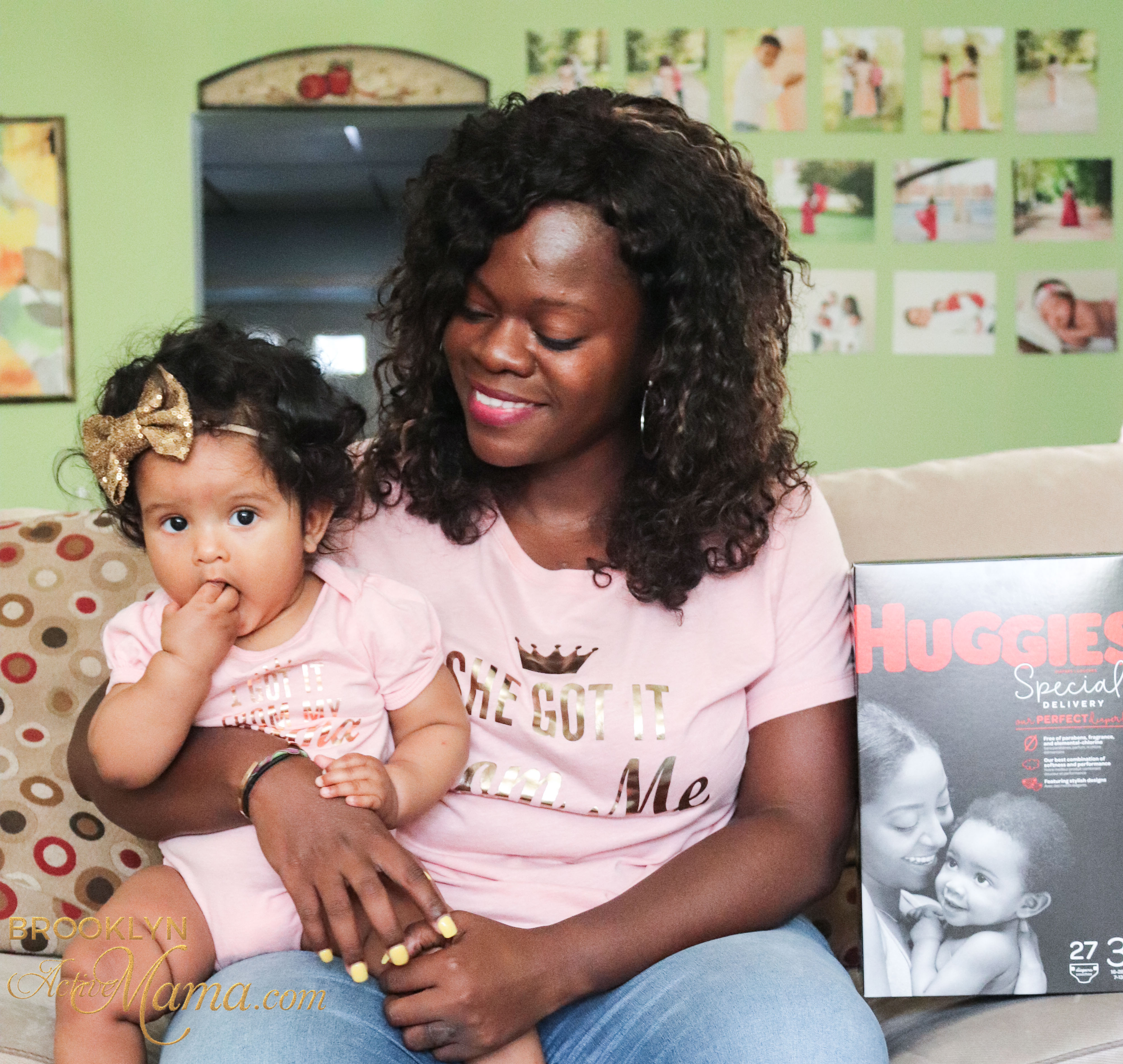 Can you believe that I have been a girl mom for 10+ months now? Spoiler alert: Things are different. I'm not sure if it's the fact that it's been 7 years since I've had my last baby, or maybe it's the fact that I am spending her first year home with her–this experience has been so amazing.
With my boys, I was running 24/7 trying to build an empire by climbing the corporate ladder, finishing my master's degree and buying my home.
Things are a lot less hectic these days and even though I am constantly hustling as an entrepreneur, being able to be home with my baby girl has forced me to close the laptop and enjoy the baby phase a lot more.
I am painfully aware that my children are growing SUPER fast and each phase needs to be enjoyed individually.
Becoming a Mother again much later in life has allowed me to realize how fortunate we are to be able to provide the necessities like food and diapers for a new baby.
Did you know that one-in-three families struggle to provide enough clean diapers for their baby? You can help diaper a baby in need when you buy Huggies diapers from Shoprite.com from now until 9/28.
Each purchase will trigger a day's worth of diapers from Huggies and ShopRite to National Diaper Bank Network partners in the New Jersey and Connecticut areas. How amazing is that?
Together, we can help donate 500,000 diapers. You can visit to shop Huggies diapers online. It's so awesome to be able to give back in such an amazing way!
It's also pretty awesome being a girl mom. Here are some ways my life has changed:
The clothing
So, I kind of knew that I was going to be a little over the top when it comes to Jasmine's wardrobe–let's face it, girls have WAY more options that boys. The dresses, the leggings, the BOWS. All of it is just so fun! Since I am such a princess myself, I can't help but dress her up every day. However, things have gone out of control rather quickly. We have several outfits we have donated because we simply couldn't keep up with her growth and the overwhelming amount of clothing she has! I've slowed down on the purchasing of new clothes but it's all so tempting! From what I understand from other girl moms, it doesn't get much better from here!
Body image
It has been tough trying to drop this baby weight while running a business and mothering three kids. Having a girl child has made me painfully aware of what I say to myself and how I feel about my body. When my daughter becomes a mother I want her to give herself some grace and be confident that she can love whatever body she is in. Giving birth via 3 c-sections is no easy feat and even though she is a baby, I want her to know that her mom didn't stop *living* because she wanted to drop some of the weight.
A different side of dad
Watching my husband with my daughter has been a complete joy. Not knowing my biological dad growing up has made this experience even better for me. For 10 years I've watched him be rough and tough and do "boy" things with my older two, and now he is complete mush whenever Jasmine is around.
He gladly holds her when we go out, and he melts when I send him daily random photos of our day. She's everything he didn't know he needed, and I am so excited to watch their relationship grow.
Milestones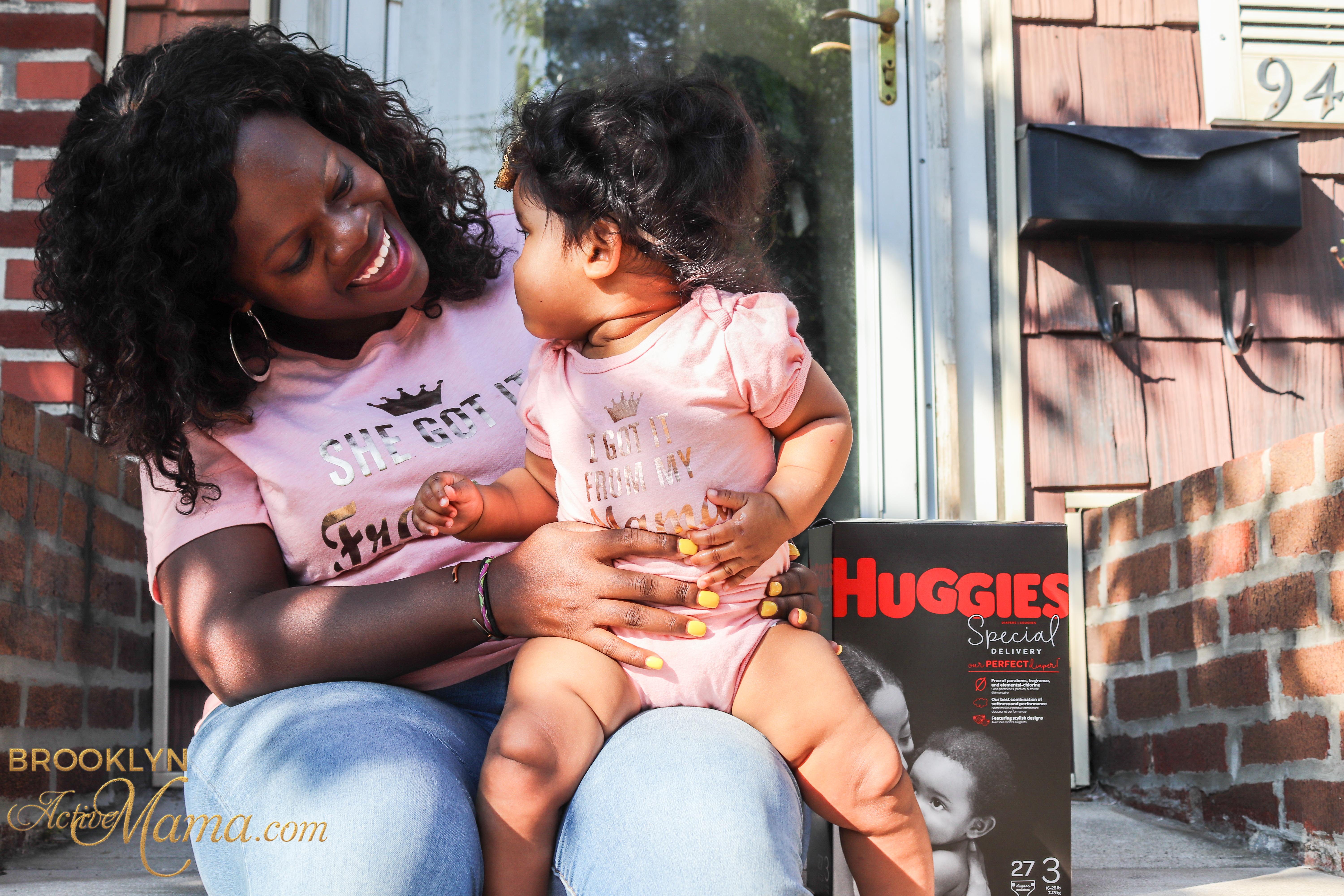 I am completely lax on milestones with my daughter. With my first-born I was counting the days until he rolled over, crawled and walked. With her, I'm letting her do her own thing. Once in a while I'll read the milestone emails that I get from BabyCenter, but for once I am completely relaxed. Watching her hit new milestones (instead of hearing it from my daycare provider) for the first time has been SO awesome.
She's my mini me
We go everywhere together. On the subway, to events, to the grocery store–you name it. I never traveled this much with my boys! With her, she feels like my mini me, like my little best friend. There is just something truly different about having a girl child. When I was growing up, I always thought I'd have a house full of princesses, turns out–2 princes and a princess was all I needed.
If you liked this article be sure to check out 5 Simple Ways to Save Money on the New Baby.
How did becoming a mother change you?
Hi! I'm Nellie. I am a busy mama of three, wife to my high school sweetheart who loves to cook, workout and stay organized! I love to share helpful printables, the best recipes and fitness tips for the modern mom. I strongly believe that every mom can feed their family well, take proper care of themselves and have fun along the way! Read my story.
Get comfortable and be sure to come hang out with me on social. Don't grab your free fitness journal before you go!