I set my wake up call for 3AM. This has to be the most insane part of a Disney race and yet, here I was, for the second year in a row at the Glass Slipper Challenge.
After coming back to Pop Century from the Expo, I took my time and unpacked my first running costume. I'd chose Princess Tiana because 1) she is super cute and b) lime green works for me so it was an easy choice!
I was out of the room by 3:22am. One thing that is terrifying is walking around on a resort at 3am in the morning. I know there probably wasn't a logical reason to be nervous as the Disney security is top notch and unmatched–BUT my city girl insides trembled a bit until I saw plenty of other princesses on my path.
The lines were pretty minimal and I was able to get on the 2nd bus. The lines were much shorter than the half, which was nice. I didn't know what to expect from my first Enchanted 10k but I knew it would be okay in the end. The pre party was jamming when we got there and it was a cool 52 degrees as we waited. People were shivering like crazy, huddling up, buying coffee etc. Meanwhile I felt fine (thank you NYC for this superpower of being able to manage the cold). While I waited on line to get a pic with Belle–which was at least 45 minutes–two of the ladies behind me wrapped in mylar blankets commented that they were SO cold and the entire time waiting on the line they didn't even see me flinch.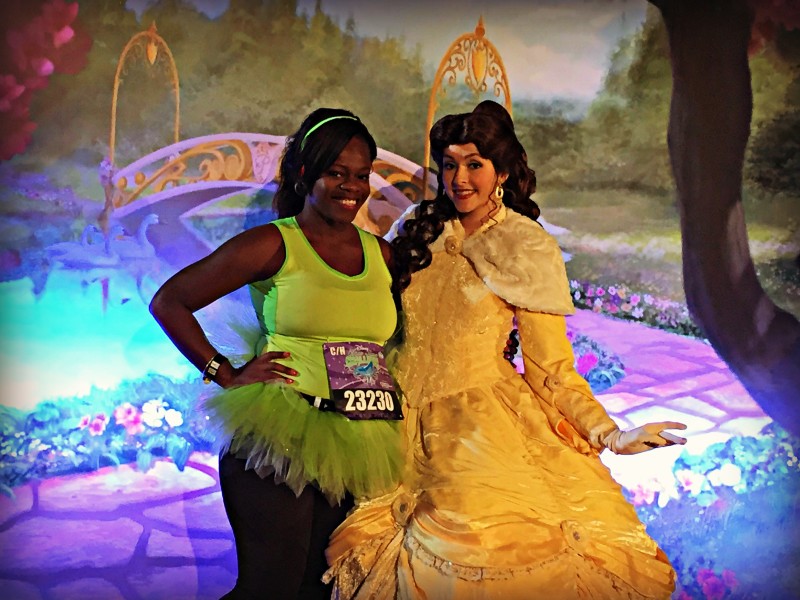 As the corral call came, about after an hour+ of waiting outside, there was at least another 45 minutes of waiting in the dark. I began to get cold, very quickly–I immediately started kicking myself for not bringing a throwaway tee (or 2) and some construction gloves to throw away because it was COLD out there! Eventually we made it to the beginning, the corral starts were quick and just like that we were running, and yes, I was still so cold!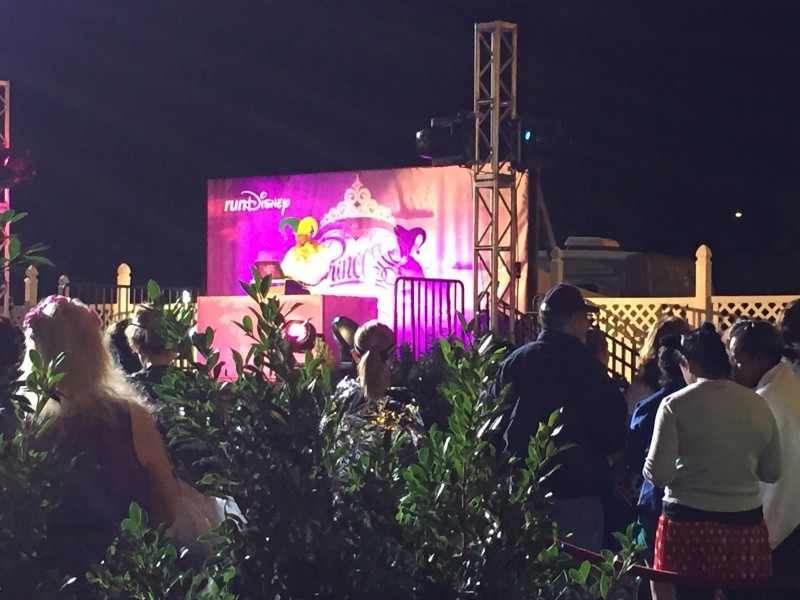 The first three miles were kinda brutal–there wasn't much scenery, the characters were few and I couldn't warm up! But finally, FINALLY we got to Epcot and I realized that I was going to love this race forever.
Running into Epcot was the coolest thing ever. I have many favorite parts about Disney but the World Showcase in Epcot is just awesome. It was also the crack of dawn and the sun was starting to come out and warm things up a bit. Seeing the beautiful lake with the sun coming up gently was just a sight for sore eyes. I was slightly overwhelmed with how beautiful it was.
Finally I decided to start taking pictures, the lines were relatively short and the characters were so adorable!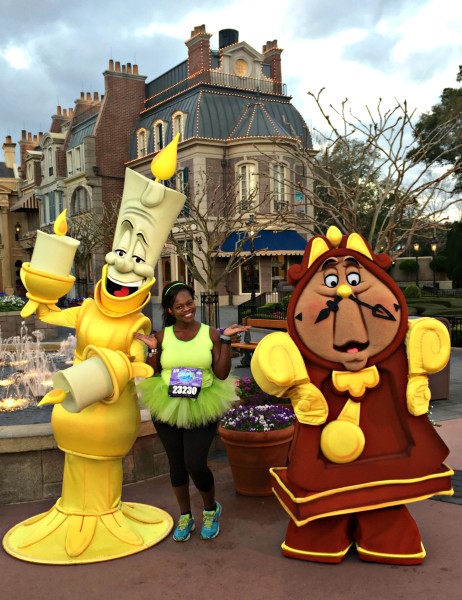 I was a bit nervous about the boardwalk but all of that was put to ease pretty quickly when we saw the tons of people cheering and pushing us through mile 4. We exited Epcot and although I felt pretty good, I was trying to conserve as much energy as possible for the half marathon the next day. Just that quickly I was at the finish line, in the Epcot parking lot and ready for a nap. But not yet because I purchased a Race Retreat ticket that treated me with a nice and hot breakfast, oh yes and more characters.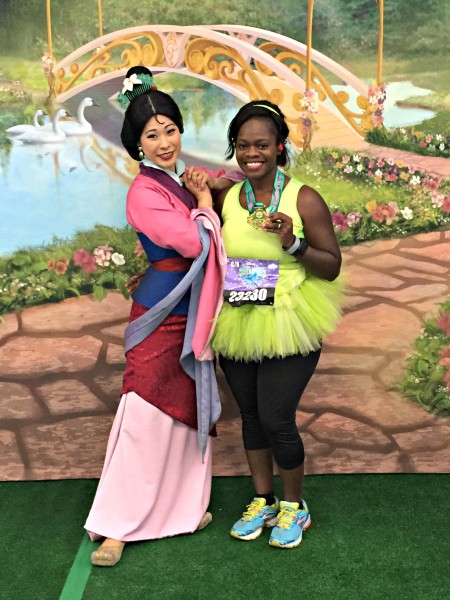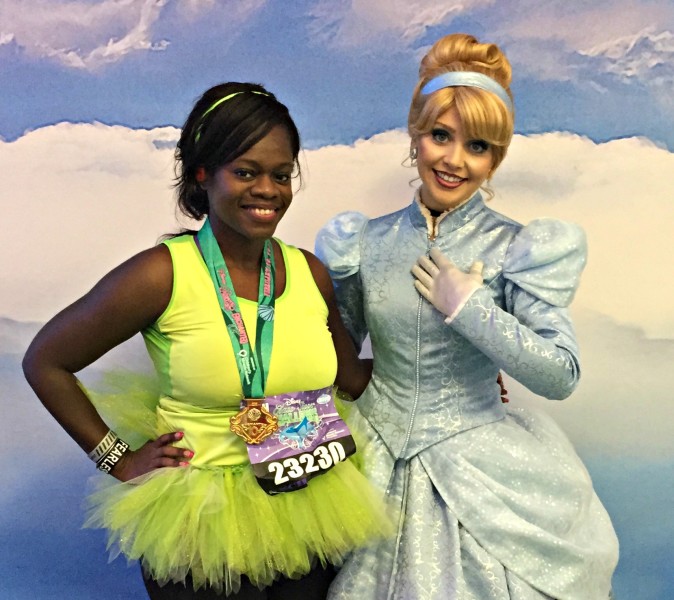 After a fantastic meal, I gathered my things and headed over to The Miracle Makers Breakfast inside the park.
Stay tuned for the third and final part of my recap of Princess Half weekend…the half marathon. Would my legs hold up? Did I dress properly? Why did I cry buckets at mile 10? Don't worry I have answers!
Have you ever started a race disliking it and ended up loving it? Which was your favorite character?
Hi! I'm Nellie. I am a busy mama of three, wife to my high school sweetheart who loves to cook, workout and stay organized! I love to share helpful printables, the best recipes and fitness tips for the modern mom. I strongly believe that every mom can feed their family well, take proper care of themselves and have fun along the way! Read my story.
Get comfortable and be sure to come hang out with me on social. Don't grab your free fitness journal before you go!