I love everything gingerbread! It's funny because I didn't grow up eating gingerbread this is all apart of a very new and recent love affair with ginger! Today I am sharing a world famous Gingerbread Loaf recipe with cream cheese icing that will get you in the Christmas spirit in the blink of an eye!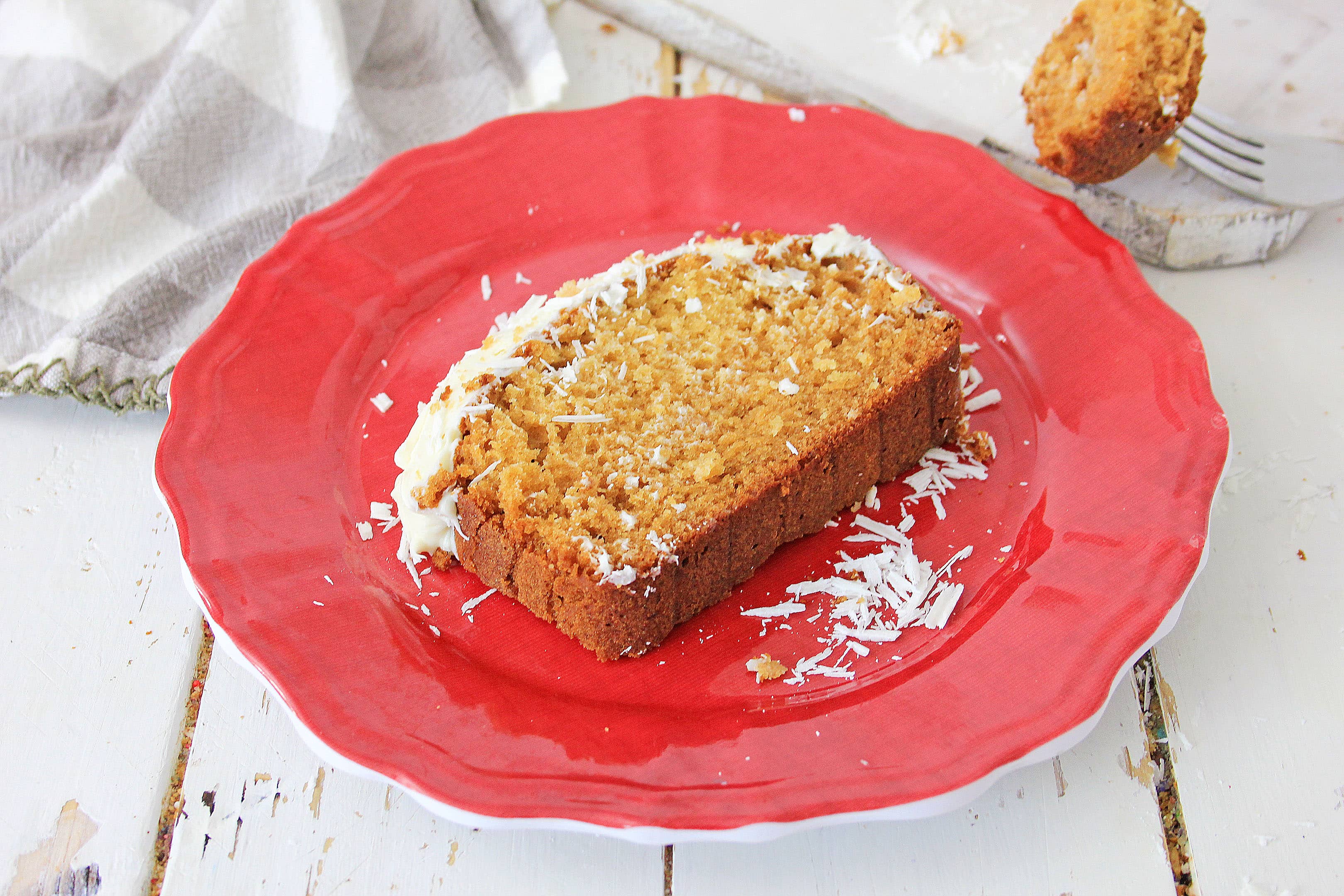 I personally love giving food (like this amazing gingerbread loaf) as gifts. Some people are not that into it and I get that! However if you want to give the gift of food, check out my 5 tips below!
The holidays are rapidly approaching! Instead of spending countless hours shopping just so that you can buy a predictable gift set or random scarf, why not get them something that you know they will love? Give them the gift of something that they will actually use?
That sounds nice doesn't it? I love the idea of not cluttering up someone's space with a gift that they may or may not use. That's why I love food gifts! If you are tossing around the idea of gifting someone a food gift, there are a couple of ways in which you can do it.
First though, make sure you know your gift recipient's allergies (You don't want to get them a fruit and nut basket if they have a nut allergy, right?). Also, pick up on some cues to what their favorite types of food are. This will help you decide which way of giving a food gift would be successful for you.
5 Ways to Give Someone a Food Gift
1. Make it homemade
If you have a special item that you really like to cook during the holidays, by all means, create a gift out of it. I have seen people gift fudge, cookies, smoked salmon, baked goods, homemade baking mixes in a mason jar, drink mixes and more. The gift giving opportunities are endless when it comes from your own kitchen.
2. Gift a sampler tray
Just about any grocery store that you go to will have sampler trays of cookies, fruits, veggies, meats, cheeses, and the list goes on. These make great gifts not only for the holidays, but they also make great host gifts, birthday gifts and more.
3. Order a food gift basket
There are many companies out there (such as Shari's Berries, Edible Arrangements, Harry & David, etc) that offer food gift baskets. These are great because they have the most beautiful presentation and have the appropriate shipping considerations to make sure they are just right for gift giving.
4. Sign them up for a subscription box
Another great idea for food gifts is to sign them up for a subscription for a food of their choice. Jelly of the month club, Thrive, Dessert of the Month Club, etc.
5. Sign them up for a Recipe and Meal Service
If you are buying for a busy person who wishes that they had to cook at home more often, check out this food gift idea! Recipe and Meal services have become incredibly popular over the last couple of years and it's for good reason! They are awesome. The recipient will get a box with ingredients and instructions for a specific meal, taking away the guesswork and the leg work.
Food gifts are always great to give, so no matter what you choose, I'm sure it will be a hit. Happy gifting! Today I've got a simple and fun gingerbread loaf that is not only fun to make for holiday gatherings, but great to give as gifts!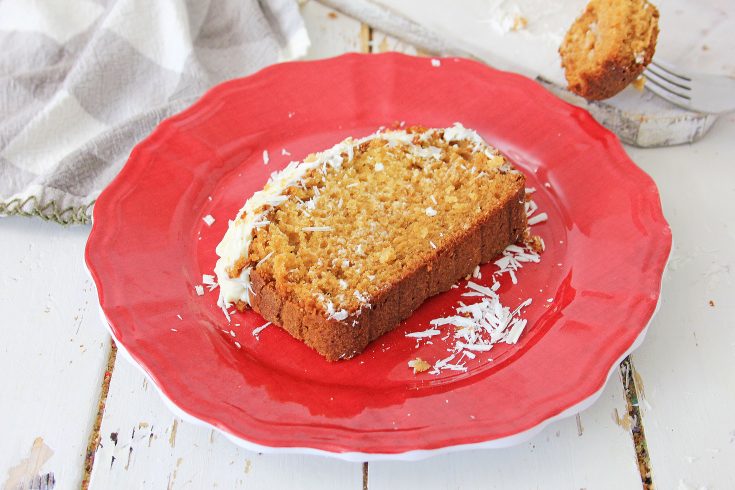 Yield: 8-10 Servings
World Famous Gingerbread Loaf with Cream Cheese Icing
Prep Time: 30 minutes

Cook Time: 50 minutes

Total Time: 1 hour 20 minutes
Ingredients
2 cups of flour
1 Tablespoon of baking powder
1/4 cup of sugar
1/4 cup of brown sugar
a pinch of salt
1/2 Tablespoon of ground ginger
1 teaspoon of cinnamon
1/4 teaspoon of allspice
1/4 teaspoon of ground cloves
1 stick of butter - melted
3/4 cup of Molasses
1/2 cup of raw natural honey - with the comb in the jar
2 eggs - beaten
1 cup of heavy cream
1 Tablespoon of Vanilla
Instructions
Set the oven to 350 degrees, and grease and flour a loaf pan; most are 9 X 5 inches.
In the mixing bowl of a stand mixer, blend the butter, molasses, honey, cream, vanilla and eggs until smooth and creamy.
Add the sugar, and brown sugar, and mix until smooth. In a separate bowl, mix the flour, baking powder, salt, ground ginger, cinnamon, allspice, and cloves until well blended.
Add the to mixing bowl a little at a time, mixing between additions. When all the flour has been added, turn mixer to medium speed, and blend well for about 15 seconds. Scrape down the sides of the bowl, and mix again.
Pour batter into loaf pan, and bake for 45 - 50 minutes, or until a toothpick inserted in the center comes out clean.
Remove from the oven, and place on a wire rack to cool in the pan for about 10 minutes, then turn the loaf out onto the wire rack, and cool completely.
While the loaf is cooling, make the icing.
Rinse out the mixing bowl, and place the cream cheese in the bowl.
Blend with the whisk attachment until smooth and creamy. Add the Vanilla and cream, and blend. Add the powdered sugar a little at a time until all the powdered sugar has been added. If the icing is too thick, add a few drops of the cream, or if it's too thin add a little more powdered sugar.
Place the mixing bowl in the refrigerator until the Gingerbread loaf is completely cool.
When the loaf is cool, place it on a serving plate, or bread plate, and ice the whole loaf with the icing.
Place the left over icing in a small container, and keep in the refrigerator. When serving the Gingerbread loaf, you can add a little icing to individual pieces if desired. Serve and Enjoy!
Loaf serves 8 - 10
Have you ever made gingerbread loaf with cream cheese icing? Do you like to get food gifts? If you were to get a food gift, what would you prefer it be?
Hi! I'm Nellie. I am a busy mama of three, wife to my high school sweetheart who loves to cook, workout and stay organized! I love to share helpful printables, the best recipes and fitness tips for the modern mom. I strongly believe that every mom can feed their family well, take proper care of themselves and have fun along the way! Read my story.
Get comfortable and be sure to come hang out with me on social. Don't grab your free fitness journal before you go!