This Copycat Starbucks Pumpkin Bread Loaf is so good and it's the perfect fall treat you can make right at home. Easy ingredients and a wonderful taste!
Did someone say fall? One of my favorite things about the cooler season is all of the yummy flavors like apple and pumpkin.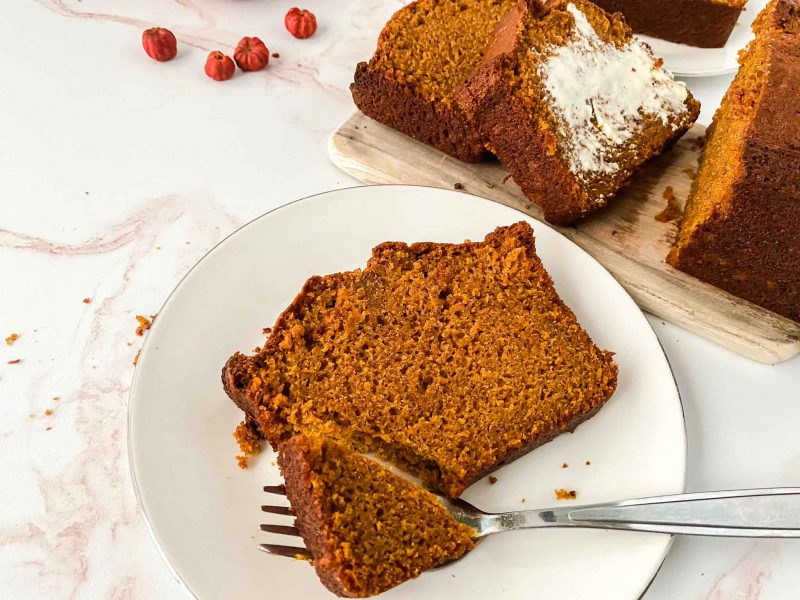 Today I'm sharing an easy pumpkin loaf recipe that taste like Starbucks pumpkin bread. You can make it year round but it tastes even better in the fall with a cup of coffee (duh, right?).
Ah, the season of pumpkin-spiced everything! If you're like me, you eagerly await the day Starbucks unveils its Pumpkin Loaf. It's a fall classic—moist, spiced to perfection, and exuding warmth in every bite. But why should you have to make a Starbucks run every time you crave this autumnal delight? This Copycat Starbucks Pumpkin Loaf recipe will allow you to recreate this cafe favorite right in your own kitchen. It's easy, it's delicious, and it fills your home with the inviting aroma of pumpkin and spice.
FAQs
Can I use homemade pumpkin puree?
While canned pumpkin is more convenient, homemade puree works just as well. Make sure to drain any excess moisture before using it.
Should I use light or dark brown sugar?
Light brown sugar is preferred for a more delicate molasses flavor, but dark brown sugar can also be used for a richer taste.
Why vegetable oil instead of butter?
Vegetable oil keeps the loaf moist for a longer time, mirroring that Starbucks texture we all love.
What ingredients do you need for this starbucks pumpkin loaf?
1 1/2 cups all-purpose flour
1 tbsp pumpkin pie spice
1 tsp baking soda
1/2 tsp baking powder
1/2 tsp salt
4 eggs
1 cup granulated sugar
1/3 cup light brown sugar
1/2 tsp vanilla extract
3/4 cup canned pumpkin
3/4 cup vegetable oil
You will love this pumpkin loaf recipe because it's quick and simple to whip up. You won't regret making this yummy recipe and sometimes I like to have it even when "pumpkin season" is over.
Tips and Tricks
Flour Sifting: For a fluffier loaf, sift the dry ingredients.
Pumpkin Pie Spice: Make your own blend if you can't find a pre-made mix. It's usually a combination of cinnamon, nutmeg, ginger, and cloves.
Test for Doneness: Use a toothpick to test if the loaf is fully baked. If it comes out clean or with just a few crumbs, it's done.
Variations
Nut Addition: Add a handful of chopped walnuts or pecans for some crunch.
Chocolate Chip: Stir in some chocolate chips for a pumpkin chocolate chip loaf.
Cream Cheese Swirl: Introduce a layer of cream cheese mixture for a creamy surprise.
Where to Serve
The versatility of this pumpkin loaf makes it perfect for various settings—from a cozy family breakfast to potluck dinners. It's a crowd-pleaser at Thanksgiving, Halloween, and even non-festive autumn days when you just want to celebrate the season.
If you want a pumpkin bread that tastes like Starbucks pumpkin loaf then this recipe is for you! We love it here, it makes the house smell so good when it's baked.
Storage
Wrap the loaf in plastic wrap or aluminum foil and store it in an airtight container. It should keep well for up to 5 days at room temperature or up to 3 months in the freezer.
Common Problems and How to Avoid Them
Dry Loaf: Overmixing the batter can lead to a dry texture. Mix just until the ingredients are combined.
Sinking Middle: This usually occurs if the baking powder or soda is old. Make sure they are fresh before use.
Tips for Making this Recipe with Kids
Engage the little ones by letting them help with measuring ingredients, stirring the batter, or even greasing the loaf pan. Teach them the importance of leveling off the flour and sugar for accurate measurements. Use this as a fun educational moment to discuss the science of baking, like why we use baking soda and how the loaf rises.
Fall baking is just so much fun. I made this pumpkin loaf recipe over the weekend. It came out perfect, not dry at all and really moist.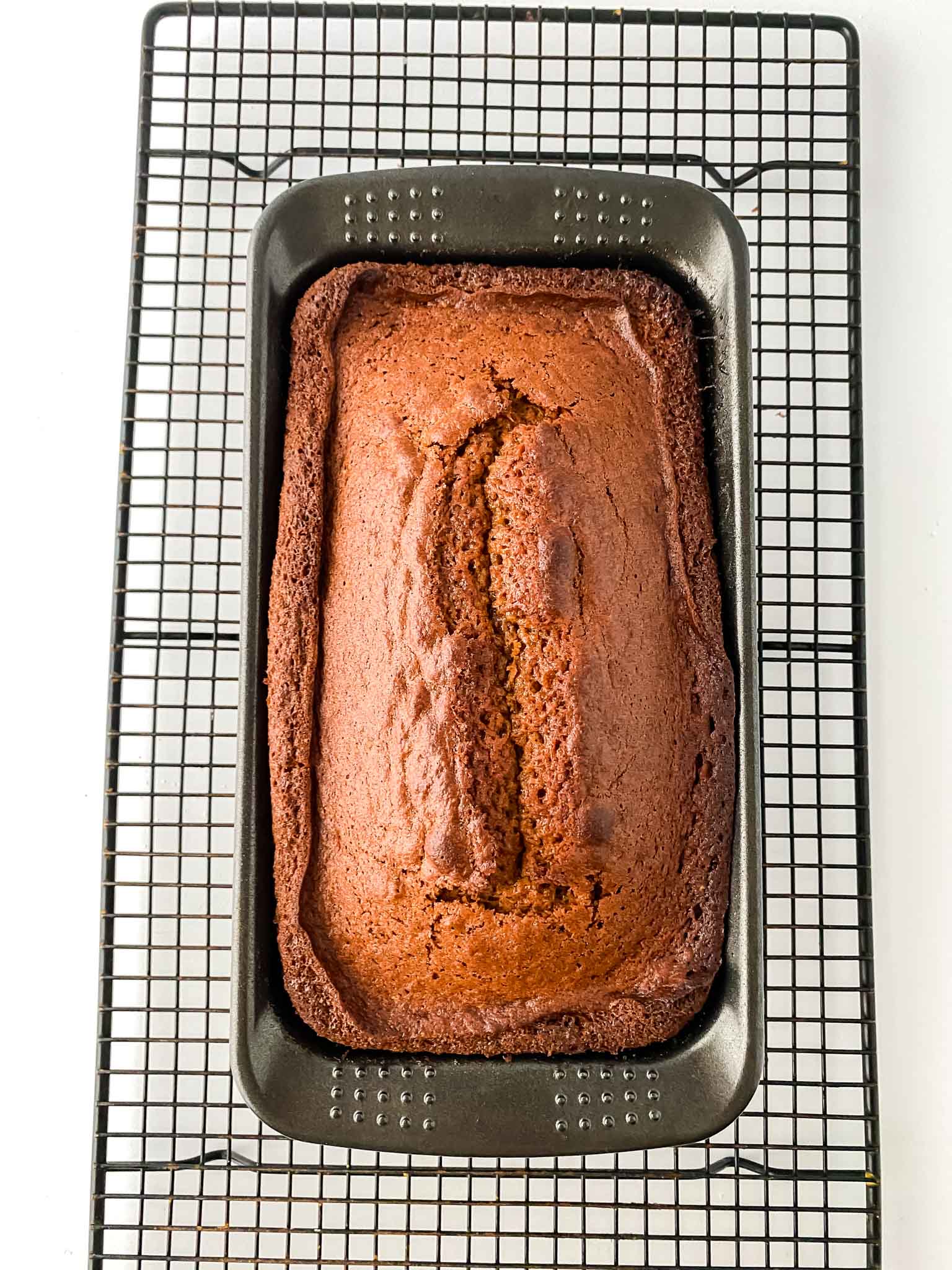 If you are craving pumpkin don't miss my pumpkin recipes at the bottom of this post!
For this pumpkin loaf recipe it yields one very large loaf (8-10 thick slices) or two smaller loaves (6-8 thick slices). Instead of buying individual slices at Starbucks, you can simply make a loaf and have some leftovers that you can store in an airtight container.
The Starbucks Bakery items are just SO good! Now you can make it at home.
Well, here you go pumpkin loaf lovers! You can add a cream cheese glaze to the top if you want. It's up to you!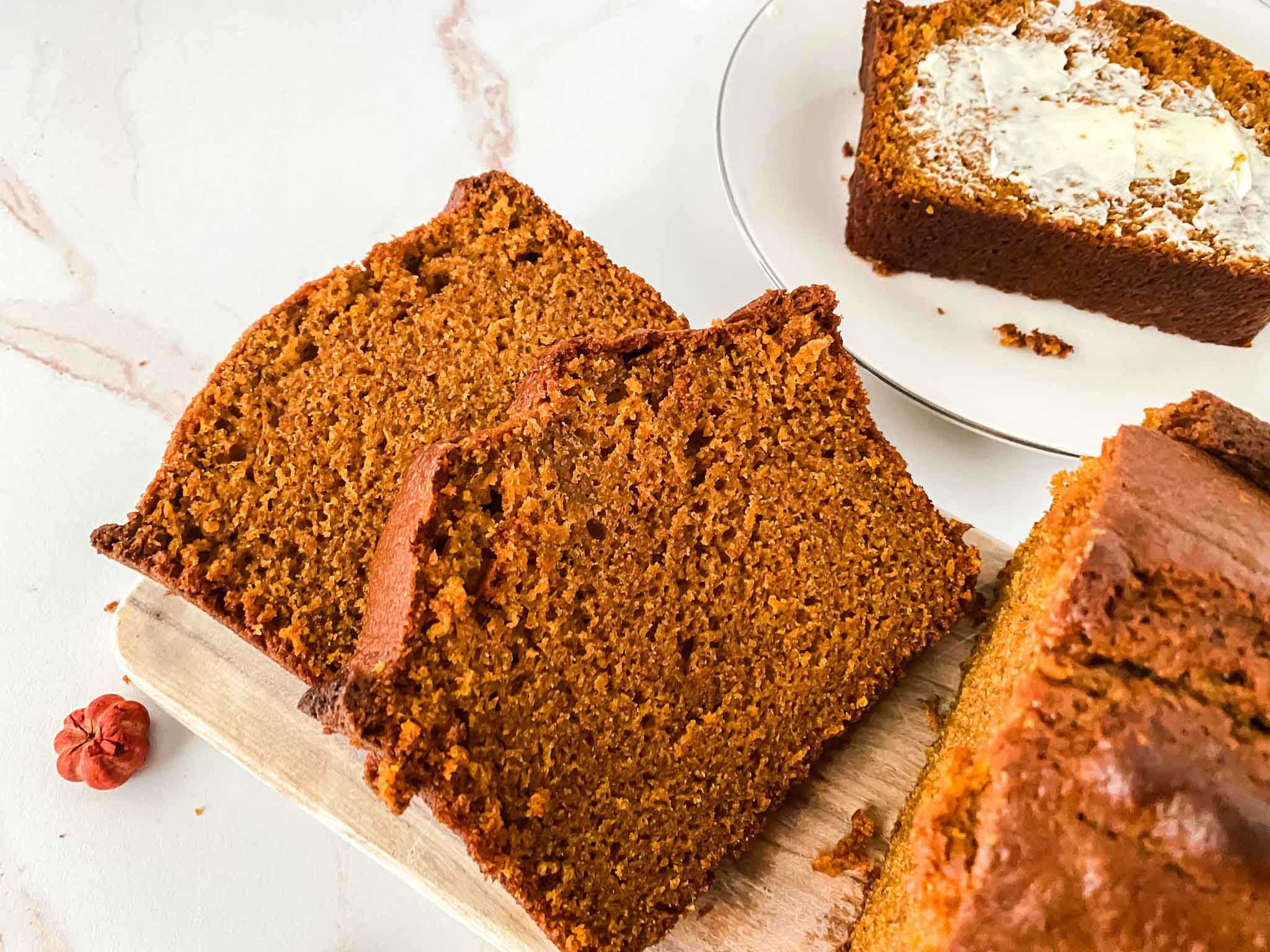 Oh my goodness this pumpkin recipe is one of my new favorites. I am going to make more soon for sure. Enjoy! This fall inspired recipe treat is so great with your morning drink. Fall mornings have never been better.
Topping Options
Streusel Topping: A mix of flour, sugar, and butter can be sprinkled on top before baking for a crumbly texture.
Glaze: A simple glaze made of powdered sugar and milk can be drizzled on top for extra sweetness.
Why This Recipe Works
This Copycat Starbucks Pumpkin Loaf strikes the perfect balance between moisture and flavor. The use of both granulated and brown sugar adds complexity to the sweetness, while the vegetable oil ensures a tender, moist crumb that stays fresh for days. The pumpkin pie spice imbues the loaf with those quintessential autumn flavors. It's not just a copy—it might even be an improvement on the original, especially when it's freshly baked and consumed in the comfort of your home. So go ahead, indulge in the magic of fall any day you like with this foolproof recipe.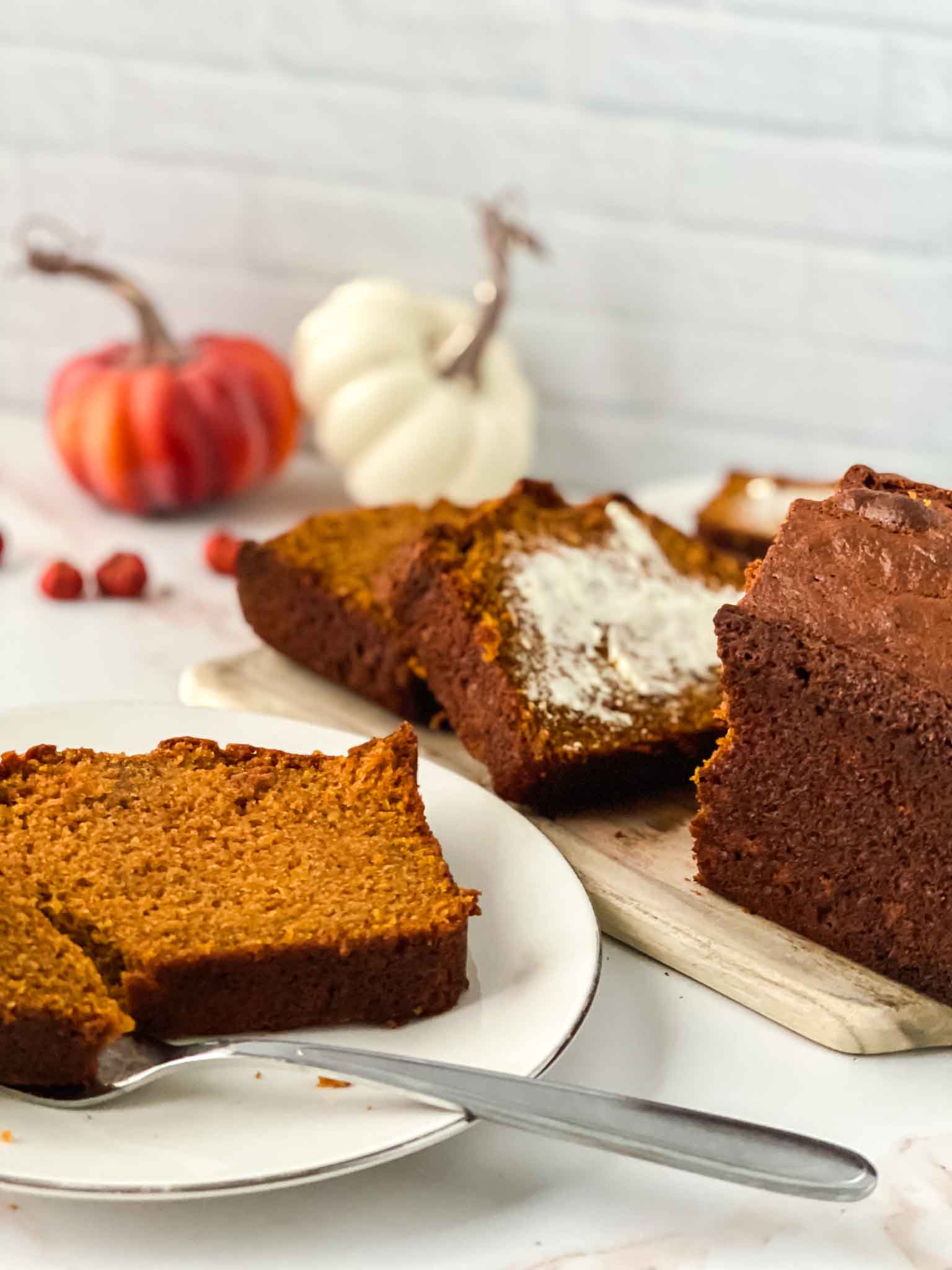 This pumpkin bread is so delicious, and it's perfect for any fall morning with a hot cup of coffee or tea! Who says you can only enjoy pumpkin treats in the fall? Not this girl! So whenever you feel like making this, you've got this recipe right at your fingertips.
Yield:

1 loaf
Copycat Starbucks Pumpkin Bread Loaf
Cook Time:
1 hour
10 minutes
Total Time:
1 hour
30 minutes
This amazing starbucks pumpkin loaf copycat is so good and perfect for the fall!
Ingredients
1 1/2 cups all-purpose flour
1 tbsp pumpkin pie spice
1 tsp baking soda
1/2 tsp baking powder
1/2 tsp salt
4 eggs
1 cup granulated sugar
1/3 cup light brown sugar
1/2 tsp vanilla extract
3/4 cup canned pumpkin
3/4 cup vegetable oil
Instructions
Preheat the oven to 350 Grease loaf pan

In a large bowl combine flour, baking soda, pumpkin pie spice, baking powder and salt, whisk together and set aside.

In a mixing bowl beat together eggs, granulated sugar, brown sugar, and vanilla until combined. Add in pumpkin and oil and beat until combined.

Lastly add in dry ingredients and mix until batter is smooth.

This step should last 1-2 mins if all flour isn't incorporated use a rubber spatula and fold the re- mainder in as to not make the batter tough when baking.

Pour into prepared loaf pan.

Bake for 60-70 min until skewer inserted in the middle comes out clean. Remove from oven and let cool in pan for a minimum of 30 min.

Place on wire rack to continue cooling.

Notes
To freeze: slice the bread in resealable plastic bags or plastic wrap and place in the freezer. Warm in microwave on high for about 45 seconds and enjoy.
To make pumpkin spice:
1 tsp nutmeg
1 tsp cinnamon
1 tsp cloves

Nutrition Information
Yield
10
Serving Size
1
Amount Per Serving
Calories

351
Total Fat

19g
Saturated Fat

2g
Trans Fat

0g
Unsaturated Fat

16g
Cholesterol

74mg
Sodium

298mg
Carbohydrates

42g
Fiber

1g
Sugar

27g
Protein

5g
If you enjoyed this recipe be sure to check out some of these fall favorites!
Salted Caramel Pumpkin Latte Fall Flavored Coffee Drink
Easy Pumpkin Cheesecake Dip – Yummy No Bake Fall Dessert
Easy Pumpkin Vanilla Cheesecake Mini Trifles
Authentic Starbucks Banana Bread Recipe With Walnuts
Pumpkin Baked Oatmeal Recipe – The Perfect Fall Breakfast
Hi! I'm Nellie. I am a busy mama of three, wife to my high school sweetheart who loves to cook, workout and stay organized! I love to share helpful printables, the best recipes and fitness tips for the modern mom. I strongly believe that every mom can feed their family well, take proper care of themselves and have fun along the way! Read my story.
Get comfortable and be sure to come hang out with me on social. Don't grab your free fitness journal before you go!