This simple Christmas whiskey cocktail drink is so delicious and so fun to serve over the holidays. Made with simple ingredients, you will love this recipe!
One of my favorite part of the holidays is crafting a menu just for the season. With amazing flavors and great company, I've got an awesome cocktail drink that you will make again and again over the holiday season!
Christmas Whiskey Cocktail: A Symphony of Holiday Flavors
Get ready to elevate your holiday festivities with this dazzling Christmas Whiskey Cocktail. This festive concoction features the robust flavors of your favorite whiskey, balanced perfectly with tangy cranberry juice. Aromatic notes of rosemary and cinnamon add depth, while the sweetness of sugar completes this Christmassy blend. Don't forget the garnish—fresh cranberries offer a burst of color and flavor that's totally Instagram-worthy.
FAQs
Can I substitute the whiskey with something else?
Yes, you can swap out whiskey for bourbon or even rum if you prefer. However, the unique taste of whiskey brings a complexity to this cocktail that other spirits might not offer.
Can I use store-bought cranberry juice?
Absolutely! While fresh cranberry juice has a natural tartness that complements the whiskey, store-bought versions work just fine. Just make sure it's 100% juice and not a sugary cranberry juice cocktail.
How important is it to use fresh rosemary?
Fresh rosemary brings an aromatic quality that dried rosemary can't match. Its piney aroma enhances the cocktail's festive character.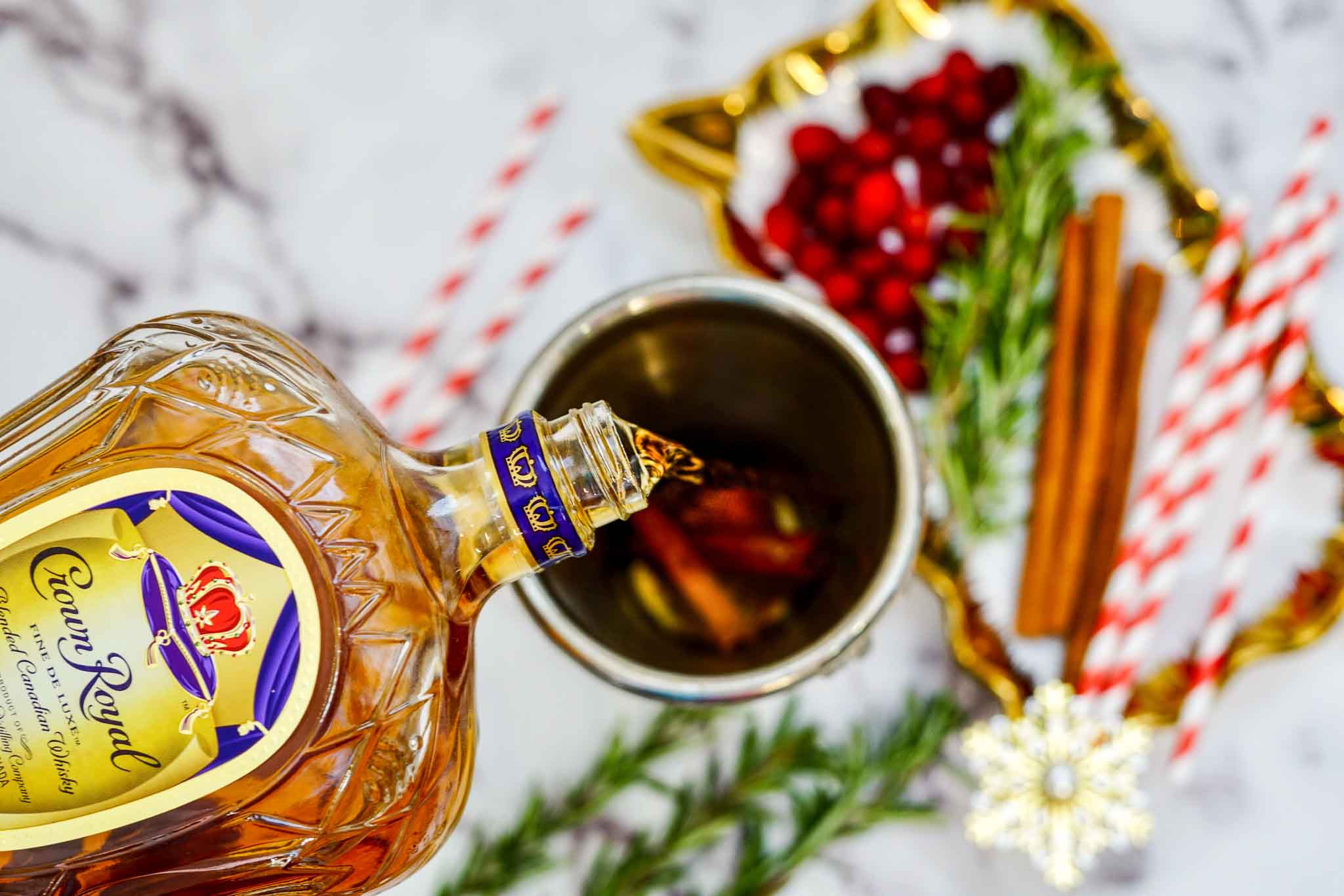 There are so many fun things to make from holiday dinner menu items, to my favorite thing of all, is to create a fun holiday inspired yummy drink.
Tips and Tricks
Pre-chill Your Glasses: A pre-chilled glass keeps your cocktail cooler for longer. Place your glasses in the freezer an hour before you're ready to serve.

Fresh Is Best: Always use fresh ingredients for the most vibrant flavors. Fresh rosemary, in particular, can make a world of difference.

Go Organic: Organic cranberries and rosemary not only offer better flavor but also are free from unwanted pesticides.
Variations
Spiced Whiskey: Infuse your whiskey with some star anise or cloves for a spiced version of the cocktail.

Ginger Love: Add a splash of ginger beer for some extra zing and bubbles.

Low-Sugar: Replace sugar with a sugar substitute or simply skip it if you prefer a less sweet cocktail.
Where to Serve
This Christmas Whiskey Cocktail is a versatile option that can be served at various holiday gatherings. It's ideal for family dinners, Christmas parties, or even a New Year's Eve bash. Its festive colors and aromatic scent make it a fabulous choice for holiday-themed events.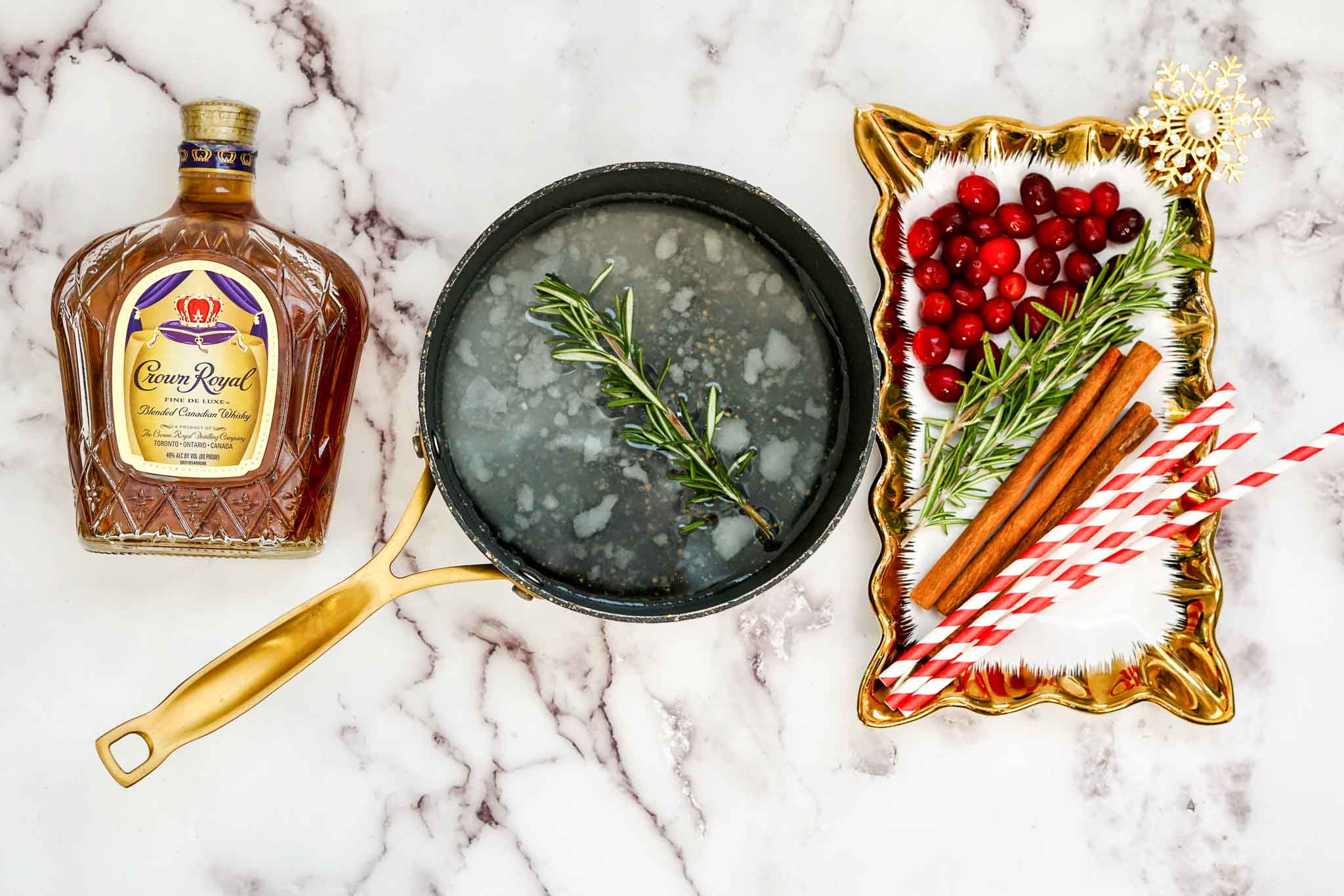 This one is such a classic and such a favorite, you will be making it all the time!
Not only delicious, but so festive to serve up in fun Christmas glasses you can get from the dollar store. These are fun to sip on while you wrap endless presents.
Storage
Once prepared, this cocktail is best enjoyed immediately. However, you can make the sugar-water mixture in advance and store it in an airtight container in the refrigerator for up to a week.
Common Problems and How to Avoid Them
Overly Sweet Cocktail
If you find your cocktail too sweet, balance it by adding more cranberry juice or a squeeze of lemon.
Poor Presentation
Always garnish with fresh cranberries and a sprig of rosemary for that 'wow' factor. A cinnamon stick can also serve as an attractive and aromatic stirrer.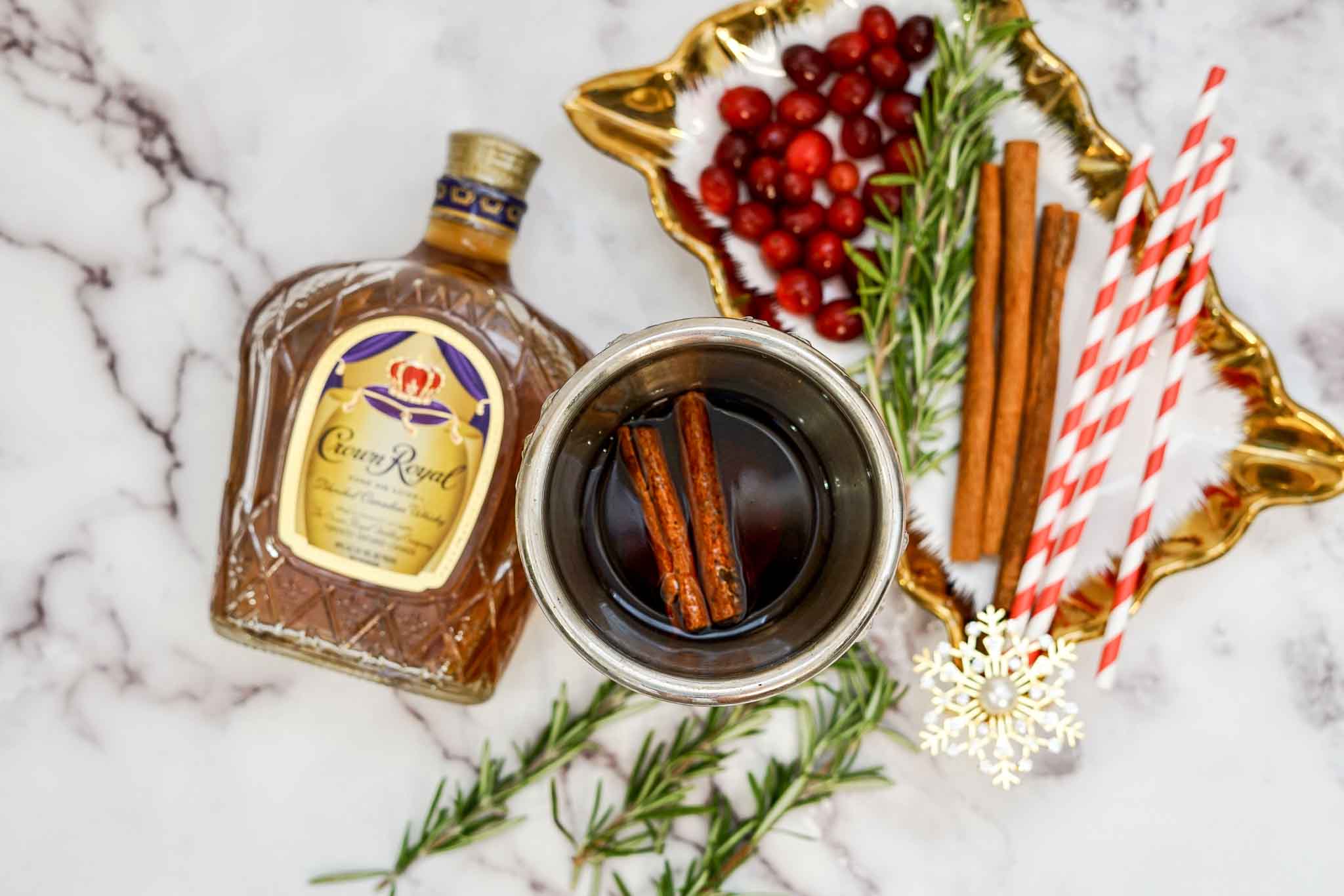 Shake vigorously and pour into coupe glasses. Garnish with an orange or lemon twist if desired. Experiment by adding fruit slices, making it even more festive!
Serve up to your most festive friends for an easy Christmas whiskey cocktail.
What ingredients do you need for this amazing Christmas Whiskey Cocktail drink?
Your Favorite Whiskey
Cranberry Juice
Fresh Rosemary
Fresh Cranberries
Cinnamon Sticks
Sugar
Water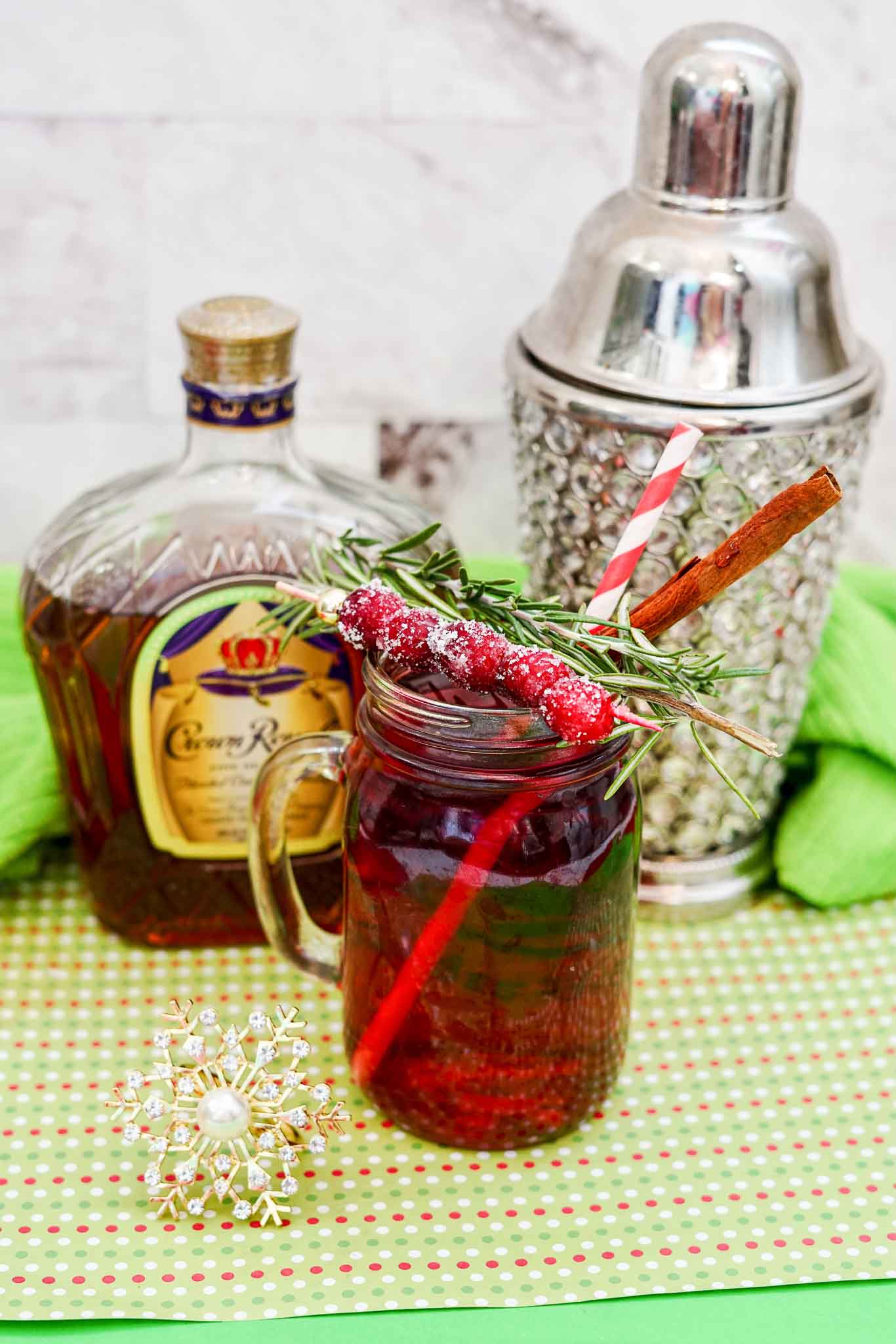 Super simple ingredients that you can get from the grocery store and whip up in an instant. Safe to say this is a holiday party must-have. You can even make this the cocktail of the night or the signature holiday drink.
What kind of whiskey works best for the Christmas Whiskey Cocktail drink?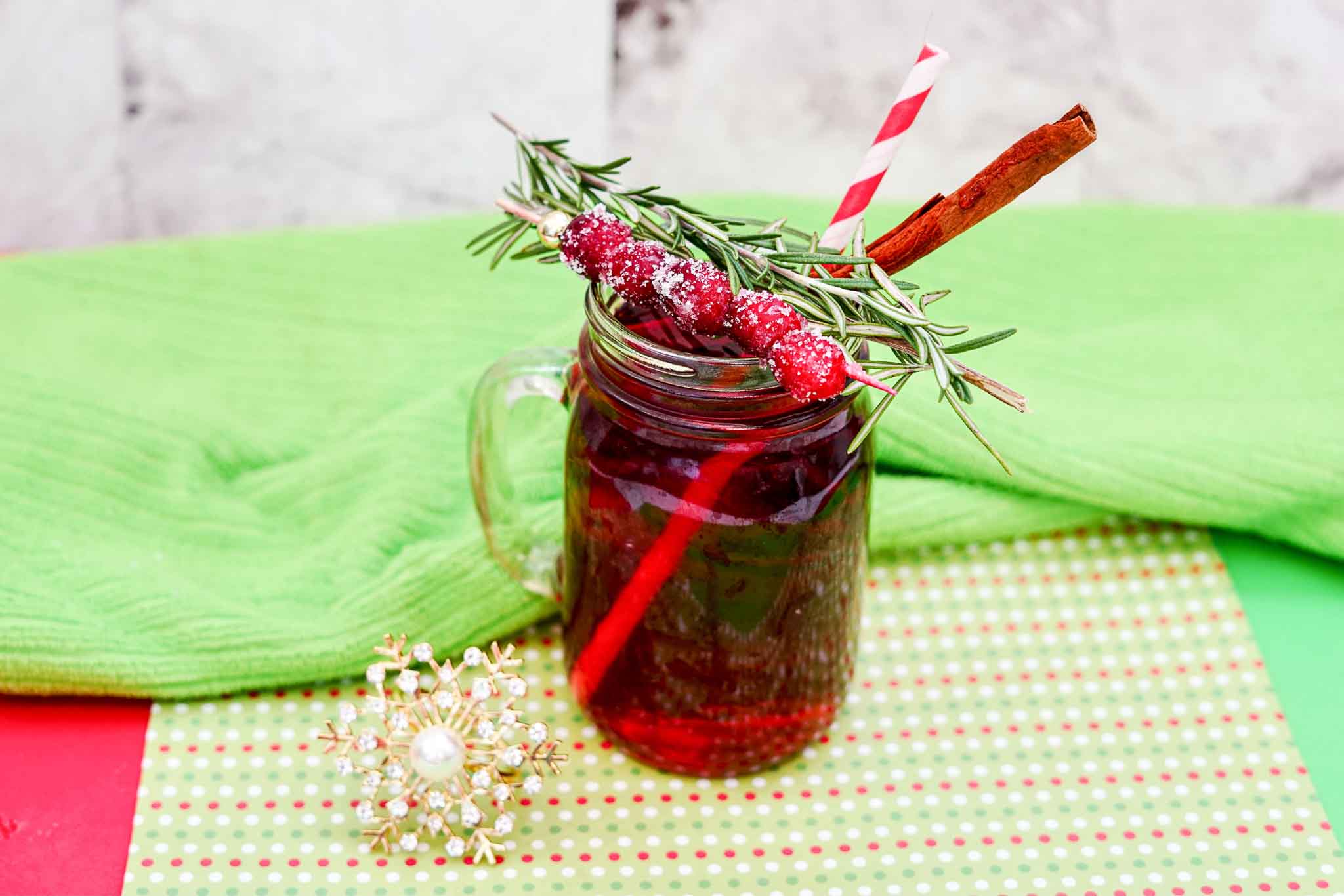 In terms of what type of whiskey, most people prefer bourbon or rye whiskey – but any will do! Whatever you have on hand and whatever your preference, make sure it is a nice quality bottle.
This Christmas Whiskey Cocktail drink is so easy to make. You and your guests will love it!
The Joy of Making Christmas Cocktails
There's something truly delightful about crafting your own Christmas cocktails. The whole process feels like a festive ritual, from selecting your whiskey to garnishing the finished product. Plus, it's a fantastic opportunity to impress your guests with your mixology skills!
Topping Options
While this cocktail is already a treat for the senses, you can add a few edible gold stars, a sprinkle of cinnamon, or even a rosemary sugar rim for extra flair.
Why This Recipe Works
The harmony between the whiskey and cranberry juice sets the stage, while rosemary and cinnamon provide those quintessential holiday aromatics. The sugar is adjustable to your taste, making it customizable for various preferences. The fresh cranberries not only look beautiful but also add a pop of tartness, contrasting the drink's sweetness. All these elements combine to make a Christmas Whiskey Cocktail that's nothing short of magical.
What are some other fun Christmas cocktails?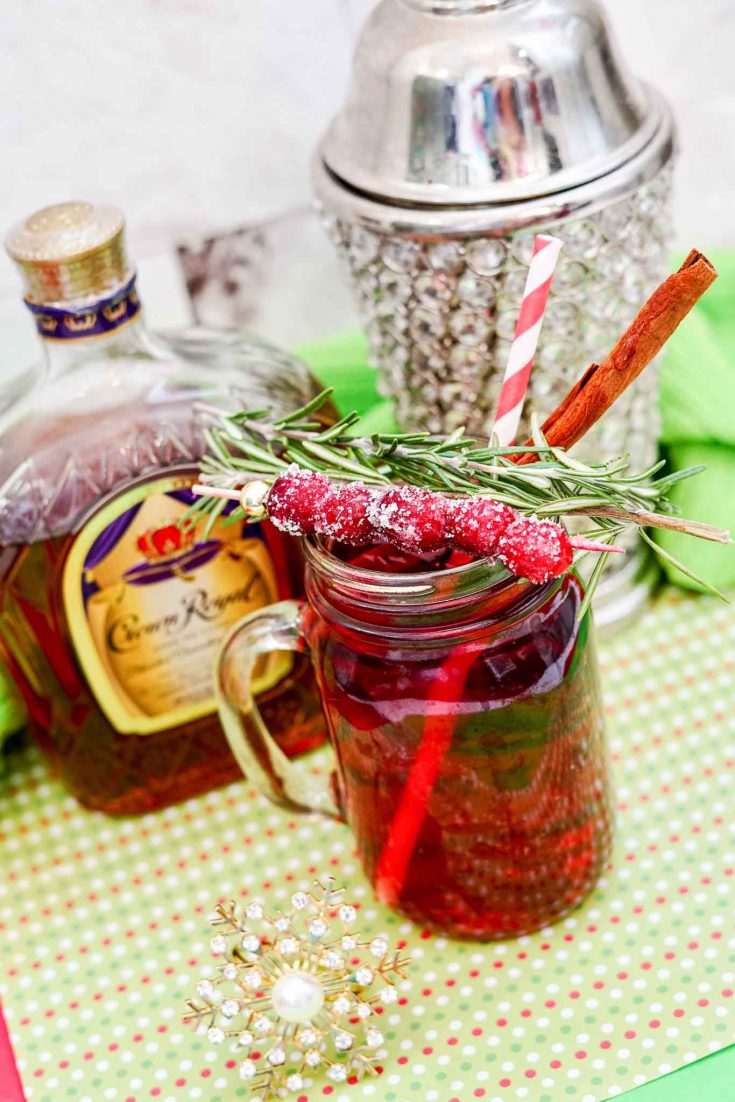 Yield:

one drink
Christmas Whiskey Cocktail Drink For The Holidays
This amazing christmas whiskey cocktail is so tasty a great to make for this holidays!
Ingredients
Your Favorite Whiskey
Cranberry Juice
Fresh Rosemary
Fresh Cranberries
Cinnamon Sticks
Sugar
Water
Instructions
Bring 2 cups of water to a boil.
Stir in 1 cup sugar and fresh rosemary to create a rosemary simple syrup.
Steep for 20 minutes.
Break a cinnamon stick in half and place it into a shaker.
Pour in one shot of whiskey, 1 tablespoon rosemary simple syrup and top with cranberry juice.
Shake well.
Wet the fresh cranberries and roll in sugar to create snow.
Pour whiskey mixture into a glass and top with a cinnamon stick, rosemary and the snow covered cranberries.
Nutrition Information
Yield
1
Serving Size
1
Amount Per Serving
Calories

258
Total Fat

0g
Saturated Fat

0g
Trans Fat

0g
Unsaturated Fat

0g
Cholesterol

0mg
Sodium

24mg
Carbohydrates

40g
Fiber

5g
Sugar

29g
Protein

1g
If you enjoyed this recipe please feel free to tag and follow us for more on Instagram!
Check out these fun Christmas recipes too!
Adorable Christmas Reindeer Chocolate Bark
Easy Christmas Cranberry Mimosa Holiday Drink
Christmas Sugar Cookie Bars – Fun Treat For The Holidays
Christmas Snacks: Santa Hat Donuts
Christmas Tree Chocolate Cupcakes – Using Cake Mix!
Hi! I'm Nellie. I am a busy mama of three, wife to my high school sweetheart who loves to cook, workout and stay organized! I love to share helpful printables, the best recipes and fitness tips for the modern mom. I strongly believe that every mom can feed their family well, take proper care of themselves and have fun along the way! Read my story.
Get comfortable and be sure to come hang out with me on social. Don't grab your free fitness journal before you go!