Chocolate Peppermint Mini Bundt Cakes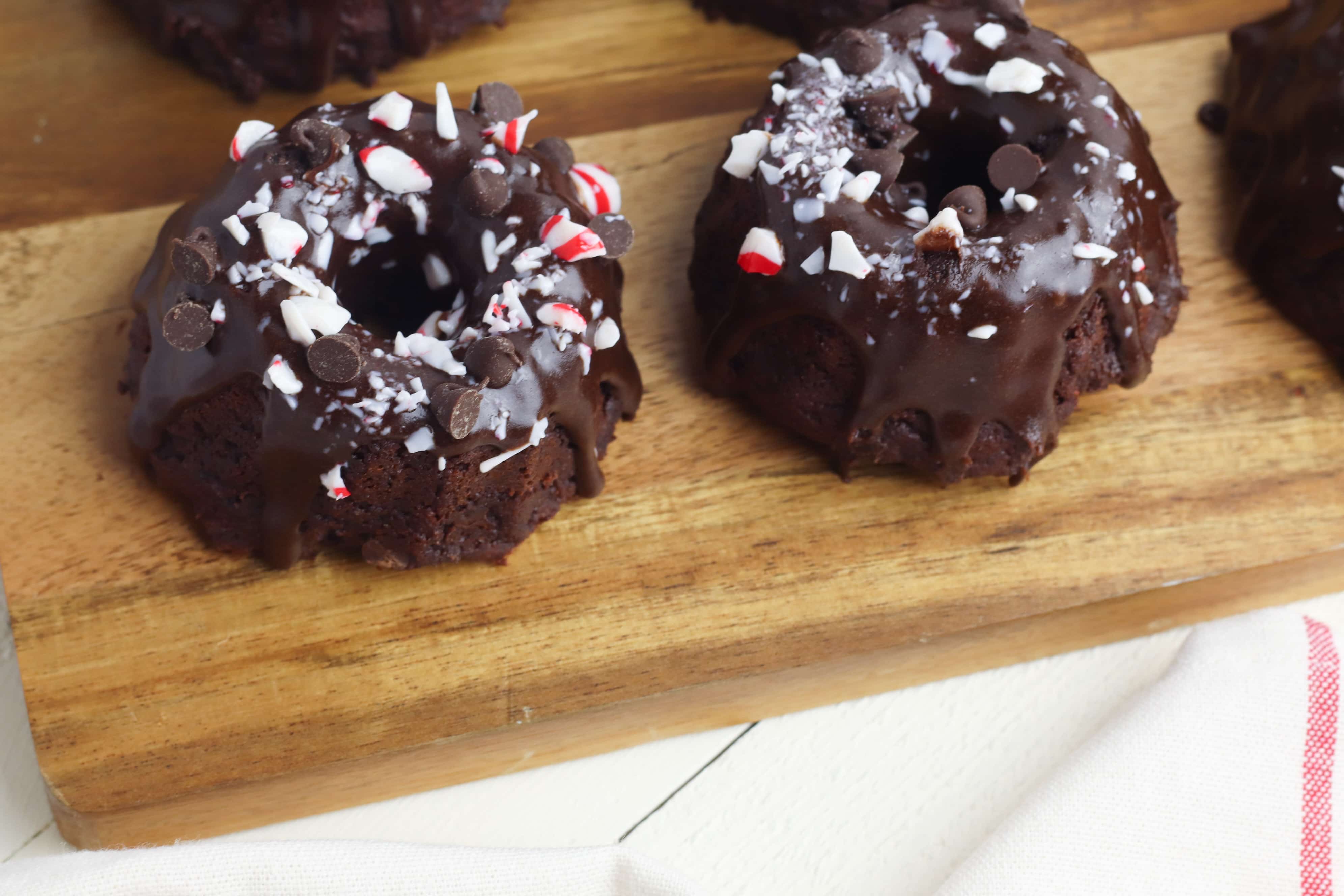 When you think back on the holidays of your youth, what traditions do you look back on fondly? Maybe your favorite memories are holiday movie watching nights with family, maybe it's Christmas caroling, maybe it's going to see the holiday lights, or maybe it is holiday baking with your parents or grandparents.
Holiday baking is a tradition that many people look back on fondly. From holiday cookies to food prep for holiday guests, there are countless reasons to bake during the holidays. You are likely busy baking a lot during the season.
Why not bake toge8ther with the kids and make a holiday tradition out of it? I've got a really awesome Chocolate Peppermint Mini Bundt Cakes recipe that the family will love!
The holidays are rapidly approaching. They will be here before you know it and before they have come and gone, you need to set aside some time with your kids. Trust me when I say that you will regret it if you let the season pass without spending quality time with them and a holiday baking tradition with kids is a great way to do just that.
How to make holiday baking with kids a tradition
There are several things that you need to start a new holiday tradition and to make sure it sticks and becomes a permanent one. The key is to make sure that the activity is fun for everyone and leaves everyone feeling happy. Here are some tips on how to accomplish these things:
Set aside a baking day
We are all busy. I get it completely (especially now that I have 3 kids). It's easy to say no to baking time when we have to-do lists to finish. Yes, you may be able to squeeze the baking in between other activities, but that's no fun at all.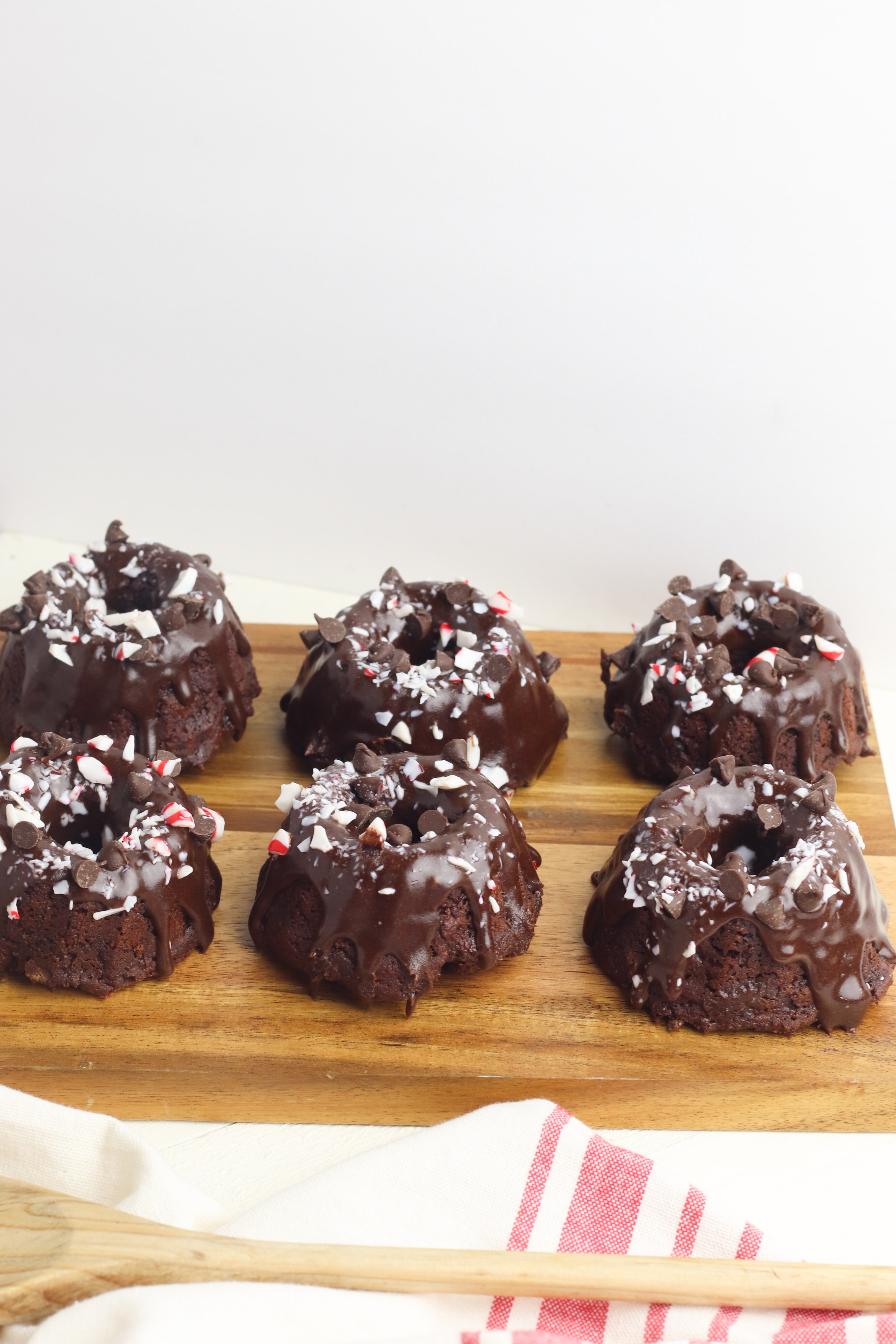 Instead, set aside whatever else is on your list and just focus on this baking time with your kids. It's great bonding time and your kids will appreciate knowing that you chose to spend time with them.
Put down the phones
During your baking time, focus on the time with the kids. Put your phone down in a different room so you aren't distracted by notifications and just spend quality time with your kids baking your holiday goodies. Again, your kids will be delighted that you are choosing to spend this time with them.
Get some gear together
To make it really fun, grab some holiday aprons, some holiday themed cookie cutters or baking sheets and just make it fun! It's also fun to get your kids their own mixing tools and measuring cups.
Wearing matching aprons with mom and dad is so much fun and the kids will love it. The holiday theme is specific to Christmas so it is one thing to look forward to at the holiday each year.
Making a tradition out of baking with kids is a great way to bond with your children. Additionally, it is a great way to build up memories with your children that will last a lifetime. Your kids will be excitedly waiting for baking day next year.
Check out this super fun recipe you can make with the kids!
Yield: 24 Mini Bundt Cakes
Chocolate Peppermint Mini Bundt Cakes
Prep Time: 10 minutes

Cook Time: 30 minutes

Total Time: 40 minutes
Ingredients
1 egg
1 16-ounce carton sour cream
1 teaspoon peppermint extract
1 box chocolate cake mix (15-16 ounce)
1 4-ounce package instant pudding mix
1 ½ cups mini chocolate chips (plus more for topping, optional)
1 container chocolate frosting for topping (optional)
10 peppermint candies, crushed (optional)
Instructions
Preheat oven to 325 degrees and prepare a mini Bundt pan by greasing with nonstick cooking spray.
In a large bowl, beat to together the egg, sour cream and peppermint extract.
Add the cake mix and instant pudding mix and stir to combine. Batter will be thick.
Fold in the mini chocolate chips.
Spoon the batter into the mini Bundt pan and fill each cup halfway full.
Bake in preheated oven for 25 to 30 minutes, or until a toothpick inserted into the center of the cake comes out clean.
Allow cake to cool in pan for 30 minutes, then flip pan over onto a wire cooling rack and allow the cakes to cool completely.
To make the chocolate glaze, heat one container
of chocolate frosting in the microwave for 30 seconds. Stir to mix, then spoon the frosting over the top of the cakes.
Garnish with additional mini chocolate chips and crushed peppermint candy if desired.


Nutrition Information
Yield
24 mini cakes
Serving Size
1
Amount Per Serving Calories 109Total Fat 8gSaturated Fat 4gTrans Fat 0gUnsaturated Fat 3gCholesterol 19mgSodium 38mgCarbohydrates 11gFiber 1gSugar 8gProtein 1g

If you are looking for more Christmas Inspo be sure to follow my Christmas board on Pinterest!
Are you going to start a holiday baking tradition this year? How do you plan to start your tradition?
Hi! I'm Nellie. I am a busy mama of three, wife to my high school sweetheart who loves to cook, workout and stay organized! I love to share helpful printables, the best recipes and fitness tips for the modern mom. I strongly believe that every mom can feed their family well, take proper care of themselves and have fun along the way! Read my story.
Get comfortable and be sure to come hang out with me on social. Don't grab your free fitness journal before you go!