Busch Gardens VA is a really fun theme park located near colonial Williamsburg in Virginia. This was my first time to the theme park and I was SO impressed with the rides, the culture and of course the animals! It's a world class theme park with tons of things to do! Here is a quick guide to Busch Gardens Virginia!
When I was younger I was very well traveled. I spend summers in Jamaica, visited every island, and went to Florida crazy often. I had always heard of my friends going to Busch Gardens but somehow my family never made it there.
A Simple & Quick Guide To Busch Gardens Virginia
Since we have never been here before we immediately grabbed a map to get a lay of the land. We quickly learned that there were different countries to visit. We started in England where there was a height checker which was great to see which rides our boys could ride on.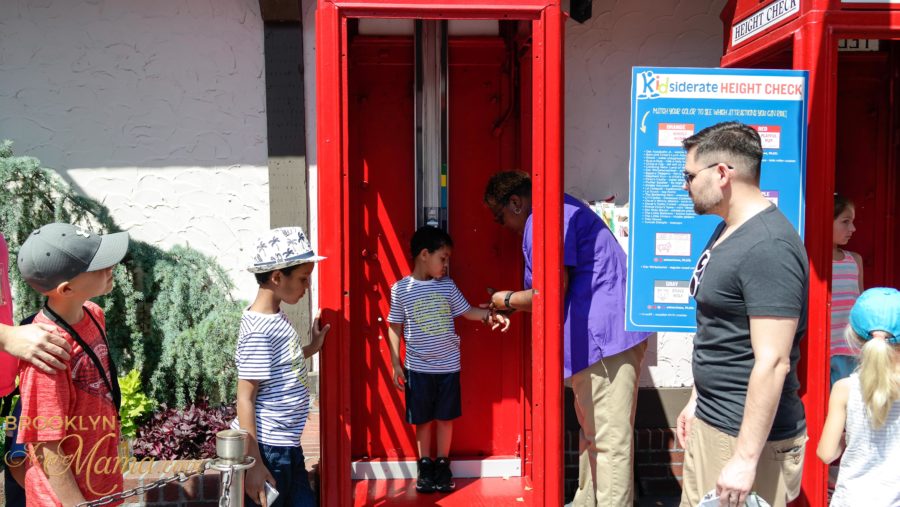 One thing you couldn't deny was how gorgeous the park was. Beautiful greenery and water was everywhere, masterfully weaved into a gorgeous (and spotless!) theme park. We knew that there were a few places that we absolutely wanted to visit and that was the Sesame Street Forest of Fun and Land of The Dragons. My 5-year-old was mostly excited about the Sesame Street fun, my 8-year-old ended up liking it more than he wanted to admit!
Both Sesame Street Forest of Fun and Land of the Dragons were perfect for elementary-sized kids. There were several low-key rides in both areas. If your kids are not hardcore thrill seekers, then these are the areas for you.
They both also have really fun water areas, so if you need a place to cool off, bring a swimsuit along for the fun! Family friendly dryers are also available for purchase if your family just likes to get wet regardless of what clothes they are in (like mine). The Kidsiderate program is perfect for those under 9, and it is set up across all areas of the park.
Next, we walked over to Germany and went on Curse of DarKastle. It's a simulation ride, not a roller coaster so there are no big dips or drops. The ride is in 4D and could possibly be a little scary for the younger ones. I personally loved it, the 4D effect was SO cool—I was dodging all of the things coming my way–it was so realistic! 🙂
Food & Wine Festival
I love a good food and wine festival – who doesn't? From May 26th to July 2nd on Fridays, Saturdays and Sundays the park is celebrating food from all over the globe.
There were tasty treats from India, Canada (Did you know that Canada's most popular food is Mac and Cheese?! I had no idea), The Caribbean (I HAD to stop for a pineapple upside-down rum cake and a Lime Ginger Drink), Germany, England, Scotland, and SO much more!
The treats were authentic from each country and so fun to try out!
Quick Queue & Refills
A couple of really cool features in Busch Gardens VA that saved me time and stress were the use of the souvenir cups and quick queue. The cups have free refills all day, so they pay for themselves over and over again especially if you have a thirsty family (like mine).
The Quick Queue puts you on a shorter line for the most popular rides and attractions. A life saver when you have kids who don't really like to stand around for long!
The Food!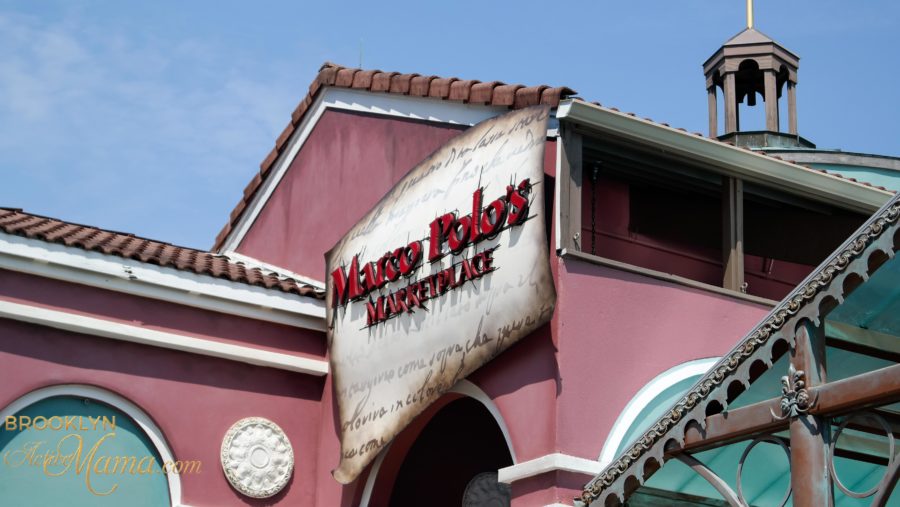 I know I talked about the Food and Wine Festival but the food that is there every day is pretty awesome too. We chose to eat at Marco Polo's Marketplace that had TONS of options from yummy paninis to Chinese food to delicious artisan flatbread pizzas.
To my husband's delight there was a Make Your Own Cannoli station. He was over the moon to say the least. (I had the strawberry shortcake which was scrumptious!)
The International Culture
Going around to all of the countries teaches the kids all about different countries. From the flags, to the trinkets, to the food—the kids and adults all get an awesome geography lesson.
The Busch Gardens Animals!
If you are visiting Busch Gardens VA, be sure to check out the animals and all of the awesome shows! We got to visit the Wolf Haven performance as well as the More Pet Shenanigans show! Both were super adorable and provided for fun photo opportunities afterwards.

Busch Gardens VA is (Relatively) Close to home
Busch Gardens VA is about a 3-4 hour drive from NYC or an hour via plane. It's really great to have such a huge, diverse and fun theme park so close to home!
Florida is great, but sometimes you want to stay a little bit closer to home and still have a fun family trip. Busch Gardens VA is definitely the choice to make for an easy NYC getaway!
What are your summer travel plans? Have you ever been to Busch Gardens VA?
Hi! I'm Nellie. I am a busy mama of three, wife to my high school sweetheart who loves to cook, workout and stay organized! I love to share helpful printables, the best recipes and fitness tips for the modern mom. I strongly believe that every mom can feed their family well, take proper care of themselves and have fun along the way! Read my story.
Get comfortable and be sure to come hang out with me on social. Don't grab your free fitness journal before you go!