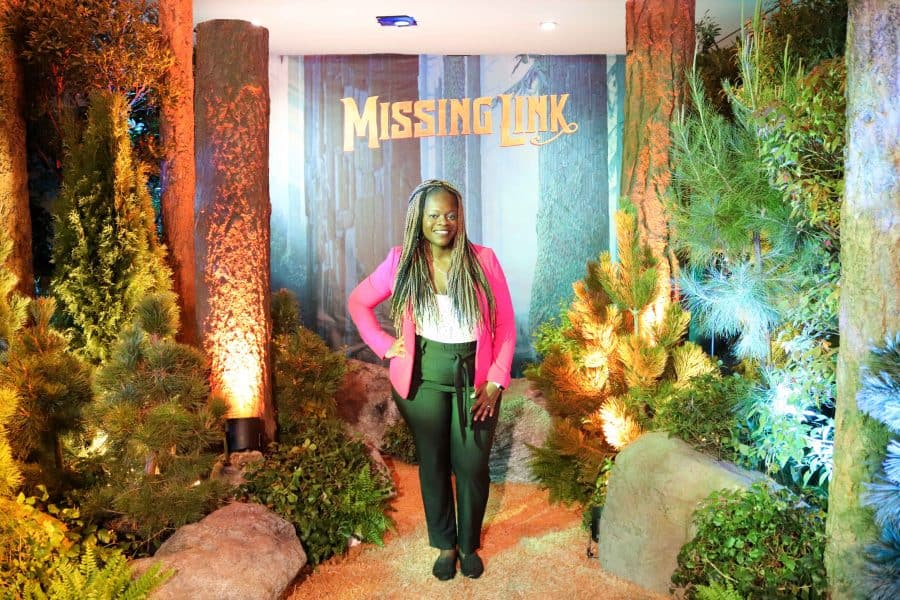 I had the opportunity to sit and chat with the stars behind the scenes of Missing Link at a very fun press junket last weekend in Los Angeles. The junket included the amazing talent that is Zoe Saldana, Zach Galifinakis and Director Chris Butler.
I didn't know much about stop motion animated films until I learned about all of the amazing work behind the scenes of Missing Link. You can check out five reasons why you should check out Missing Link here and a discussion about how Missing Link shines a light on tribes here.
When Chris Butler was asked about how much time and effort it took to conceptualize "Missing Link" he shared more about his artistic process:
Chris Butler: Well, I suppose it starts with me. I probably– maybe 15 years ago, maybe longer, I start with an idea, and you know I doodle in my sketchbook and writing little notes down. And over the years, I keep coming in and out of different ideas. And this one really started with a drawing that I did of Mr. Link, which has been described as a hairy avocado, with legs. And there was something about that drawing that I just kept coming back to, and people kept saying, "That is a very charming thing."
And that really ended up becoming Mr. Link in this movie. But I've gotta say, you know, I'm writing it, and when I'm writing I've got this little movie playing in my head. So I have an idea of what I think the movie's gonna be, but then I give these script pages to these guys and they come in and they turn it into something else. Suddenly, what I had on the page or in my head is something living and breathing and has its own identity that these guys bring to it.
Missing Link Visuals
When it comes to design the visuals in Missing Link are truly incredible. Since the film is set in the "old" times, the story comes with a lot of specific details that you might miss if you aren't looking for it.
Behind The Scenes Of Missing Link
Chris Butler: I think when you're playing, or when you're telling a story that takes place in the real world, even if it's a different time period. You want to– people have certain expectations and they kind of hook what's familiar– they hook into what's familiar to them. So for example, if you're gonna set part of the story in Victorian London, you need horse-drawn carts and chimney stacks, and so you have to check those boxes.
And also, we're traveling around the world pretty rapidly. So I don't have much time to create a scene before we move on again. So I wanted things that look iconic, and you know, there's not much that's more iconic to the Victorian times than the old locomotive, and we all wanted a train station. And I saw some old photographs of Santa Ana train station in the 1880s and it's just this glorious building, and so that's what we based the design on.
Zoe Saldana: And my favorite part was when they're riding on the elephants. That was absolutely stunning and I believe I got to see that set when I went up to Portland to Laika Studios, and that was beautiful. I wanted to be, like just as big as you and be able to play with them all day but they told me not to touch anything.
Missing Link Character Development
I mentioned before that I absolutely LOVED the character Zoe Saldana voices, "Adelina". She reminds me of my beloved in laws with a fiery Latina spirit and so much love in her heart. She reflected on what it was like and how she drew inspiration from close to home.
Zoe Saldana: When we started working on Adelina, and you had it in your mind that her accent was really strong. So I remember going, okay well, cause I asked him, "Do you want my grandma or do you want my mom?" Different kinds of understanding. And he's like, "I want your grandma," — So we did that. And then in a year, maybe five months later at our second session he realized, "I think I want to pull it back, because I don't want Adelina to feel stopped or limited because of her, you know, her accent or her limited kind of capacity of speaking English to really convey how she's truly feeling."
So once he made that shift, we kept on shifting and then I was just like– we had to find what was the right amount of accent that Adelina was gonna have, given the history, given sort of like the migratory stories of that time, of the late 1800s and stuff.
Chris Butler was asked about the what is was like to create new characters and I absolutely loved his response:
Chris Butler: You hope that you're gonna create a story and characters that are compelling enough for the audience to just go with it, to be taken in and enjoy the ride. Artistically, that's a great treat for me, that every time I do one of these things, I get to play in a different world. So for me, it's wonderful being able to create these new stories. But it is frightening, because you know, this is a packed canvas. There is a lot of stuff out there. I think all you can do is try to tell a story that means something and is maybe unique to you or at least tells things from a perspective that not everyone else is using.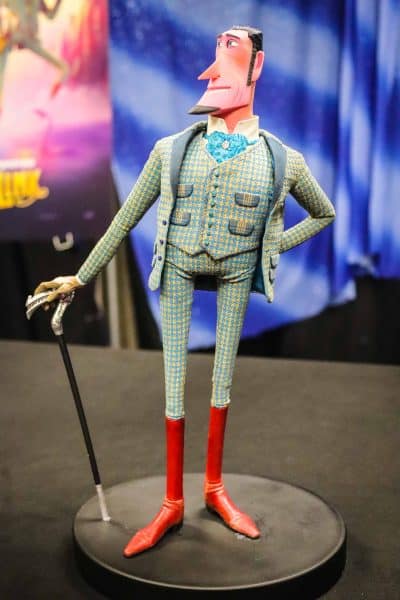 The character of Sir Lionel Frost was a bit hard to swallow at first, but his character makes improvements over time. CB also addressed this character progression and why it's critical to the movie.
Chris Butler: Sir Lionel has the biggest journey to make in the movie, because he starts out as a very flawed character. And he– I think, he does make certain progressions through the movie. They're small, and he quite often ruins it moments later, but just seeing someone who is that selfish trying to make an effort, and eventually he does make an effort, I'm ruining the movie, but–that was important to me to have this main character who was flawed, who had something to learn.
I hope you enjoyed this fun look behind the scenes of Missing Link!
Download your free Missing Link Printable Activity Pack here!
Missing Link in Theaters This Friday April 12th!
Hi! I'm Nellie. I am a busy mama of three, wife to my high school sweetheart who loves to cook, workout and stay organized! I love to share helpful printables, the best recipes and fitness tips for the modern mom. I strongly believe that every mom can feed their family well, take proper care of themselves and have fun along the way! Read my story.
Get comfortable and be sure to come hang out with me on social. Don't grab your free fitness journal before you go!