This post is in partnership with United Artists Releasing
How Missing Link Shines A Light On Finding Your Own Tribe
Who is in your tribe? Who are those people that you know have your back no matter what? Those people are hard to find and when you get them, it's so important to keep them close. For many years, especially when I first became a mom 10 years ago I struggled with figuring out who was in my tribe. It really wasn't until a few years ago when my son was diagnosed with special needs did I really see who had my back through thick and thin.
Last weekend I was invited to Los Angeles to attend a press screening and junket for the film Missing Link (Check out my full review!). The press junket featured director Chris Butler, and stars of the film Zoe Saldana and Zach Galifinakis. We all got to ask questions about the film and I am so excited to share some of the responses here.
In the Missing Link film, The character Sir Lionel Frost is trying to be a part of an exclusive club even though they show no interest in him joining. He had to prove himself in order to gain entry. Simultaneously in the film, Mr. Link wants to find his family so he could feel more attached to his kind since he lived in isolation and had never met anyone quite like himself.
One of the most difficult parts about tribe building is putting your trust in people. At least, for me it is. Figuring out how to put your heart in someone's hands and making sure they know how to care for it–is hard. I think it's definitely easier to try to join a tribe that is established rather than creating one for yourself.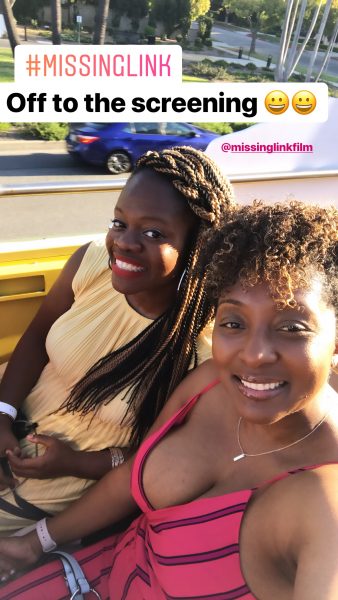 Chris Butler, Director of Missing Link expanding more on the theme of building your own family tribe at the press junket: "So I think the theme of the movie is fellowship, or friendship. I think oftentimes kids movies are about family, and I think it's also important to say that family can be about friends. Family is something you can choose too. A big thing for me, a big message for me in it is that your identity is formed by yourself, and it's not put upon you by others. So I think that's what I wanted to get across, and I think, you know, using this to like get that across is a very cuddly way of doing it."
Does anyone watch A Million Little Things? (If you don't YOU SHOULD, let it be your next binge and thank me later) The entire premise of the show is based on 4 men that met when their elevator broke down with them in it. That chance meeting bonded them for life and just like that—TRIBE. Tribes may not come together like that in real life but the lesson from that is you can find your when you are least expecting it.
In the Missing Link film, three characters find their tribe within each other. It was not about where they started, it was truly about where they ended up. The message was not only beautiful but very much on time.
For more fun posts about the Missing Link movie:
Behind The Scenes: The Story Behind The Making Of Missing Link + A Printable Activity Pack
Five reasons why you need to take the entire family to see Missing Link
Hi! I'm Nellie. I am a busy mama of three, wife to my high school sweetheart who loves to cook, workout and stay organized! I love to share helpful printables, the best recipes and fitness tips for the modern mom. I strongly believe that every mom can feed their family well, take proper care of themselves and have fun along the way! Read my story.
Get comfortable and be sure to come hang out with me on social. Don't grab your free fitness journal before you go!