This amazing Authentic Jamaican Curry Chicken recipe is so flavorful and easy to make! Simple ingredients make for an awesome caribbean style dinner.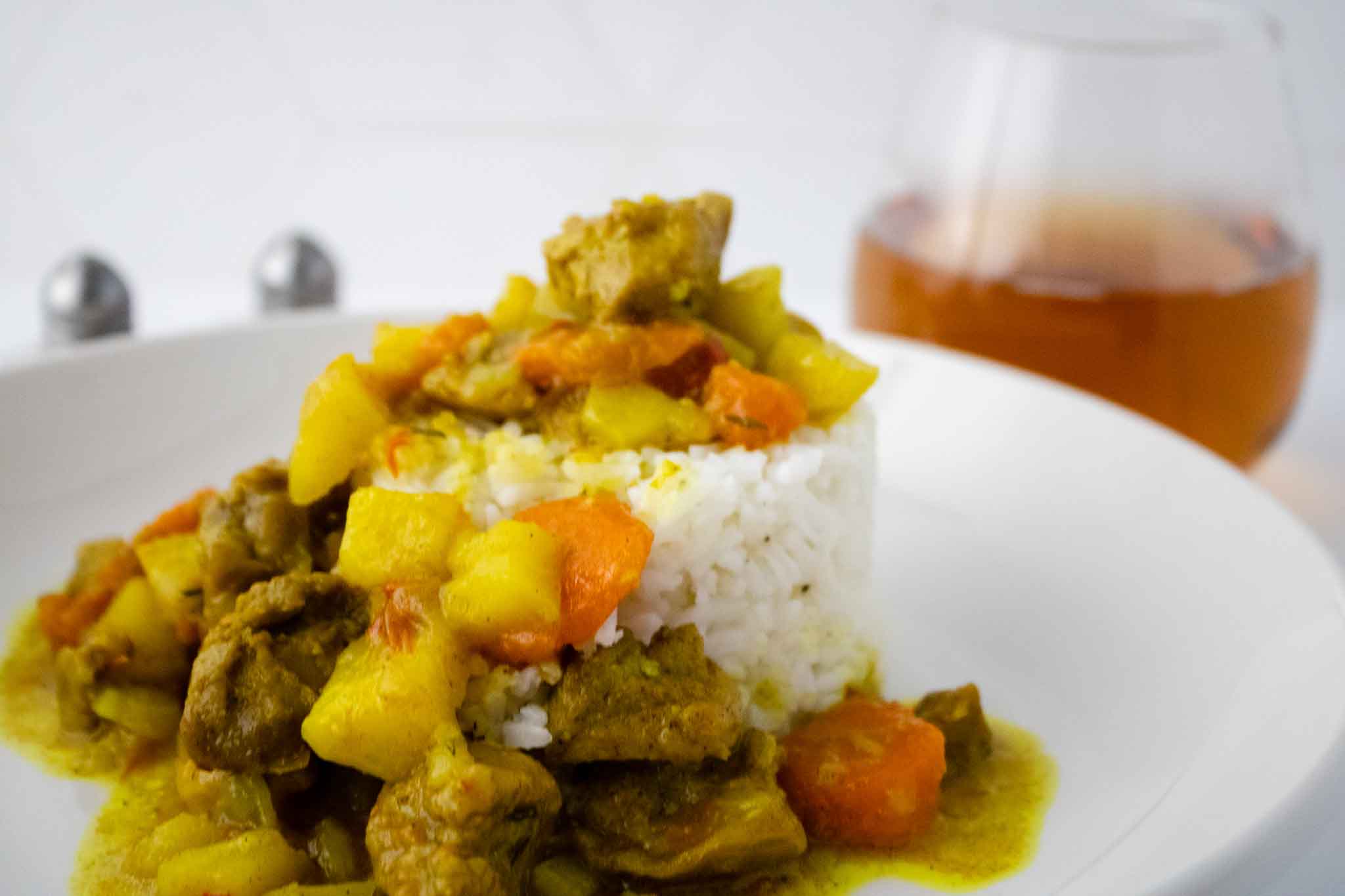 As a first generation American woman from a Jamaican family, I've been eating curry since I was a little girl. Now I'm sharing a fantastic curry chicken recipe for you today!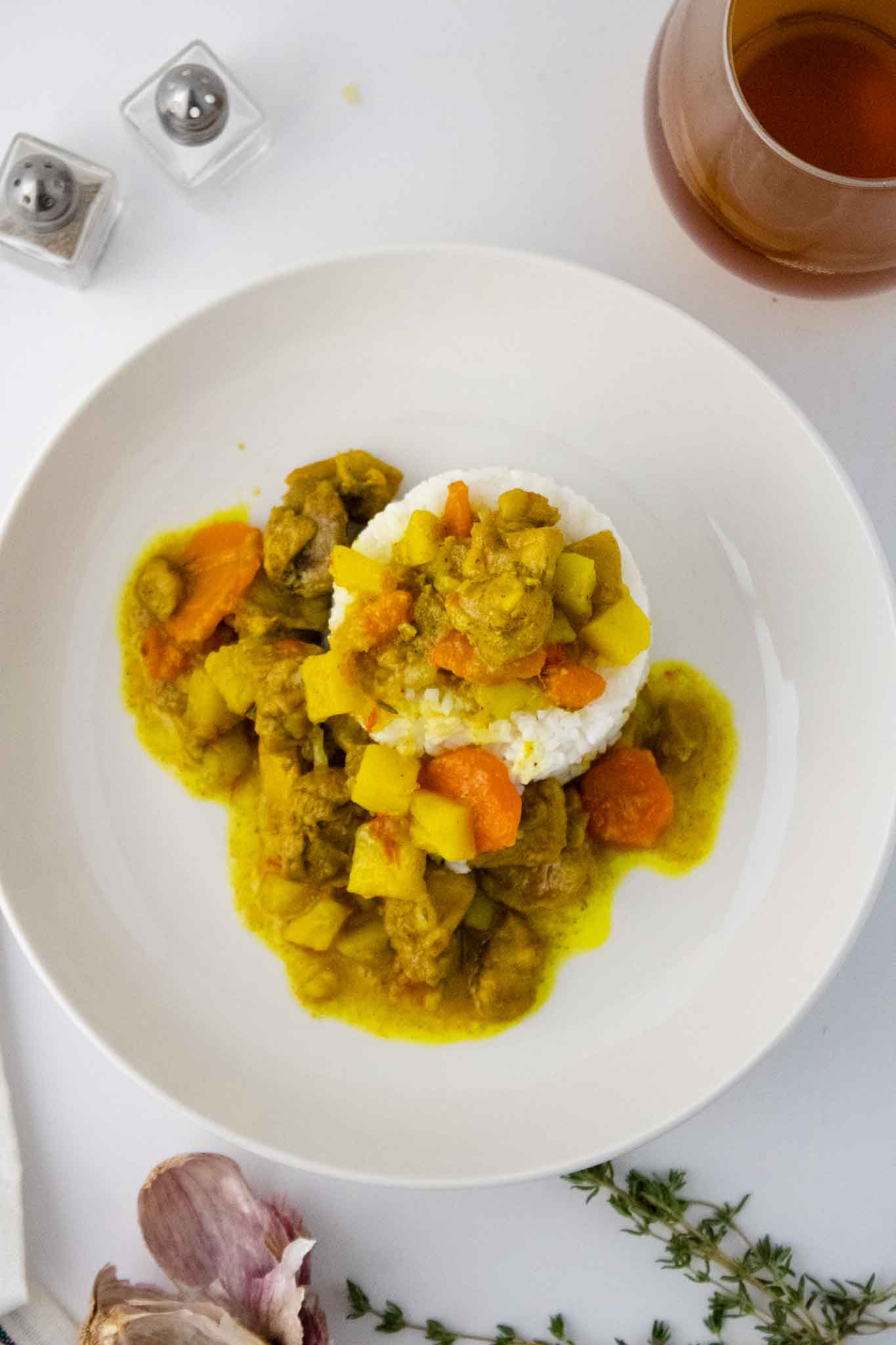 What is curry seasoning?
Curry powder is a blend of spices including turmeric, cumin, coriander, and chili peppers. It's used to flavor many dishes in Jamaican cuisine.
What is the best cut of chicken I use for curry?
You can use any type of chicken for this recipe including breast, skinless chicken thighs, or drumsticks. I like to use chicken thighs because they are more flavorful and tend to be juicier.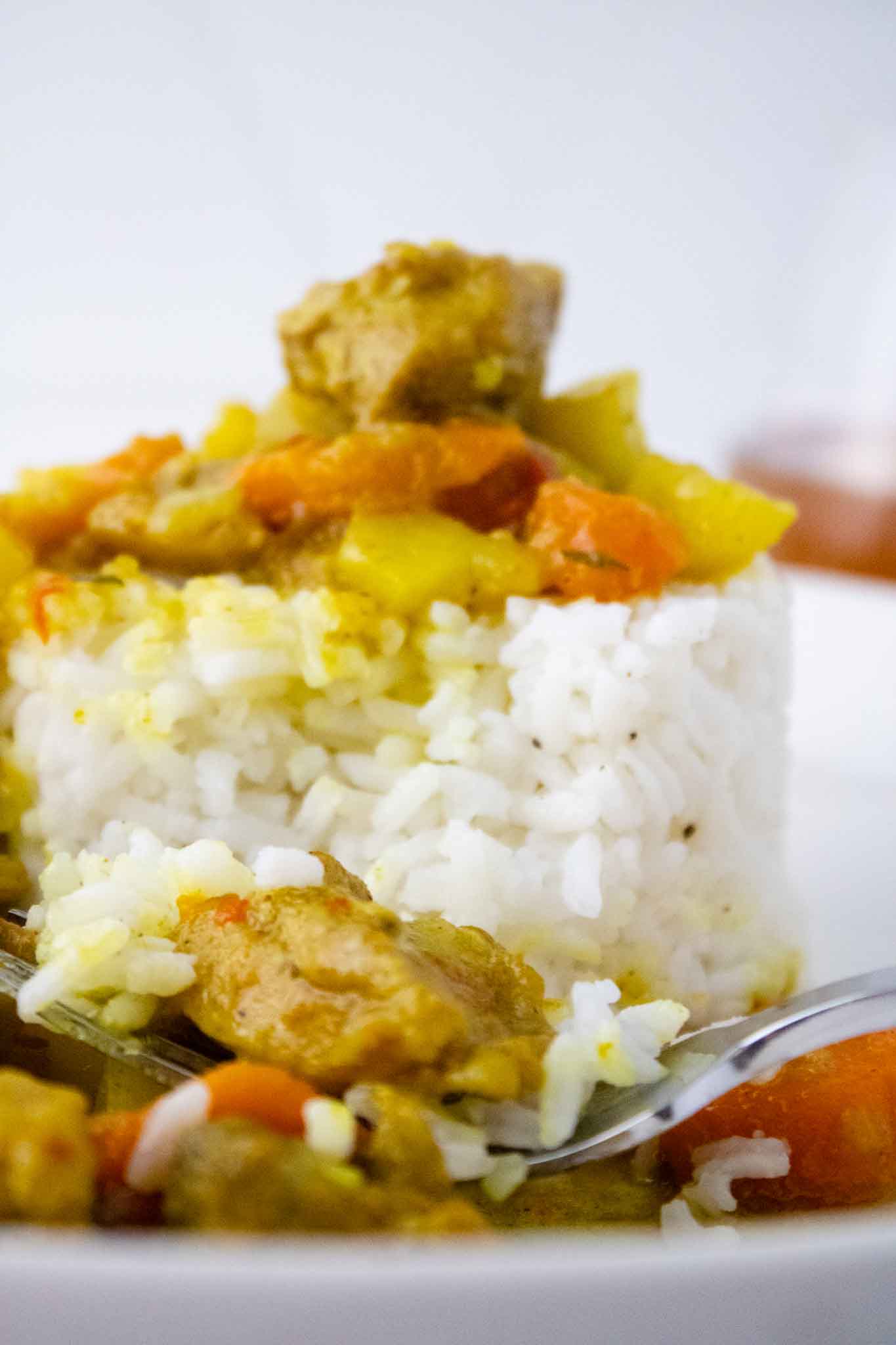 Where did curry chicken originate?
Although the ingredients in curry powder are indigenous to South Asia, the seasoning blend itself originated in Britain. Curry chicken is a popular dish in Jamaica because of the British influence on the island's culture and cuisine.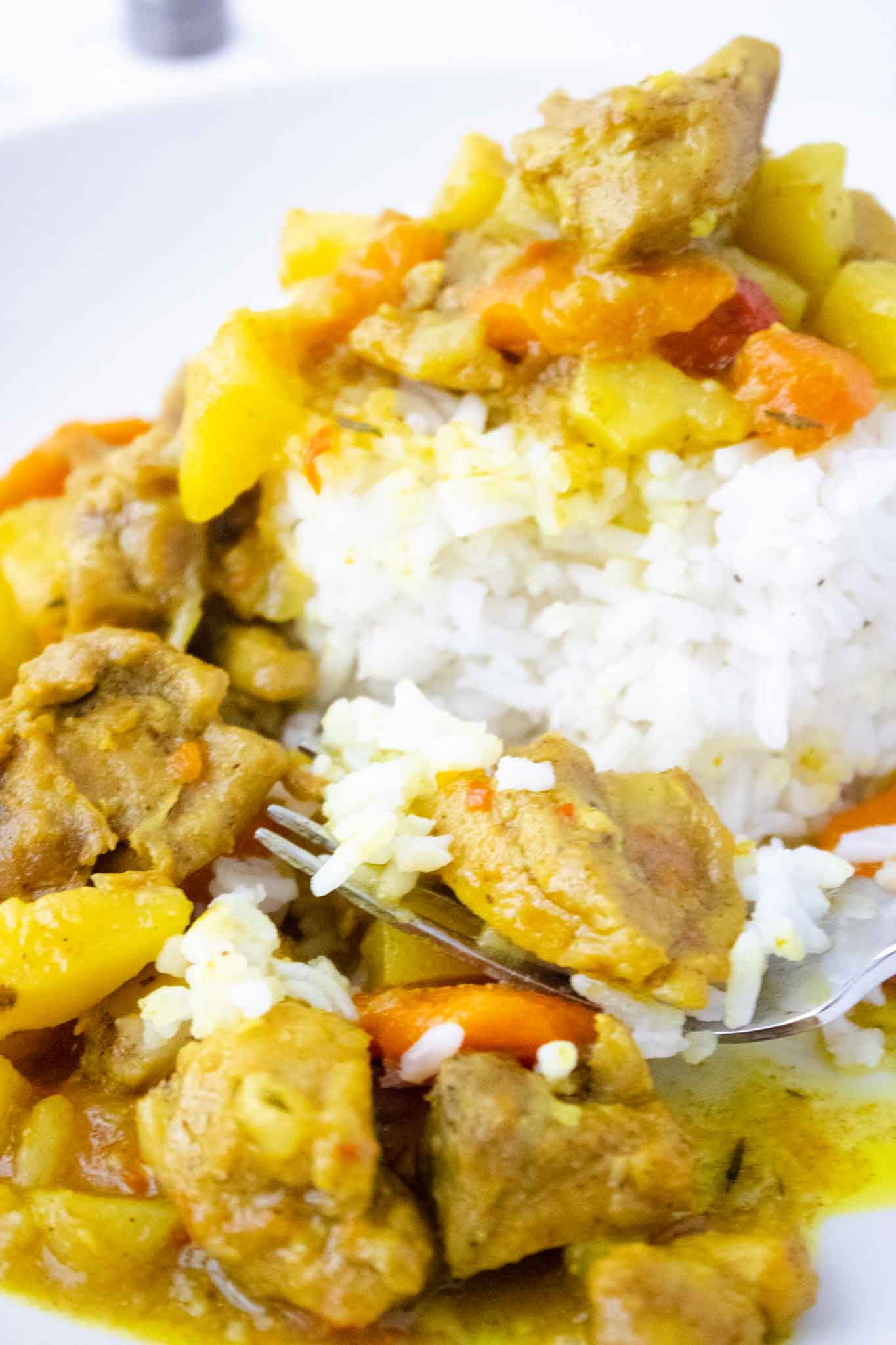 Where can you serve curry chicken?
Curry chicken is typically served with rice and peas, but it can also be enjoyed on its own or with other sides like plantains, boiled yams, or steamed vegetables.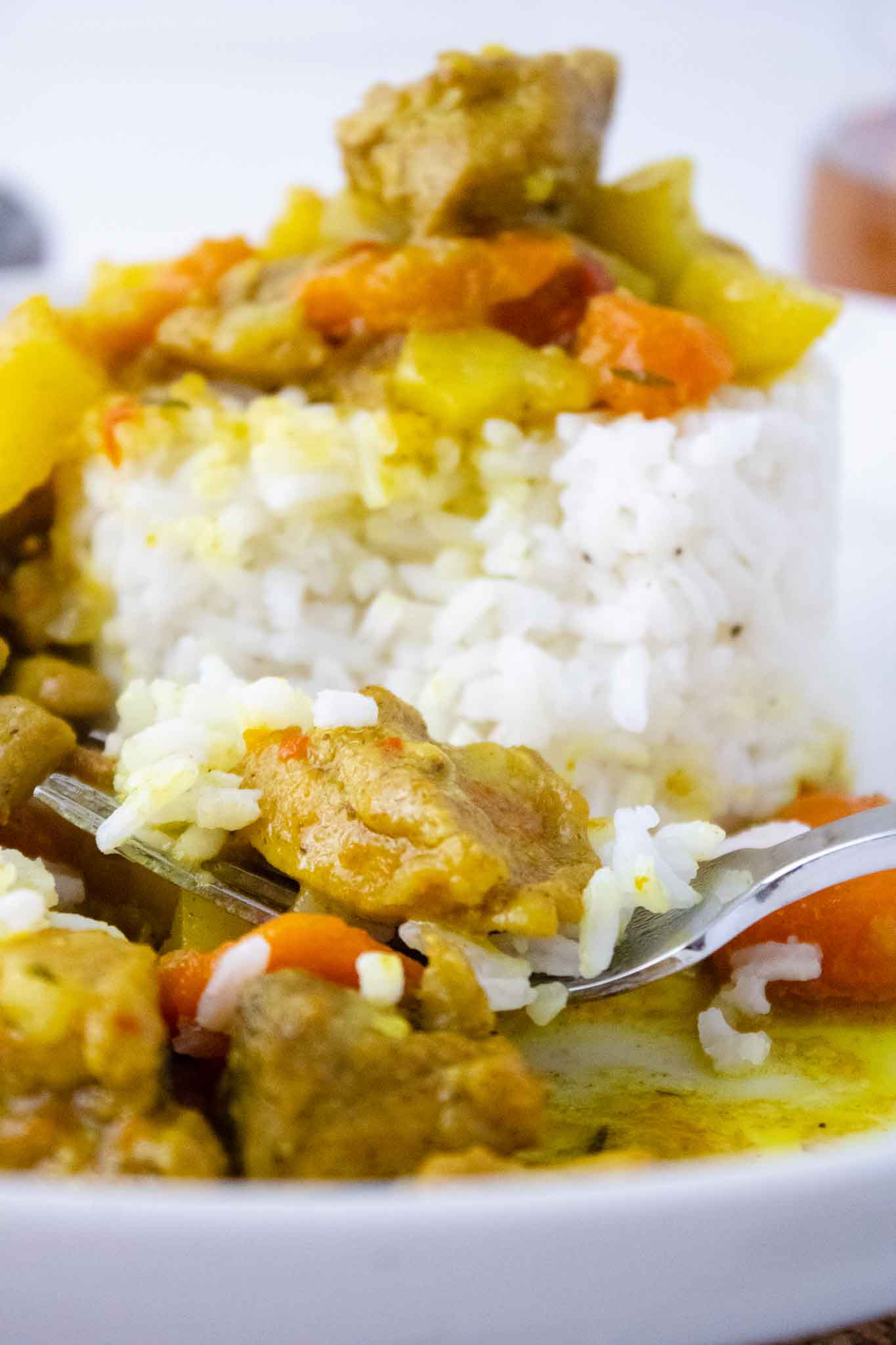 How long does it take to cook curry chicken?
This recipe takes about 45 minutes to cook from start to finish. Most of that time is hands-off while the chicken simmers in the curry sauce.
Do Jamaicans say curry chicken or chicken curry?
In Jamaica, we say curry chicken. However, both terms are commonly used to refer to this dish.
What makes Jamaican curry chicken different?
Jamaican curry chicken is usually made with dark meat chicken and simmered in a curry sauce.
How do you make Jamaican curry chicken?
This recipe is very easy to make! Simply brown the chicken in a pan, then add the curry sauce ingredients and let the chicken simmer until it's cooked through.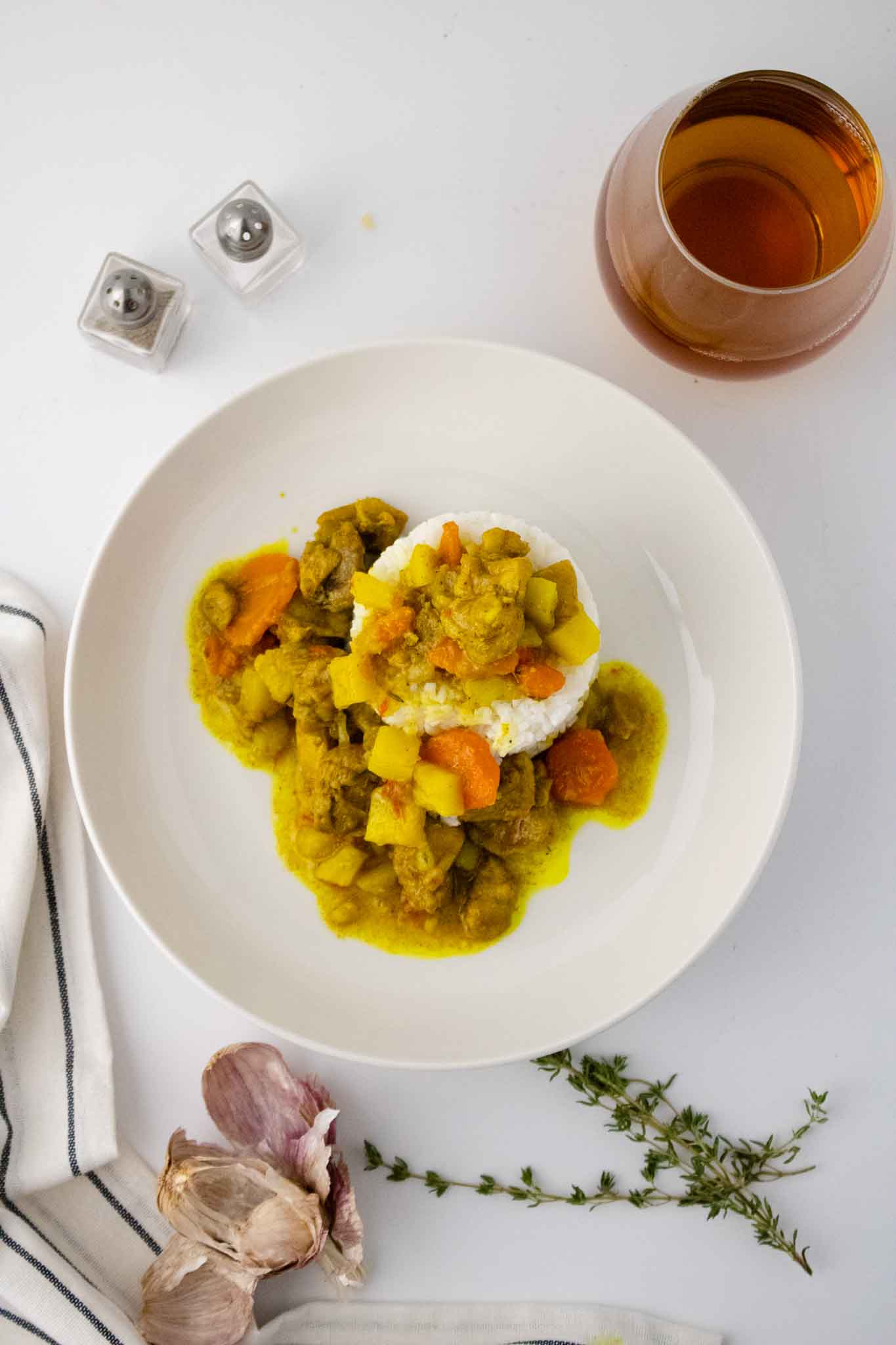 What ingredients do you need for this Jamaican Curry Chicken?
2½ lbs Chicken
2 tbsp Jamaican Curry powder
2 tbsp All- purpose seasoning or Chicken seasoning
1 ½ tsp Salt Or salt to your liking
5 Pimento berries (allspice)
3 Cloves garlic, Crushed
1 Medium yellow onion, Chopped
3 Sprig of fresh thyme
2 Medium carrots, Chopped
1 Small potato Diced
1 ½ tsp Freshly grated ginger
1 Small scotch bonnet pepper seeds removed and finely chopped
3 tbsp Cooking oil or olive oil
Boiling water
SImple ingredients you can get the next time you go to the grocery store! You won't need any bell pepper, chicken broth, sweet potatoes, garlic powder or chicken stock for this recipe.
When it comes to Jamaican food, this will be one of you favorite curry recipes. This is the best curry chicken and it is generally serve with white rice. This curry dish is even better the next day.
Note that there are many different types of curry powders like thai curries, indian curry powder and other caribbean curry. The kind of curry powder you use is up to you there isn't a major difference–the Jamaican curry spice mix is my favorite for this traditional Jamaican curry.
What are some great sides for this delicious curry chicken dish?
What I love about this Jamaican recipe is that it uses common ingredients for this particular recipe and it makes a delicious dish. If you don't have scotch bonnet peppers you can substitute habanero peppers.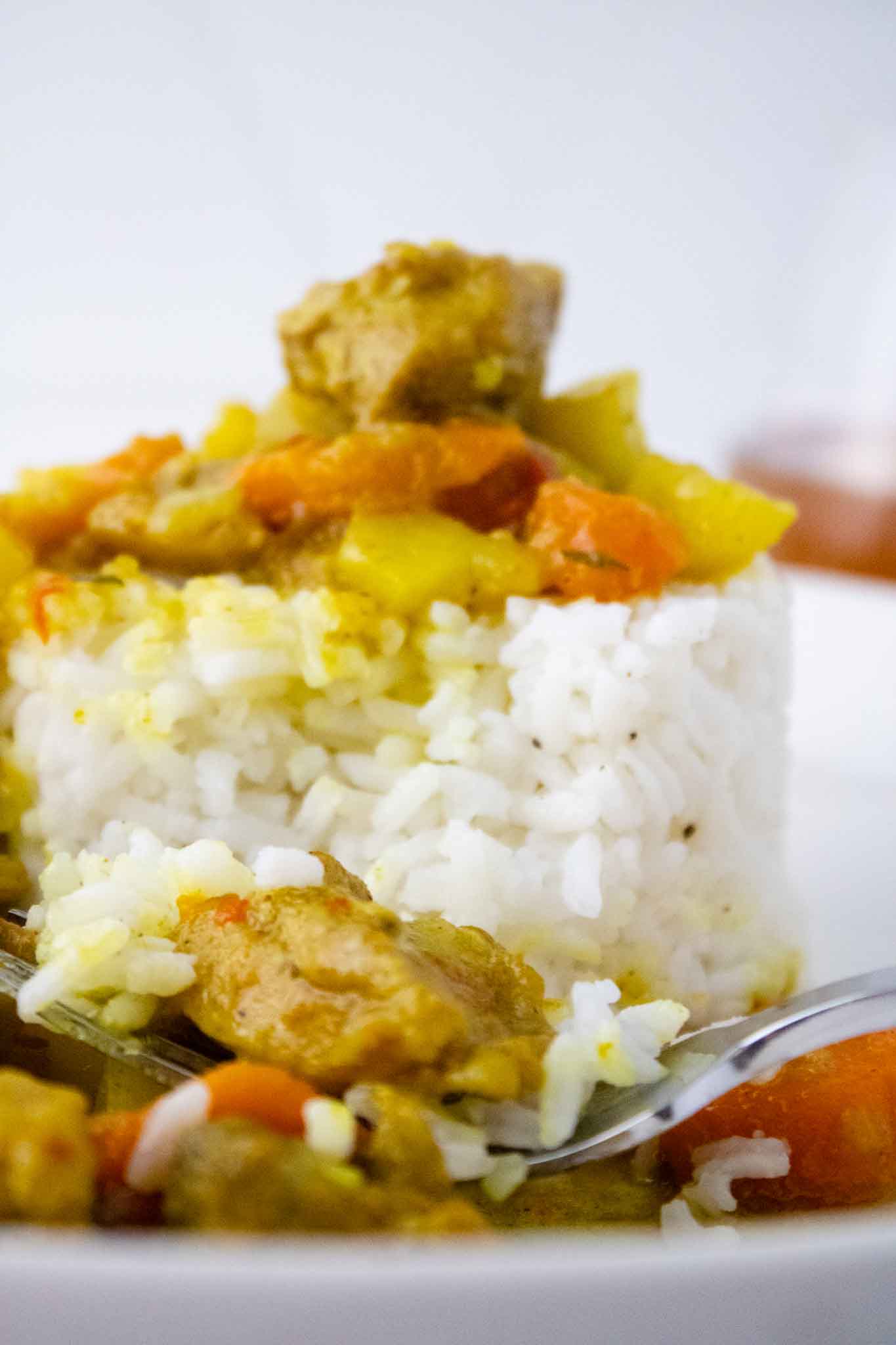 What is the difference between Jamaican Curry and Regular Curry?
Jamaican curry is typically made with a combination of allspice, Scotch bonnet peppers, thyme, and other spices that are common in Jamaican cuisine. This gives the dish a unique flavor that is different from traditional curries. Jamaican curry is also usually made with chicken or goat, although beef and fish are also sometimes used.
Is curry chicken Jamaican or Indian?
Curry chicken is a dish that originated in India, but has become popular in Jamaica.
Is Jamaican curry chicken healthy?
Yes, Jamaican curry chicken can be healthy. It is typically made with lean chicken breasts and does not contain any added fats or oils. The vegetables in the dish also add to its nutritional value.
How long can chicken curry be kept refrigerated?
Cooked chicken curry can be kept in the refrigerator for up to three days.
What is the difference between masala and curry?
Masala is a blend of spices, while curry is a dish made with spices. Curry can be made with masala, but not all curries contain masala. Masala is typically used to flavor Indian dishes, while curry is found in many cuisines, including Indian, Thai, and Jamaican.
What is a good recipe for Jamaican Chicken Curry?
This Jamaican Curry Chicken recipe is a good option. It calls for skinless chicken breasts, allspice, Scotch bonnet peppers, thyme, curry powder, and other spices.
The chicken is cooked in a curry sauce until it is tender and the flavors have melded together. Serve over Jamaican rice or with potatoes or your favorite sides for a complete meal. You can use any part of the whole chicken bt the chicken breast is easiest because you can cut the chicken pieces into small pieces.
Here are some Helpful tips for making the best Jamaican curry chicken
1. Start with a flavorful marinade: Marinating your chicken in a combination of spices and herbs, like ginger, garlic, allspice, thyme, scallions, and Scotch bonnet peppers can add an extra layer of flavor to your Jamaican curry chicken.
2. Don't be afraid to use a lot of spices: Jamaican curry is known for its intense flavor, so don't be afraid to go heavy on the spices. Use generous amounts of garlic, allspice, ginger, and turmeric in your marinade or sauce to really get the authentic flavor.
3. Add some heat with Scotch bonnet peppers: Scotch bonnet peppers are a staple of Jamaican cuisine and add intense heat to your curry chicken. If you don't want it too spicy, you can remove the seeds before adding them to the mixture.
4. Simmer for maximum flavor: Simmering your curry chicken allows all the seasonings and flavors to meld together and really penetrate the chicken. Simmering can take longer but it is worth the wait for a flavorful dish.
5. Serve with traditional sides: To get an authentic experience, serve your Jamaican curry chicken with steamed rice, plantains, or boiled dumplings for a complete meal. Enjoy!
Your taste buds will be so happy! Try with coconut rice for the best results. It will be one of those new recipes that you will come back and make a second time! One of the best things about this recipe is the bright yellow color of the chicken next to the stark white rice.
Before you go, check out these amazing Jamaican recipes!
The Best Authentic Jamaican Jerk Chicken Recipe
The Best Jamaican Jerk Sauce Recipe
The Best Jamaican Rasta Pasta Recipe – Add Your Favorite Protein!
Delicious Authentic Jamaican Rice and Peas Recipe
Air Fryer Sweet Fried Plantains – Healthy Twist On A Classic Dish
Easy Jamaican Festival Sweet Dumplings Recipe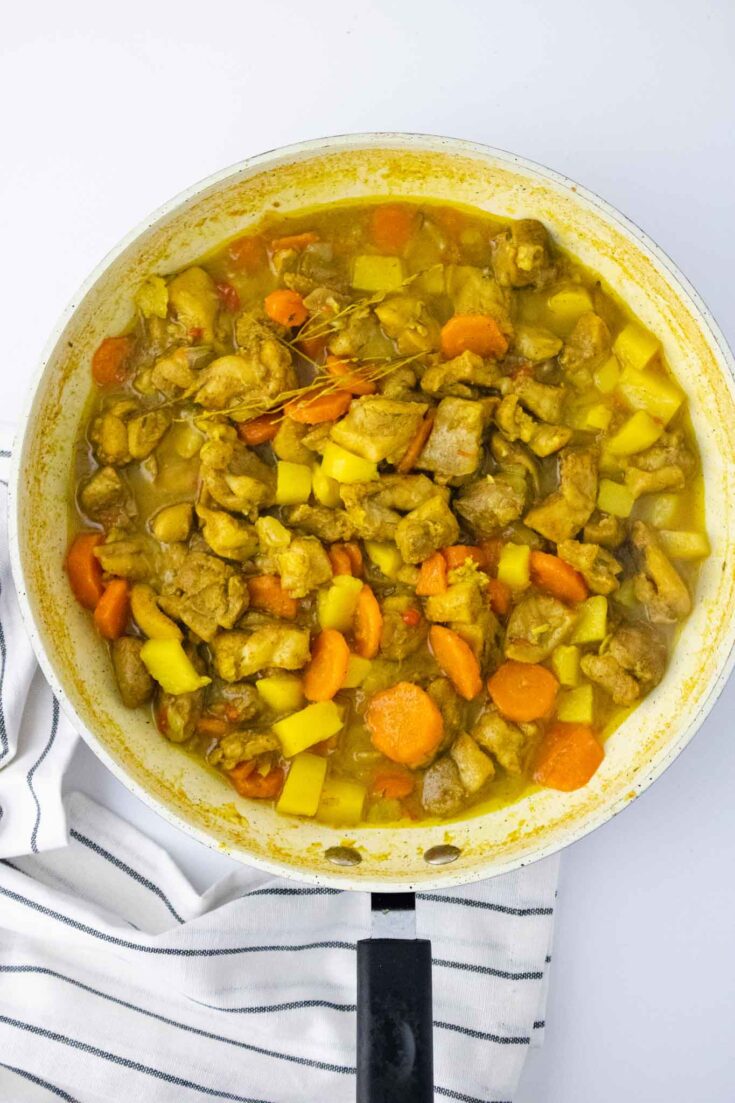 Yield:

6-8 Servings
Authentic Jamaican Curry Chicken Recipe
This authentic Jamaican Curry Chicken recipe is great for dinner or lunch! Made with super simple ingredients it's great with white rice.
Ingredients
2½ lbs Chicken
2 tbsp Curry powder
2 tbsp All-purpose or Chicken seasoning
1 ½ tsp Salt Or salt to your liking
5 Pimento berries (allspice)
3 Cloves garlic Crushed
1 Medium onion Chopped
3 Sprig of fresh thyme
2 Medium carrots Chopped
1 Small potato Diced
1 ½ tsp Freshly grated ginger
1 Small scotch bonnet pepper seeds removed and findly chopped
3 tbsp Cooking oil
Boiling water
Instructions
Remove the skin (if there is any) from the chicken and cut it into small pieces. Wash the chicken in water with the juice from the lime/lemon and the vinegar. Drain away all the excess water from the chicken. Dry with kitchen towel if necessary.
In a kitchen bowl, add the chicken, onion, garlic, scotch bonnet pepper, pimento berries, ginger, salt, all-purpose seasoning, the curry powder and mix everything together and leave to marinate for 30 minutes or more.
In a pot add the cooking oil and put to hot on medium heat.
Add the seasoned chicken to the oil and stir well. Let the chicken cook until lightly brown on all sides. Don't let the pot burn, add a tip of water if necessary.
Stir in the carrot, potato and thyme. Add water enough to cover the chicken in the pot. Cover and leave to cook for 25-30 minutes, until the chicken is cooked and the water is reduced to a curry gravy.
Nutrition Information
Yield
6
Serving Size
1
Amount Per Serving
Calories

542
Total Fat

32g
Saturated Fat

7g
Trans Fat

0g
Unsaturated Fat

22g
Cholesterol

178mg
Sodium

830mg
Carbohydrates

14g
Fiber

4g
Sugar

4g
Protein

47g
Pin it for later!
If you enjoyed this recipe be sure to check out my Instagram Page for the latest posts!
Before you go, check out these great posts!
The Best Cobb Salad Recipe With Pan Seared Chicken
Grilled Chicken Apple Salad With Apple Cider Vinaigrette
Applebees Copycat Chicken Wonton Tacos
Hi! I'm Nellie. I am a busy mama of three, wife to my high school sweetheart who loves to cook, workout and stay organized! I love to share helpful printables, the best recipes and fitness tips for the modern mom. I strongly believe that every mom can feed their family well, take proper care of themselves and have fun along the way! Read my story.
Get comfortable and be sure to come hang out with me on social. Don't grab your free fitness journal before you go!