!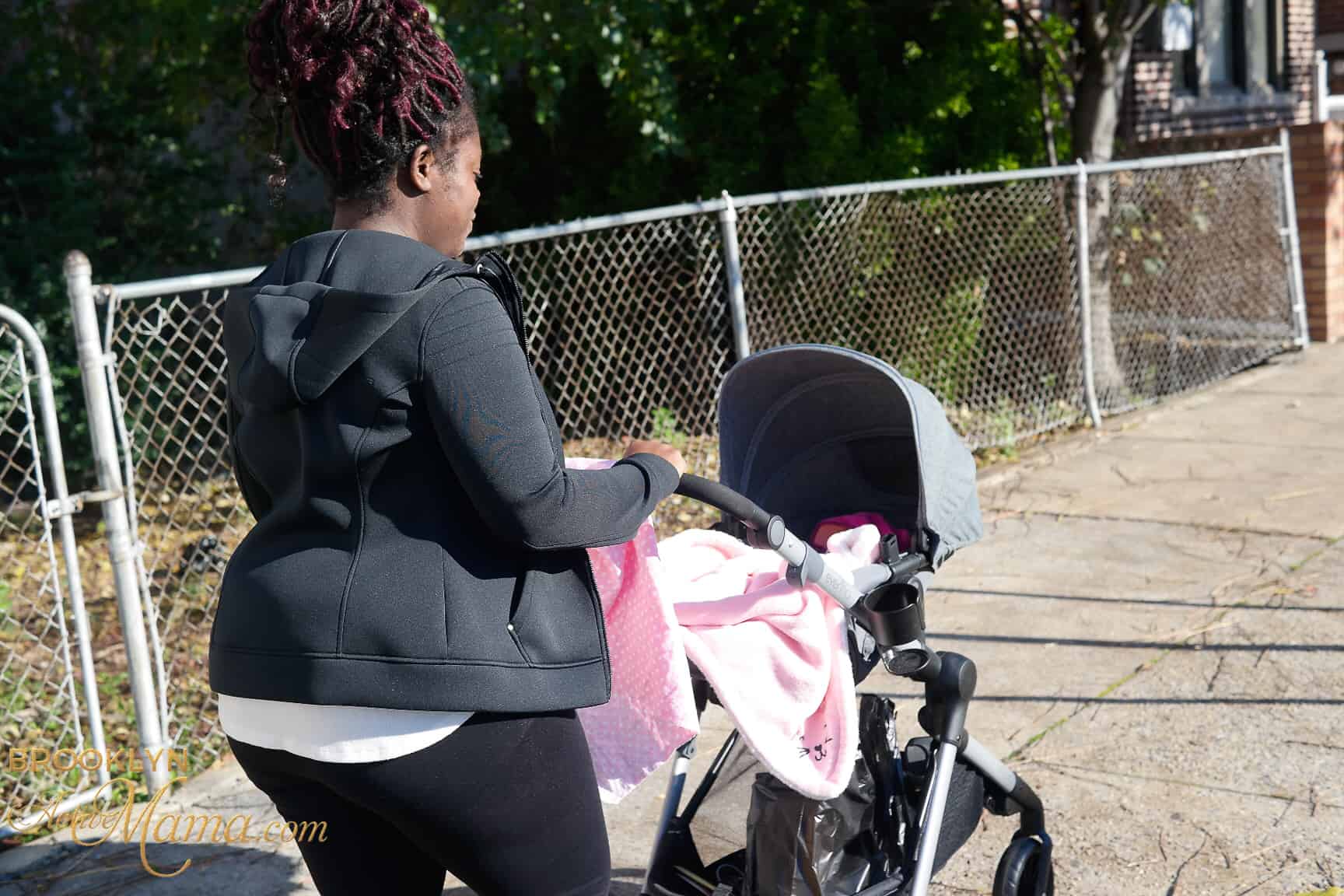 One of the most important accessories for a new baby is your stroller. Especially if you live in an urban area, you will be spending TONS of time with your stroller. I took my time choosing a stroller this time around because things have changed A LOT in 7 years. Today I am reviewing my new favorite stroller the Pivot Xpand Stroller System.
I remember with the boys, the stroller we had was worn out because we walked them back and forth to the daycare daily plus weekend activities. This time around I was very particular about my choice of the Pivot Xpand Stroller System because it was important that not only did I have a cute and stylish stroller, I had a durable one with easy navigation as well. (FYI: This stroller tends to be called the "Pivot Expand Stroller System" too, but Evenflo is fancy and left off the E) 🙂
Introducing the Evenflo Pivot Xpand Travel System
I was first introduced to the Evenflo Pivot Xpand at the New York Baby Show last May. The baby show allows you to try out dozens of different strollers in simulated environments in a "test track" sort of way. When I arrived at the Evenflo booth, the Evenflo Pivot Xpand had gone off on a test ride–it was THE most popular frame sxdwaastroller system in the building and I can totally see why!
Evenflo Pivot Features: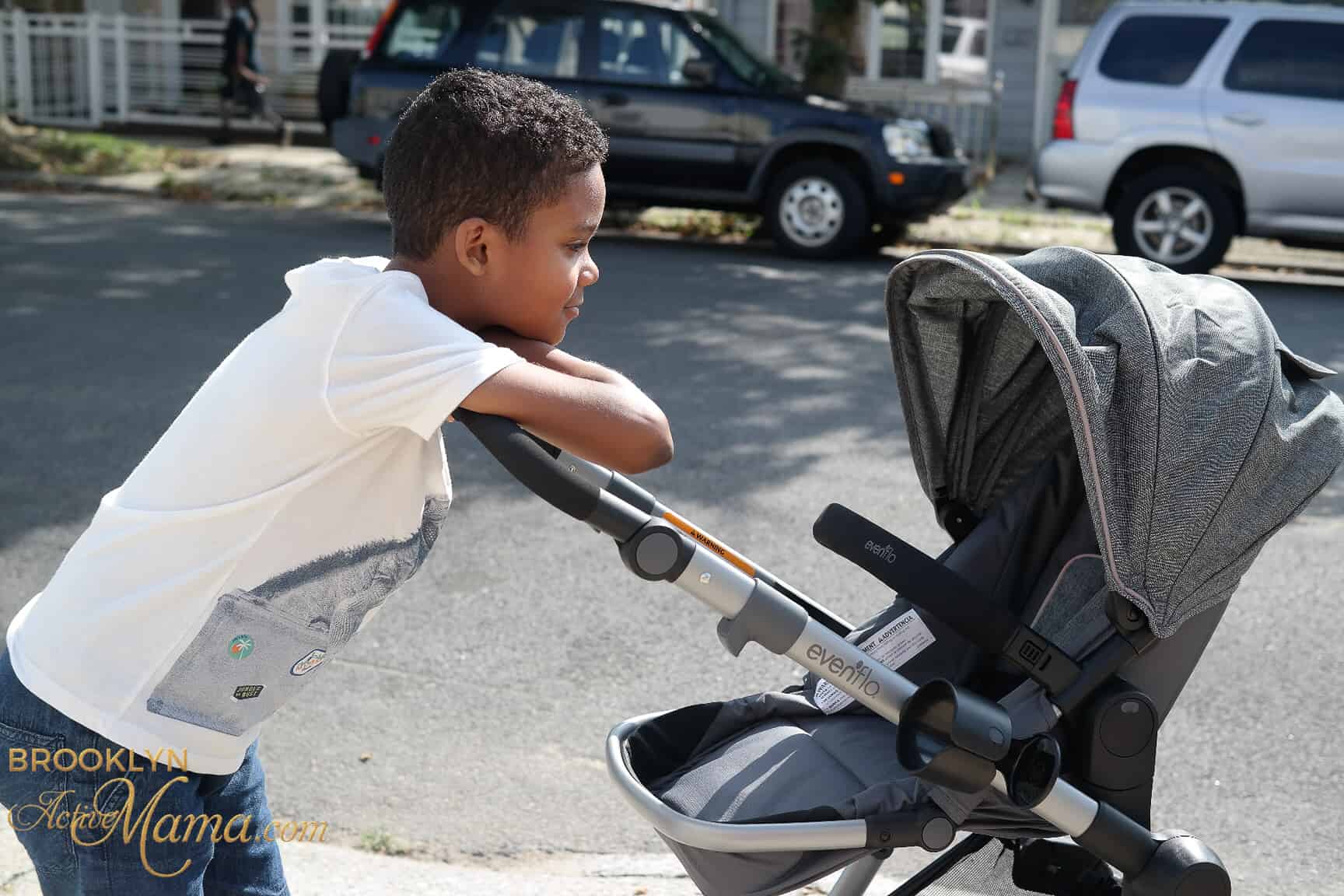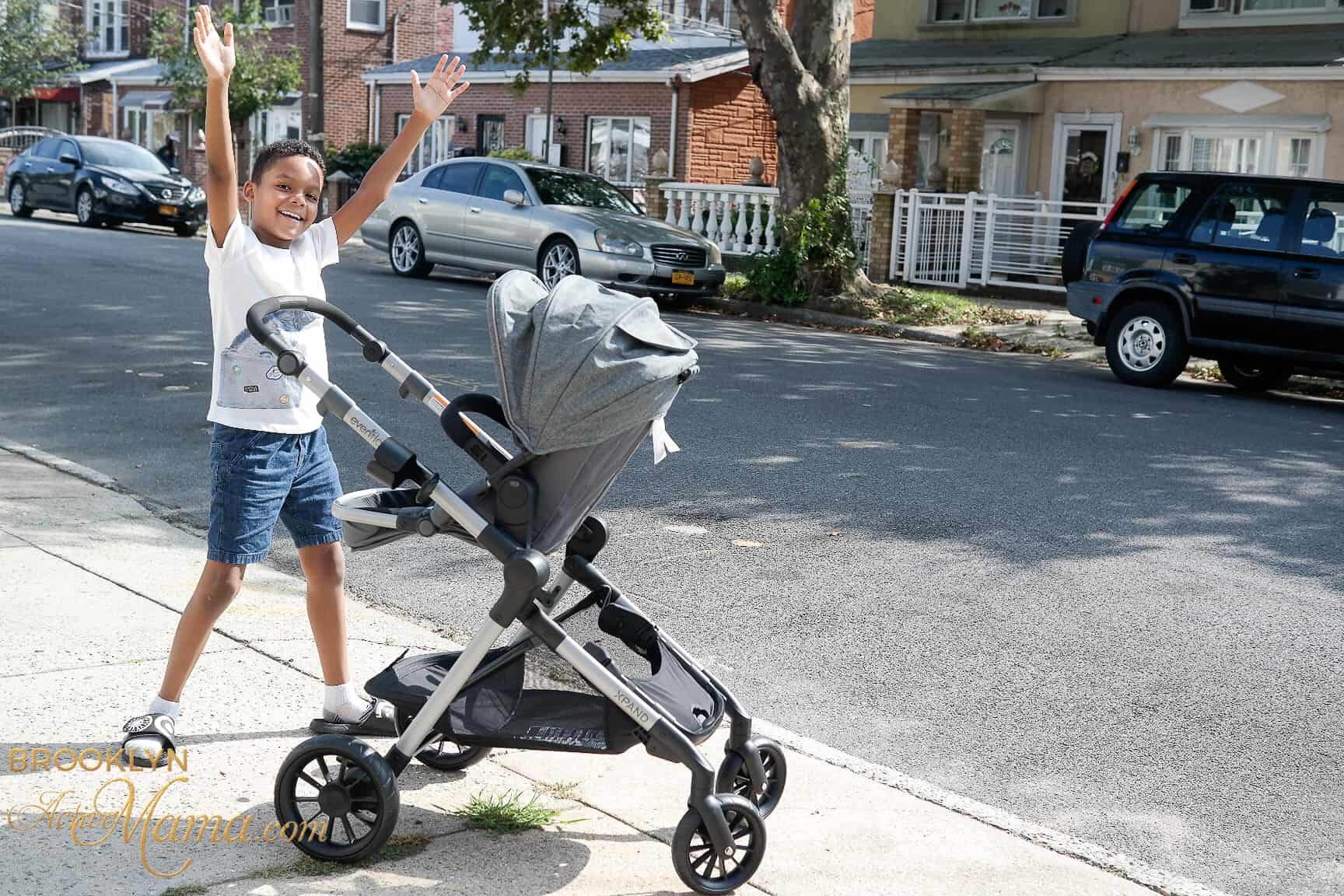 Single To Double: Stroller grows from single to double with no tools or extra parts needed! Unique slide and lock system expands frame to accommodate a second toddler or infant seat. (so handy!)
Up To 22 Configurations: The unique design accommodates one or two riders. Infants and children can sit at various heights, upright or reclined, in both parent-facing and forward-facing modes. Toddler seat holds up to 55 lbs for extended use.
Modular Design: Infant car seat sits directly on the frame, and the toddler seat easily converts to infant mode, cradling baby at a comfortable angle
Self-Standing Fold: The compact fold conveniently self-stands, with toddler seat attached (helps a LOT on the train!)
Extra-Large Storage Basket: Expands to over 2 feet in length with front and back access for convenience (hello, shopping!)
Large Cruiser Tires: Front-wheel swivel and rear-wheel suspension offer a smoother ride and superior maneuverability (fantastic for the unpredictable roads of NYC)
Includes SafeMax Infant Car Seat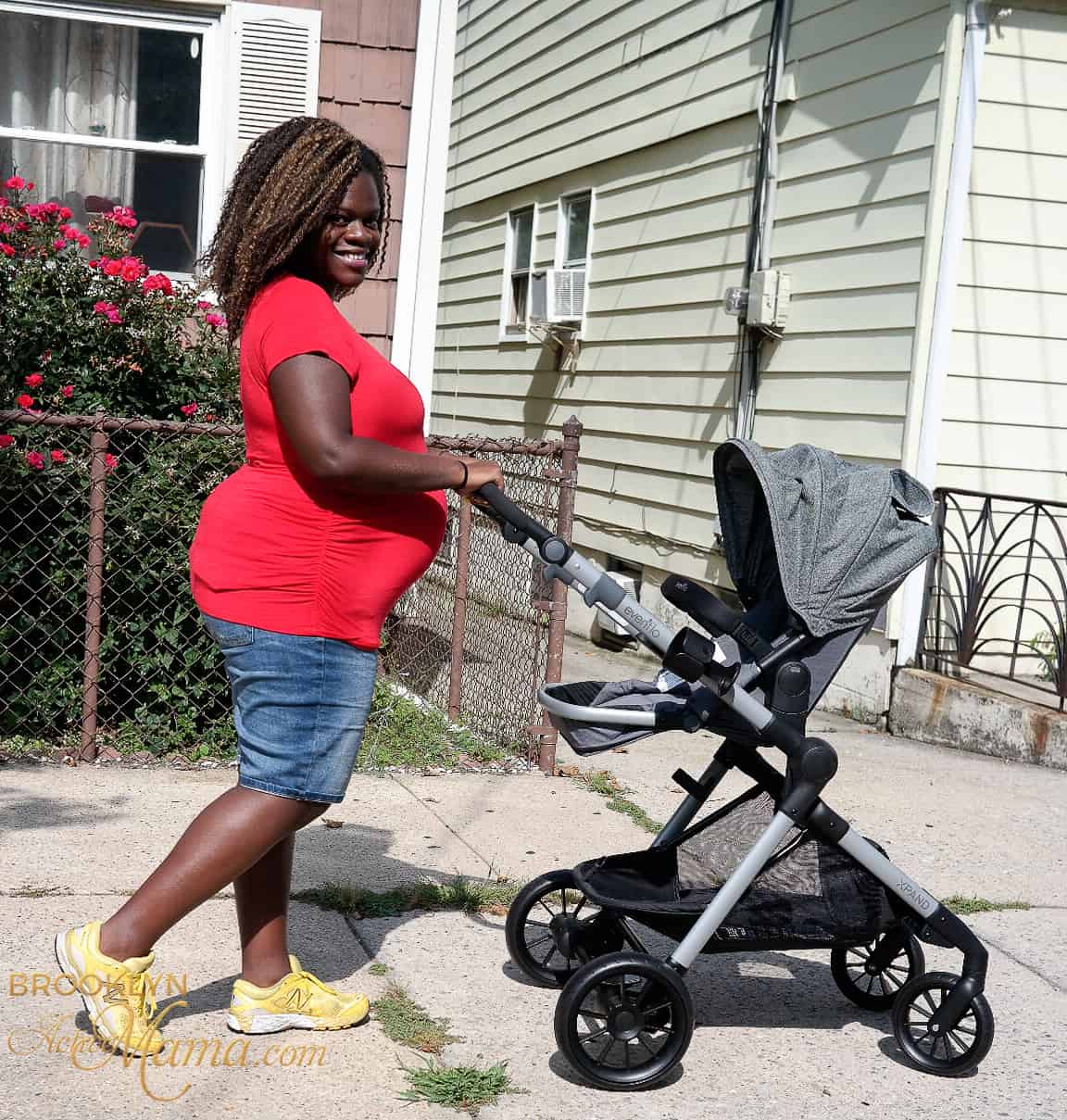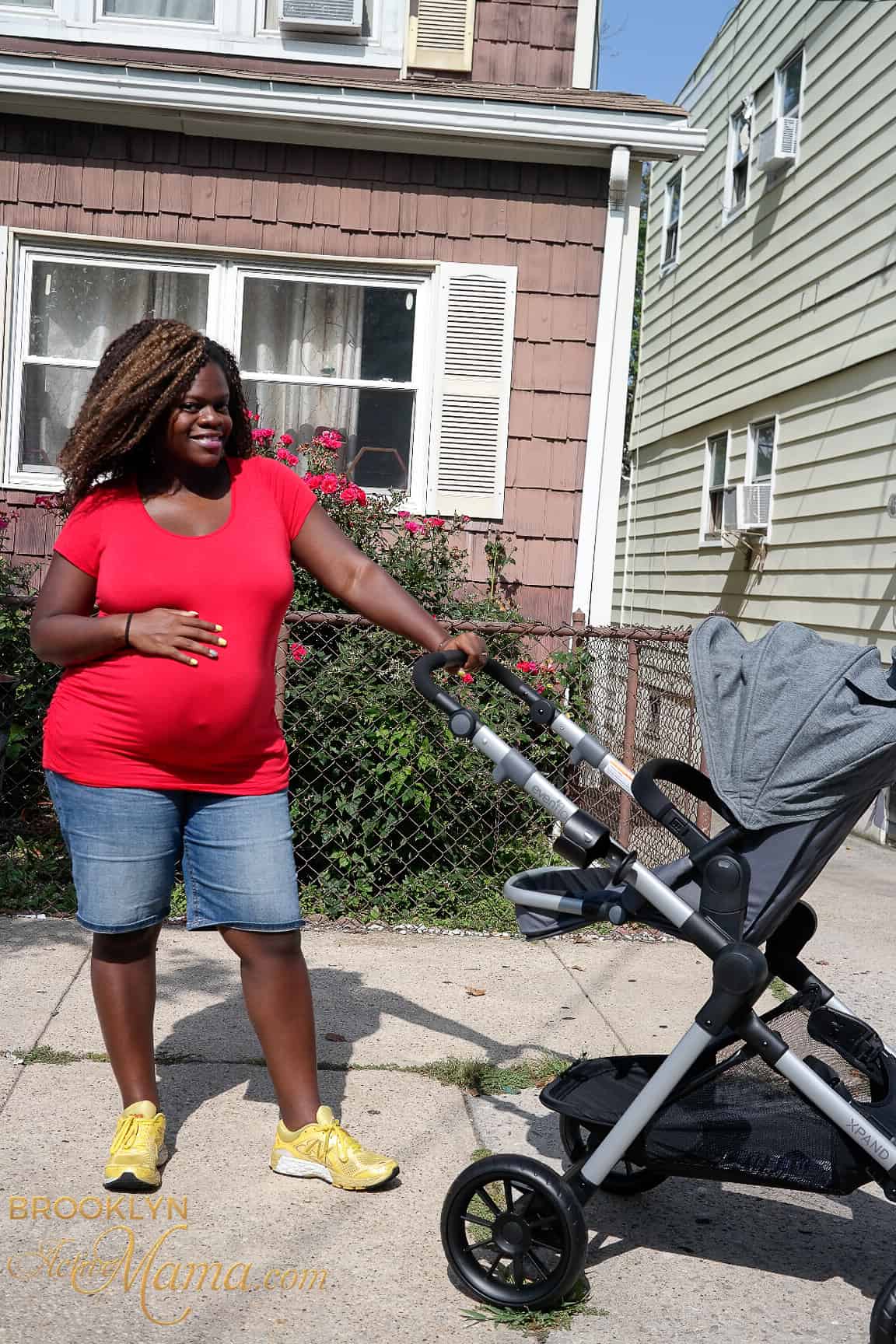 Once I had the chance to take the stroller for a spin, it was such a smooth ride and I was instantly in love. I was really impressed with how smoothly the system drove and how gorgeous and neutral the gray color of the pivot modular travel system was.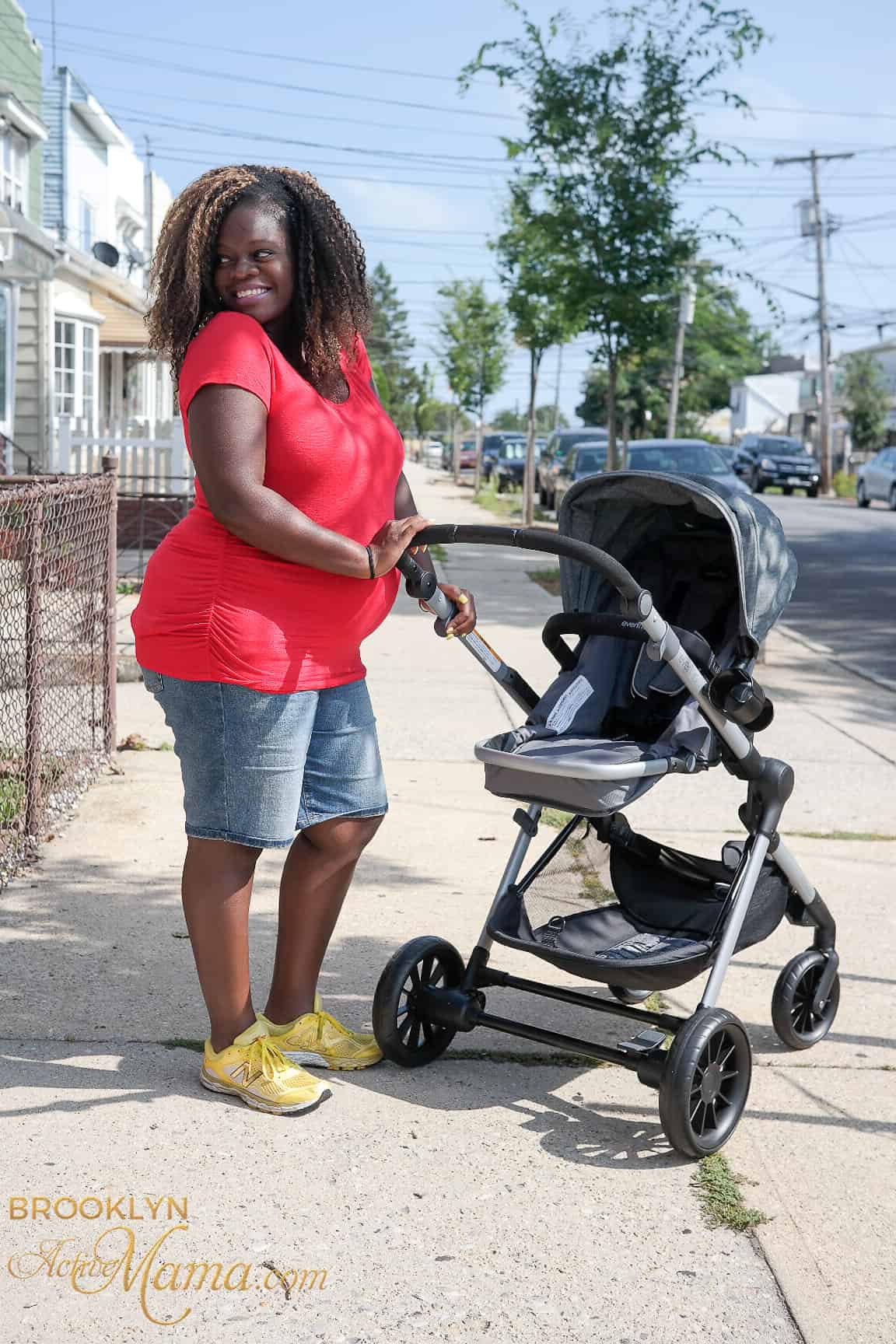 Evenflo Xpand Bassinet
My favorite part though is the bassinet (toddler) attachment because it lays flat for sleeping. Sometimes we have a short way to go and don't necessarily need to put her in a car seat. I love that she can lay flat with a large canopy in carriage mode if I walk to my mom's house or to the grocery store.
If we are traveling with her, the infant car seat switches out super easily with one click. Having the extra portion is super helpful in case we have another baby family member or friend with us.
Evenflo Pivot Weight
We all know how important it is that the weight is manageable, especially when we are traveling with our strollers. We currently use the frame and the toddler seat (bassinet) the most and it's pretty easy to maneuver. Here are the official specs:
Weight: Car Seat (without base) – 7.6 lbs Car Seat (with base) – 14 lbs Stroller frame + toddler seat – 28.6 lbs Total weight (car seat, base, stroller frame, seat) = 42.6 lbs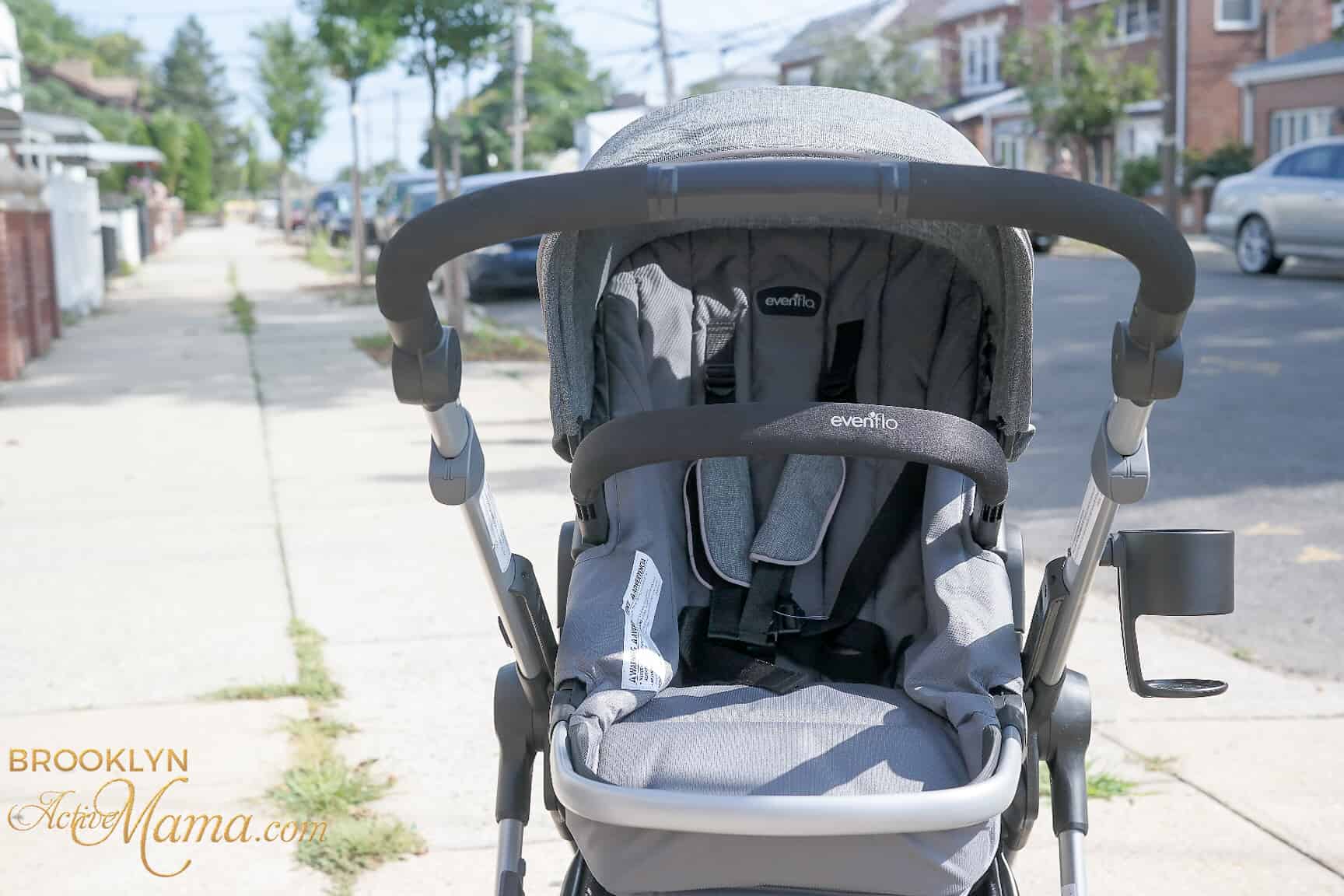 Plus the pivor xpand has been tested for structural integrity at energy levels approximately 2x the federal crash test standard which gives me a great peace of mind!
Facebook Live Review
A few months ago when I was still pregnant in the summer time, I did two Facebook lives on my Facebook page (if you are not following me, be sure the like the page!) detailing the ease of use in this video installation of the Evenflo Pivot Xpand. The first one was shot by my 9 year old and hilarity ensued.
The second one is a bit better, as I had hubby film, and it shows off more of the features:
We use the infant car seat and it is super easy to install the car seat base as we travel all over. I've always been a bit of a klutz when it comes to car seat installations, so I appreciate this one being so easy–with clear instructions on the side if I ever need any help! It also helps that it has sensorsafe ultimate connectivity and peace of mind for parents.
For the full demonstation (done by a professional this time!) check out the YouTube Video I recorded at the New York Baby Show.
I absolutely recommend this system if you are new parents, as well as gifts for new parents! For more information check out the Evenflo website here!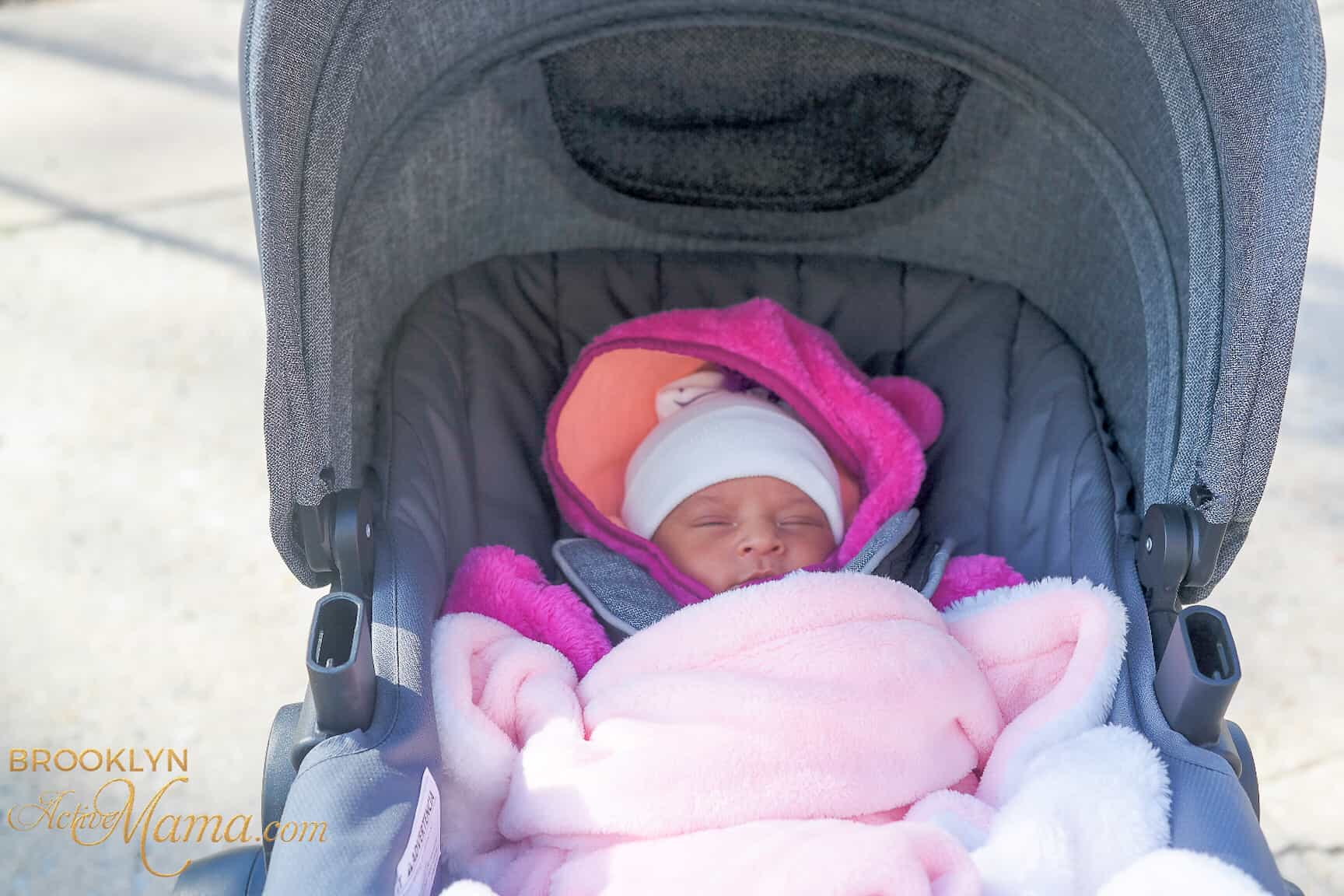 For more baby related posts check out:
What are the Benefits of Homemade Baby Food?
5 Sanity Saving Essentials You Need for a New Baby
Baby Magic Unveils Brand New Collection Of Baby Care Items
The BEST Disney Accessory For ANY Baby
Hi! I'm Nellie. I am a busy mama of three, wife to my high school sweetheart who loves to cook, workout and stay organized! I love to share helpful printables, the best recipes and fitness tips for the modern mom. I strongly believe that every mom can feed their family well, take proper care of themselves and have fun along the way! Read my story.
Get comfortable and be sure to come hang out with me on social. Don't grab your free fitness journal before you go!