When someone asks me how did I become an avid sports fan, I tell them that it all started with Basketball. It was the early 90s and the Knicks were battling in the playoffs versus their rival team the Chicago Bulls. It was a huge family event (I can't remember which specifically because my family is so big that every event is huge!).
My Uncle asked me which team I was rooting for, and the room went silent. I took a deep breath and said "The Knicks?" and the room erupted with approval. It was then I became a Knick fan, and a basketball fan for life.
Last month on my trip to Disney World, after I visited Galaxy's Edge, Mickey's Not So Scary Halloween Party and Epcot's Food and Wine Festival, I made plans to visit the recently opened NBA Experience in Disney Springs. The venue was brand spanking new and I could not wait to explore every inch of that place, and let me tell you, if I didn't have a flight to catch, I'd be there still.
NBA Experience Price & Registration
The cost of entry to the NBA experience is $31.75. You can purchase your tickets in advance via the app or you can do like I did and walk in and purchase your tickets. I was able to do this because the crowd sizes at Disney were lighter than usual due to an impending hurricane. I'd recommend getting your tickets in advance.
If you already have a magic band your tickets will be automatically added to the band. This is important for several reasons, it keeps track of your stats, your NBA identity, and most importantly–your photos.
NBA Experience First Floor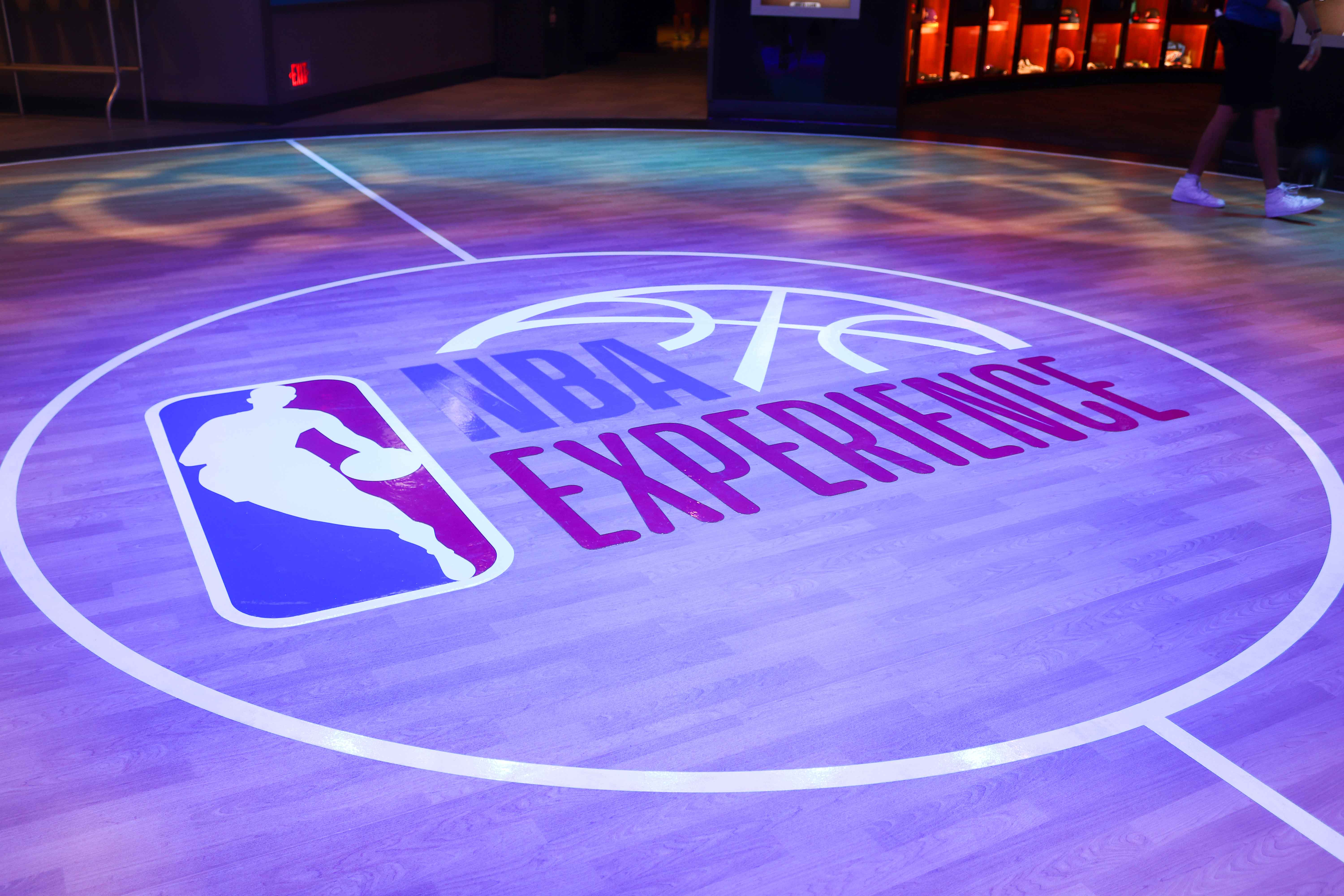 When you walk in you have many places to visit. You can walk into the Players section where you can learn stats and information on your favorite players. You can check out the FILMS area where they show two separate short (under 10 minutes) films of inspirational basketball stars.
You can visit the champions area where you can pose for an MVP trophy or Championship trophy! As you can see I had a crazy amount of fun fantasizing in this area.
Note: The photo opportunities here are fun and the photos seem to be apart of the ticket package as they arrived in my Disney app for free!
Hand Check: You could even see how your hand size compares to some of the greatest NBA players ever!
Check out this fun video about my experience at the NBA Experience In Disney Springs!
NBA Experience 2nd Floor
This is where you can expect to get physical and show off your basketball skills!
Dunk! – Challenge Your Skills "Above the Rim":
Step up and demonstrate the dunking skills you've only dreamed of until now. And bring your game face for a photo op that's sure to impress.
This one was super fun even though I lowered the rim to the lowest possible point so I could reach it!! It was hysterical but SO fun! You get a couple minutes on a timer to dunk as much as you want!
Shoot! – Beat the Clock, Bring Home the Win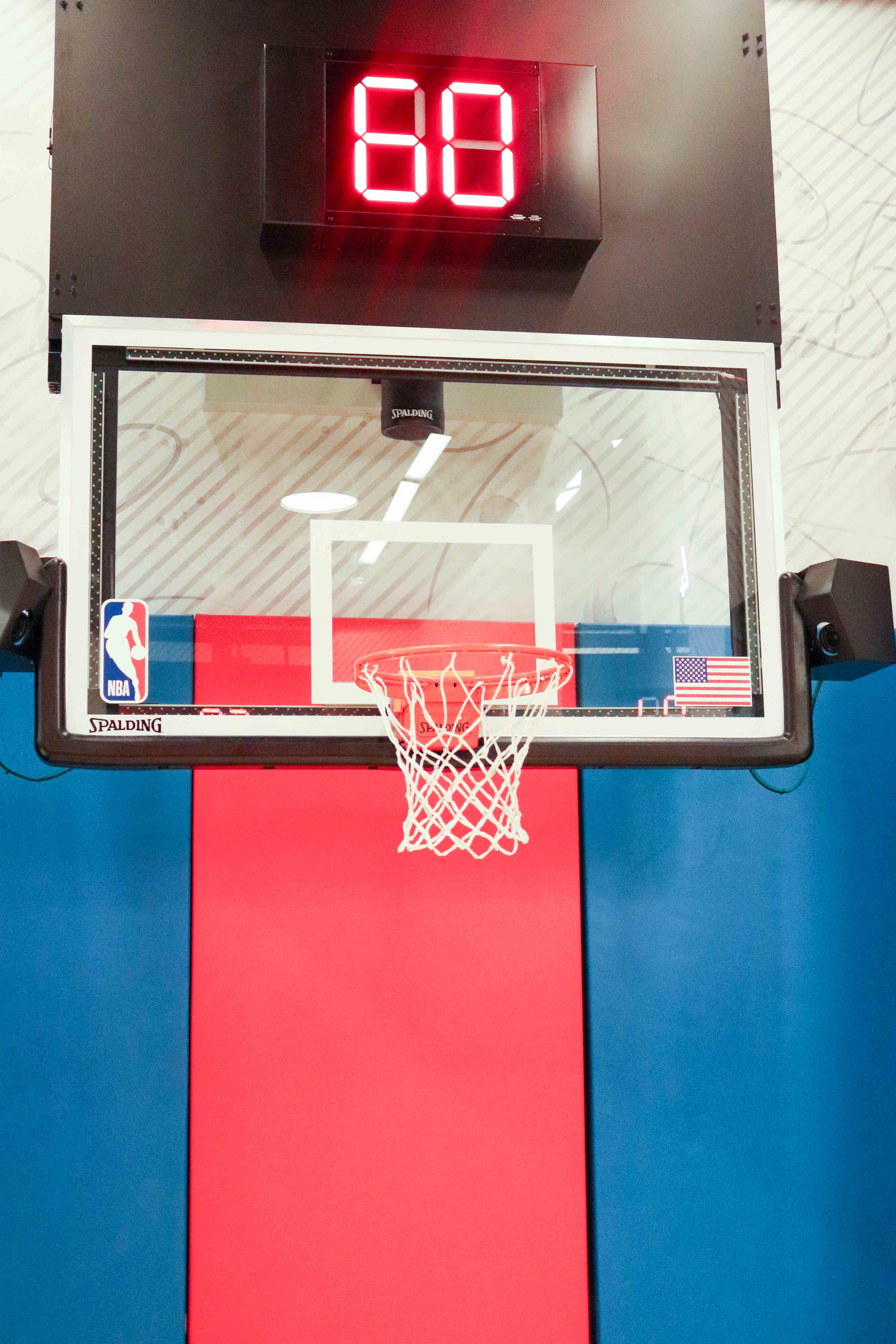 Live out your basketball dreams in this innovative experience. Step on the court, where you'll be guided through a sequence of shots, with a virtual crowd cheering you on. Feel the thrill of making the game-winning basket!
Dribble – Bounce that B-Ball… "Show-off"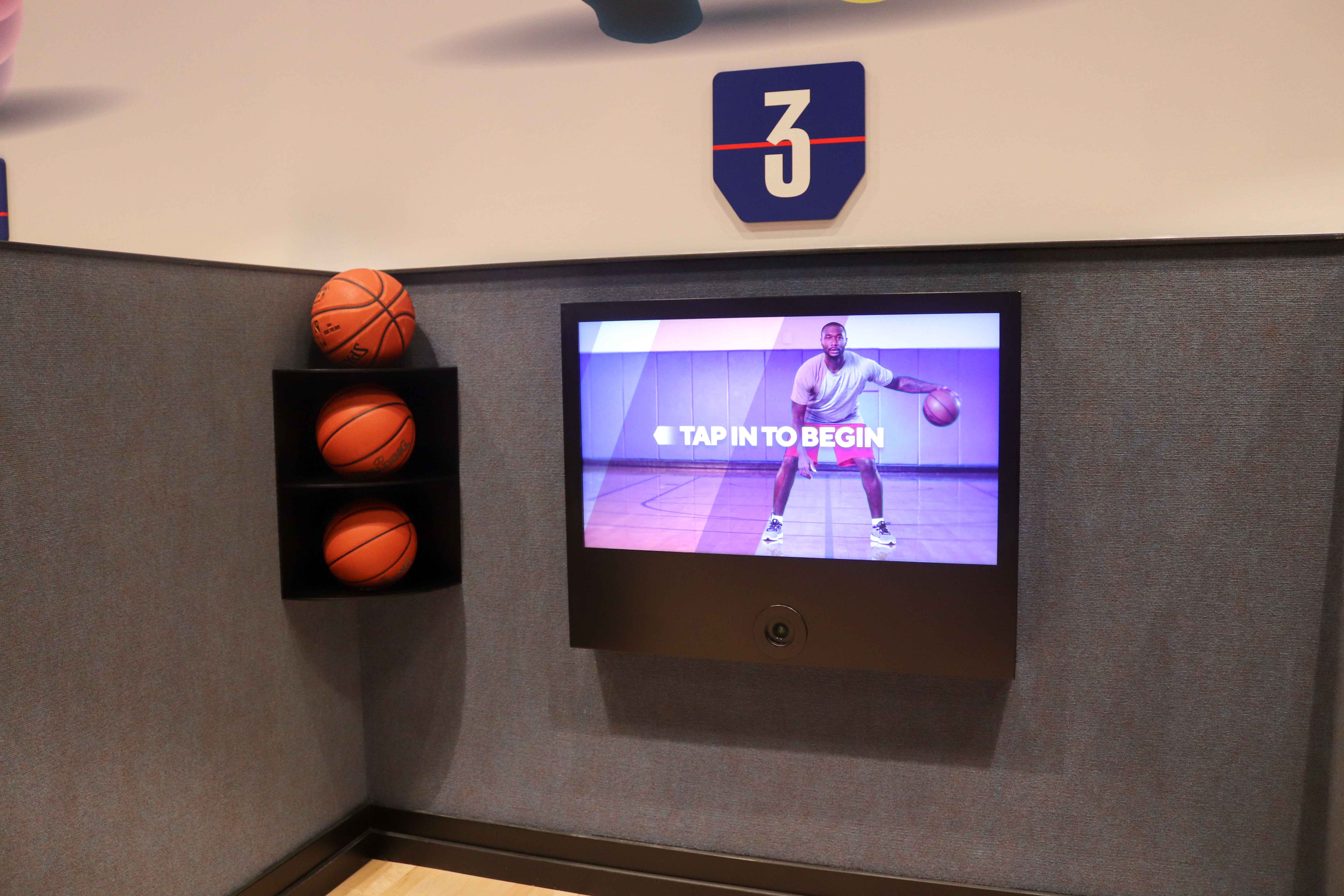 Grab a ball, hit the court and let the coach take you through the drills to assess your basketball-handling skills. This challenge is designed for a wide range of ages and skill levels—from novice to expert.
I tried this, I got through the first level with no problem after the 2nd and 3rd level the ball was going all over the place! They actually watch your form and bounce for accuracy and tell you how good (or bad!) you are!
Slingshot – Score, Score, Score!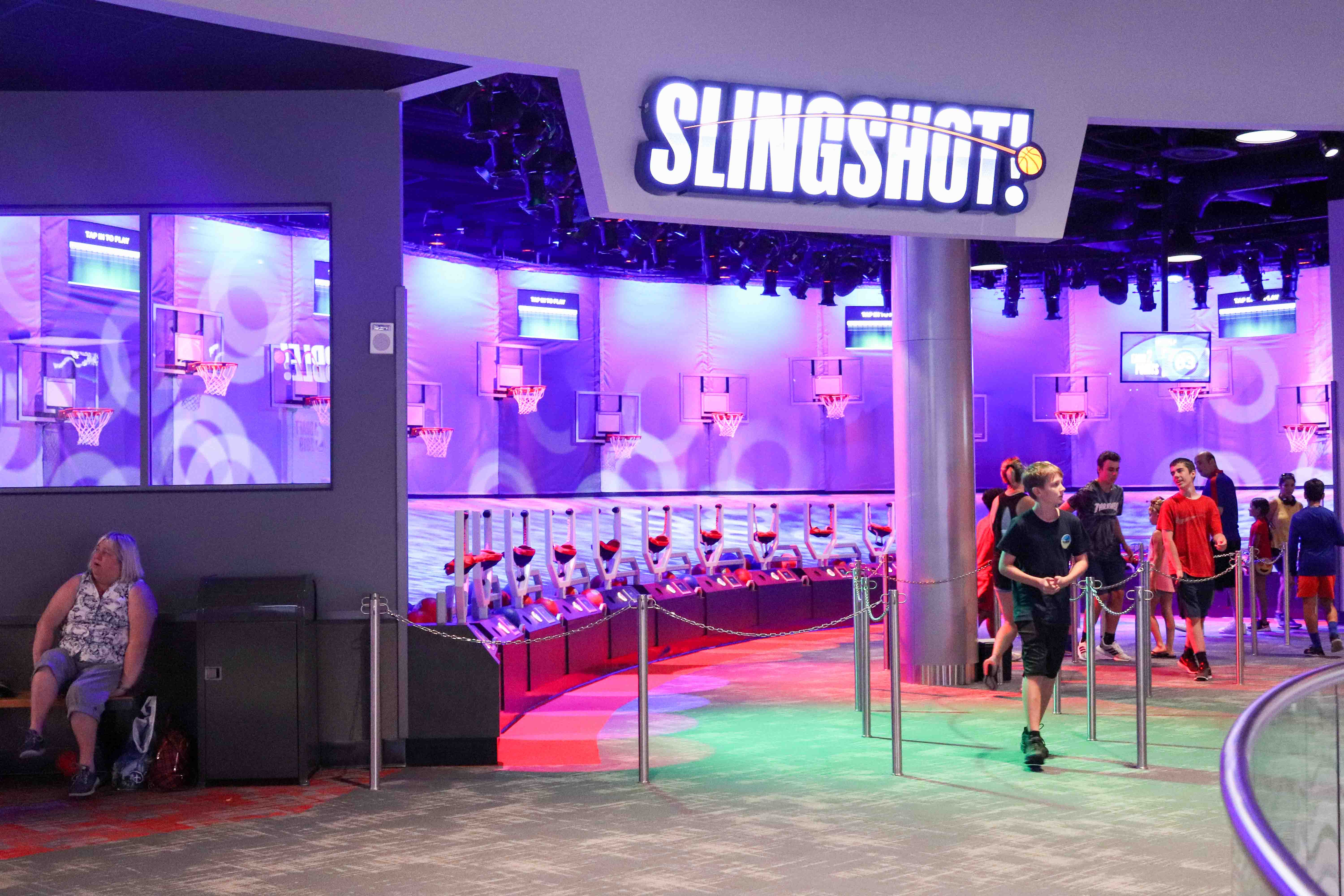 Take your game to new heights in this next-level shooting challenge. Using a large slingshot, you'll try to shoot the ball through hoops set at varying heights. Pay close attention—as the game progresses, the scoring changes!
This one is cool because you can play against a group friends!
NBA Experience Arcade Area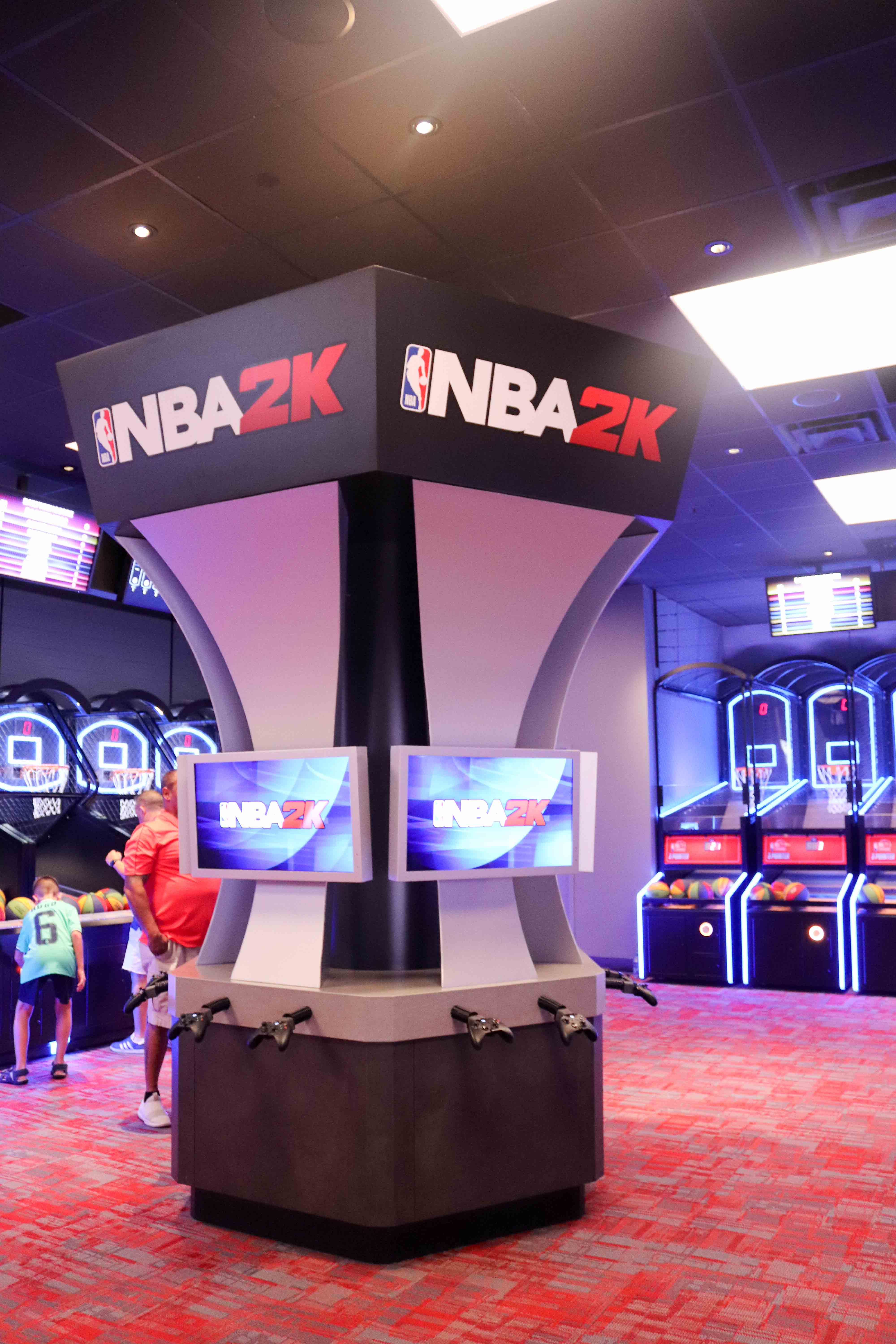 Test your hand-eye coordination at a variety of arcade games:
B-Ball Games Up-Close and Personal: Beat the clock with a perfect shot as your basketball skills are put to the test in this spin on classic basketball arcade games.
Classic Basketball Arcade Games: Fans young and old can try their hand at a series of arcade games that include static hoops and hoops that move side to side.
You know when you go to your favorite arcade and you can shoot hoops? The NBA Experience has all of this INCLUDED in your ticket! You can shoot an unlimited amount of baskets, whether it's 2point or 3 point shots and keep beating your own score. I MAY have played more than 5 times. It was SO fun! I was also a sweaty mess. My personal favorite is the 3 point shot.
NBA 2K, NBA Live and NBA Playgrounds: Test your skills in the digital arena with the latest immersive video games of the NBA—featuring some favorite venues!
For your video game junkies!
NBA Store
The NBA Store is connected to the NBA experience so you can merge your love of Disney with the NBA! Lots of really fun and unique items for you to buy!
Overall thoughts
There are a few more fun experiences to try, but the ones I covered here are can't miss! There are a few important things that you should know.
Tickets and other entitlements are non-transferable, non-exchangeable, non-refundable, revocable and void if altered. Tickets are valid through December 31, 2020 and provide one-day admission to NBA Experience.
Proper attire, including shoes and shirts, must be worn at all times. Athletic shoes are recommended at the NBA Experience.
Guests under age 14 must be accompanied by a Guest age 14 or older to enter the NBA Experience. Adults must sign a waiver when they arrive at the venue. A parent or guardian must sign a waiver for Guests younger than age 18.
I plan on visiting every time I go to Disney. It's just steps away from my favorite fancy restaurant in Disney Springs (Boathouse!) so why not make a day of it? If you have a basketball fan in your life it is a can't miss the NBA Experience in Disney Springs!!
For more information, tickets and much more be sure to check out the official NBA Experience website!
Would you try out the NBA Experience at Disney Springs?
Hi! I'm Nellie. I am a busy mama of three, wife to my high school sweetheart who loves to cook, workout and stay organized! I love to share helpful printables, the best recipes and fitness tips for the modern mom. I strongly believe that every mom can feed their family well, take proper care of themselves and have fun along the way! Read my story.
Get comfortable and be sure to come hang out with me on social. Don't grab your free fitness journal before you go!