Buying a car seat is so overwhelming, with so many models and options available. Check out these easy tips to help!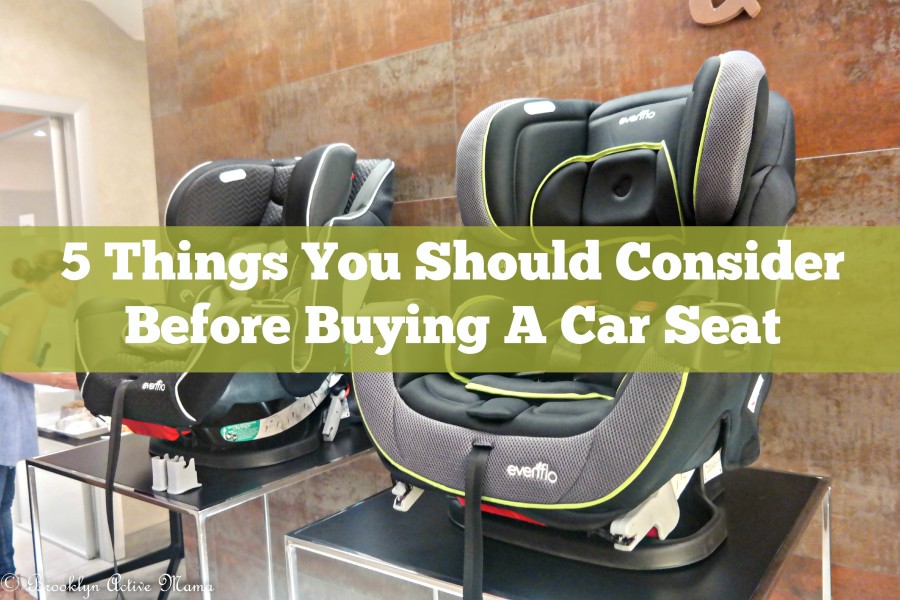 When I was pregnant with my firstborn I hadn't a clue what I was doing. No, really. I bought so many things that I thought were necessary. For example: a changing table, wipes warmer, an insane amount of bottles (over 20) and many many more things that I would learn that I didn't need. When you are newly pregnant it is super hard to really know what you would need until you are in the trenches of childcare everyday.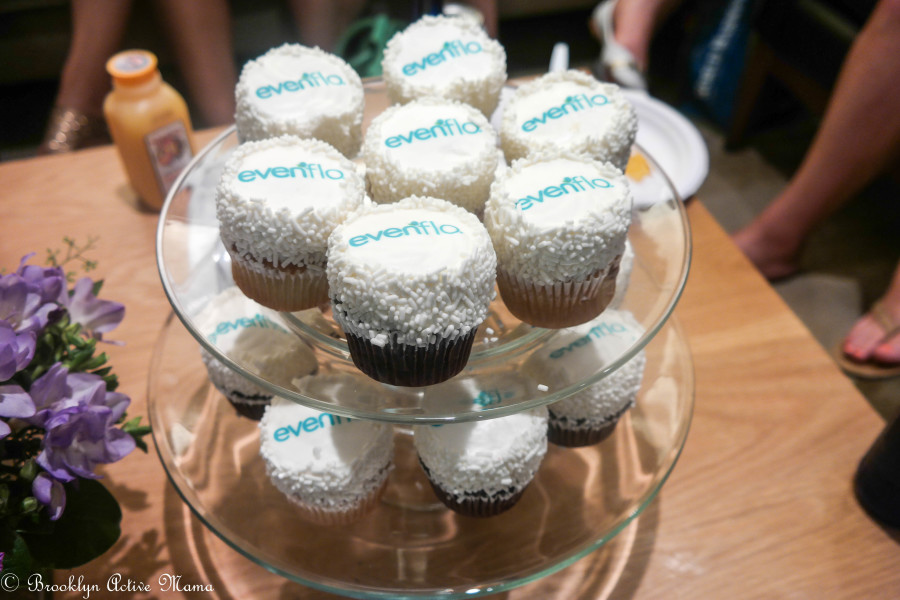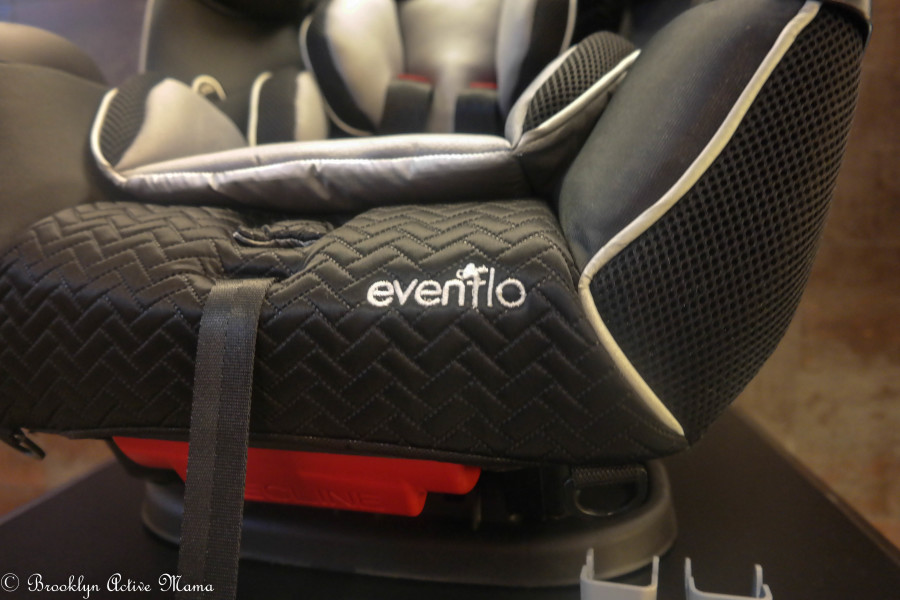 One of those things that I didn't do proper research on (unless proper research counts as checking Amazon.com reviews) was my car seat. Now before the car seat crazies start throwing tomatoes at me, I would like to say in my defense that if I'd known then what I know now, I would have been MUCH more selective of my first car seat. I bought an all in one stroller/car seat combo. Looking back, I wish I had done a bit more I research.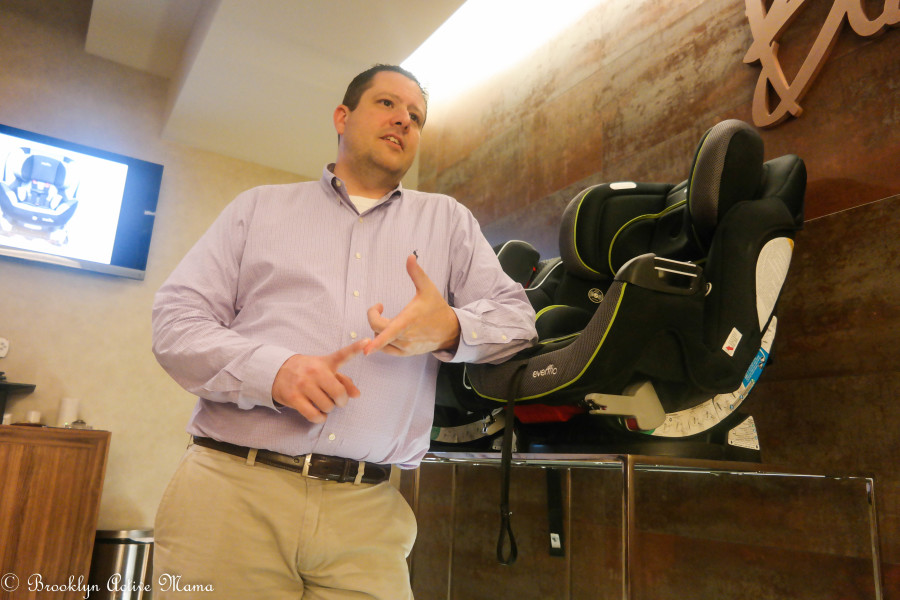 Last week I attended a Evenflo event at Blooming Nails & Spa, A gorgeous upscale nail salon with locations all over NYC. We came to learn about the new car seats that would be debuting this summer. This included the ProComfort protection series and the Sure Safe car seat series and let me tell you, both have some awesome features! More on that later.
5 Things You Should Consider Before Buying A Car Seat
1) According to a recent survey 80% of car seats are installed incorrectly. (Have you checked yours recently??)
2) Most car seats have a 6 year expiration date–and it's not because they are old it's because the technology of cars is so rapid that car seats designed for current vehicles may not work properly in the future.
3) If you are ever in a crash/accident with a car seat, dispose of it. Better to be safe than sorry!
4) Speaking of disposal if you ever have to get rid of a car seat cut the harnesses to prevent someone from finding it and reusing an old (and dangerous) car seat.
5) Do not buy used car seats! You never know what they have been through… You can't exactly get the car facts on a car seat right?
Evenflo has two new amazing car seats that are coming out this summer. Evenflo's main concern is to make the ride as comfortable as possible for the baby yet ultimately keeping them as safe as possible.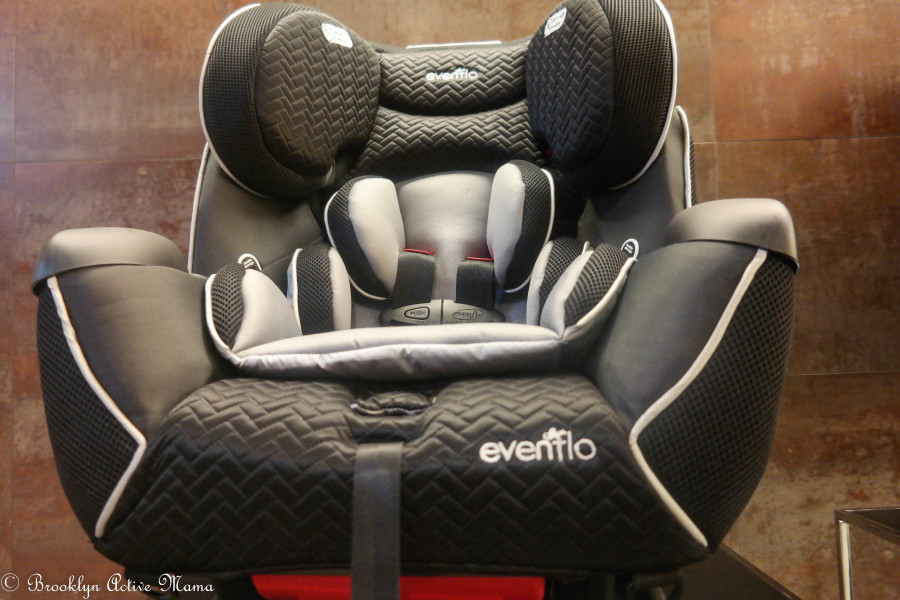 Evenflo's Procomfort Symphony DLX All in one car seat
Fits 5-110 pounds (the only car seat you would ever need!)
Multi position recliner
Gel matrix material that alleviates pressure points
Installs with these amazing Sure latch connectors that makes installation a breeze (I loved this! These little connectors stay in the car so that you don't have to bury your fingers in the cushions to find the latch! Genius!)
Machine washable car seat pad & more
Available exclusively at Target!
Evenflo's SureSafe System (4 models)
5-110 pounds
Multi position recliner (for sleeping baby)
Quick connector latch equipped
Buckle pockets that tuck the buckles away (preventing the metal from getting too warm and burning baby
Side impact protection that significantly reduces in side impact crashes through advanced energy absorption
… And more!
Knowing what know now, I definitely would have started out with one of these models. I am actually quite tempted to replace both of my car seats!
Choosing the right car seat is a critical decision for any parent or caregiver. A car seat can mean the difference between safety and injury during a car accident. But with so many options on the market, what factors should you consider? Here are some key points to keep in mind:
Safety Standards: First and foremost, make sure the car seat meets or exceeds all the necessary safety standards in your country. In the U.S., for example, look for a label that says the seat conforms to Federal Motor Vehicle Safety Standard 213.
Type of Car Seat:

Infant Car Seat (Rear-facing): Designed for newborns and small babies.
Convertible Car Seat: Can change from rear-facing to forward-facing.
Forward-facing Car Seat: For toddlers and older children.
Booster Seat: Boosts the child's height so the seat belt fits properly.

Car Compatibility: Not all car seats fit in all cars. Check your car's manual to find out what kind of car seats it can accommodate, and consider getting a professional installation if you're unsure.
Adjustability & Growth: Some car seats can be adjusted as your child grows, which means you won't have to buy a new one every year. This can be cost-effective in the long run.
Easy to Clean: Children can be messy! Consider a car seat with a removable and machine-washable cover.
Installation & Use: Make sure you can easily install and, more importantly, correctly install the car seat. Some seats come with systems like the LATCH system, which can make installation easier and more secure.
Comfort: Your child will be spending a good amount of time in their car seat, so make sure it's comfortable. Look for features like padded straps, multiple recline positions, and adequate head support.
Expiration Date: Yes, car seats expire! The materials can degrade over time, especially after exposure to extreme temperatures. Always check the expiration date when buying a new or used seat.
Budget: While it's essential not to compromise on safety, car seats come in various price ranges. Choose one that fits within your budget but also meets all safety and comfort criteria.
Check Reviews & Ratings: Before making a purchase, check online reviews and safety ratings. They can offer insights into real-world use and potential issues.
New vs. Used: It's usually recommended to buy new because of safety concerns with used seats. If you do consider a used car seat, make sure it hasn't been in an accident, is not expired, and has all its parts.
Travel Systems: Some car seats can be attached to strollers. If you're in the market for both, you might consider buying a travel system.
Additional Features: Some seats come with added perks like cup holders, side-impact protection, or extra head support. While not all are necessary, they can add to the convenience and safety.
Purchasing a car seat is a significant responsibility, as it plays a direct role in your child's safety. Spend some time researching, try out installations in your car if possible, and never hesitate to ask for expert opinions or help. Your child's safety is worth every minute spent ensuring they have the best protection possible.
What are some other great baby related posts to check out?
Did you do a lot of research for your first car seat? How many have you owned? What unnecessary items did you buy for baby?
Hi! I'm Nellie. I am a busy mama of three, wife to my high school sweetheart who loves to cook, workout and stay organized! I love to share helpful printables, the best recipes and fitness tips for the modern mom. I strongly believe that every mom can feed their family well, take proper care of themselves and have fun along the way! Read my story.
Get comfortable and be sure to come hang out with me on social. Don't grab your free fitness journal before you go!