2015 NYC Marathon Recap
The NYC Marathon was physically the hardest thing I have ever done. It also taught me a lot about myself, my limits and how to keep going even when you really don't want to.
But let's start from the beginning shall we?
I opted to take the latest ferry going to Staten Island because I wanted to be as relaxed as possible before running. The ferry ride was full of excited runners speaking in different languages and calming each other's nerves. I met 3 or 4 other runners that had me laughing and loose the entire way to the race.
The start
By the time the ferry got to Staten Island and we were loaded on the bus, it was time to jump in my corral! The start line was uneventful–I just said a little prayer and started running on the bridge when I heard the final loud boom of the canon.
The bridge was a little tough, I was trying to be smart about discarding my extra hoodie but after the first mile my temperature shot right up. As soon as I got into Brooklyn I threw the hoodie away and I didn't even miss it!
Brooklyn my favorite borough
Running through Brooklyn was incredible. I gave so many high (and low) fives to cheering kids (and adults)–it was amazing. The crowd support was unlike anything I have ever experienced. So many people called my name and they absolutely love it when you cheer with them–usually results in louder cheering!!
By mile 8 I saw my Godmom and Godbrother who was squealing how proud she was of me–I was just so excited to see her!
Miles 8-13 I actually stuck with the 6 hour pace group and although I knew I wouldn't be able to stick with them the entire way, it was nice to run with a group for a portion of the race.
At the halfway point, right before I got to the bridge that led me into queens, my best friend showed up with lip balm, water and of course a sign with our nickname for each other. (Long story!)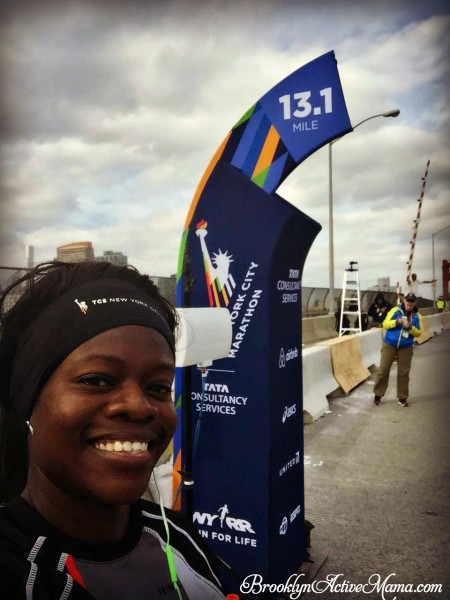 At this point I was sad because I was leaving Brooklyn for good and headed into Queens for a little bit. When I got there I saw my friend Victor who ran the race last year and again had an awesome sign with my name on it.
I made it through queens pretty uneventfully and just like that I was in Manhattan. I was getting super tired. But I definitely had over 8 miles to go. Remember I had never run past 20 miles on the training plan so I was quickly getting into unknown territory.
At Mile 19 with just over seven miles to go, I started feeling an intense pain in both hips. Everytime I picked my legs up to run, my hips said no way. Everything else was fine, except for my hips.
Knowing that I would have to complete this race by likely walking the next 7 miles was just spirit breaking. Mentally I didn't want to do it anymore. I had been on the course now for over 4 hours. I was exhausted I didn't want to walk anymore–I just wanted to tuck it all in.
Then one of my old friends literally popped out of nowhere. I had no idea she would be coming to see me so when I saw her I was so overwhelmed that I immediately stopped, covered my face and promptly burst into tears. It was like seeing her allowed me to really acknowledge how hard this truly was.
She enveloped me in a big hug and told me that I was an inspiration to many. She told me to keep going because of how many people loved me and how many people are cheering for me. I boohooed for a good 5 minutes in her hug. It was like she came prepared to pull me out of the sewer. It was the most perfect timing ever. She saved my race by taking me out of my own head. She sent me on my way but not before she took this picture of me.
After that I headed to the Bronx which was still super live for the back of the packers. There were still plenty people cheering, lots of salsa music and Halloween treats being offered to runners. Finally it was time, I had made it to the last borough.
At this time the sun was setting and I was starting to feel like I was losing it a bit. I was walking but I had no focus in what I was doing and everything hurt so bad that I just wanted to sit down for a really, really long time. At mile 22 I met my coworker who gave me skittles and also had a pretty awesome sign!
The final miles were hard. I sobbed, a lot, quietly and to myself. I felt somewhat embarrassed but I let them flow anyway. I pushed through the cops letting us know that "the New York City marathon has now concluded" about 80 times as I pushed to get closer to the finish line. I just kept pushing.
The finish line was glorious. It was everything Carly said it was going to be. I didn't smile or throw my hands up, I simply ugly cried. I didn't want to forget how hard it was by faking a smile with hands over my head. I crossed the finish, took all I had and smiled with my medal. I gave and recieved congratulations from strangers.
I walked and walked with feet that burned in crazy pain until I got to the poncho section. The elderly woman looked at me with my crazy hair and tear stained face looked me square in my eyes and said "I've been waiting for you" as she wrapped me tightly in that cozy, warm, beautiful lined poncho. Yes, you guessed it–the tears came, again.
Afterwards I had no idea where I was but I found some steps to sit on with other marathoners. I chatted with another awesome woman named Helen–she was one of those people you knew you could bare your soul to–it's hard to explain but she was the perfect person to sit next to. We shared war stories about training and she told me that she has done the NYCM 9 times IN A ROW!
Would I do this again?
Not sure. This was hard but a small part of me wants to avenge this time. Really put my all in training, really committ. I am qualified and it will be a major decision I'll have to make in about 2 months. Now that I've done it once I kinda wanna do it again. I blame Brooklyn, too much great energy and cute kids, and awesome music.
Crazy right?! Yes. I know.
I'm a marathoner y'all!!!!!
[Tweet "The #TCSNYCMarathon was long, hard and full of emotion. This is my story. "]
Did you watch the marathon coverage on TV? Did you track me?!
Hi! I'm Nellie. I am a busy mama of three, wife to my high school sweetheart who loves to cook, workout and stay organized! I love to share helpful printables, the best recipes and fitness tips for the modern mom. I strongly believe that every mom can feed their family well, take proper care of themselves and have fun along the way! Read my story.
Get comfortable and be sure to come hang out with me on social. Don't grab your free fitness journal before you go!