10 Ugly Holiday Sweaters for Women You Will Love
If you are looking to wow a crowd with a seriously ugly Christmas sweater, check out these ten ugly holiday sweaters for women that you will love!
It's never too early to start thinking about your holiday apparel. You will not only get the best prices but also the best selection! No one really ever tries to seek out the ugliest items to add to their apparel but with the hot trend of looking chic and sassy in the ugliest holiday sweater you can find, it has become a hot trend!
Your social media photos will be great and you may just win a prize at the company holiday party. Here are some of the most interesting ugly holiday sweaters for women available right now! Which one are you showcasing in your wardrobe this year?
Who says you can't look fabulous the entire holiday season?
How daring are you when it comes to fashion? Do you stick with what everyone expects, or do give your own spin on traditional looks. If you're looking for an amazing ugly sweater idea for women this winter, then continue reading for some inspiration.
Ugly Sweater Ideas For Women
I have a ton of ugly sweaters. I love wearing ugly sweaters to Christmas parties, so I thought it would be fun to put together a list of my favorite ugly sweater ideas for women this winter.
I have chosen some really fun designs, so if you are entering an Ugly sweater contest, you are sure to win! The designs range from movie themed to just plain wacky, so there is something for everyone. Choose a sweater that you love and wear it with pride.
It's honestly one of my favorite parts of the holiday. You will need one of these especially if you are hosting a Ugly Sweater party!
So, if you are looking for some women's ugly sweater ideas to make this winter a little more fun, I hope you enjoy the list below. Please feel free to share it and PIN IT!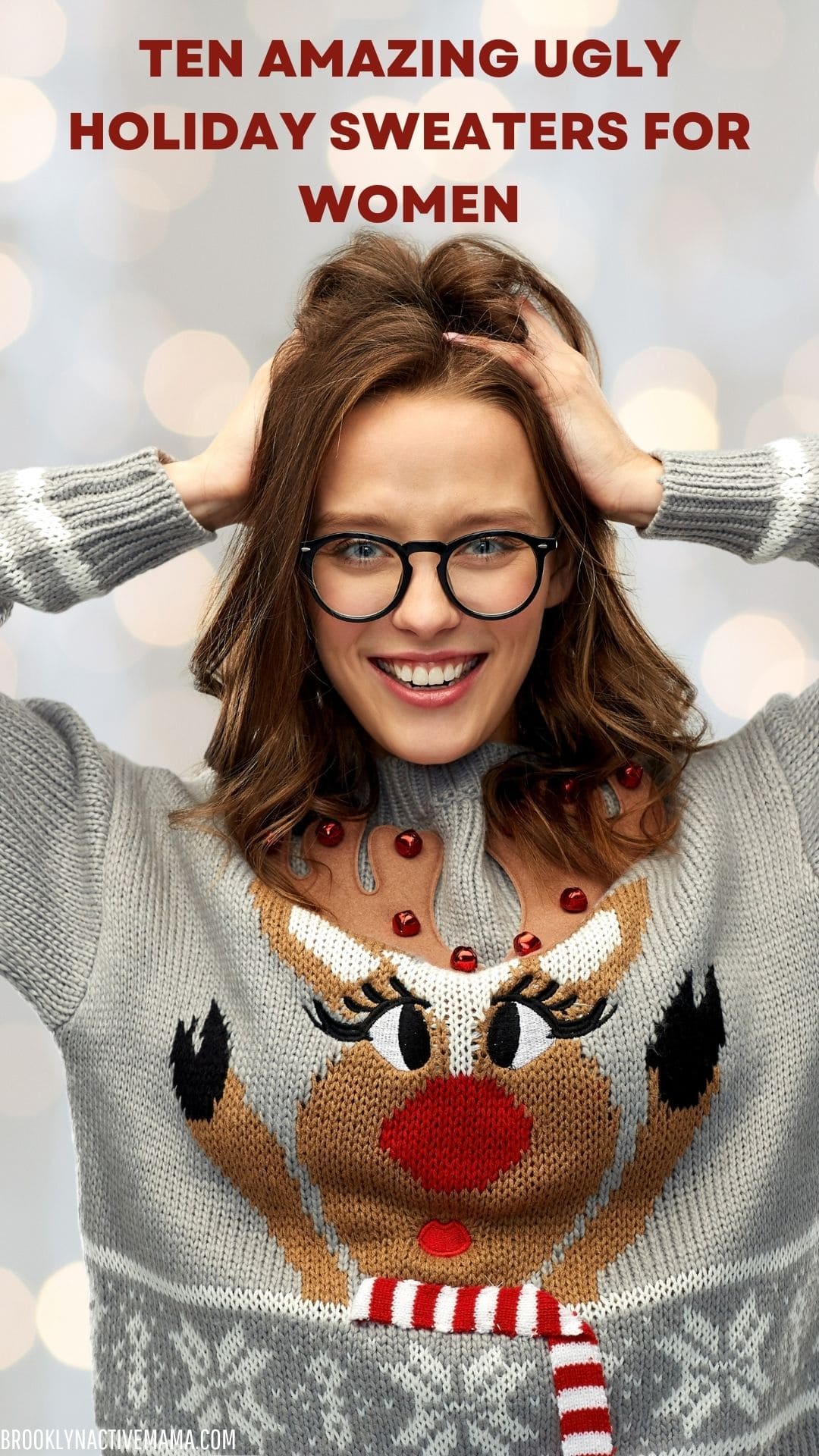 Ugly Christmas Sweaters: Where Fashion Faux Pas Meet Festive Fun
Let's talk about ugly Christmas sweaters—the kaleidoscope of kitsch, the symphony of bad taste, and the pinnacle of holiday hilarity. In what other season is it socially acceptable, nay, encouraged, to don a garment adorned with jingling bells, flashing LED lights, and perhaps a reindeer or two in, ahem, compromising positions? Ah yes, it's as if our wardrobes shout, "Ho, ho, holy cow, what are you wearing?!"
A Catwalk of Kitsch
Strutting into a room wearing an ugly Christmas sweater is like becoming an instant celebrity, if celebrities were judged by their ability to creatively clash colors and textures. It's your five minutes of fame where people point, laugh, and snap photos as if you're the next top model for 'Vogue: The North Pole Edition.'
The Badge of Holiday Bravery
Donning these sweaters isn't just a fashion choice; it's an act of valor. When else could you proudly wear a sweater that combines tinsel, googly eyes, and a fireplace complete with faux fire? It takes courage to sport that level of flamboyance, or should I say, "flame-boyance?"
Competitive Couture
Ah, and let's not forget the competitions. You know you're at a solid holiday party when there's a trophy—or at least some eggnog—on the line for the "Ugliest Sweater Award." Suddenly, that reindeer appliqué isn't just an embellishment; it's your ticket to glory. Your co-workers or family members become fashion adversaries in a cutthroat contest where the loudest sweater wins. And let's be real, the moment Grandma enters the room wearing a sweater that plays "Jingle Bells" and lights up like the Rockefeller Center Christmas Tree, you know she's taken the crown.
A Stitch in Time Saves the Holiday Spirit
But let's get to the heart of the matter—ugly Christmas sweaters are ridiculously fun. Sure, they're horrendous to look at, but they're a delight to wear. Every puffball, every snowflake, and yes, even every tacky phrase like "Sleigh My Name," adds a stitch of joy to the holiday season.
So go ahead, embrace the ugly, celebrate the gaudy, and remember—the uglier the sweater, the brighter the holiday spirit. It's the most wonderful time to look wonderfully ridiculous, and we wouldn't have it any other way.
Which Ugly Sweater Option Is Your Favorite?
These sweaters are all ridiculously awesome and unique. I hope that you enjoyed these Ugly Sweater Ideas For Women and will share this post with all your friends! Have the best holiday ever and remember to stay safe! Stay warm, but most of all have fun 🙂 (Affiliate Links are present)
Santa Mermaid Pullover Sweater

Crazy Cat Lady Sweater

Giraffe "G-Raff" Holiday Sweater

Oh Snap! Gingerbread Light Up Sweater

3D Full Printed Holiday Animals Sweater

Pizza Cat Sweater

Merry Reindeer Sweater

Tinsel Tree Hoodie Sweater

Gaudy Garland Cardigan Sweater

Tacky Christmas Tree Sweater

Enjoy and if you get one of these be sure to tag and follow me on Instagram so I can see it!
Which on is your favorite?
If you are planning a party, don't forget to grab your Ultimate Ugly Christmas Sweater Party Ideas + Free Printable Invitations!
If you liked this post be sure to check out:
Hi! I'm Nellie. I am a busy mama of three, wife to my high school sweetheart who loves to cook, workout and stay organized! I love to share helpful printables, the best recipes and fitness tips for the modern mom. I strongly believe that every mom can feed their family well, take proper care of themselves and have fun along the way! Read my story.
Get comfortable and be sure to come hang out with me on social. Don't grab your free fitness journal before you go!