If you're looking for what to serve with salmon fillet, look no further! In this blog post, we will discuss some of our favorite options for what to serve with salmon. So, what are you waiting for? Get cooking!
What are salmon fillets?
Salmon fillets are a boneless, skinless cut of salmon that is typically around four to six ounces. They can be cooked in a variety of ways, including baking, grilling, and pan-frying. Today we are talking about the best side dishes for salmon recipes. A simple side dish is a great addition to your favorite fish!
When it comes to deciding what to serve with salmon fillet, there are a few things you will want to keep in mind.
First, what type of salmon are you using? There are several different types of salmon, including pink, sockeye, and chinook. Each type of salmon has its own unique flavor profile, so you will want to choose a side dish that will complement the fish.
Second, how are you cooking the salmon? The cooking method can also impact the flavor of the fish. For example, and easy recipe for grilling salmon will give it a smoky flavor, while baking it will result in a more mild-tasting fish.
Finally, what is your budget? Salmon can be a bit pricey, so you will want to make sure you choose sides that are cost-effective. With that said, let's get into some of our favorite options for what to serve with a salmon fillet.
Why you should add salmon to your diet:
Salmon is a great source of protein and omega fatty acids, making it a perfect option for those looking to add more healthy fats to their diet. It's one of those healthy recipes with a great flavor. Be sure to choose a healthy side dish below for a great meal! Some of the favorite side dishes usually come with a creamy sauce such as hollandaise sauce or garlic sauce.
Salmon is also rich in vitamins and minerals, including vitamin D, selenium, and potassium.
Salmon has been shown to be beneficial for heart health, cognitive function, and joint health.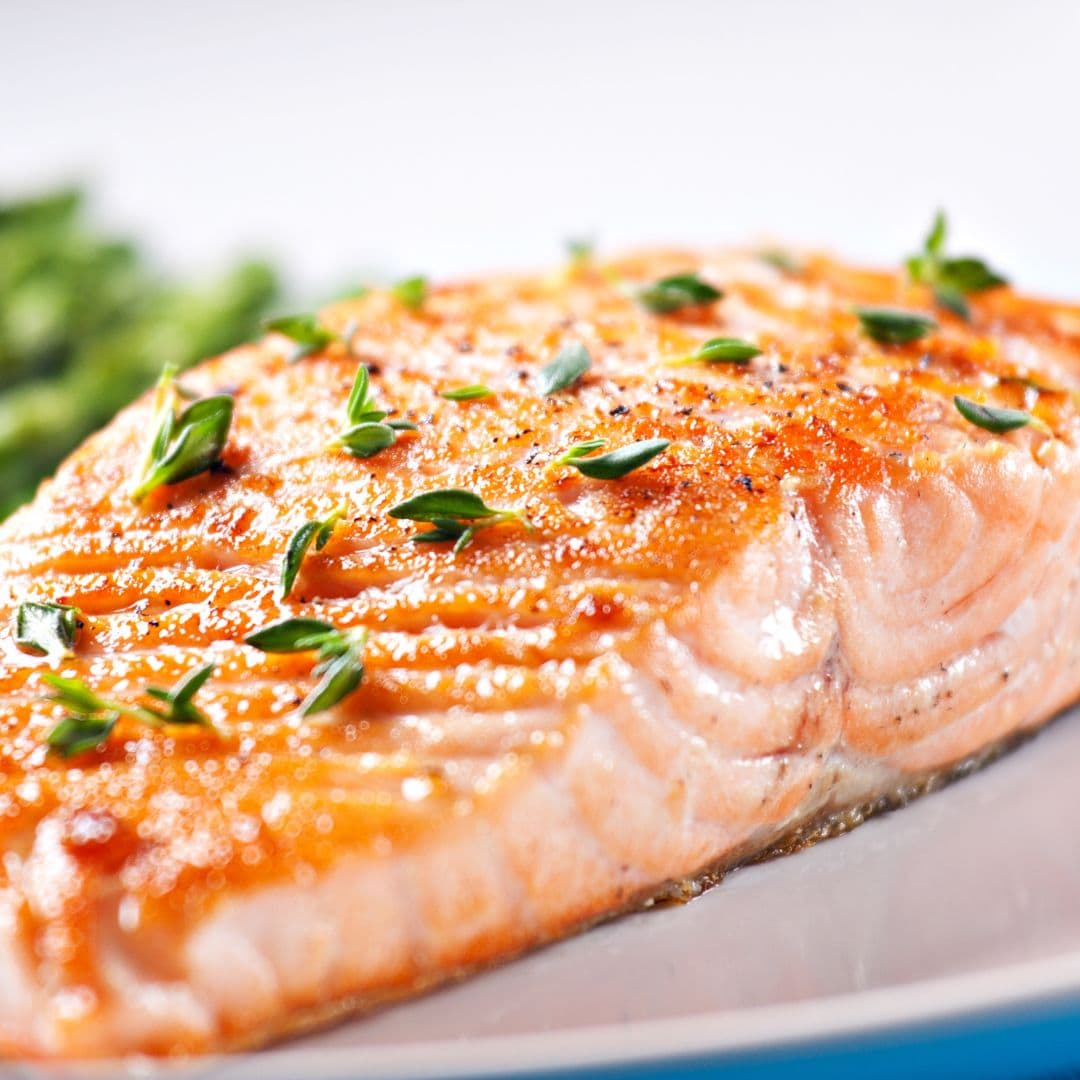 So, now that we know all the great health benefits of salmon, let's discuss some delicious options for what to serve it with!
What are some different ways to prepare salmon fillets?
There are endless possibilities when it comes to preparing salmon. Some of our favorite simple ways to prepare salmon dishes include:
Baked:
Simply season your salmon fillets with salt, pepper, and your favorite herbs or spices. Then bake in a preheated oven at 350 degrees Fahrenheit for about 20-25 minutes, or until cooked through.
Grilled:
Another great way to prepare salmon is on the grill. Season your salmon as desired, then place on a preheated grill over medium-high heat. Grill for about five minutes per side, or until cooked through.
Pan-Seared:
To pan-sear salmon, heat a bit of oil in a skillet over medium-high heat. Season your salmon as desired, then place in the hot skillet. Cook for about three minutes per side, or until cooked through.
Some of our favorite sides to pair with salmon dinner include:
Roasted vegetables:
Roasted Brussels sprouts, sweet potatoes, or carrots make a great accompaniment to salmon.
Salad:
Try pairing your salmon with a simple green salad or a fruit salad for a light and healthy meal.
Pasta:
For a heartier meal, pair salmon with your favorite pasta dish and white wine.
Rice:
Rice is another great option to pair with salmon for a healthy dinner. Try brown rice or quinoa for an extra nutritional boost.
The best sides have fresh herbs, a little olive oil and maybe even a little lemon zest.
Looking for more ideas on what to serve with salmon fillets?
Here are some easy side dish recipes that are perfect to serve with salmon fillets for the whole family.
Honey Butter Thyme Crockpot Glazed Carrots are the perfect side dish to any meal. They're sweet, buttery, and deliciously tender.
Spinach rice casserole is a delicious and healthy dish that will change your opinion on spinach! The creamy cheese topping makes this cozy comfort food special.
This is a dish fit for any occasion! The cheesy garlic roasted asparagus will get your mouth watering and leave you wanting more. It's low carb, keto-friendly, AND super easy to make; even non-garlic lovers like it too (no lie).
There's nothing more comforting than a steaming bowl of creamy garlic mashed potatoes. This easy-to-make side dish will have you feeling warm and fuzzy in no time.
Make your next pot of potatoes a delicious and easy dish with this simple, yet creative Mexican Street Corn Potato Salad. Bright flavors will fill the room as you prepare it for company or just garnish on top.
These delicious, tangy noodles are sure to be a favorite! Baked with sour cream and lemon juice in an herbed cheese sauce- they're perfect for any occasion.
The perfect side dish is finally here! Introducing, Bacon Fat Roasted Brussels Sprouts. They're rich and crisp with a hint of saltiness that will have you coming back for more all day long.
This fresh vegetables and flavorful side dish that is perfect for summer, Basil Lime Zucchini Corn Salad can be gluten-free or vegan.
Why not try out this delicious side dish at your next dinner? It only takes three ingredients and they're sure to be a hit with everyone,
This delicious and refreshing salad is the perfect meal for any time of year. The sweet potatoes are rich in nutrients, while still being lightly moistened so they don't overpower your palate! It's topped off with fresh mint which adds yet another layer of flavor to an already amazing dish.
This delicious Asian Broccoli Salad recipe is made with fresh ingredients and will be perfect for any meal. It's topped off by a peanut sauce that you'll want to eat straight out of the bowl.
What beverages pair with salmon fillets?
Now that we've gone over some great options for what to serve with salmon fillets, let's discuss what beverages pair well with this dish with rich flavor.
Some of our favorite wines to pair with salmon include:
Pinot Noir
Sauvignon Blanc
Chardonnay
Rosé
If you're not a fan of wine, you can also try pairing salmon with a light beer or bubbly water.
Salmon is a healthy and delicious protein that can be paired with many different sides. We've shared some of our favorite recipes, but feel free to get creative in the kitchen. With so many options for what to serve with salmon fillet, there's no excuse not to enjoy this nutritious meal often. What are your favorite salmon side dishes?
Pin it for later!
If you enjoyed this recipe be sure to check out my Instagram Page for the latest posts!
Before you go, check out these great posts!
Balsamic Zucchini With Feta Cheese Easy Side Dish
Easy Copycat KFC Coleslaw – Quick Side Dishes
Easy Brussels Sprouts Salad: Yummy and Healthy Sides
Hi! I'm Nellie. I am a busy mama of three, wife to my high school sweetheart who loves to cook, workout and stay organized! I love to share helpful printables, the best recipes and fitness tips for the modern mom. I strongly believe that every mom can feed their family well, take proper care of themselves and have fun along the way! Read my story.
Get comfortable and be sure to come hang out with me on social. Don't grab your free fitness journal before you go!