Don't let all that delicious Thanksgiving turkey go to waste! Here are some delicious and creative leftover turkey recipes for you to indulge in!
Do you have a fridge full of turkey now that the holidays are over? Using that leftover turkey to create a meal plan throughout the week is a great way to use up any leftovers hanging around in your fridge.
Transforming Thanksgiving Leftovers Into Culinary Delights
Thanksgiving—a holiday that leaves us not just with fond memories but also a fridge packed with leftovers. While turkey sandwiches and reheated stuffing are Thanksgiving aftermath staples, why not venture out of the norm? The turkey may be the centerpiece of the feast, but the subsequent days provide a culinary playground to get creative with those leftovers.
Reinventing the Classic Turkey Sandwich
The day-after turkey sandwich is a Thanksgiving classic, but it can easily become a gourmet dish. Swap out white bread for a crusty ciabatta or sourdough, spread a layer of cranberry aioli instead of plain mayonnaise, and introduce some peppery arugula or baby spinach for crunch and flavor.
Provolone or Swiss cheese can provide a layer of creaminess that ties all the flavors together. Grill the sandwich to meld the flavors and achieve a crispy texture. This isn't just a sandwich; it's an experience that breathes new life into turkey leftovers.
Turkey Tacos with a Twist
If you're a fan of fusion cuisine, turn your leftover turkey into delicious tacos. Shred the turkey meat and sauté it with onions, garlic, and bell peppers. Infuse some Latin flair by adding cumin, coriander, and a splash of lime juice. Instead of traditional tortillas, use lettuce wraps for a lighter take, or go all out with corn or flour tortillas.
Top with homemade guacamole, pico de gallo, and a dollop of sour cream. If you have leftover cranberry sauce, mix it with a bit of chipotle for a tangy and spicy cranberry-chipotle salsa that pairs perfectly with your turkey tacos.
Creating Turkey Pot Pie from Scratch
A turkey pot pie is the epitome of comfort food and an excellent way to use up various Thanksgiving leftovers. Not just the turkey, but also vegetables like green beans, carrots, and peas can make their way into this dish. Start with a buttery homemade crust, then prepare a filling that's rich with a creamy sauce made from turkey stock and a touch of heavy cream.
Don't forget herbs like thyme and rosemary to add an aromatic touch. Once assembled, bake until the crust is golden brown. Each bite will take you back to the Thanksgiving table, albeit in a new and delightful form.
Crafting Turkey Curry for an Exotic Touch
If you're looking for a culinary adventure, transforming your turkey leftovers into a curry is an exciting option. Start with sautéed onions, garlic, and ginger as your aromatic base. Add spices like turmeric, garam masala, and cayenne pepper for complexity and heat. Coconut milk will give the curry a creamy consistency, balancing the bold spices. Simmer the turkey pieces in this aromatic concoction until they soak up all the flavors. Serve over basmati rice or with naan bread to complete this exotic meal.
From Leftovers to Breakfast Treats: Turkey Frittata
Who says turkey is only for lunch and dinner? For a hearty morning-after breakfast, consider making a turkey frittata. In a skillet, sauté leftover turkey with vegetables like bell peppers and spinach. Whisk together eggs, milk, and cheese, then pour over the turkey mixture. Bake until the frittata sets, and you've got a nutritious breakfast that uses up more of your leftovers in an unexpected way.
The possibilities for Thanksgiving leftover transformations are endless. It's all about applying creativity, borrowing from different cuisines, and daring to think beyond the reheating pan. With these ideas as a starting point, you can turn your turkey leftovers into a series of meals that keep the Thanksgiving spirit alive, long after the last slice of pumpkin pie has been devoured.
15 Creative Leftover Turkey Recipes That You Will Enjoy
Leftover turkey after the holidays can be so good if you do it the right way! Here are 15 creative and delicious recipes that will have you looking forward to the days after Thanksgiving!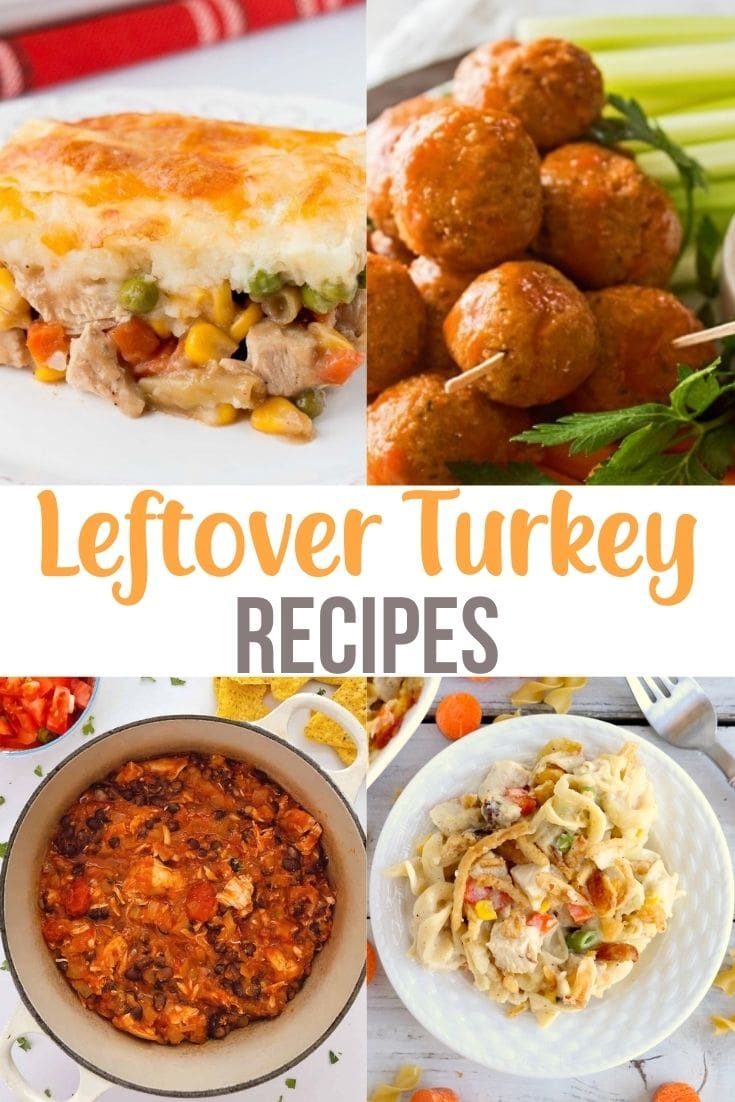 Hi! I'm Nellie. I am a busy mama of three, wife to my high school sweetheart who loves to cook, workout and stay organized! I love to share helpful printables, the best recipes and fitness tips for the modern mom. I strongly believe that every mom can feed their family well, take proper care of themselves and have fun along the way! Read my story.
Get comfortable and be sure to come hang out with me on social. Don't grab your free fitness journal before you go!