This Instant Pot Thanksgiving Cranberry Sauce is so tasty and easy to make! Free up the stove and make this yummy cranberry sauce for the holidays!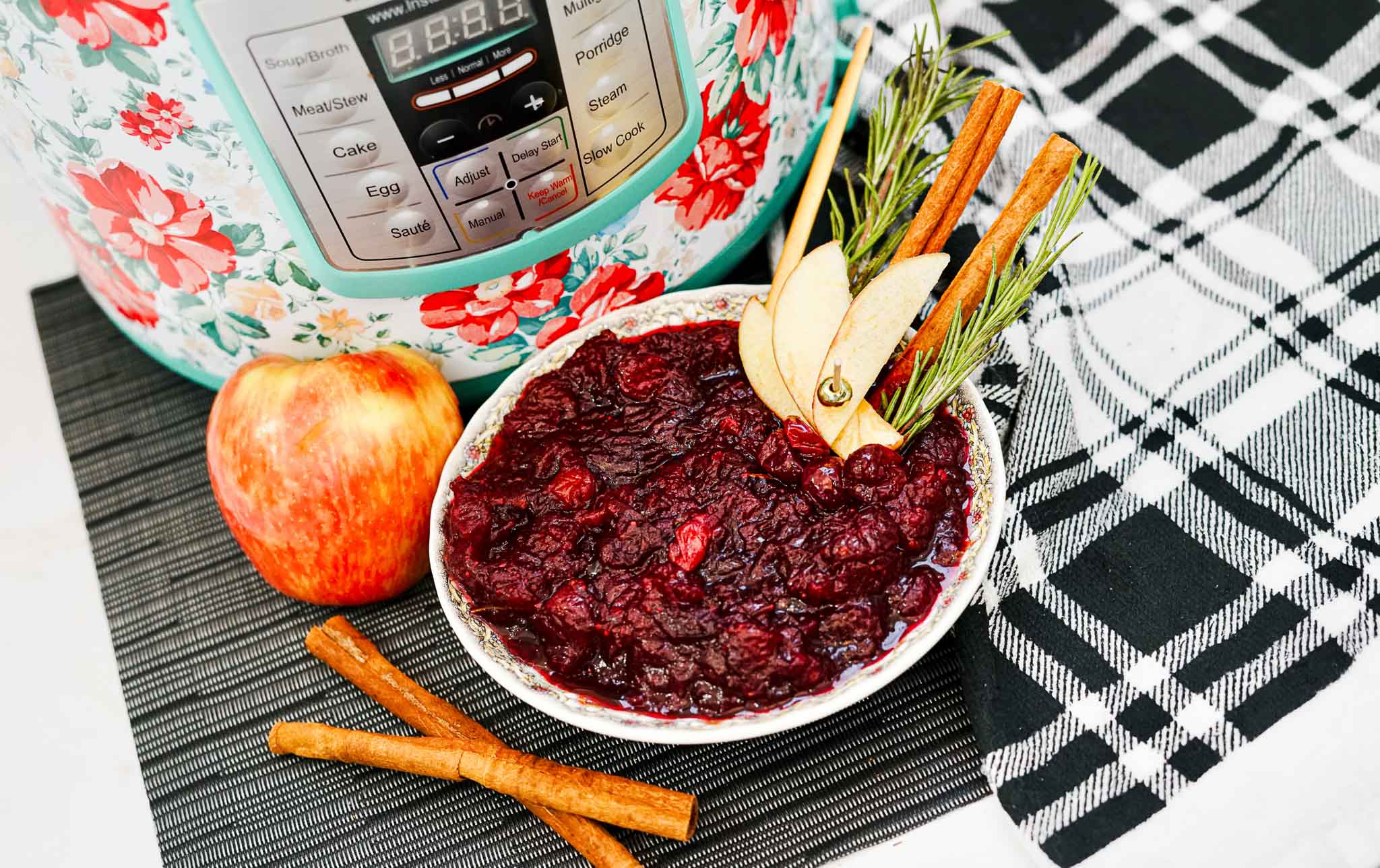 Are you a fan of cranberry sauce? I can't say that I was… until this cranberry sauce. This Instant Pot Cranberry Sauce is so tasty and easy to make! I know it will be my goto recipe every holiday from now on! The Instant Pot is an electric pressure cooker that cooks food super fast, very similarly to how a slow cooker works.
Instant Pot Apple Cider Thanksgiving Cranberry Sauce: A Festive Fusion of Tart and Sweet
Nothing screams "Thanksgiving" like a bowl of homemade cranberry sauce. My Instant Pot Apple Cider Cranberry Sauce is a game-changer, taking the classic up a notch with the infusion of apple cider, warm cinnamon, and aromatic rosemary. Why does this blend work so well? Read on to find out!
FAQs
Q: Can I use frozen cranberries?
A: Absolutely, there's no need to thaw; just extend the Instant Pot cooking time by 2-3 minutes.
Q: Is apple cider essential?
A: Apple cider adds a natural sweetness and tang, but you can also use apple juice as a substitute.
Q: Can I leave out the rosemary?
A: While rosemary adds a nice earthy aroma, you can omit it if you prefer a simpler flavor profile.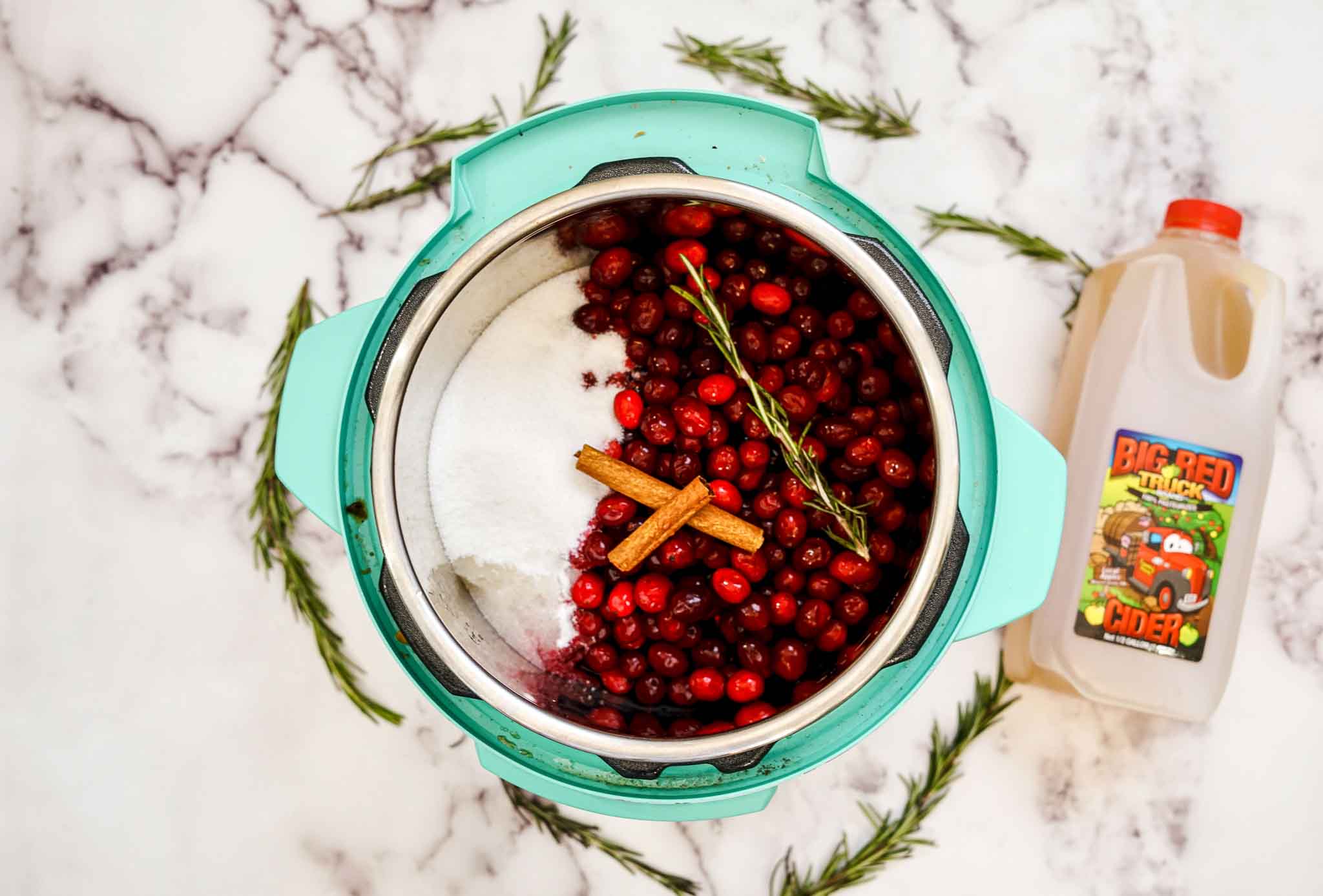 Who knew that you could utilize these cooking tools for a great thanksgiving or Christmas menu!
Cranberry sauce just somehow brings everything on the dish together. This cranberry sauce recipe is super easy to make and great on any menu.
Tips and Tricks
Taste and Adjust: Once the sauce is done, feel free to adjust the sugar or salt to better suit your palate.
Natural Release: Allow the Instant Pot to release pressure naturally for at least 10 minutes for better flavor infusion.
Smash the Berries: For a chunkier sauce, don't hesitate to smash some of the cranberries with a wooden spoon.
Variations
Spiced Up: A pinch of nutmeg or cloves can add a layer of complexity to your sauce.
Citrus Twist: Add some orange zest for a citrusy kick.
Where to Serve
This cranberry sauce is not just for Thanksgiving; it's a versatile side that pairs well with chicken, pork, and even some desserts. And let's not forget it's an essential element in the post-Thanksgiving turkey sandwich!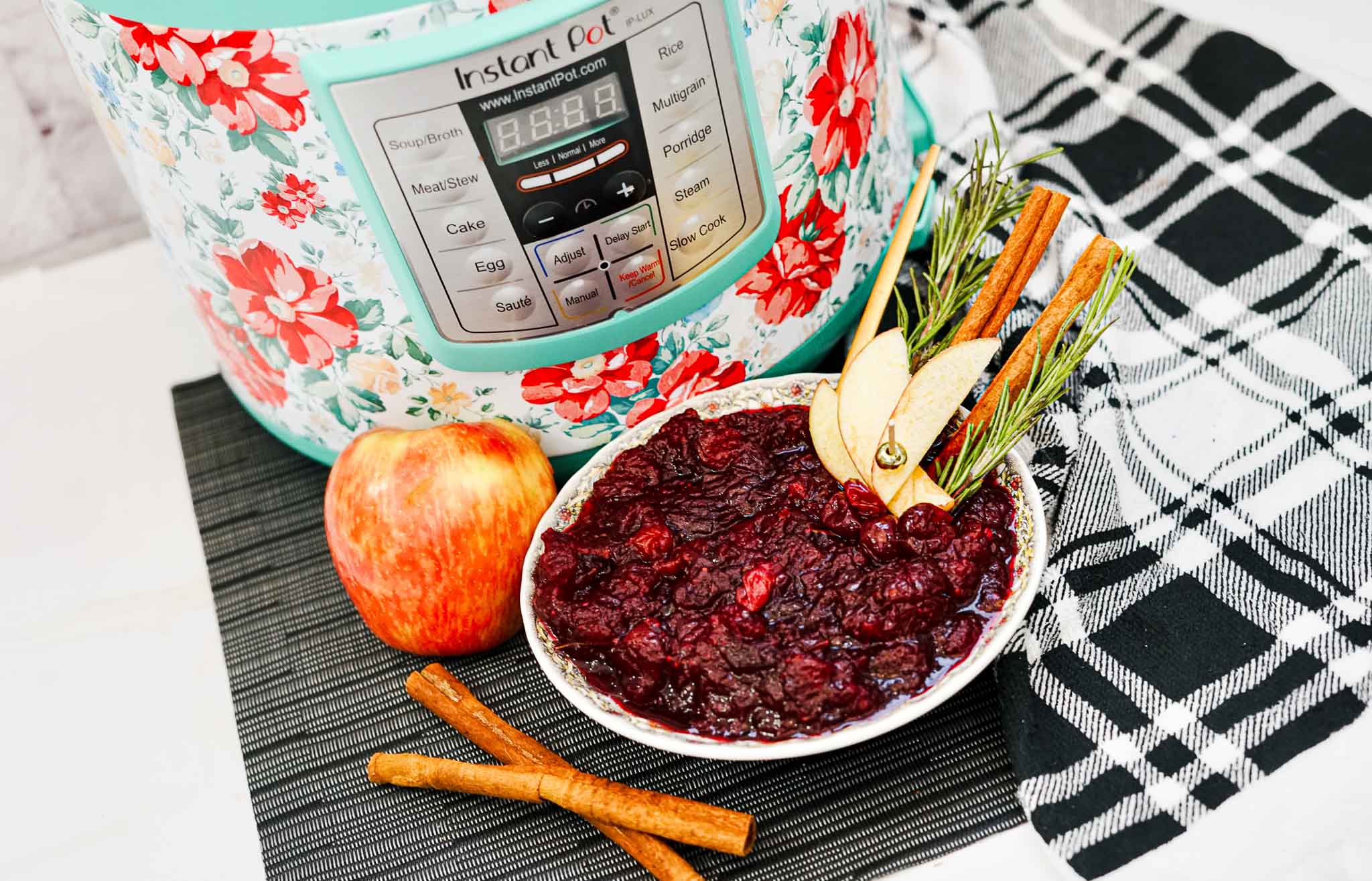 We all know how much we appreciate Mom and Grandma for all the hard work they put into cooking, so this year give them a break! You can spend time with family and friends instead of cooking over the stove.
Storage
Store in an airtight container in the refrigerator for up to a week. For longer storage, you can freeze the sauce for up to two months.
Common Problems and How to Avoid Them
Too Runny: If your sauce is too liquid, turn on the Instant Pot's Sauté function and let it simmer until it thickens.
Overly Sweet: To avoid this, start with less sugar and add more if needed after tasting.
Tips for Making This Recipe with Kids
Kids can help by washing the cranberries or measuring the ingredients.
Make it a learning experience by teaching them about the different spices and how an Instant Pot works.
Topping Options
Fresh Herbs: A sprinkle of finely chopped rosemary or thyme can add color and flavor.
Apple Slices: These can add a crunchy texture and a fresh, fruity contrast.
I am all about making Thanksgiving cooking as easy as possible. So once again, I turned to my trusty pressure cooker.
This recipe is great because you can make it ahead of time and keep in the fridge until your ready for some tasty goodness. Also, if you have leftovers, save them for toast! Or even croissants with cheese. Yum yum!!!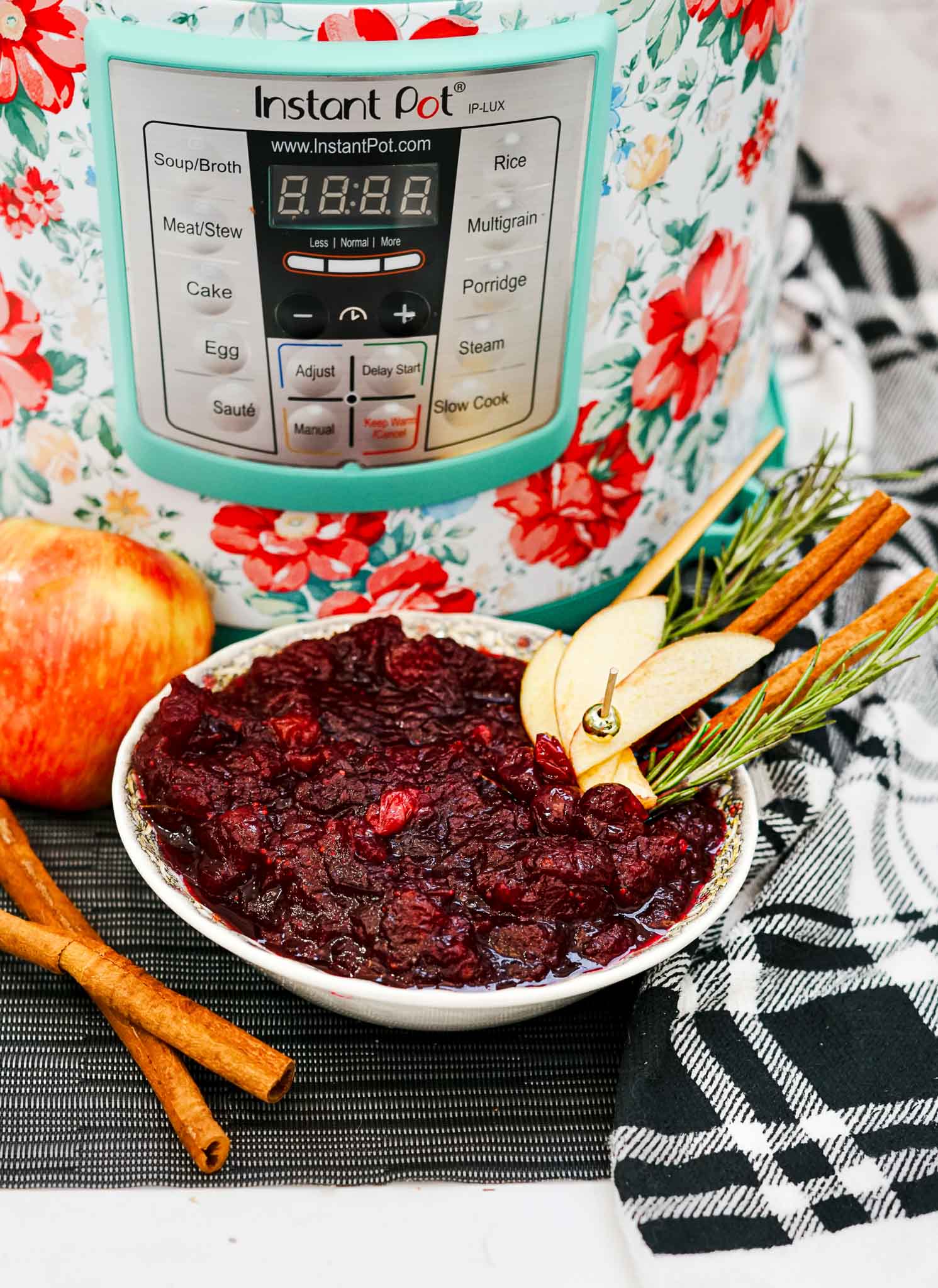 You can even add this amazing cranberry sauce to this amazing leftover turkey sandwich recipe!
What ingredients do you need for this cranberry sauce?
12 ounces fresh cranberries
2 cinnamon sticks
1 cup sugar
1/3 cup apple cider
Apple slices
2 pieces of rosemary
1 Tsp vanilla
1 Tsp salt
Super easy ingredients!! You will be shocked how easy the recipe is, and your guests will be obsessed! Feel free to share the recipe!
Why This Recipe Works
Instant Pot Magic: The Instant Pot not only speeds up cooking but also helps in fusing the flavors more effectively.
Cinnamon and Rosemary: These give the cranberry sauce a comforting, holiday aroma that is irresistibly good.
Apple Cider: It complements the tartness of the cranberries and enriches the sauce's overall flavor profile.
There you have it, folks—a quick, hassle-free Instant Pot Apple Cider Cranberry Sauce that'll win everyone over at your holiday table. Trust me; once you try this, you'll never go back to the canned stuff again!
What are some other amazing Thanksgiving recipes to try?
Yield:

6-8 Servings
Instant Pot Apple Cider Thanksgiving Cranberry Sauce
This easy cranberry sauce is made with apple cider, yummy spices and is so good for thanksgiving!
Ingredients
12 ounces fresh cranberries
2 cinnamon sticks
1 cup sugar
1/3 cup apple cider
Apple slices
2 pieces of rosemary
1 Tsp vanilla
1 Tsp salt
Instructions
Combine cranberries, 1 cinnamon stick, sugar, apple cider, vanilla, salt & 1 piece of rosemary in the instant pot.
Close the instant pot and turn pressure valve to seal.
Cook on manual high pressure for 8 minutes.
Allow the steam to release naturally instead of quick release.
Pour into a serving bowl.
Garnish with rosemary, apple slices and cinnamon sticks and enjoy.
Nutrition Information
Yield
8
Serving Size
1
Amount Per Serving
Calories

131
Total Fat

0g
Saturated Fat

0g
Trans Fat

0g
Unsaturated Fat

0g
Cholesterol

0mg
Sodium

293mg
Carbohydrates

34g
Fiber

2g
Sugar

29g
Protein

0g
If you enjoyed this recipe be sure to tag and follow on Instagram for more fun recipes!
Looking for more Thanksgiving recipes?
20 Amazing Traditional Thanksgiving Dinner Recipes
Thanksgiving Pies That Will Knock Your Socks Off
20 Air Fryer Thanksgiving Recipes You Need This Year
20 Fantastic Thanksgiving Appetizers To Serve This Year
Hi! I'm Nellie. I am a busy mama of three, wife to my high school sweetheart who loves to cook, workout and stay organized! I love to share helpful printables, the best recipes and fitness tips for the modern mom. I strongly believe that every mom can feed their family well, take proper care of themselves and have fun along the way! Read my story.
Get comfortable and be sure to come hang out with me on social. Don't grab your free fitness journal before you go!