Looking for a super easy pasta dish that you can do in your Instant Pot? I've got you covered today with this amazing and delicious Instant Pot Fettuccini Bolognese recipe!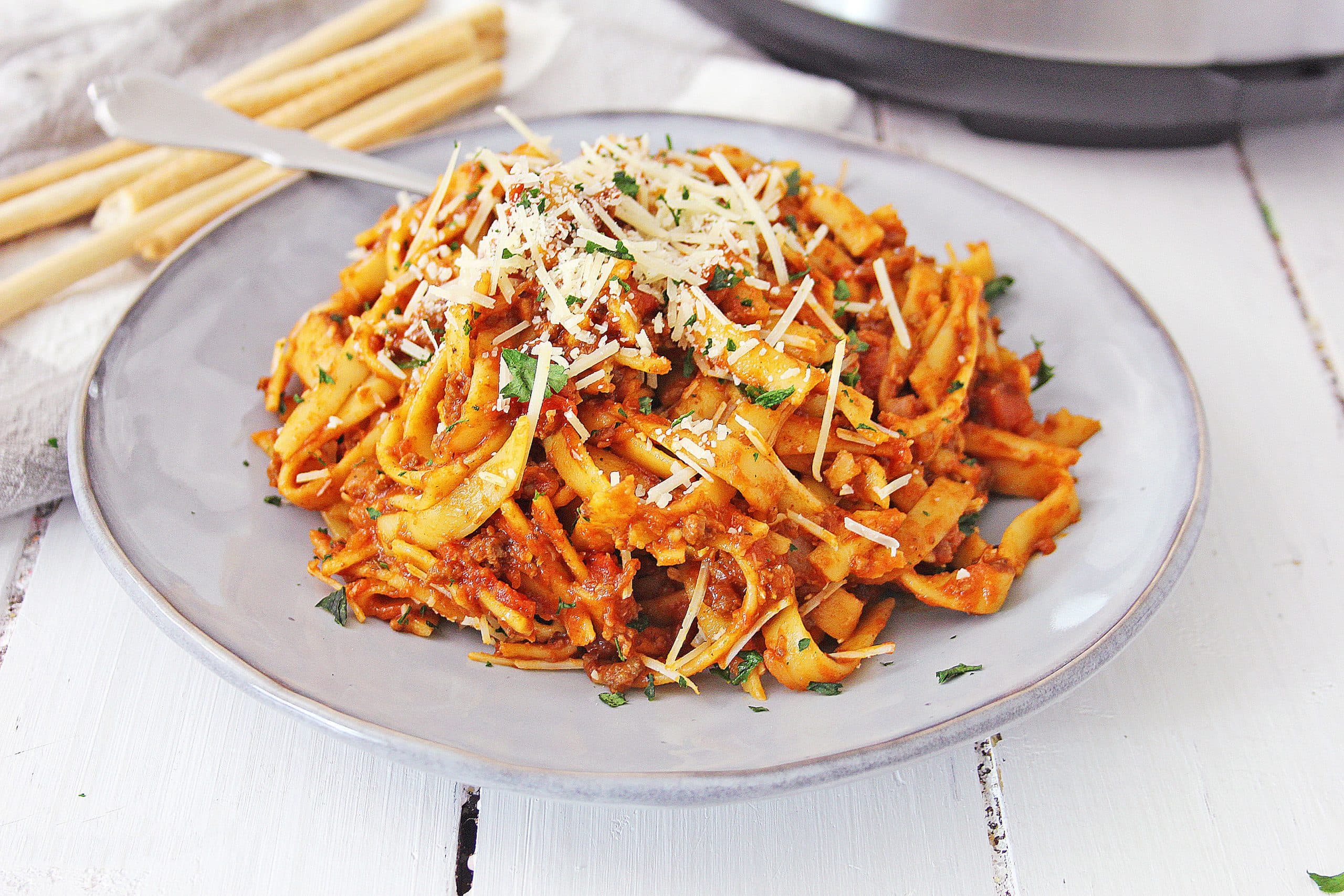 Fettuccine Bolognese
I'll be honest, I have been looking for some really easy recipes that don't require a lot of clean up. When the lockdown first began, I was cooking elaborate meals with several sides and plenty to choose from.
Well. That got old REAL QUICK.
Now I am all about that One Pot life, and if it's quick, even better. I am so tired of cooking so often and even more tired of trying to figure out what to buy at the grocery store now that I barely go or have it delivered once every 10 days. That is a LOT of meal planning!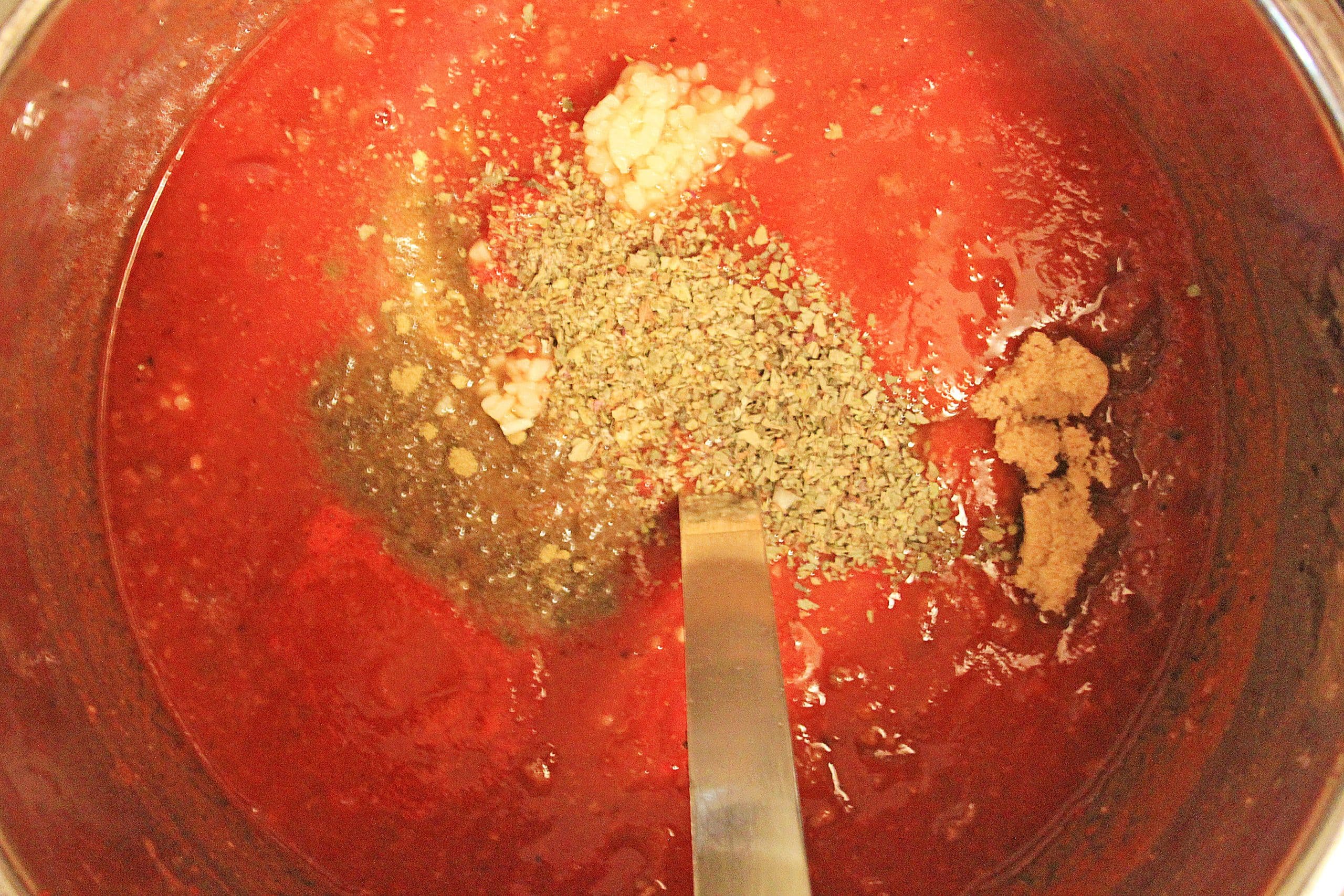 I am definitely not used to being so proactive with the dinner lunch and breakfast menus. Usually I like to decide what we are eating the night before. Now, I need to plan for variety because the same meals can get boring really fast.
I am so excited to share this Fettuccine Bolognese recipe with you because the ingredients are simple and fresh, you cook everything in the Instant Pot (which is one of my favorite gadgets!) and the family will love it.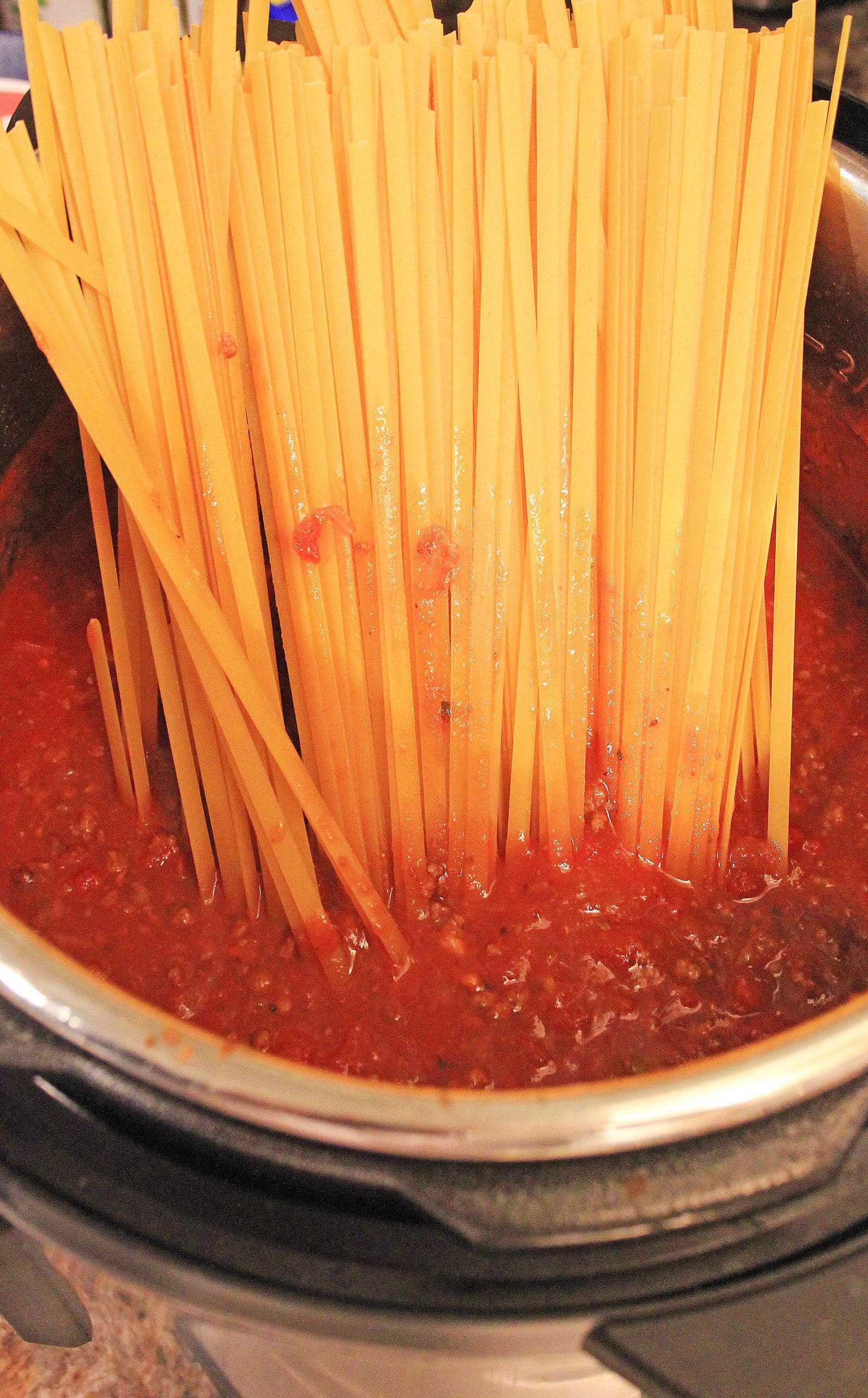 Pasta has been such a staple in this house since forever. I love a dish with rice and peas and a good meat, because that's the way I was raised in a Caribbean household. However, my husband and my kids LOVE a good pasta dish and I do too because it makes a ton and it keeps everyone's belly happy!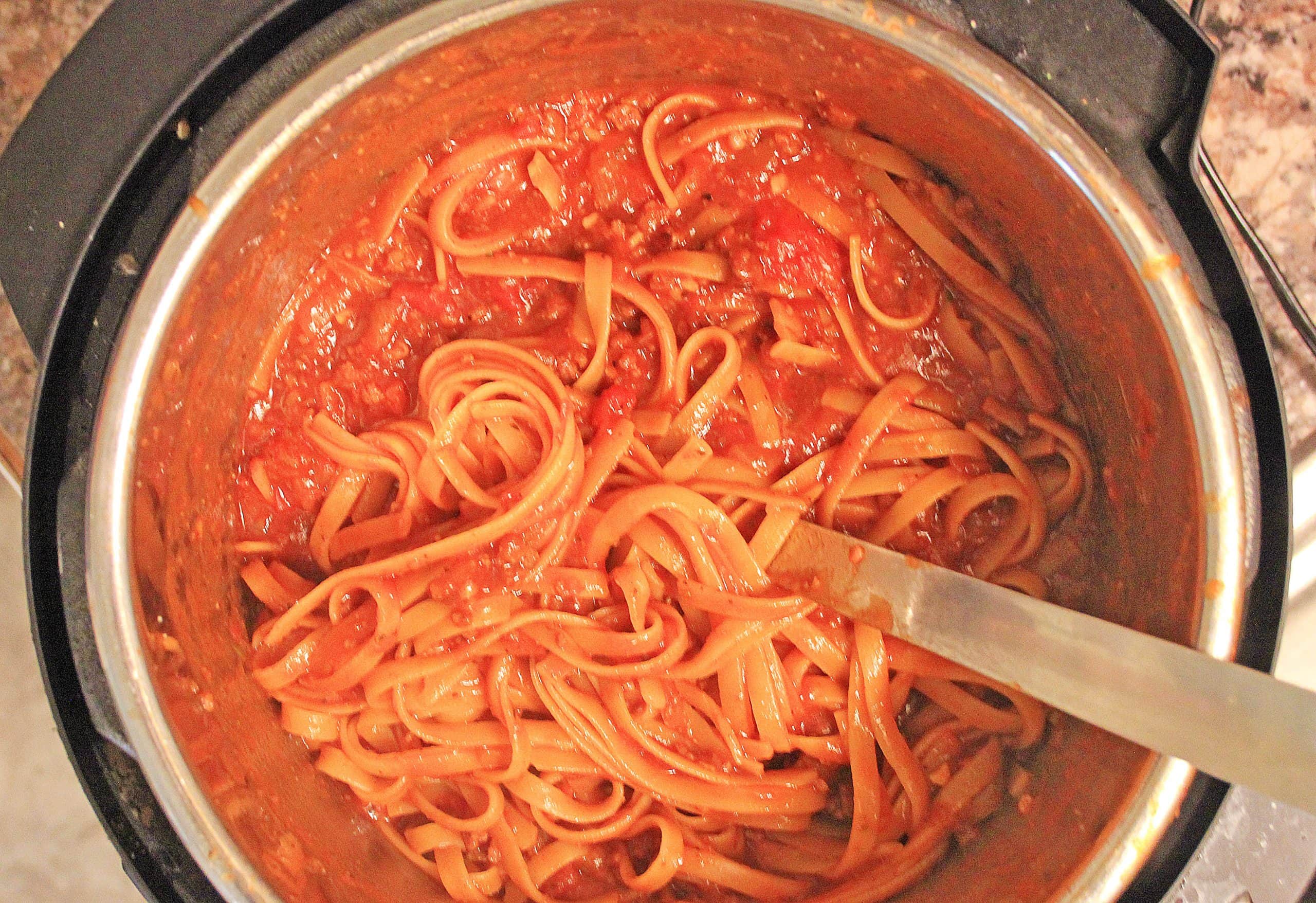 The best part about this recipe is that the dish is made start to finish in the Instant Pot! The flavors and seasonings come together perfectly and just one pot to clean! Serve with some Italian bread and Perfection.
Let me know how much you love it!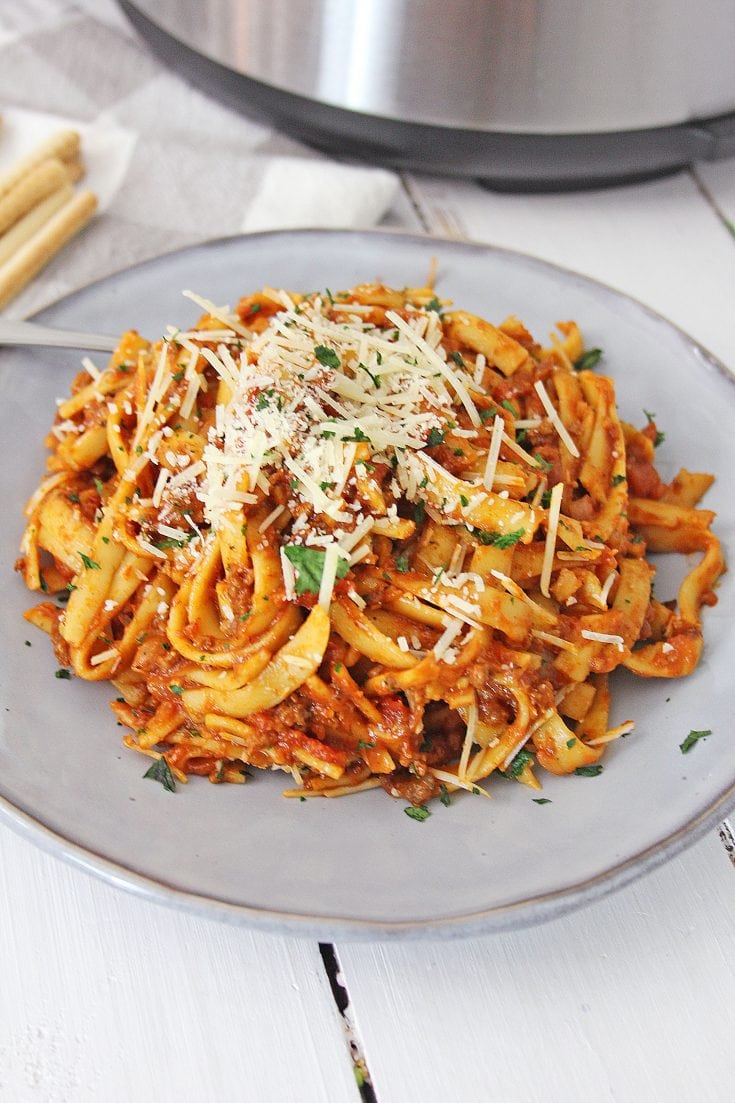 Yield:

8-10 servings
Easy Instant Pot Fettuccini Bolognese Recipe
Talk about a great dish, this Instant Pot Fettuccine Bolognese is delicious, and it's done in a fraction of the time it would take to make the meat sauce the old way. The Instant Pot not only speeds up the cooking time, but it really infuses the flavors together, and it turns out just wonderful. Serve this up with some crusty bread, and you've got a great meal everyone will love. Keep this one in your favorites.
Ingredients
HERE'S WHAT YOU NEED:
1 pound of ground Sirloin
1 Tablespoon of butter
1 large sweet onion - chopped
1 Tablespoon of minced garlic
2 large cans of tomato sauce - 16 ounces each
1 large can of Stewed Tomatoes - 28 ounces
1 can of tomato paste - 6 ounces
2 cups of water (plus more if needed - see instructions)
2 Tablespoons of Italian Seasoning
1 Tablespoon of sweet basil
1 teaspoon of ground Oregano
1 teaspoon of coarse ground garlic salt
1 teaspoon of seasoned salt
1 teaspoon of seasoned pepper
1/4 cup of brown sugar
1/2 pound of Fettuccine
Parmesan Cheese - to top
Finely chopped Parsley - to top
Instructions
Turn the Instant Pot on to the SAUTE setting, and melt the butter in the Instant Pot. Add the chopped onion, and saute until caramelized, or golden brown. Add the ground Sirloin, and cook until well browned, and no pink is left. Turn off Saute setting. Add the minced garlic, tomato sauce (both cans), stewed tomatoes, tomato paste, water, Italian seasoning, sweet basil, ground Oregano, garlic salt, seasoned salt, seasoned pepper,and brown sugar. Stir all together until well mixed.
Add the Fettuccine, and make sure it's completely covered and not sticking out of the sauce. (You can break it in half to make it easier to submerge in the sauce). (If you need to add a little more water, to make sure the Fettuccine is covered, add another 1/2 cup).
Place the lid on the Instant Pot, and make sure the pressure valve is set to SEALING. Press the MANUAL button, and set the time for 8 minutes. When the Instant Pot is finished cooking, beeps and goes to OFF, go ahead and quick release the pressure, by turning the pressure valve from sealing to VENTING.
When all the pressure has been released, and the FLOAT VALVE drops down, remove the lid from the Instant Pot, and stir the Fettuccine, and sauce. (This is where I taste the sauce, to see if it needs any more seasonings, or if it's just right). If you need to add anything, do it now, and stir well to blend. Serve on plates, or in pasta bowls, and top with Parmesan cheese, and a little Parsley. Pair with crusty bread, or even a side salad. Serve, and Enjoy!
NOTE: If you're not familiar with the Pressure Valve, or Float Valve on your Instant Pot, read your instruction manual to find where the valve's are located, and how to use them. When cooking the ground Sirloin, make sure you cook the meat well done. DO NOT leave any of the meat PINK. As you're cooking the Sirloin, crumble it or break it apart with a large fork, until it resembles small crumbs.
Are you going to try this Instant Pot Fettuccini Bolognese recipe?
Pin it for later!
If you enjoyed this recipe be sure to check out my Instagram Page for the latest posts!
Before you go, check out these great posts!
Flavorful Vegetarian Instant Pot Gumbo Recipe
Instant Pot Whole Roasted Chicken Recipe
Delicious Instant Pot Cilantro Rice Pilaf
Easy Instant Pot Pumpkin Apple Cider
Easy Instant Pot Cacio E Pepe Pasta Recipe
Hi! I'm Nellie. I am a busy mama of three, wife to my high school sweetheart who loves to cook, workout and stay organized! I love to share helpful printables, the best recipes and fitness tips for the modern mom. I strongly believe that every mom can feed their family well, take proper care of themselves and have fun along the way! Read my story.
Get comfortable and be sure to come hang out with me on social. Don't grab your free fitness journal before you go!