10 Tips to Eat Healthy at Thanksgiving
It's a shocking fact: on Thanksgiving Day, the typical person will eat 3000 calories. But most will top out at about 4500 once they've finished dessert and all of the "extras" that make up the meal.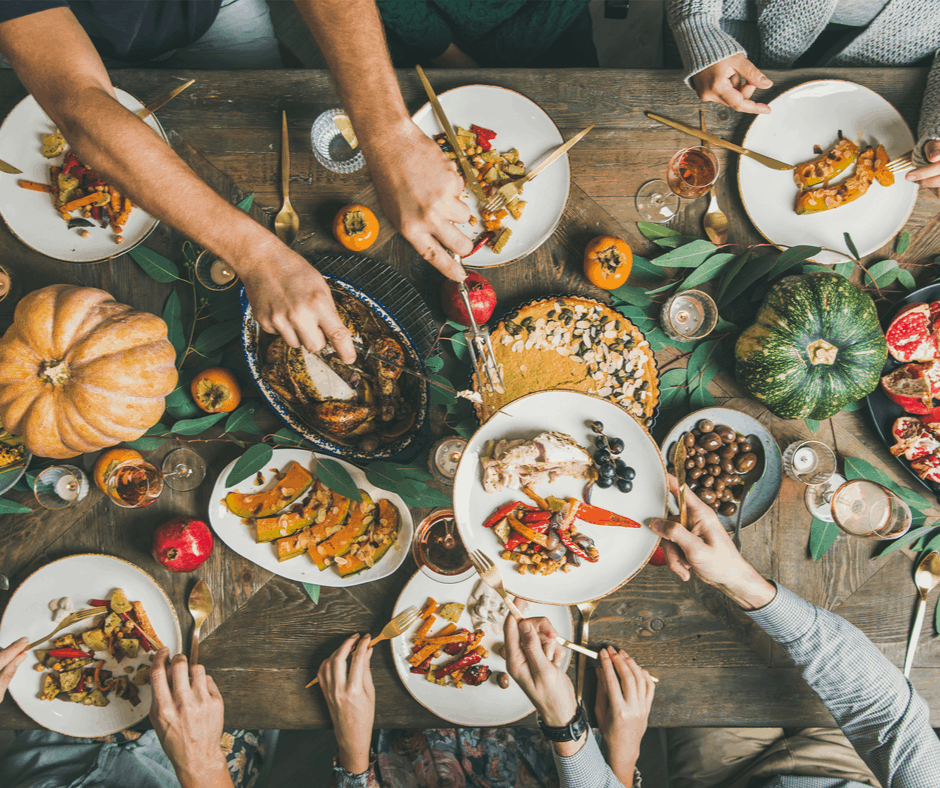 Let's talk about how to make this day just a bit healthier. Even if your goal is not weight loss, it is not ideal to eat that many calories in just one day. A healthy Thanksgiving is a terrific way to celebrate with family & friends. Here are 10 of my favorite tips on how to eat healthy on Thanksgiving:
Whittle down the hors d'oeuvres.
Instead of pigs in blankets or fatty sausages and cheese chunks, turn instead to healthy veggies with a dip. Try hummus (chickpeas) for a great dip, or you can DIY a dip by starting with sour cream and then adding flavors your family loves. Be sure to give people a way to individually serve themselves the dip, instead of "dunking" into it, which really piles on the calorie count for anyone eating anything.
Start with a slimmer soup.
At holiday time, be sure to start your meal with a "starter course" of a delicious, healthy, homemade soup. For Thanksgiving, you could do a pumpkin & squash pureed soup, or a homemade veggie & dark meat turkey soup, which is chock-filled with flavor, but not calories.
Don't be shy about adding a salad.
Fall is not always a popular time for salads in every household. But try to add one on your Thanksgiving table. Make it bright and colorful, as that ensures it will be super healthy for your family. This Brussels Sprouts Salad with Bacon is absolutely perfect! Put in a touch of cheese such as feta and add a very light dressing already mixed in, to keep the calorie count down.
It's okay to have some of your favorites – just in moderation!
But what about my favorite pecan pie? Or the classic green bean casserole? Or Grandma's famous sausage filled stuffing? Or even these delicious mashed potatoes? I'm certainly not going to tell you that you can't have them.
Simply to be savvy and plan ahead for these treats. An entire meal that is 110% treats is way too many calories. Focus on having 1 to 3 treats at your Thanksgiving table, and try to eat them in moderation, because the calorie count on a serving is already going to be higher than other things. But do go ahead and enjoy them!
Look at adding some activity to your Thanksgiving Day.
Not every family wants to – or should – play touch football, the way some of our favorite TV sitcoms show families doing at Thanksgiving time. But what about a walk to the local park, letting the kids play on the swings and the slide? Or riding your bikes after breakfast? A Turkey trot is awesome too! Try to get in at least 30 minutes to one hour of physical activity.
Cook your turkey without the skin to remove fat and unhealthy cholesterol.
Both chicken skin and turkey skin are filled with calories and raise the cholesterol count while cooking, to sky high! Yes, it makes the turkey super yummy. But if you remove the skin, this can make your turkey a lot healthier. Consider buying a turkey breast that provides your family with a good-sized serving for everyone.
Lighten up your stuffing recipe.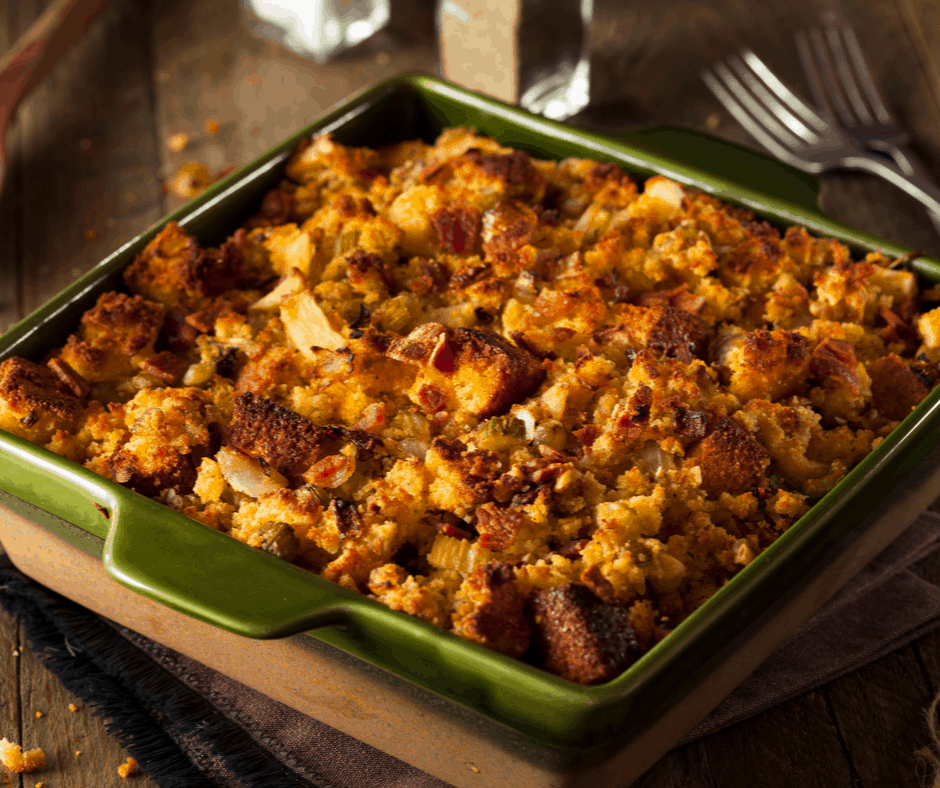 Forgo the chestnut stuffing this year? Nuts add lots of calories! Instead, fill your stuffing with cooked cranberries, dried fruit and veggies that your family loves. Season with herbs and spices. If you do add high calorie treats such as nuts, break them into tiny pieces or slivers, so they cover as much of the stuffing, and you get a little piece of nut in every bite. This will also remove lots of calories in this dish too.
Let's face it: no one really "needs" 2 slices of pie. So, pick 1 to make.
Lots of families have the classic tradition of 2 pies to choose from at the Thanksgiving table: pumpkin pie and apple pie. Many will eat 2 slices, one of each, because they are there. Instead of making or buying 2 pies, just pick your family's favorite and have 1 pie instead, or enough pie for everyone to have 1 serving. A slice of pie is at least 400 to 600 calories.
Think about others who may be hungry today and do something to help them.
It may shock you to know that 1 in 5 American children go to bed hungry, every single night. That's right – even on Thanksgiving. While you are fussing over trying to eat less, there are people who are trying to get enough to eat. Involve your family in a project locally to help with hunger, such as donating some food to your food pantry.
Healthy food doesn't have to mean "tasteless!"
You can make a delicious meal, adding herbs and spices and other methods to make it tempting. We have to admit that you are probably going to have to accept that the deep-fried turkey is a real "no go!" But otherwise, you can eat just about anything you want, focusing on how to make it a bit healthier!
Happy Thanksgiving!
For more Thanksgiving fun check out:
5 Easy Friendsgiving Ideas + Free Thanksgiving Charades Download
Easy DIY Thanksgiving Craft For Kids: Turkey Feathers Craft
Thanksgiving Lunchbox Notes + Tips For Saving Money On Thanksgiving
Free Thanksgiving Meal Planner + Tips For Hosting A Fantastic Dinner Party
Free Printable Thanksgiving Gratitude Game For Your Family
19 Easy and Fun Thanksgiving Crafts For Kids
Thanksgiving Printables Pinterest Board
Do you have any tips on how to eat healthy on Thanksgiving day?
Hi! I'm Nellie. I am a busy mama of three, wife to my high school sweetheart who loves to cook, workout and stay organized! I love to share helpful printables, the best recipes and fitness tips for the modern mom. I strongly believe that every mom can feed their family well, take proper care of themselves and have fun along the way! Read my story.
Get comfortable and be sure to come hang out with me on social. Don't grab your free fitness journal before you go!