Peanut butter granola bars are such a fun and tasty snack! Make them right at home with super simple ingredients.
What are peanut butter granola bars?
These bars are a simple combination of oats, peanut butter, honey, and other ingredients like chocolate chips or nuts. They're an excellent snack to have on the go and can be a great pick-me-up during the day when you need a little energy boost.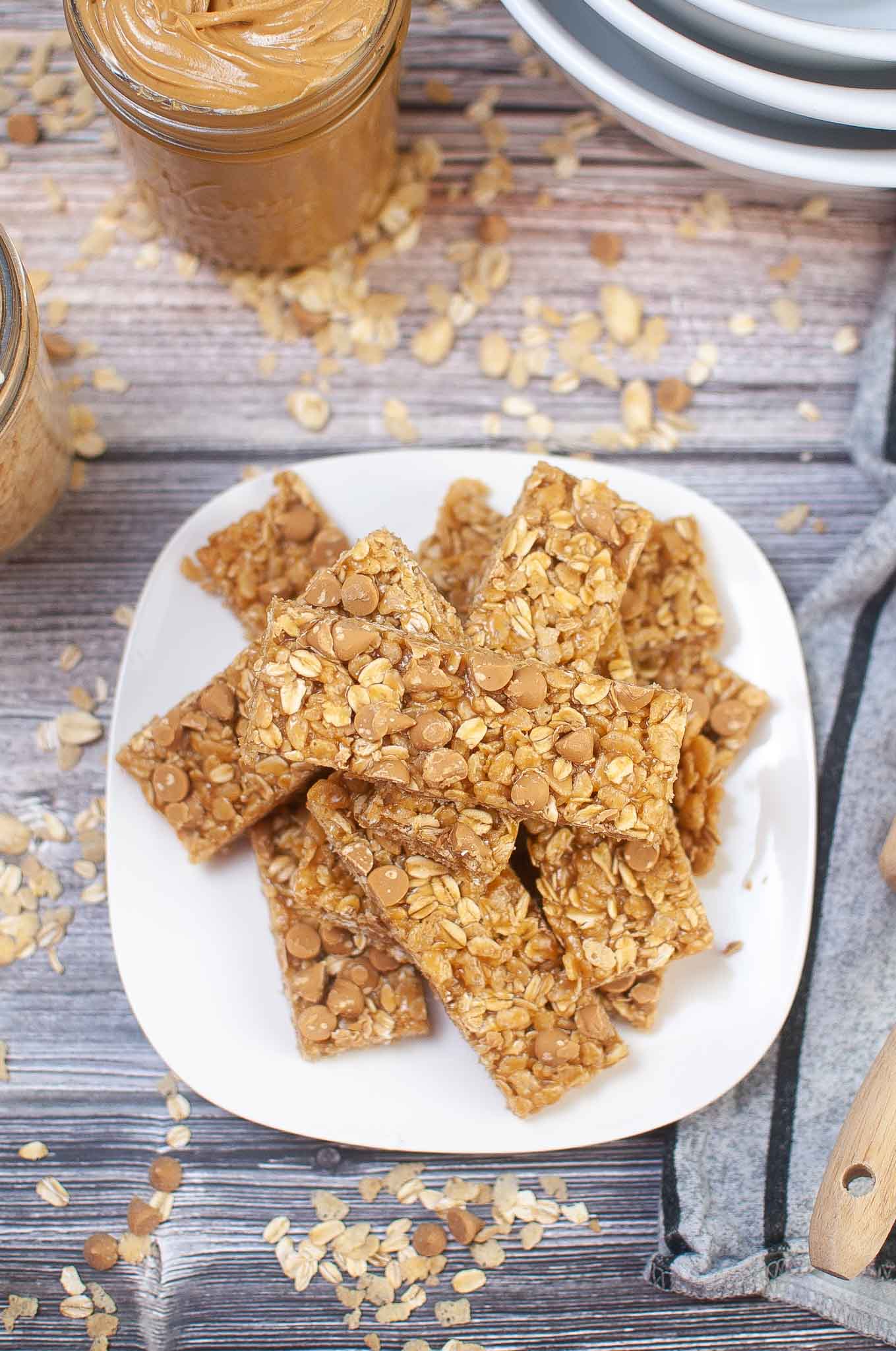 Making your own granola bars is easy! All you need is a few basic ingredients, some bowls and pans or molds to make different shapes.
Are peanut butter granola bars healthy?
Peanut butter granola bars can certainly be a healthy snack. Most recipes use natural ingredients like oats, peanut butter, honey, and nuts which are all good for you in moderation.
However, it's important to keep an eye on the amount of sugar and other unhealthy additives that might be included in some recipes. These chewy peanut butter granola bars are great for the whole family and a great portable snack. This homemade granola bar recipe has a delicious taste and it's great for lunch boxes.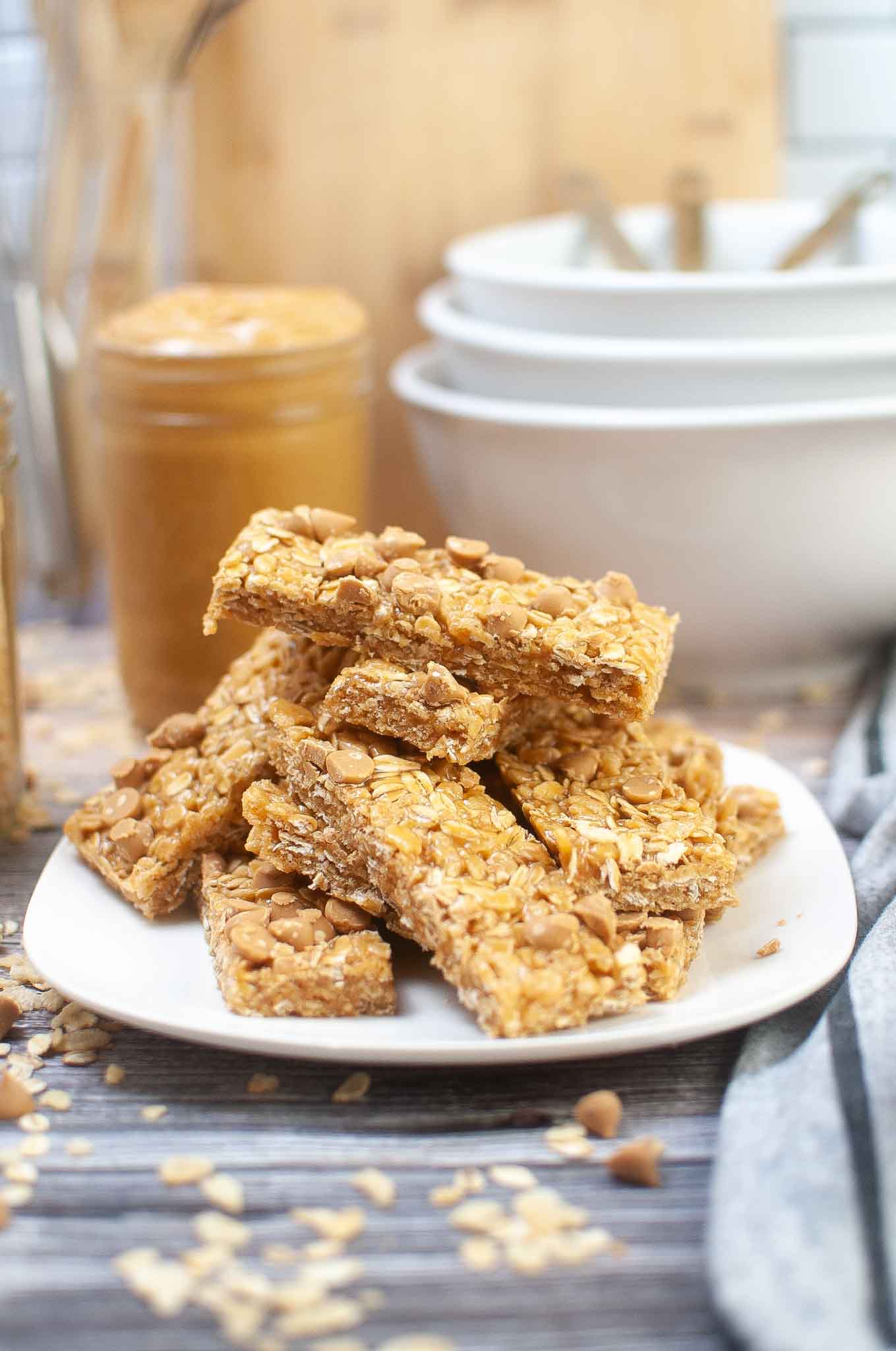 What ingredients do you need for Peanut Butter Granola Bars?
5 cups rice cereal
3 cups old-fashioned oats
1/2 cup brown sugar
1 1/2 cups light corn syrup
1/3 cup vegetable oil
1 cup peanut butter, heaping
2 tsp vanilla extract
1 cup peanut butter chips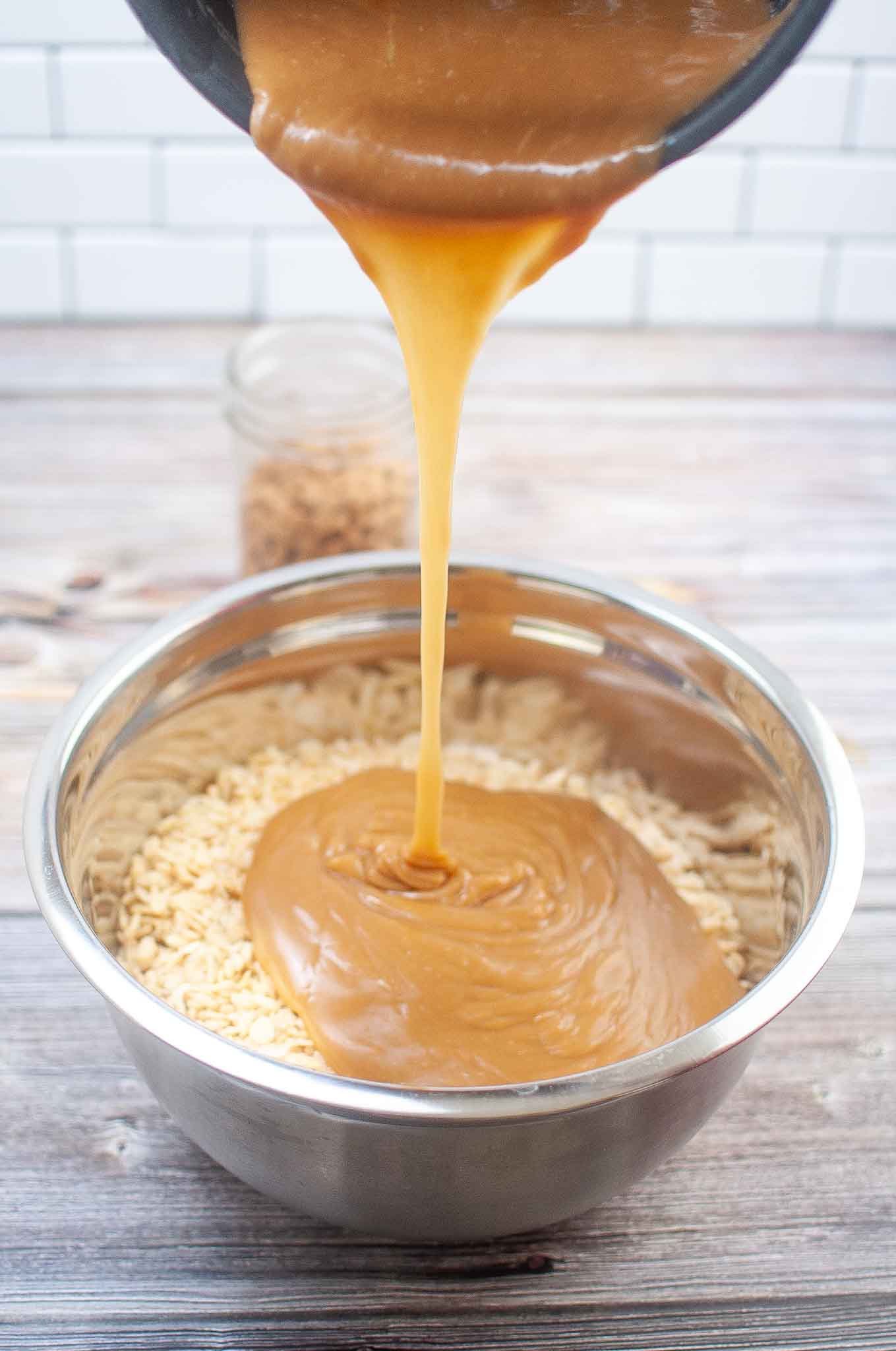 You won't need any maple syrup, white sugar, coconut oil or almond butter for this recipe!
Where is a good place to serve these granola bars?
Granola bars make great snacks to bring anywhere, like school or work, or on a picnic. They're also a delicious after-dinner treat! Serve them as is, or you can get creative and drizzle melted chocolate over them for an extra special touch. When hunger strikes (which happens a lot around here) grab you square baking pan and make these healthy peanut butter granola bars!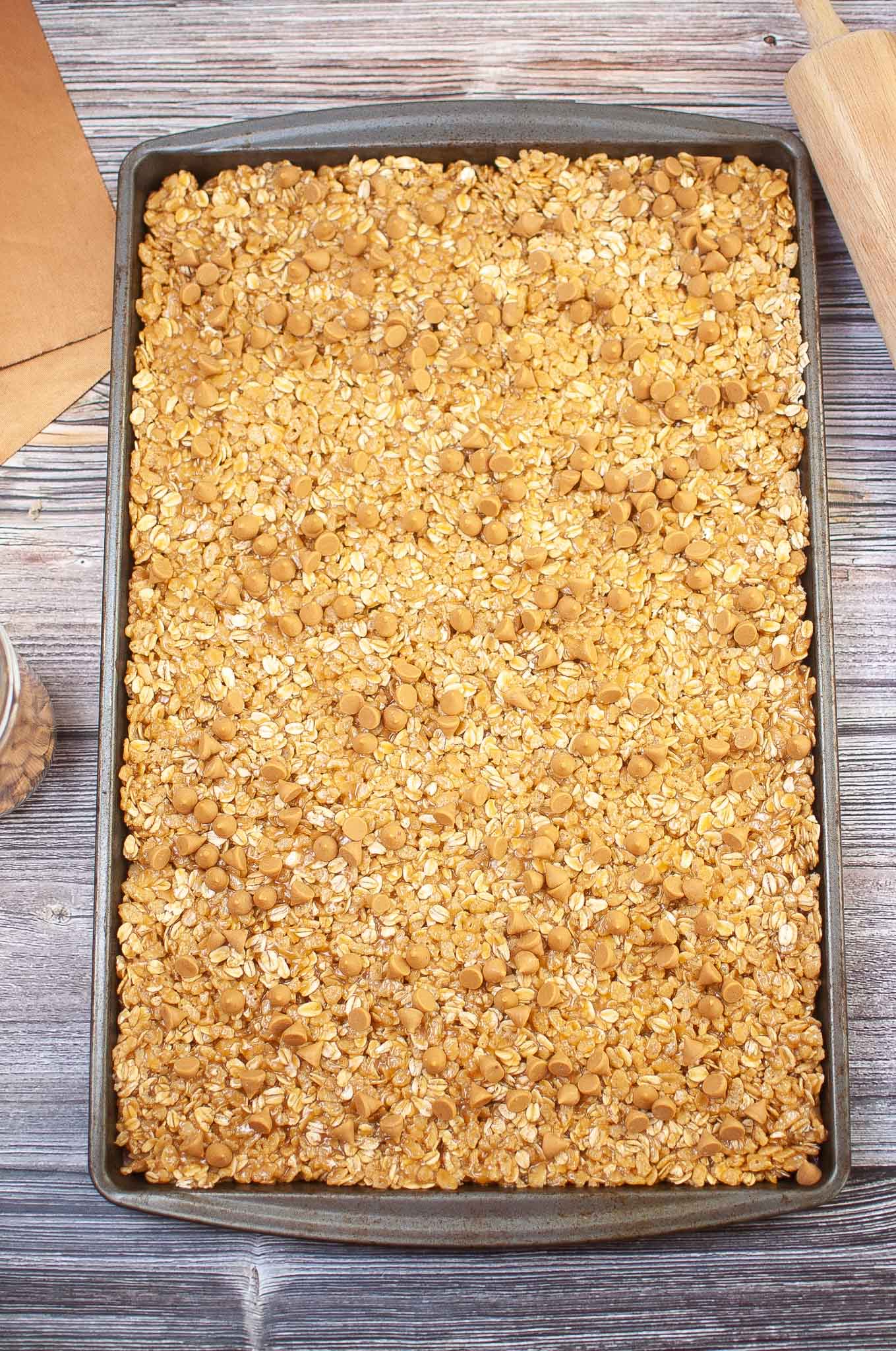 How to store these delicious granola bars?
Once you've made your peanut butter granola bars, you can store them in an airtight container for up to a week. Make sure they are tightly sealed to keep their crunchy texture and nutty flavor. If the bars start to get soft, just pop them into the oven for about 5 minutes at 350°F to crisp them up again.
Granola bars are so easy to make, and they can be a great way to get creative in the kitchen! Have fun experimenting with different ingredients in this peanut butter granola bars recipe and flavors of your own.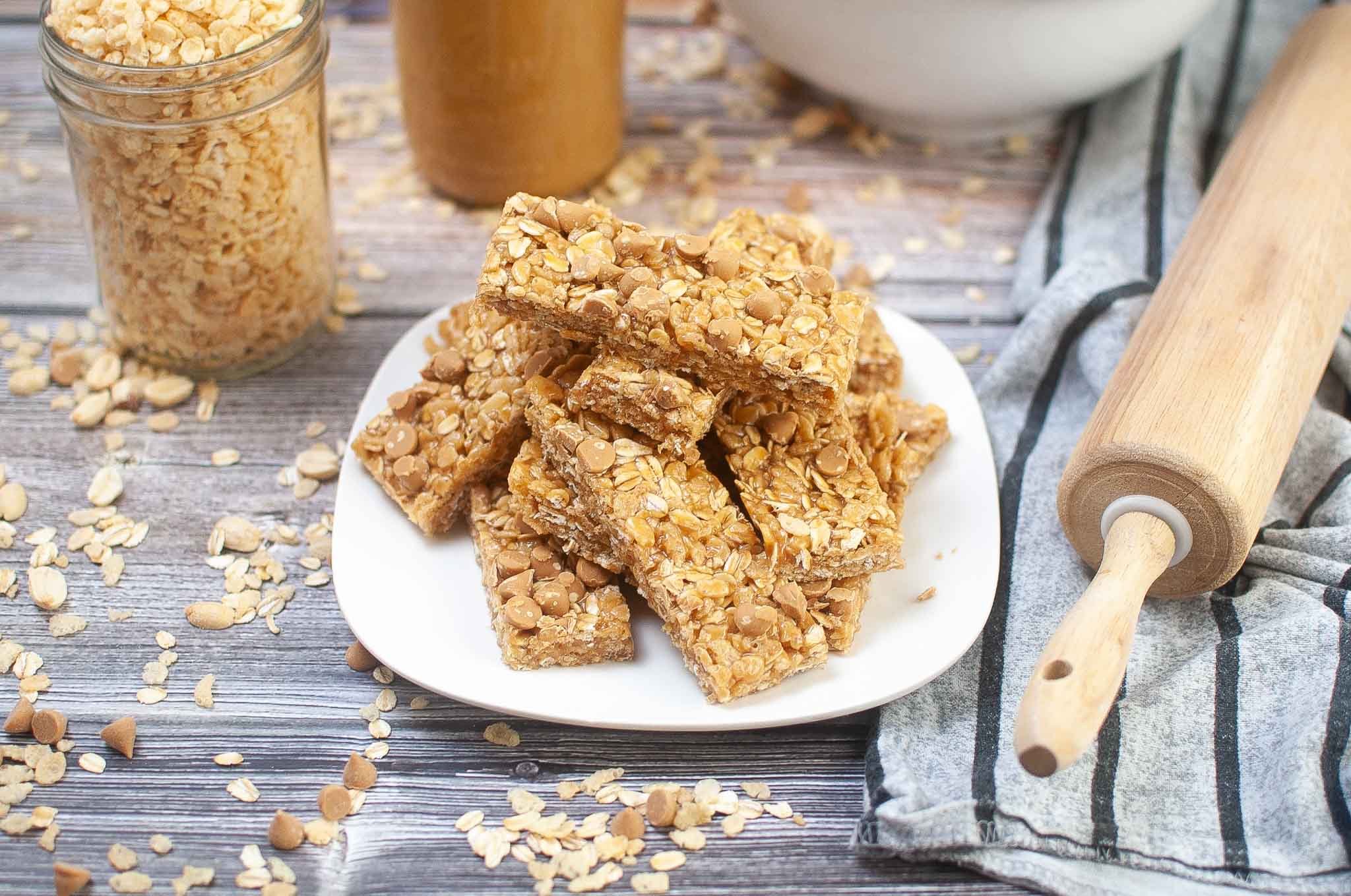 These healthy granola bars are a great recipe that you can add to a breakfast bar as the perfect snack. Whether you add mini chocolate chips or not is up to you! The best part of these homemade granola bars is the taste!
Pin it for later!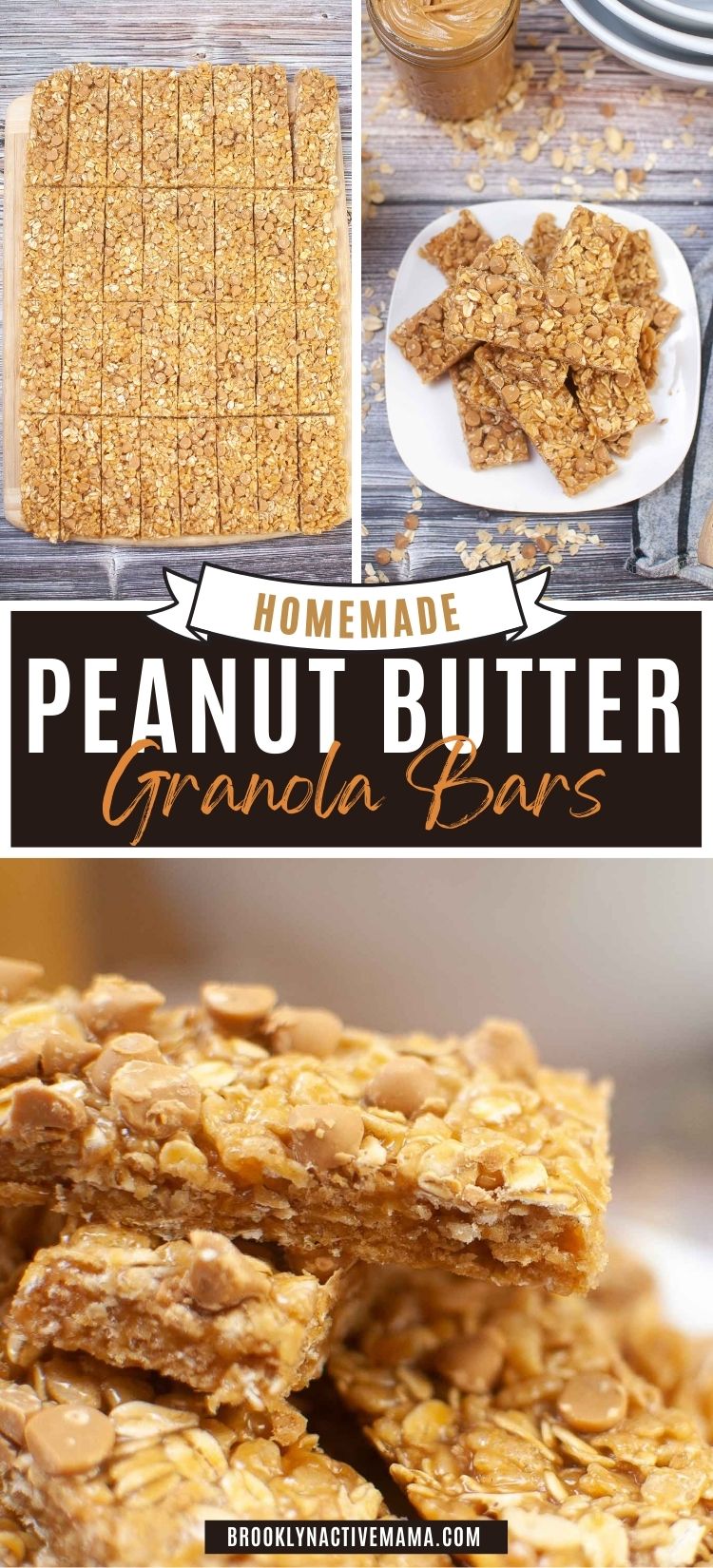 If you enjoyed this recipe be sure to check out my Instagram Page for the latest posts!
Before you go, check out these great posts!
Cinnamon Vanilla Granola Recipe
Apple Cinnamon Overnight Oats – Healthy Breakfast To Go
Cold Brew Overnight Oats Recipe
Free Printable Healthy Smoothie Recipe Cards
Free Healthy Living Planner For Kids Of All Ages
Hi! I'm Nellie. I am a busy mama of three, wife to my high school sweetheart who loves to cook, workout and stay organized! I love to share helpful printables, the best recipes and fitness tips for the modern mom. I strongly believe that every mom can feed their family well, take proper care of themselves and have fun along the way! Read my story.
Get comfortable and be sure to come hang out with me on social. Don't grab your free fitness journal before you go!