Create the perfect gift for someone special without spending too much by creating this Dollar Tree Hot Chocolate Mug Gift. It is the perfect gift for anyone who enjoys drinking hot chocolate.
Dollar Tree Hot Chocolate Mug Gift
Would you like to purchase a gift for someone special but you need to stick to a budget? If so, making this Hot Chocolate Mug is simple and it will not break the bank. You can create this mug gift set for someone who enjoys drinking hot chocolate.
You would need to purchase a Santa mug that you can easily get at the Dollar Tree where they tend to have all kinds of holiday-themed options available for you to choose from. Any holiday themed mug will work.
In addition to the mug, you would just need a few treats to add to it, including the instant hot chocolate packets, miniature candy canes, mini marshmallows, and more.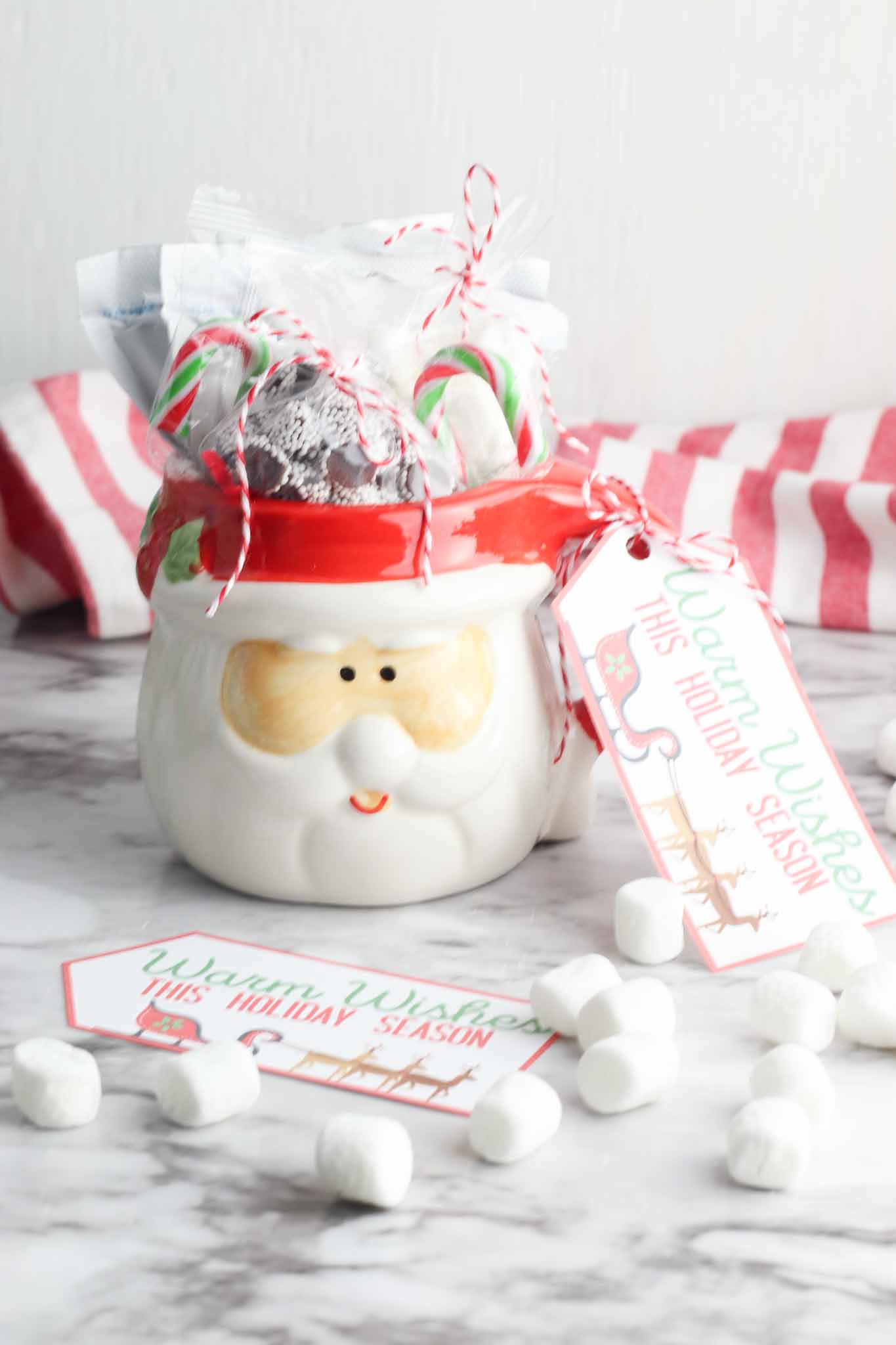 You can find everything you need to complete the Hot Chocolate Dollar Tree Mug Gift at the Dollar Tree store in your area.
Different Ways to Customize the Dollar Tree Mug Gift
Customize the Hot Chocolate Dollar Tree Mug Gift when giving these mugs to different people. You can choose different holiday-themed mugs for each person and then switch up the types of candies you will add inside the mug.
For example, you might want to put Snow Caps in one mug, cream cheese mints in one, and mini chocolate morsels in another.
You can use twine in different colors on each mug. You may want to use red twine on one mug, green on another, and a blend of both red and green on a third mug.
There are dozens of great ways to customize the Dollar Tree Mug Gift sets that you will give to people. These gift sets are great to give to teachers, tutors, and even close friends who put them to good use.
Download the Gift Tag PDF Here.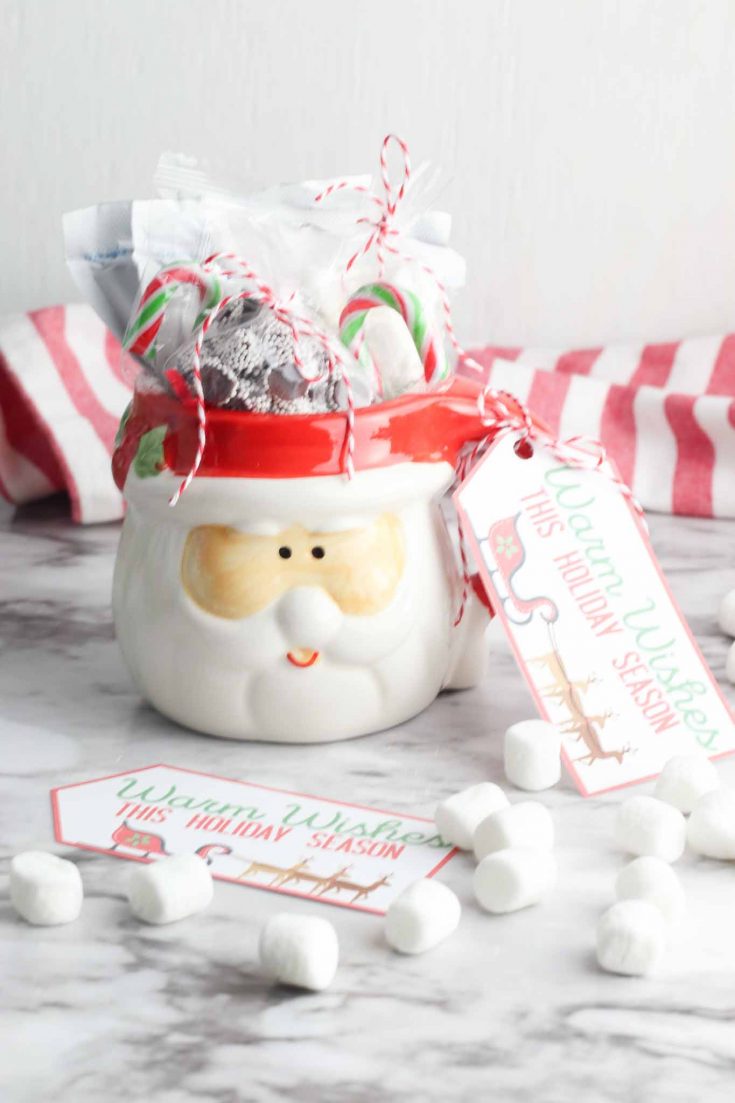 Yield: 1 mug
Easy DIY Dollar Tree Hot Chocolate Mug Gift - Instructions and Printable!
A fun DIY hot chocolate gift with all items purchased from the dollar tree!
Materials
Santa mug
Instant hot chocolate packets
Snow Caps
Mini marshmallows
Mini candy canes
Small plastic bags
Twine
Printable gift tags
Instructions
Fill one plastic bag with mini marshmallows. Tie the top closed with a piece of twine.
Fill another bag with Snow Caps. Tie the top closed with a piece of twine.
Place three packets of hot chocolate in the mug. Put the bags of marshmallows and Snow Caps in front of the hot chocolate
packets.
Add mini candy canes.
Print out the gift tags on card stock and cut out the tags around the outer border. Punch a hole in the end of the tag and tie it to the handle of the mug with twine.
Note: All items for this gift were purchased at Dollar Tree.
Hi! I'm Nellie. I am a busy mama of three, wife to my high school sweetheart who loves to cook, workout and stay organized! I love to share helpful printables, the best recipes and fitness tips for the modern mom. I strongly believe that every mom can feed their family well, take proper care of themselves and have fun along the way! Read my story.
Get comfortable and be sure to come hang out with me on social. Don't grab your free fitness journal before you go!