Are you planning a trip soon? This Day Trip Travel Itinerary is great for when you want to plan a day trip and keep everything together in one spot.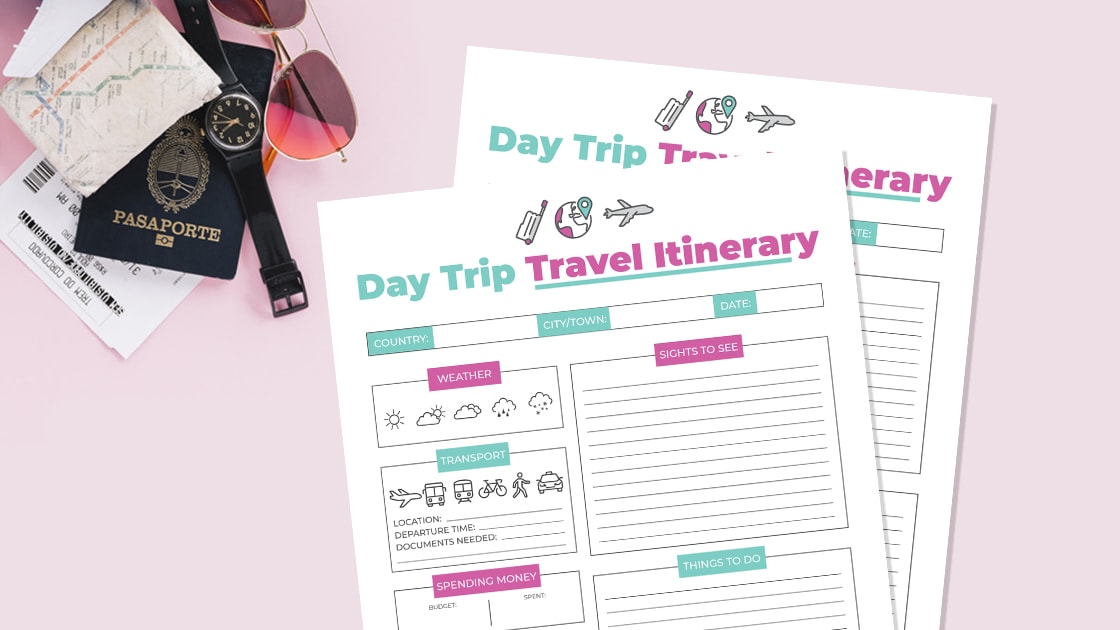 This itinerary can easily be printed out and folded up in your pocket. You can also take a picture to keep on your phone. If you take a lot of day trips, you can also keep this in a binder.
How Does a Day Trip Travel Itinerary Work?
Well, it can be a lot of work to make travel plans. And it can be a lot of information to store. Having everything in one place can be so helpful.
Weather – What is the weather supposed to be like? If it's going to be sunny, your day can look a whole lot different. There is a space on this itinerary to plan for the weather.
Transportation – How are you going to get there? What does that look like? This printable has a fun little spot to help you plan transportation.
Spending money – Sometimes, when you travel, you're on a budget. This itinerary has a spot to help you figure out how much money you want to spend.
Sights to See – Where are you going to visit? Put all of those places down, so you don't forget!
Things to do – Take the time to write down everything you want to do, so you don't miss out!
This is only part of what's on the Day Trip Travel Itinerary. You're going to have so much fun planning a day trip. Don't forget that you can make fun trips all in one day!
You don't need to have a lot of money and you can keep all of the details in one spot.
What is your favorite day trip that you've ever taken? I'd love to hear all about it! This itinerary also makes an excellent way to look back at all of the fun places you've traveled to as well.
Click here to download your free Day Trip Trip Travel Itinerary!
If you liked this day trip travel itinerary be sure to check out these posts:
Basic Tips For Planning The Day + A Free Printable Daily Planner
Free Productivity Planner Printable Download + 14 Day Challenge
20 Places to Travel in Your 30s – Best Cities To Visit In USA