Whether you are a first time mom or an old school mom, bathing a baby can be intimidating. Here are some easy tips for bathing babies plus some baby bath essentials!
Bathing methods, accessories and safety measures change as infants grow through developmental milestones into young children.
The highest anxiety when it comes to bathing tends to revolve around the first few weeks after birth, when both parents and babies are new to the experience.
Despite myriad infant bath products and advice on the internet, one bathing essential prevails: constant parental supervision.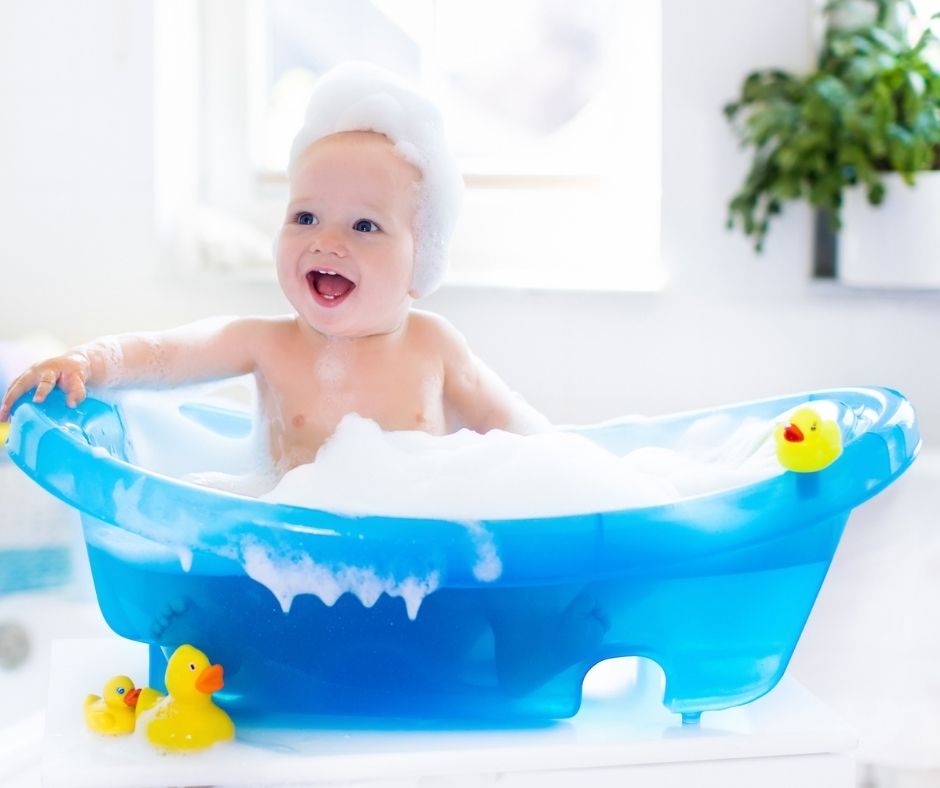 The Early Months
It is best to avoid bathing newborns in tubs until their umbilical cord stumps have dried up, fallen off and their skin has healed. Bathing babies gently using damp sponges or cloths helps to ward off infection.
Gently swab the umbilical cord stump with clean, warm water and call the doctor if signs of infection appear. Use of rubbing alcohol is controversial, although some physicians recommend it.
Diaper areas, hands and faces of newborns should be kept clean to maintain good hygiene.
Babies in the pre-crawling stages do not need baths every day; too many baths can dry out their skin.
Baby Bath Essentials
Drowning can happen suddenly and in as little as one inch of water. It is vitally important to supervise young children at all times during bathing. Avoid distractions by silencing the phone and ignoring the doorbell.
Here is a short list of infant bathing essentials:
Clean washcloth or sponge
Pitcher of warm water (kept within arm's reach)
Towel and fresh diapers
Diaper rash cream
Mild baby soap
Keep babies' heads well-supported and elevated during bathing. Use soaps and shampoos sparingly to avoid skin irritations and possible urinary tract infections.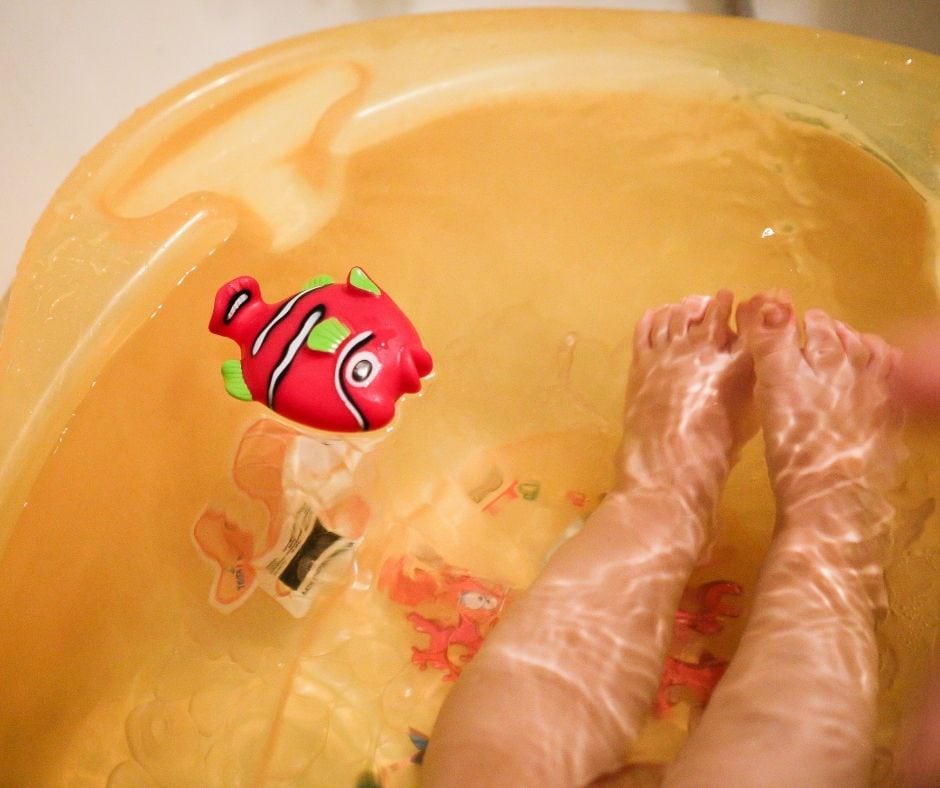 To prevent falls, be extremely careful when handling a soapy infant. A soapy baby is a slippery baby.
A baby's skin is up to 15 times thinner than an adult's. A safe water temperature range for bathing is between 32° C (90° F) and 38° C (100° F).
Before placing a child in the bathtub, test the water using an elbow and swirl it around to eliminate hot spots.
3 Important Things To Remember When Handling Newborn Skin
Beware of Bath Seats
Baby bath rings or seats are bathing accessories, not replacements for supervision. Most tragedies involved unattended babies tipping over the seats or slipping through leg openings and becoming trapped under water.
Standards mandate improved seat stability, tighter leg openings and labelling warning that baby bath seats are not safety devices.
There are many baby bath products on the market that offer convenience; but parents on a budget can get by with the basics until babies are strong enough to sit up by themselves and start bathing in family bathtubs.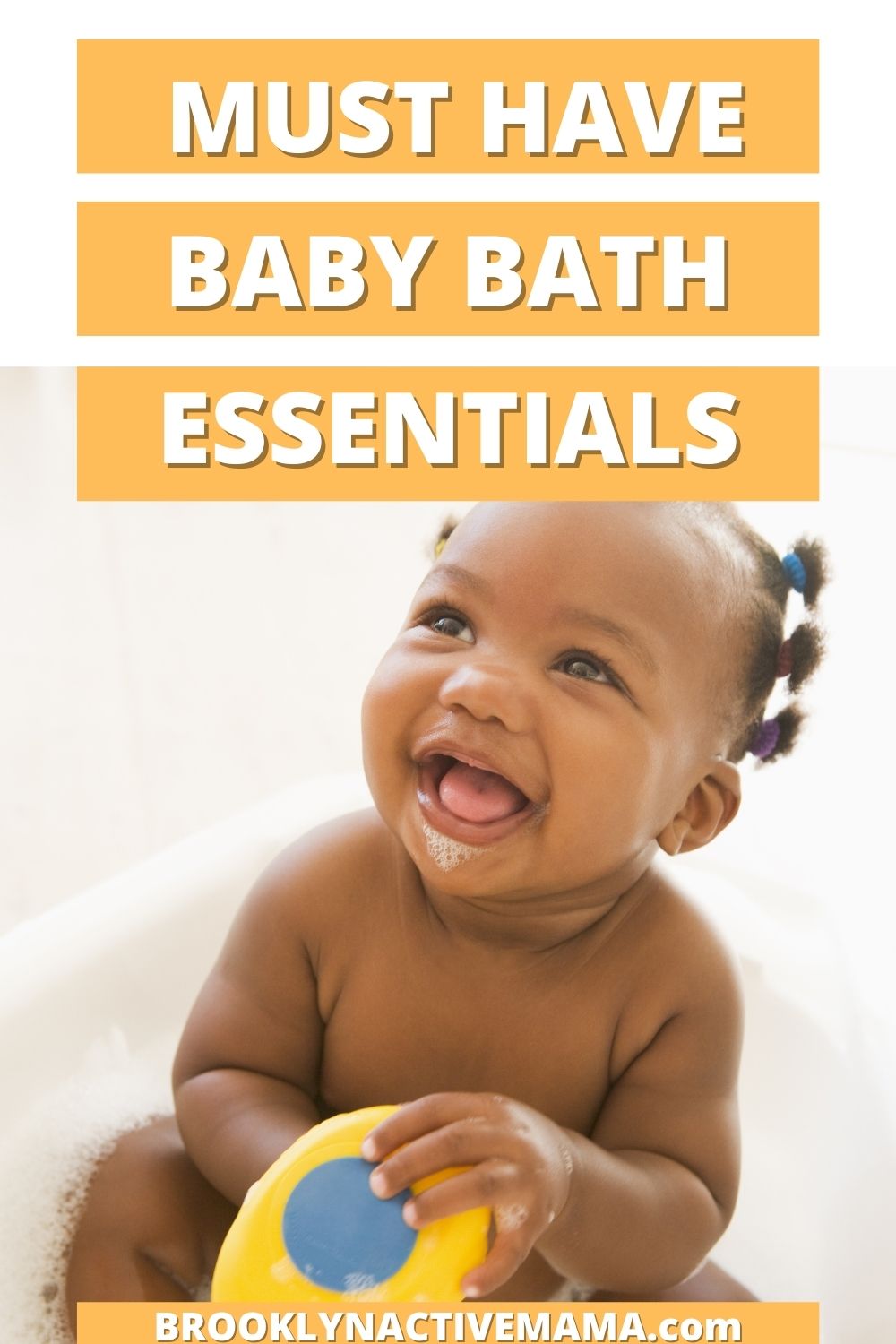 If you liked this article about Baby Bath Essentials be sure to check out:
5 Simple Ways to Save Money on the New Baby
Easy Tips For Dressing A Baby In The Cold
Free Printable Baby Journal and Monthly Tracker
Baby Led Weaning – What Exactly Is It and Should I Try It?
Birth Plan and Hospital Bag Checklist – Free Printable
Hi! I'm Nellie. I am a busy mama of three, wife to my high school sweetheart who loves to cook, workout and stay organized! I love to share helpful printables, the best recipes and fitness tips for the modern mom. I strongly believe that every mom can feed their family well, take proper care of themselves and have fun along the way! Read my story.
Get comfortable and be sure to come hang out with me on social. Don't grab your free fitness journal before you go!