These chocolate brownie pistachio cookies are AMAZING! So full of flavor so perfectly textured! Everyone will love these tasty treats!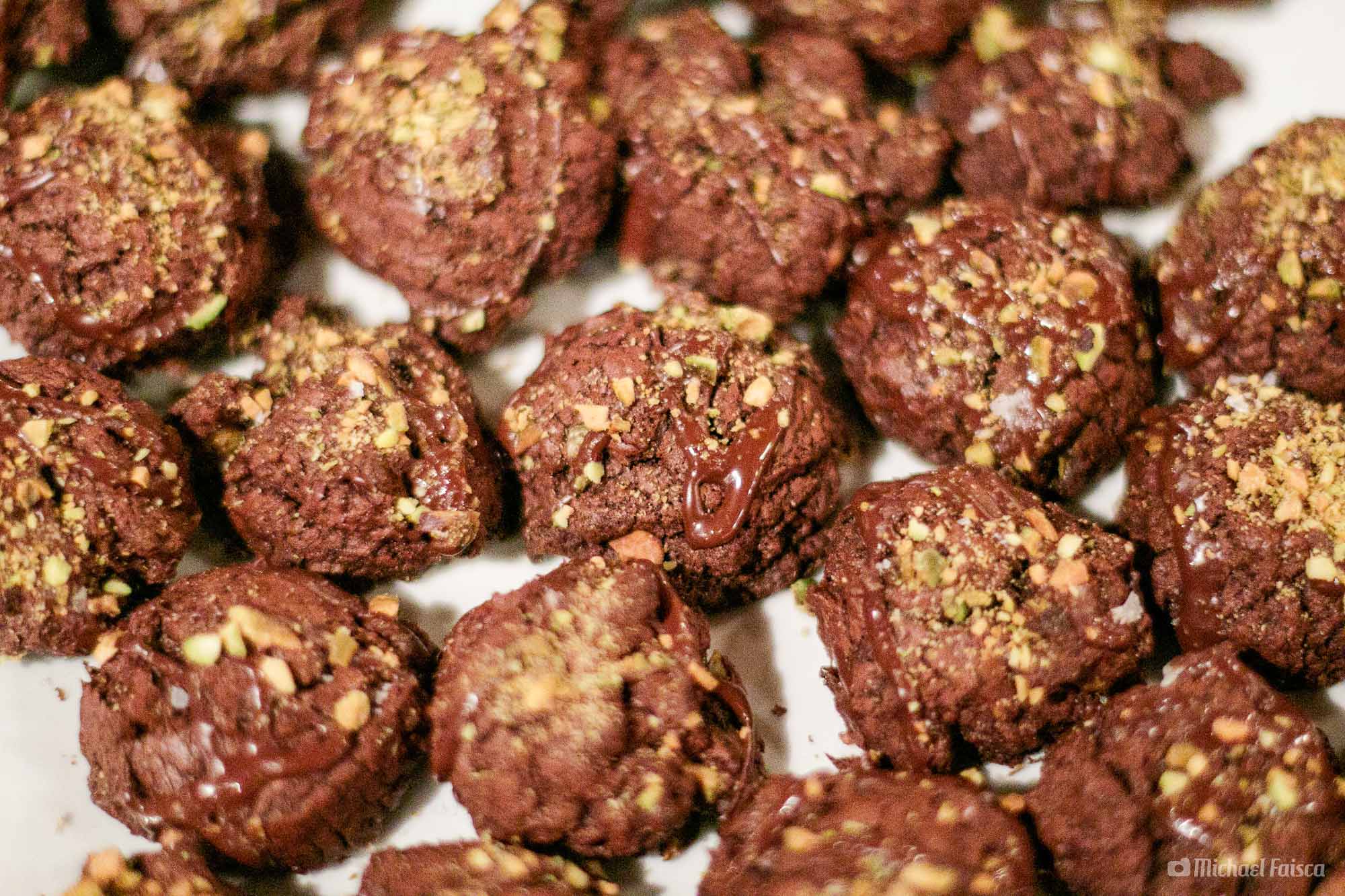 This is going to sound weird but it won't if you have been rocking with me on the blog for a while. I have the weirdest, pickiest food habits. I'll give you a few examples of what I mean:
Things that I have learned to love in the past two years: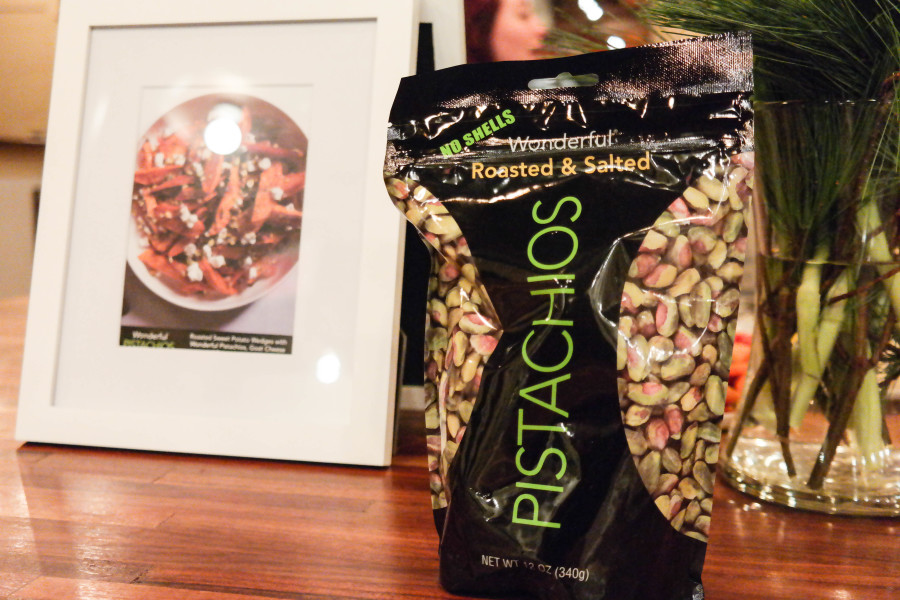 I've got one more very important item to add to that list: Pistachios!!
The amazing ladies of Momtrends invited me to a cooking party to try some of the amazing ways pistachios could be prepared in everyday meals.
Quite honestly they had me at cooking party
.
This wasn't my first trip to My Cooking Party so I was fully aware of all the fun that was about to be had.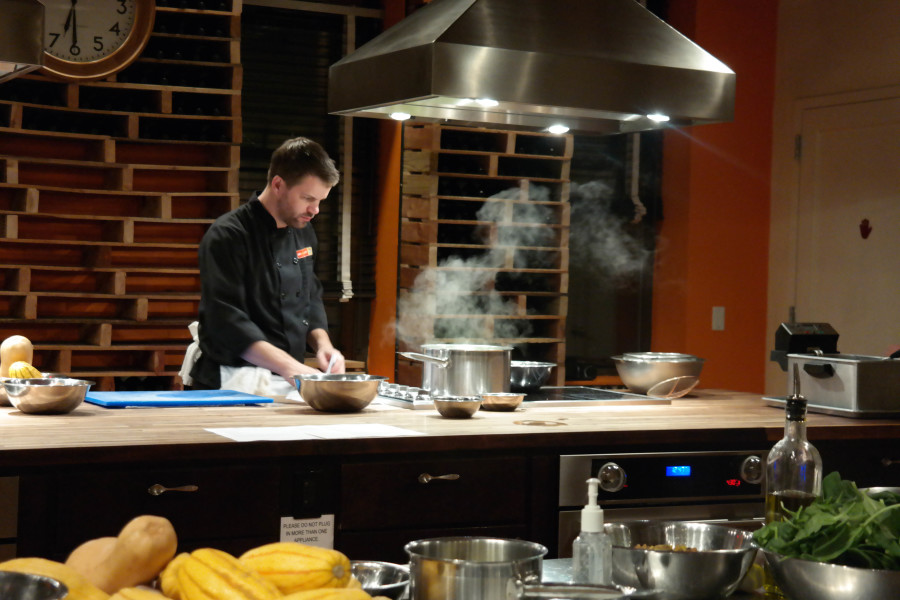 We got a quick knife lesson (much needed–those knives were ginormous!) and we were off to work. I knew I wanted to cook something in the dessert arena because I am a baker before anything else. Baking is one of my most natural forms of existing. (Remember those seven months of obsessive baking I did when my second child was born?!)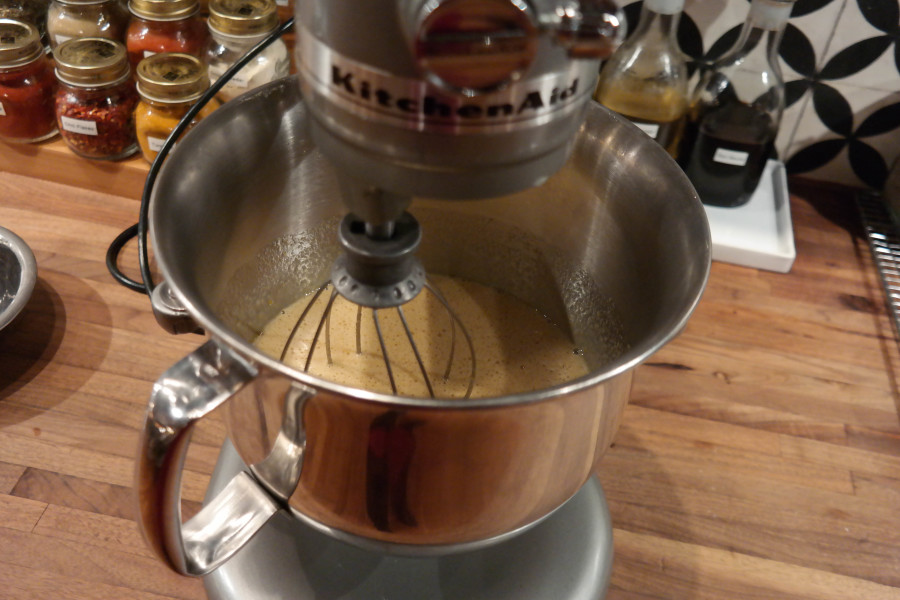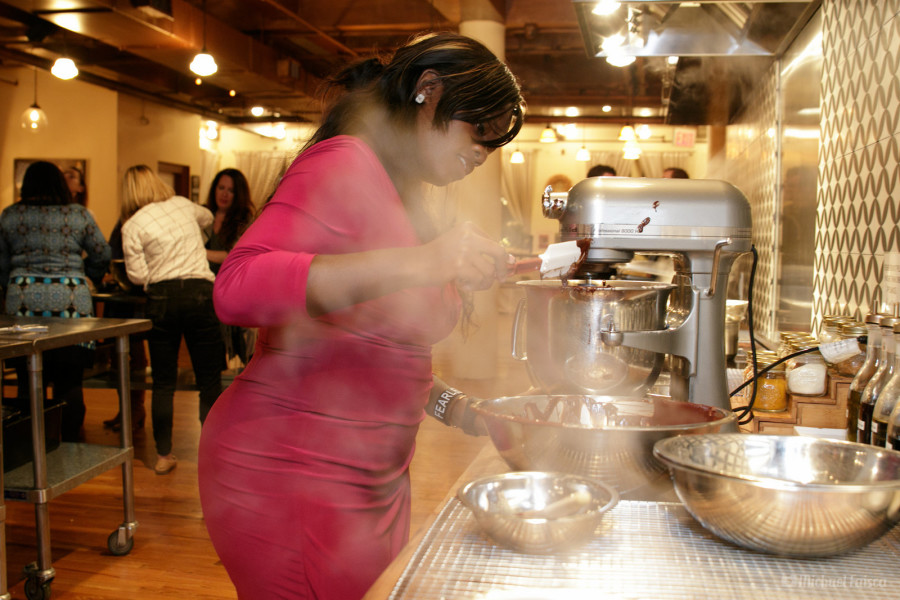 Our mission was to bake
Chocolate Brownie Pistachio Cookies
. All of the ingredients were prepared so I didn't have to do much but mix and scoop on the baking plate. Easy and
oh so therapeutic
.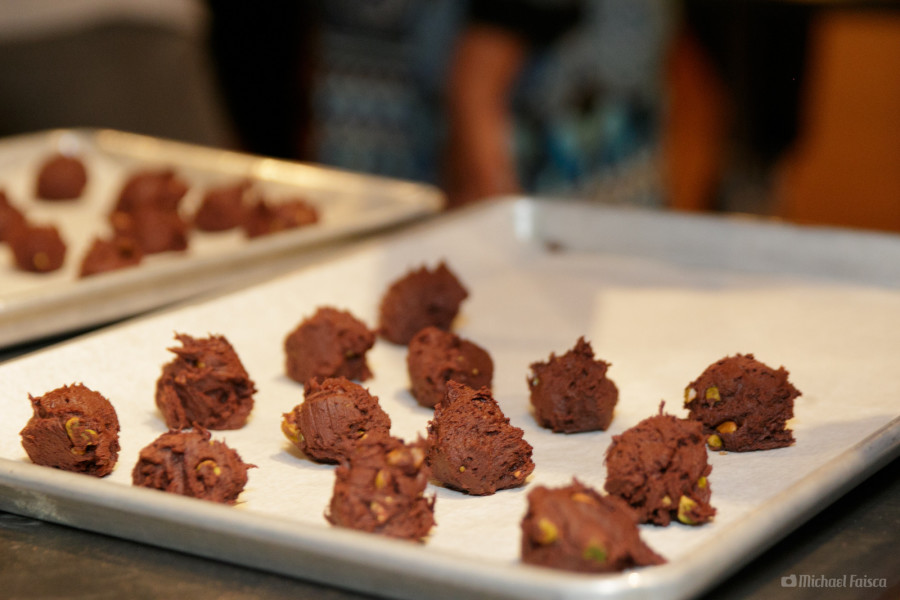 Then we got to sit down and enjoy the six other dishes that were prepared by the rest of the bloggers. It was so great because we all got to say something that we were thankful for and the most common theme was that we were all thankful for our blogger family. <3
So let's talk about the food shall we? There was amazing butternut squash, the juiciest tastiest turkey I've ever had, salad, a popcorn treat and so much more! Each dish used pistachios and they were the perfect most natural ingredient. The pistachios were also perfect on my cookies!!
So here is the recipe for Chocolate Brownie Pistachio Cookies: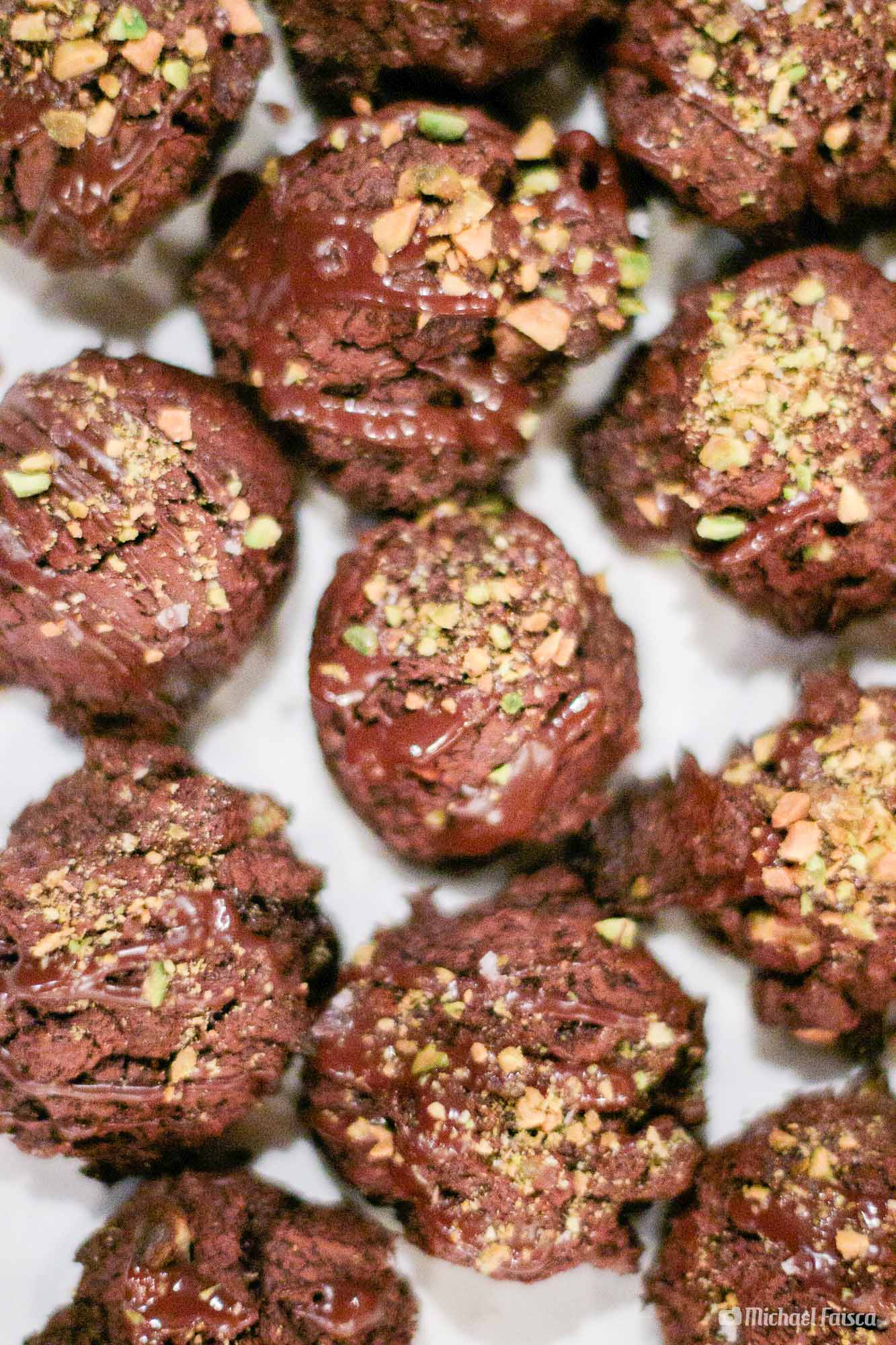 Yield:

40 cookies
A Chocolate Brownie Pistachio Cookie Recipe!
These chocolate brownie pistachio cookies are AMAZING! So full of flavor so perfectly textured! Everyone will love these!
Ingredients
⅓ cup all-purpose flour
2 tablespoons cocoa powder
½ teaspoon baking powder
¼ teaspoon salt
16 ounces chopped dark chocolate (about 2¾ cups)
¼ cup unsalted butter (4 tablespoons)
3 eggs, plus 1 egg yolk
¾ cup light brown sugar
½ cup granulated sugar
2 cups, shelled Wonderful Pistachios Roasted & Salted, roughly chopped
3 ounces bittersweet chocolate, chopped (about ⅓ cup)
2 teaspoons flaked sea salt
Instructions
Heat oven to 350°F and line two baking sheets with parchment paper.
Whisk together flour, cocoa powder, baking powder and salt; set aside.
Place chocolate and butter in a microwave-safe bowl and heat in the microwave until just hot and butter is melted, 1 to 2 minutes. Remove bowl from heat and stir mixture, until completely melted; set aside to cool.
Beat eggs and both sugars in an electric mixer, with the whisk attachment, at medium speed, about 5 minutes, until thickened and light. Pour cooled chocolate mixture in two batches, mixing after each addition. Add flour mixture and mix until just combined. Stir in 1½ cups Wonderful Pistachios by hand.
Drop heaping tablespoons of dough, about 2 inches apart, onto baking sheets. Bake about 10 minutes, alternating pans half-way through, until cookies are puffed and cracked on top. Remove to wire rack to cool completely. Repeat with remaining batter.
Meanwhile, chop remaining Wonderful Pistachios finely. Melt bittersweet chocolate. Place wire rack with cookies on baking sheet. Drizzle chocolate over cookies and sprinkle with remaining finely chopped Wonderful Pistachios and flaked sea salt.
And because I care about you even more I will share the incredible Pistachios, Peach and Barley Salad Recipe!
Wonderful Pistachios, Peach and Barley Salad
A fresh summer salad with the crunch of Wonderful Pistachios and delicious peaches.
Prep: 15 minutes / Time to Table: 1 hour a 5 minutes / Serves: 4
⅔ cup pearled barley

1 tablespoon chopped flat-leaf parsley

2 cups trimmed green beans

¼ cup pistachio oil, or olive oil

2 tablespoons fresh lemon juice

1 teaspoon balsamic vinegar

¼ teaspoon salt

¼ teaspoon black pepper

3 cups baby arugula
2 ripe peaches, sliced ¼-inch thick
⅓ cup crumbled ricotta salata
⅓ cup shelled Wonderful Pistachios Roasted & Salted, roughly chopped
Bring 2 cups water to a boil in a medium saucepan. Stir in barley, reduce to a simmer, and cover. Cook about 45 minutes, until barley is tender and water is absorbed. Remove from heat, and set aside 10 minutes. Add parsley, fluff barley with a fork and set aside.

Meanwhile, bring water to a boil in another saucepan; boil string beans about 5 minutes, until crisp and tender. Blanch in ice water and set aside.

In a large bowl, whisk pistachio oil, lemon juice, salt and pepper; toss with arugula, string beans, and half the sliced peaches.

Place greens mixture on individual plates. Top with a scoop of barley, remaining peaches, ricotta salata and pistachios. Season with additional salt and pepper if desired.
Have you ever used pistachios in such fun ways? Have you ever been to a cooking party?
Hi! I'm Nellie. I am a busy mama of three, wife to my high school sweetheart who loves to cook, workout and stay organized! I love to share helpful printables, the best recipes and fitness tips for the modern mom. I strongly believe that every mom can feed their family well, take proper care of themselves and have fun along the way! Read my story.
Get comfortable and be sure to come hang out with me on social. Don't grab your free fitness journal before you go!