Ever since the kids saw the trailer to the STORKS movie they have been asking me non stop when it is coming into theaters. To be honest, I've been looking forward to the movie too!
Today I am sharing some fun printable coloring page from the STORKS movie for the kids to enjoy!
Storks deliver babies…or at least they used to. Now they deliver packages for a global internet retail giant. Junior (Andy Samberg), the company's top delivery stork, is about to be promoted when he accidentally activates the Baby Making Machine, producing an adorable and wholly unauthorized baby girl.
Desperate to deliver this bundle of trouble before the boss gets wise, Junior and his friend Tulip, the only human on Stork Mountain, race to make their first-ever baby drop – in a wild and revealing journey that could make more than one family whole and restore the storks' true mission in the world.
The animated adventure "Storks" stars Andy Samberg ("Cloudy with a Chance of Meatballs," "Hotel Transylvania"), Kelsey Grammer ("Toy Story 2," "The Simpsons"), Katie Crown (Cartoon Network's "Clarence"), Keegan-Michael Key, Jordan Peele (Comedy Central's "Key & Peele"), and Danny Trejo ("The Book of Life").
The film is directed by Nicholas Stoller ("Neighbors," BAFTA nominee for "Muppets Most Wanted"), and Doug Sweetland (supervising animator on "Cars," Oscar-nominated director of the animated short "Presto").
Stoller also wrote the "Storks" screenplay, and serves as a producer along with Brad Lewis ("Ratatouille"). The executive producers are Phil Lord, Christopher Miller, Glenn Ficarra, John Requa and Jared Stern.
A Warner Bros. Pictures presentation, "Storks" is slated for release in 2D, and in 3D in select theaters, on September 23, 2016.
Check out the Storks Printable Coloring Pages!
(Feel free to right click, save and print!)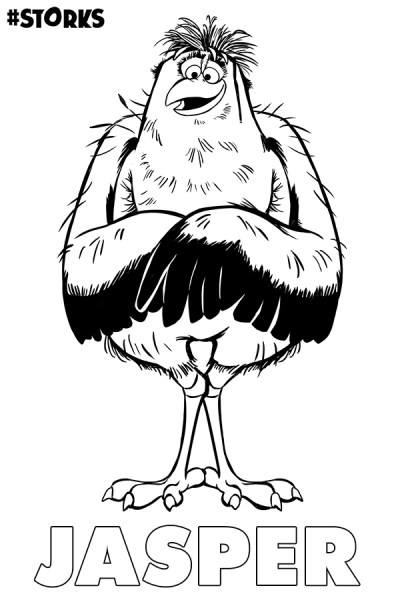 In addition to these awesome printables, I am hosting a FLASH GIVEAWAY! I am giving away 5 pairs of tickets to STORKS in the following markets NYC, LA, Chicago, & Dallas:
The giveaway closes TOMORROW so be sure to enter if you are in any of the major areas!
Are you going to see the STORKS movie? Do your kids love printables as much as mine do?