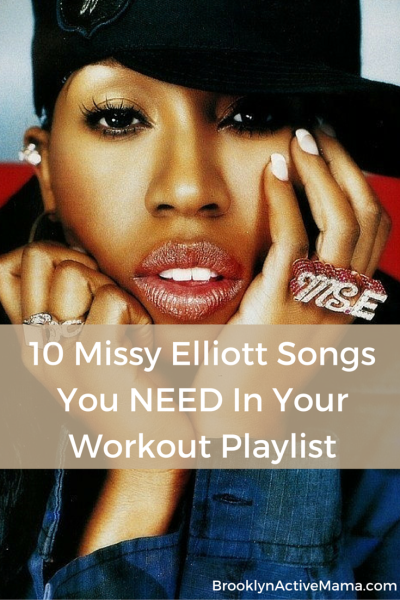 Trying to figure out how to make your workout playlists pop? Today I've got 10 Amazing Missy Elliott Songs you must have on your workout playlist!
Working out with music is an absolute necessity. If I know I'm having a low energy day I think about what playlist I can make to make this workout a bit more bearable. My music selections usually depend on what would make me dance at a party–if I'm lifting it would be what kind of rap makes me bop my head the hardest, or somedays it's a combination of the two.
There is one artist that I realize keeps popping up on pretty much all my playlists. The amazing, untouchable Missy Elliott. Although she has a catalog that is amazing and way more than just these 10 songs, these are my favorite for workouts.
When I first saw the "I can't stand the rain" video of Missy in a garbage bag, I was completely blown away. I remember even as a kid, just being so enthralled with the video because it was SO DIFFERENT. The sound was different, the visuals were brand new and honestly at that moment Missy changed the game.
Since that debut album (which I know every word of by the way), she has released so many hits and club bangers! Somehow whenever I hear "Lose Control", I want to do just that on the dance floor! She is such an icon when it comes to great beats and it makes for a fantastic Missy Elliott workout playlist.
10 Missy Elliott Songs You Need In Your Workout Playlist
(In no particular order)
Hot Boyz
Lose Control
https://youtu.be/XLx3MJBY1Tg
One Minute Man (feat: Ludacris)
Get Ur Freak On (remix)
https://youtu.be/anrAcQG_4fs
Gossip Folks
Work It
WTF (Where They From?)
Pep Rally
https://www.youtube.com/watch?v=wVS-U7gFi4E&list=RDwVS-U7gFi4E
Sock It Me
All In My Grill
Which songs did I miss? Do you have any of these songs on your playlist?! Who is the next artist you want to spotlight?
Hi! I'm Nellie. I am a busy mama of three, wife to my high school sweetheart who loves to cook, workout and stay organized! I love to share helpful printables, the best recipes and fitness tips for the modern mom. I strongly believe that every mom can feed their family well, take proper care of themselves and have fun along the way! Read my story.
Get comfortable and be sure to come hang out with me on social. Don't grab your free fitness journal before you go!