10 Awesome Free Full Length Workout Classes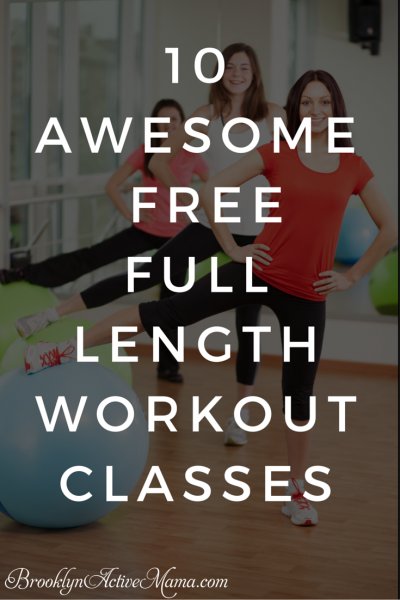 When it comes to fitness resources–the Internet wins!
There are so many great fitness resources available from short workouts to long more intensive classes. Gone is the need for a DVD player and multiple workout DVDs because you can get the same group exercise experience wherever you are in the world all you need is wifi or a really good signal!
These high energy youtube videos are great for working out at home or even when you travel. It's a great resource for strength training and cardio exercises. Fantastic motivation for losing weight on your own! There have been many days when I have had such a hard time getting to the gym. The best part is now there are so many smart TVs you can workout on the big screen with no issues.
There are plenty of fitness channels on YouTube these days and it's really about finding what you like. The majority of the workouts don't require any equipment but if you have things such as kettlebells and dumbbells at home you can certainly find videos for that as well. From boxing to pilates the world is yours when it comes to youtube but here are 10 free full length workout classes that are my absolute favorite!
Taking free workout classes on YouTube offers a myriad of benefits to individuals of all fitness levels. Here's an overview of the advantages:
Cost-Effective: As the name suggests, they're free! This can significantly reduce the financial barrier for many individuals who can't afford gym memberships, personal trainers, or paid online fitness subscriptions.
Variety: YouTube hosts a plethora of workout videos catering to various fitness levels, goals, and styles, ranging from HIIT, pilates, yoga, strength training, dance workouts, and more. This ensures you never get bored and can switch up routines frequently.
Flexible Schedule: With YouTube, you can exercise on your own time. There's no need to adjust your schedule to fit a particular class time; the workouts are available 24/7.
Space-Efficient: Many YouTube workouts are designed for home environments and often require minimal or no equipment, making them ideal for people with limited space.
Instant Feedback: The comment sections of these videos often contain valuable insights from other users, offering modifications, reviews, and feedback that can help you get the most out of the workout.
Self-Paced: You have the freedom to pause, rewind, or fast-forward videos, allowing you to learn exercises at your own pace or spend more time on areas you find challenging.
Regular Updates: Popular fitness YouTubers regularly upload new content, ensuring that you have access to fresh workouts and the latest fitness trends.
Expertise: Many fitness instructors on YouTube are certified professionals who provide expert advice and guidance, similar to what you'd receive in a gym setting.
Community: Even though you're working out at home, the YouTube fitness community can be very supportive. Engaging with content creators and fellow subscribers can provide motivation, camaraderie, and a sense of belonging.
Adaptability: Many YouTubers provide variations for different fitness levels within a single workout. Whether you're a beginner, intermediate, or advanced, you can find modifications that suit your abilities.
Safety: Especially in uncertain times, like during a pandemic, working out at home can be a safer option than visiting crowded gyms or fitness centers.
Discovery: You can often discover niche or specialized workouts that might not be available in your local gym, such as specific types of yoga, dance forms from different cultures, or even workouts designed for specific health conditions.
Consistency: Having instant access to a vast array of workouts can make it easier to maintain a consistent fitness routine, as the barriers to entry (like travel time to a gym) are reduced.
Check out these 10 free youtube workout classes:
37 Minute Fitness Blender Cardio Workout at Home
30 Minute Bootcamp Workout
40 Minute Beginner Strength Training Workout
Weight Loss Yoga – Total Body Workout
One Hour HIIT, Cardio & Abs Workout
25 Minute Interval Cardio Workout
Cardio Kickboxing Workout
45 Minute Vinyasa Yoga Class
30 Minute Stretching Exercises
30 Minute Cardio From CafeMom Studios
[Tweet "Here are TEN Free Full #Workouts that can be done anywhere! #fitness #exercise #fitfam"]
What is your favorite way to workout on the go? Do you use YouTube for workouts?
Hi! I'm Nellie. I am a busy mama of three, wife to my high school sweetheart who loves to cook, workout and stay organized! I love to share helpful printables, the best recipes and fitness tips for the modern mom. I strongly believe that every mom can feed their family well, take proper care of themselves and have fun along the way! Read my story.
Get comfortable and be sure to come hang out with me on social. Don't grab your free fitness journal before you go!