This following is a sponsored post on behalf of Jazwares Toys.
For the past two years, my toddler has been completely obsessed with everything CoComelon! Today, I am sharing about Two Must-Have Christmas CoComelon Toys For Toddlers!
CoComelon Christmas Gifts
CoComelon is a popular preschool cartoon that features plenty of nursery rhymes and original songs.
When it comes to shopping for gifts for the toddler, we generally stick with toys from her beloved TV shows. This year, CoComelon is absolutely at the top of her list so we have been checking out some fun CoComelon toys from the line! These are absolutely going to be some of the most popular toys of this upcoming holiday season.
What makes these Christmas CoComelon toys extra special?
These are Amazon-exclusive toys!
We shopped at Amazon for exclusive versions of the toys but you can also find CoComelon toys at Walmart and Target.
The doctor bag is the highlight of this Boo Boo JJ toy because it includes a doctor bag, thermometer, stethoscope, and syringe!
The Plush doll comes with sticky bandages that you can stick anywhere on JJ or on Mommy (ask me how I know), and the familiar sounds and songs are great too.
This Clubhouse Playset on Amazon is different because it comes with all of JJ's friends! This playset has 6 character figures (JJ, Nico, Cody, Cece, Bella, and Nina)- the mainline version at Target and Walmart only includes 3 figures. You want all six! Trust me! There is something for each figurine to do!
Deluxe Boo Boo JJ

Here are some of the fun features of this cute toy:
The CoComelon Boo Boo JJ Plush lights up where he is hurt, so your little one will know exactly where to treat with the included bandages. The areas that light up are his head, elbow, knee or foot.
The Bandage Case has three CoComelon-themed bandages, they stick on to JJ but they can stick on to YOU too if you happen to be the patient the toddler is treating.
JJ will let you know when he's in pain, and will let you know when he is all better too!. My daughter loves it when she applies the bandage and JJ will giggle or go "Wee" and say "Yay! My boo boo is gone!" which let's her know she has done a good job.
"The Boo Boo Song" even plays when you press down on JJ's belly. My daughter knew the song already, and thanks to how much she has pressed it, I ALSO now know that song too!
My daughter was super excited to open this one up as she has several play doctor toys already in her collection. She was especially excited about the bandage case! JJ is the star of the hit children's series CoComelon so he is instantly loved. The plush has an ultra-soft feel and the Bandage Case is great for developing fine motor skills.
What I like about Boo Boo JJ
It's super portable. You can pack up the JJ Plush, and the Bandage case and put it in a child's bookbag for easy carrying – perfect size for travel.
The phrases and songs are easily recognizable from the show.
The plush teaches gentle care skills and compassion.
Deluxe Boo Boo JJ will keep your toddler busy for a long time between the lights and fun sounds, doctor check-up set, and bandages.
CoComelon Deluxe Clubhouse Playset

When my toddler saw this one, she went nuts (as you can see) because she had been asking for this playset in particular for a long time! Before I get into all of the reasons why she has abandoned all other toys for this one, check out its awesome features:
Plenty of things to do: The fun is endless because of the awesome figurines, JJ is the star but the friends are super fun too! My favorite thing is that the characters are super diverse.
Keep them Busy: My daughter's favorite part is the slide (she loves the slide at the park too so that's no surprise), the playmates can enter the secret tunnel, take a basket ride, go on the seesaw, and so much more!
Interactive Clubhouse: While you are playing with your little one, JJ says phrases like 'Let's Play!' and 'This is so fun!'
SING ALONG: Our favorite CoComelon songs are ' Looby Loo ' & 'If You're Happy and You Know It Song' so those tunes are fun to sing along to with your kids.
There will be a little bit of assembly with this Clubhouse. It was super easy plus I love the fact that it doesn't take up much space!
CoComelon Characters In The Clubhouse Set
This Clubhouse comes with mini figurines of JJ and his friends Nico, Cece, Bella, Nina, and Cody. These little toys are perfect for small hands.
There is plenty for them to do including go down the two-story slide, play on the seesaw (which is detached from the clubhouse itself) hang out on a tire swing, check out what's happening in the fridge, hang in a basket elevator, check out the super-secret tunnel and so many more activities.
We had the most fun with the character figurines! They are interchangeable with every activity so we had a blast taking each figurine for its own customized experience in the Clubhouse. My toddler's favorite activity to do with me is to see who can slide JJ down the fastest.
She also loves to wind up the basket with each figurine as fast as she can! Side note: You can also fit one character inside of the fridge, it closes and everything! When I asked my daughter what JJ was doing in the refrigerator, she said he was eating–duh.
My daughter is about to be four and she is highly engaged with the clubhouse. She plays with every single detail and she takes her time with every feature.
There are fun add-ons like the 3 little birds that pop up and down at the top of the Clubhouse and the semi-hidden door that the figures fit perfectly in one by one. There is also a ledge to set up all six figurines at the same time to hang out together. There is also an interactive easel that is also a fun activity.
What I like about the CoComelon Clubhouse
The bright colors and diversity of the figures
There is always something new and fun to do every time we play
The figures bend at the waist to fit into the seesaw, tire, swing and slide
The sing a long is pretty fun to do when you are doing the activities with the characters
This Clubhouse Playset plays your favorite songs and has plenty of fun features – different play zones, awesome activities, and the whimsical design make this playset a great option for gift-giving!
The Boo Boo JJ Doll and the Deluxe Clubhouse Playset both feature kids' favorite pal JJ and action-packed features. If you are like me and love to get an early jump on Christmas shopping (because the most popular kids' toys sell out so quickly) – grab these quick and fast!
Pin it for later!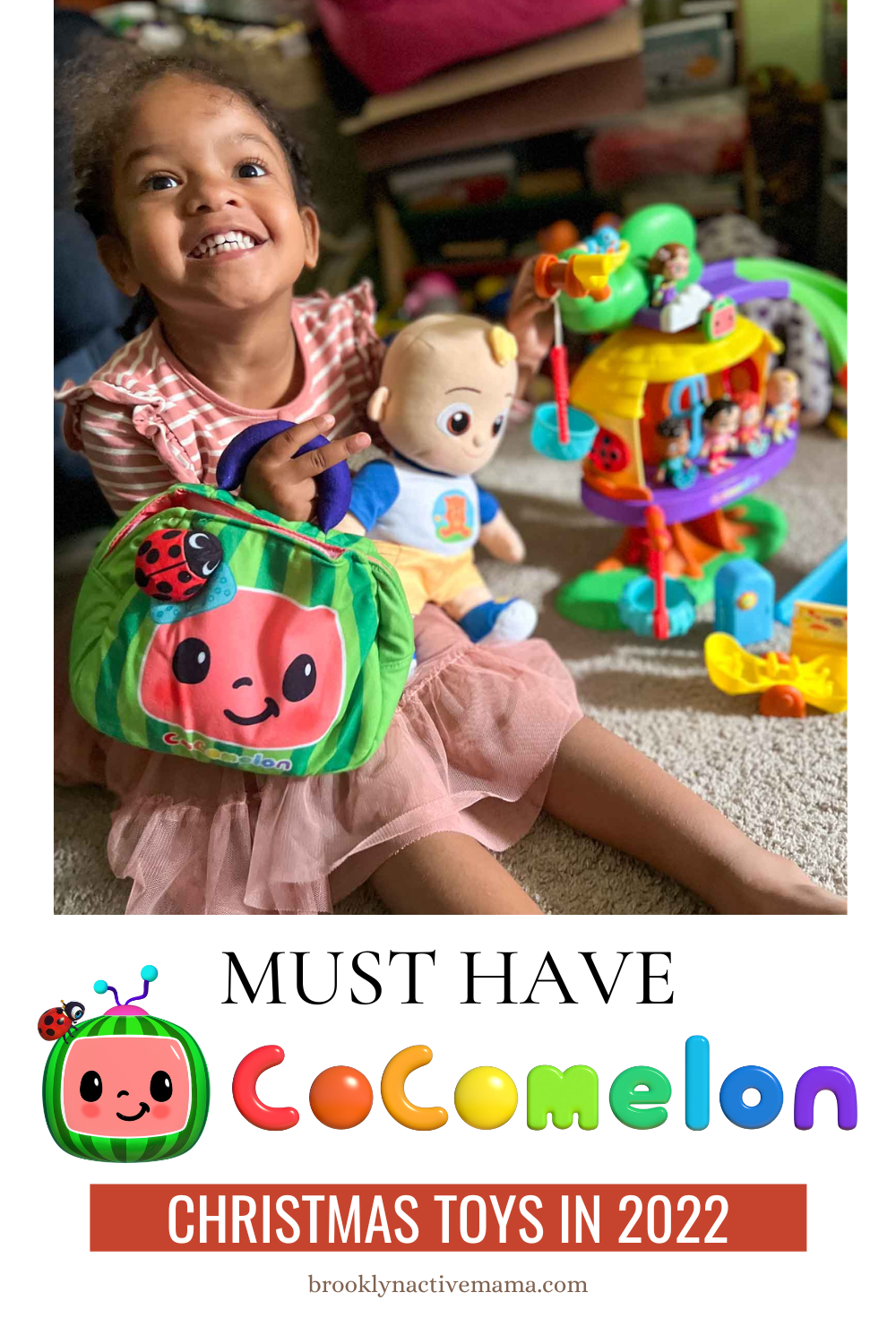 If you enjoyed this recipe be sure to check out my Instagram Page for the latest posts!
Hi! I'm Nellie. I am a busy mama of three, wife to my high school sweetheart who loves to cook, workout and stay organized! I love to share helpful printables, the best recipes and fitness tips for the modern mom. I strongly believe that every mom can feed their family well, take proper care of themselves and have fun along the way! Read my story.
Get comfortable and be sure to come hang out with me on social. Don't grab your free fitness journal before you go!