Strawberry Basil Lemonade Recipe + How To Fight Summer Boredom
Summertime is such a great season to experiment with refreshing drinks, the most perfect fruit is in season and it's so perfect when you can cool off with a delicious treat! Today I'm sharing with you a fun Strawberry Basil Lemonade recipe plus some easy tips on how to fight summer boredom!
How To Fight Summer Boredom
Complaining about school is something that we all listen to during the school year. Once summer vacation hits, those boredom blues are soon to follow. Kids are getting constant stimulation at school. Their bodies stay active during P.E. and recess. Their minds stay focused during classroom work. Children thrive from the structure that attending school brings into their lives.
The three (for some of us TWO) month summer break disrupts that structure and they quickly realize that they miss their busy days at school. Finding things for kids to do during the summer is important to their minds and bodies, and also to the sanity of their parents.
Put the Internet to Educational Use
The internet has tons of educational websites and games for all ages of children. Set aside a specific amount of time every day or a few times a week for children to play on the computer. But make up some ground rules that specify which sites they can access and how long they can be on the computer.
Give special treats after they finish a session if they can tell mom or dad something new that they learned. This keeps their mind working and helps them to retain the information they learned during the school year. It is a great way to keep them prepped for the upcoming school year.
Plan Trips to the Local Library
There are some benefits that computers and smart phones cannot provide. A trip to the public library not only gets children out of the house, but they will be in their comfort zone, surrounded by books.
Most libraries offer free summer programs that meet once or twice a week. Kids can participate in fun activities and check out books for reading at home, just like they did in school. Don't forget you can participate too by getting some new books to read for yourself!
Check out this Summer Reading List For 3rd Graders!
Sign Up for Various Organized Sports
When those permission slips come home from school in the springtime, take a closer look. Many sports, like baseball, take place during the first part of the summer. Schedules may have to be reworked, but organized sports give kids interaction with their peers again, as well as physical activity.
Sports are a great way to bolster confidence and teach good sportsmanship. If the schools do not offer summer sports, contact the local Y.M.C.A. and find out what sports they have lined up for the summer. It's a great way for kids to also improve their social skills by meeting new kids that may not be in their grade or class.
Arrange Activity Days With Other Parents
Talk to other parents and set up a schedule for activity days. Take turns having a small group of children in each other's homes for a few hours once a week. Plan activities that the kids will enjoy, such as arts and crafts, a reading circle, and board games.
Don't forget a quick and easy lunch, like PB&J or grilled cheese sandwiches. This is a good way for kids to keep in touch over the summer and for parents to get a time to themselves. Plus it is super nice to talk to other adults during the day!
Buy a Swimming Pool
Parents do not have to break the bank in order to provide a little water playtime for their kids. Swimming beats the heat and gives kids much needed physical activity. Department stores have plenty of above ground swimming pools.
Sizes and prices vary, but there are pools for every budget. The swimming pools can be taken down and stored when summer is over. This is an investment that will pay off for many summers to come.
Beat the Summer Vacation Boredom Blues
Children do not have to spend their summer break complaining about boredom. Just give them plenty of activities to keep them busy. The internet and the library stimulate their minds and keep them prepared for the new school year. Sports, activity days and swimming give them physical activity and peer interaction. These are easy and affordable ways to break up the monotony of summer vacation.
Easy Strawberry Basil Lemonade Recipe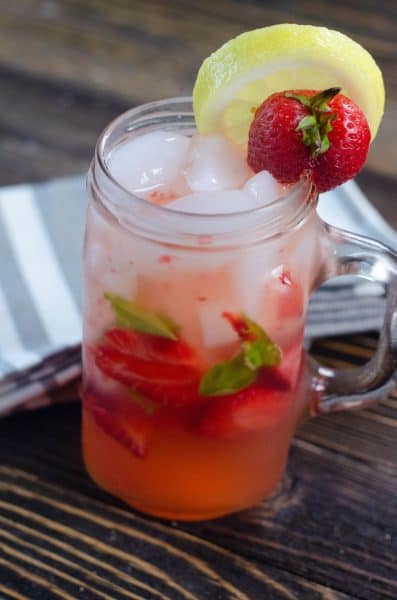 I love all kinds of lemonade, to be honest it's my FAVORITE drink year round! I like to mix things up with lemonades because–why not?
This strawberry basil lemonade recipe is super simple and delicious. Perfect for parties or even just every day enjoyment. Enjoy!
Strawberry Basil Lemonade Recipe + How To Fight Summer Boredom
Ingredients
10 Lemons; fresh squeezed juice
14 strawberries; sliced
Water
6 basil leaves; chopped
1 cup sugar - more if you would like it sweeter
Instructions
Strawberry Basil Lemonade
Makes 1 Pitcher
Squeeze the juice from the lemons and pour into a pitcher. Add strawberries and muddle in the bottom leaving some whole chunks. Pour in sugar.
Add water to fill the pitcher and stir well. Add to glass topped of with a slice of lemon and a strawberry with ice.
https://brooklynactivemama.com/strawberry-basil-lemonade-recipe/
Looking for more lemonade recipes? Check out these 20 Lemonade Recipes For Summer from Taste Of Home!
Do you love lemonade? What is your favorite flavor?
Hi! I'm Nellie. I am a busy mama of three, wife to my high school sweetheart who loves to cook, workout and stay organized! I love to share helpful printables, the best recipes and fitness tips for the modern mom. I strongly believe that every mom can feed their family well, take proper care of themselves and have fun along the way! Read my story.
Get comfortable and be sure to come hang out with me on social. Don't grab your free fitness journal before you go!