Homemade Strawberry Crunch Ice Cream Bars are the perfect summer treat and I am showing you how to make them right at home today!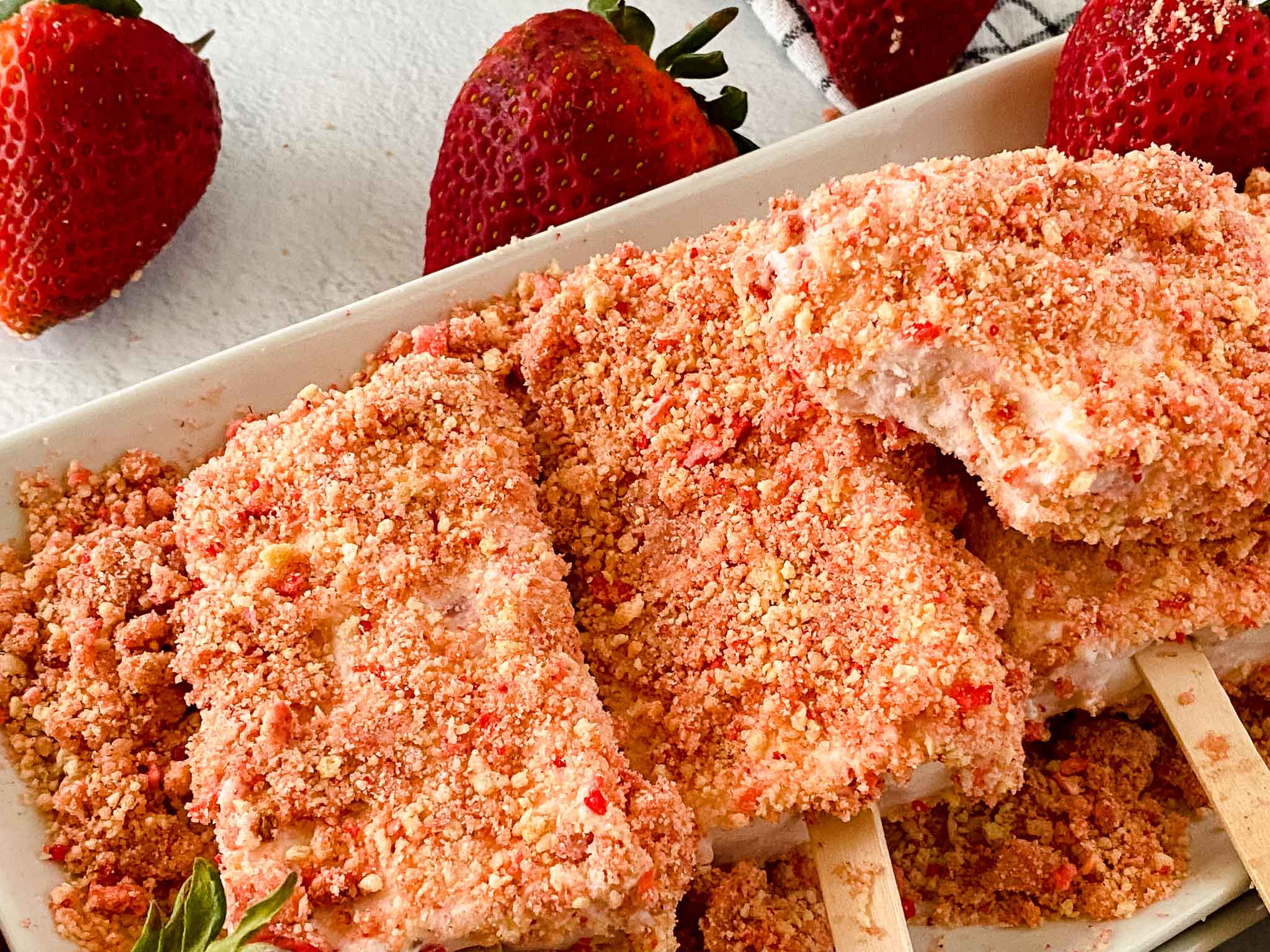 What are Strawberry Crunch Bars?
Strawberry Crunch Bars are a type of shortcake bar. They have a layer of cake, a layer of strawberry filling, and a crumble topping. You can find them premade in stores, or you can make them at home like I am today!
The great thing about making Strawberry Ice Cream Crunch Bars at home is that you can customize them to your liking.
As for the strawberry filling, you can use fresh or frozen strawberries. If using frozen strawberries, be sure to thaw them before using. I like to add a little bit of sugar to my filling, but you can add more or less depending on your preferences.
Finally, the crumble topping is made with a combination of cookies, strawberries and butter.
Now that we know all of the ingredients we need, let's get started on making these Strawberry Crunch Bars!
What ingredients do you need for these Ice Cream bars?
Ingredients for ice cream
2-3 cups fresh strawberries, diced small
2 tablespoons granulated sugar
1 cup heavy whipping cream
1 tbsp vanilla extract
1/3 cup sweetened condensed milk
Ingredients for crumble
2 cups (about 5-6) golden oreos (or any shortbread cookie)
1/2 cup freeze dried strawberries
2 tbsp, unsalted butter, melted
Where can you serve these Strawberry Ice Cream Bars?
These Strawberry Ice Cream Crunch Bars are perfect for any summer party or potluck! If you're looking for a dessert to bring to a cookout, this is the one.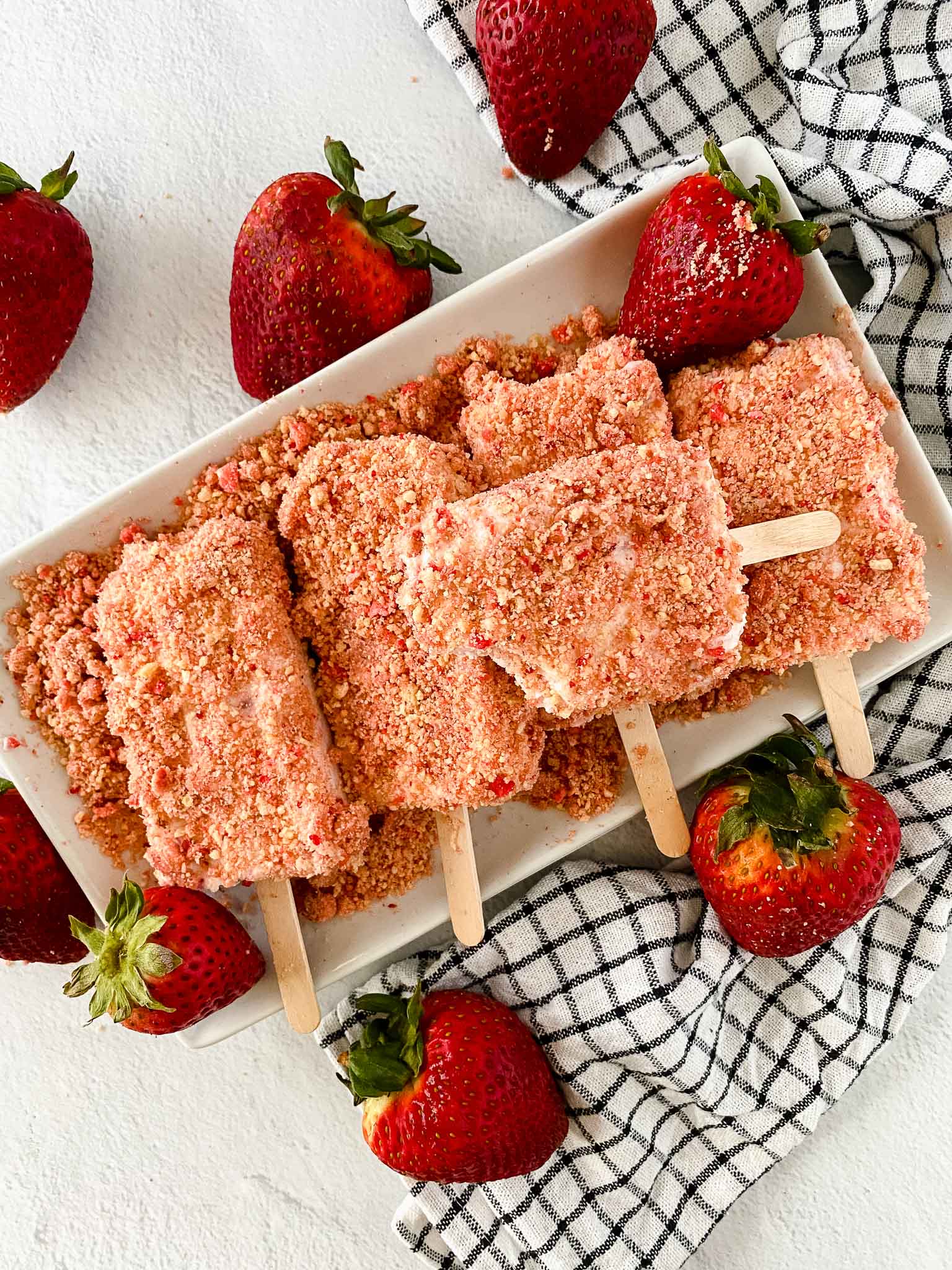 They're also great for a backyard picnic or even just a fun treat to have at home on a hot summer day.
How long do these bars last?
Strawberry Crunch Bars will last in an airtight container in the freezer for up to 2 months. When ready to enjoy, let them thaw on the counter for about 30 minutes before serving.
I hope you enjoy these Strawberry Crunch Bars as much as we do!
Important:
There are TWO freeze times in this recipe, before you get started please keep this in mind.
What equipment do you need for this recipe?
Equipment
Food Processor
Stand Mixer
Popsicle Mold
Measuring cups and spoons
Yield:

6 Bars
The Best Homemade Strawberry Crunch Ice Cream Bars Recipe
Total Time:
8 hours
15 minutes
These classic treats are so good and easy to make at home!
Ingredients
Ingredients for icecream
2-3 cups fresh strawberries, diced small
2 tablespoons granulated sugar
1 cup heavy whipping cream
1 tbsp vanilla extract
1/3 cup sweetened condensed milk
Ingredients for crumble
2 cups (about 5-6) golden oreos (or any shortbread cookie)
1/2 cup freeze dried strawberries
2 tbsp, unsalted butter, melted
Instructions
Add diced strawberries and 2 tablespoons sugar to a blender.
Blend until fully pureed and set aside. (If you don't want seed, strain the mixture and then set aside)
In a stand mixer whip the heavy whipping cream with the whisk attachment. Whip for 4-5 mins until you get a soft peak.
Add in the vanilla and SLOWLY add in the sweetened condense milk while whipping.
Whip until a stiff peak forms (total of about 10 mins)
Fold in half of the puree, careful not to knock out all the air in the whipped cream.
Fold in the remaining.
Using a spoon add the mixture to your popsicle mold. Stick a knife down the center to make sure the ice cream fills the entire cavity.
Tap on a table or countertop before adding the sticks and placing in the freezer.
Freeze for 7-8 hours.
Add the oreos or shortbread/vanilla cookies to a food processor and mix until well blended.
Remove half of the cookies and set aside.
Add in the freeze dried strawberries and mix fully.
Now add the strawberry/cookie mix to the regular cookie crumbles and mix together, add in the melted butter and stir to get all the crumble wet.
Place on a plate or parchment paper.
Remove the ice cream from the freezer and run mold under warm water to loosen it and remove the pops.
Roll the ice cream bars in the crumble. IF the crumble will not stick you can add a tiny bit of water to the pops to adhere
the crumble.
Place into the freezer for 30 mins to set.

Notes
Do not dump in the vanilla and sweetened condensed milk. If you deflate the whipped cream you will need to start over.
If you over mix it, it will curdle.
Strain the puree if you don't want seeds in the ice cream base.
If you want a really sweet ice cream, add 1 additional tablespoon of sugar to the strawberry puree. Do not attempt to sweetened the cream more.
I tried this with a hand mixer and it took 25 mins to whip the cream to stiff peaks, I was done in 10 mins using a stand mixer.
Using a knife helped push the ice cream into the mold without deflating it.
The icecream needs to freeze fully before removing so it comes out in one piece, you can test this by squeezing what will be the top of the bar and see if its frozen solid, this is very important.
Pin it for later!
If you enjoyed this recipe be sure to check out my Instagram Page for the latest posts!
Before you go, check out these great posts!
Easy Little Debbie Nutty Buddy Ice Cream Recipe
Hi! I'm Nellie. I am a busy mama of three, wife to my high school sweetheart who loves to cook, workout and stay organized! I love to share helpful printables, the best recipes and fitness tips for the modern mom. I strongly believe that every mom can feed their family well, take proper care of themselves and have fun along the way! Read my story.
Get comfortable and be sure to come hang out with me on social. Don't grab your free fitness journal before you go!