Since we are all likely spending a lot of time at home this summer, we might at well have some fun doing it!I Today I have a tasty and fun Strawberry Margarita Jello Shots Recipe that is perfect for a fun night at home, or even a late night party with your spouse once the kids are asleep! 🙂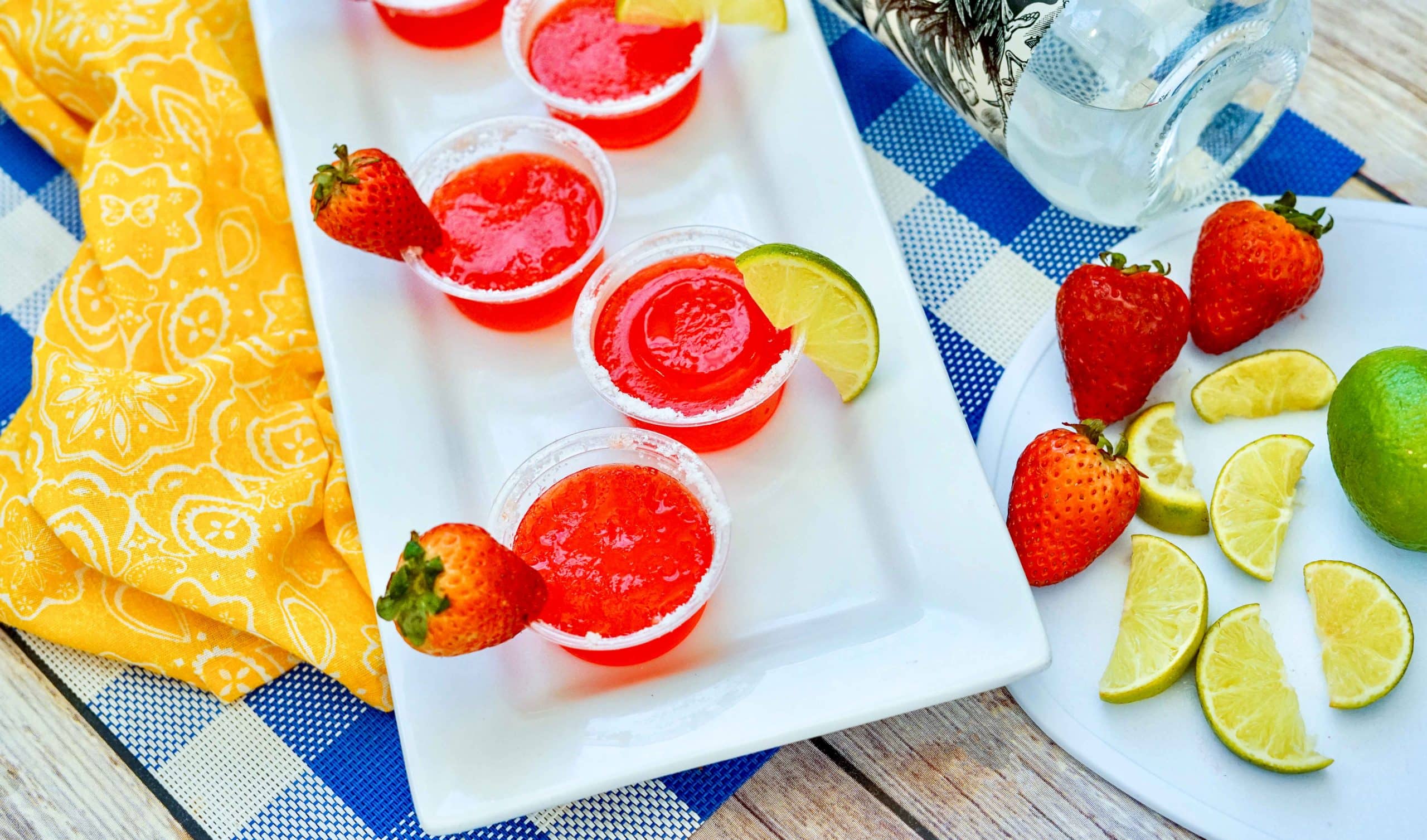 Jello shots are something I simply didn't do in college or before even just a few years ago. I used to see and hear about these fun and simple spiked jello treats from my friends, but somehow never quite got around to trying one.
What are strawberry margarita jello shots?
They are a fun and festive way to enjoy a classic margarita flavor in jiggly form! These jello shots are made with tequila, lime juice, triple sec and strawberry gelatin mix. The tartness of the limes combined with the sweetness of the strawberries make for a delicious treat that's perfect for any occasion.
They can be enjoyed by themselves, or with a side of chips and guacamole. You can even add some extra garnishes such as fresh strawberries or a splash of lime juice for an even more festive experience.
Strawberry margarita jello shots make it easy to enjoy the classic margarita flavor without all the hassle – just mix, chill and serve! So grab your friends and get ready to have some fun – it's time for strawberry margarita jello shots!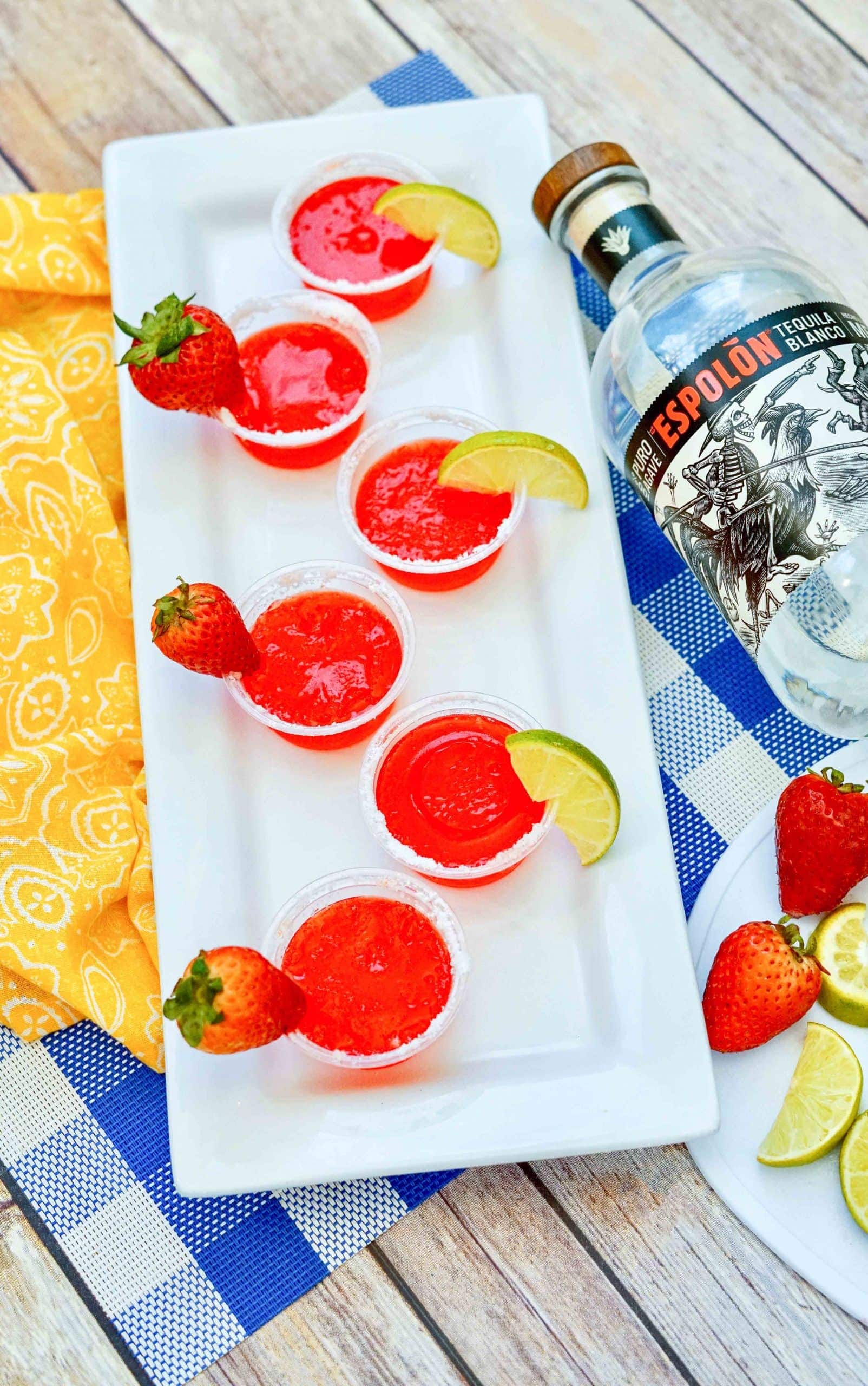 Where can you serve these yummy adult treats?
These strawberry margarita jello shots are perfect for adding a little pizazz to any get together. Serve them at your next brunch, happy hour, or even a baby shower.
They also make great desserts and can easily be made ahead of time so you won't have to worry about making last minute preparations. So whatever the occasion, make sure to grab your ingredients and get ready to enjoy some delicious strawberry margarita jello shots!
What are other delicious variations of jello shots?
If you're looking for more flavor options, there are plenty of other tasty takes on jello shots. You can opt for a classic vodka jello shot or mix it up with a cosmopolitan-flavored version. You can also get creative and try out flavors like piña colada, mojito, or even a bloody mary.
The possibilities are endless! You can also play around with different types of alcohols such as rum, gin and whiskey. No matter what type of jello shot you decide to make, there's sure to be a hit for everyone. So get creative and have some fun with these tasty adult treats!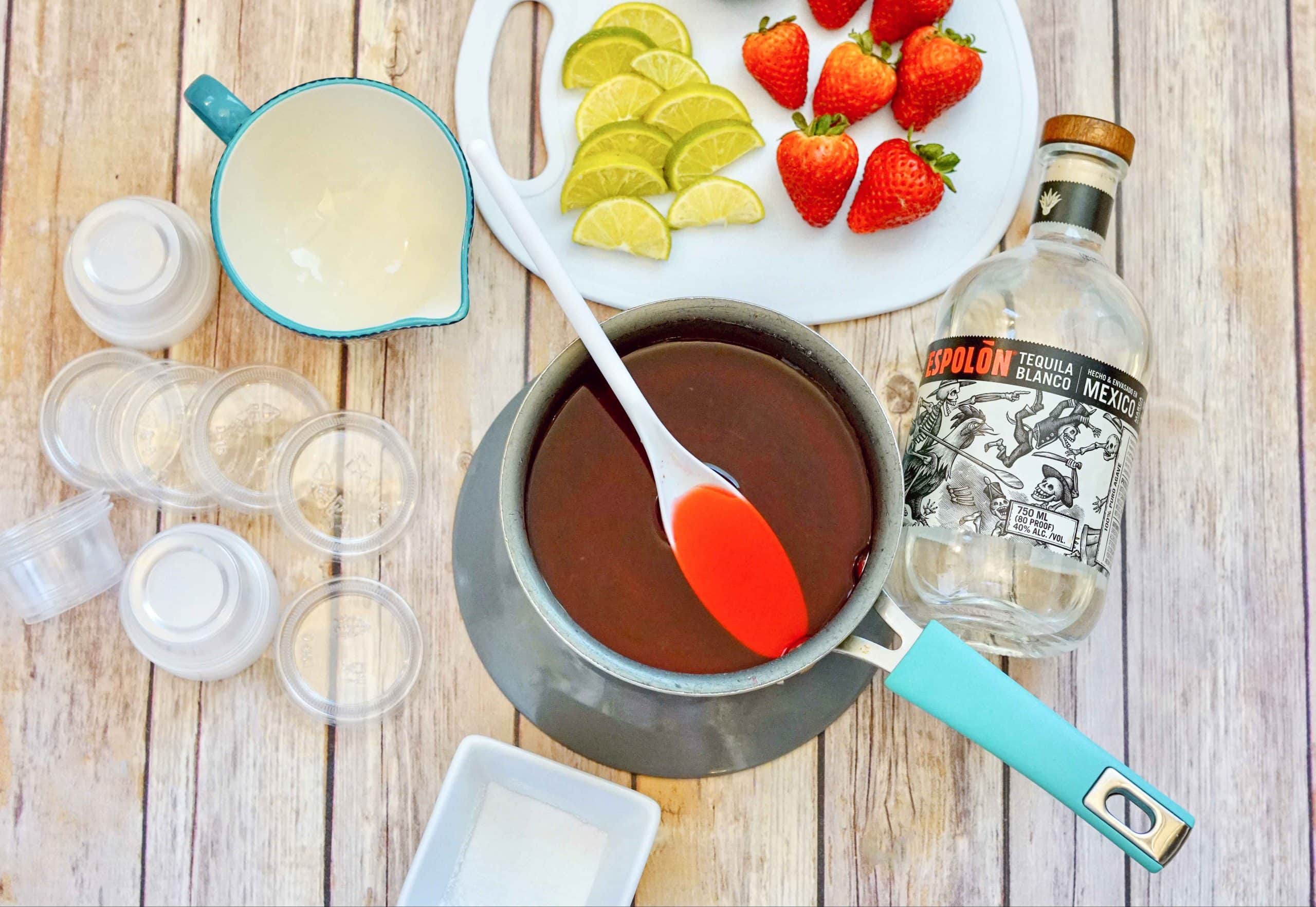 I mean, at the end of the day, I like to *see* my alcohol if that makes any sense? Then I realized, it totally doesn't. It's just like having a daiquiri or a frozen drink, the jello is a bit more solid but it's still a fun way to mix things up.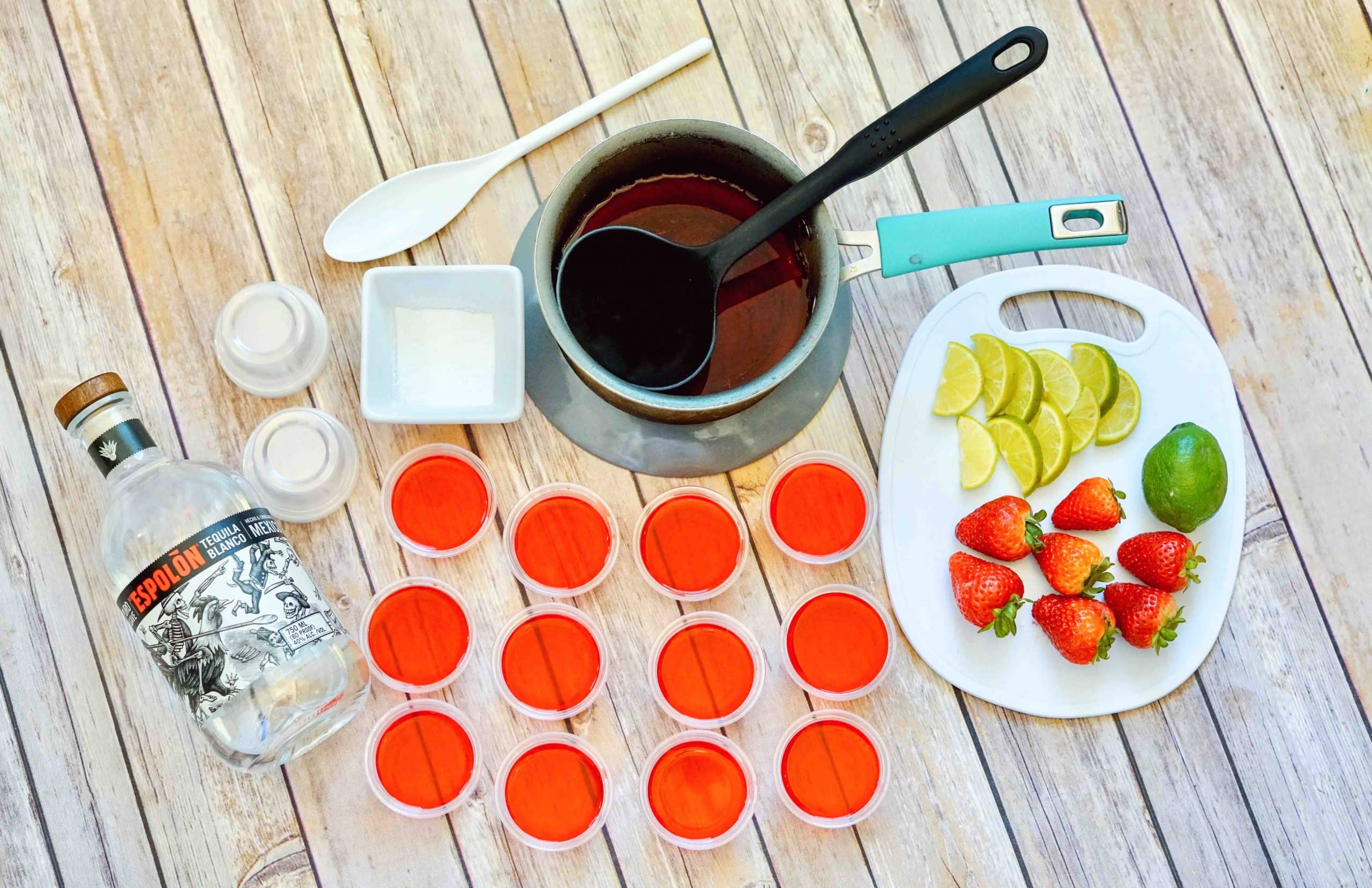 The fun thing about these strawberry margarita jello shots is that they look so pretty. The bright red color of the jello, the salted rim=perfection!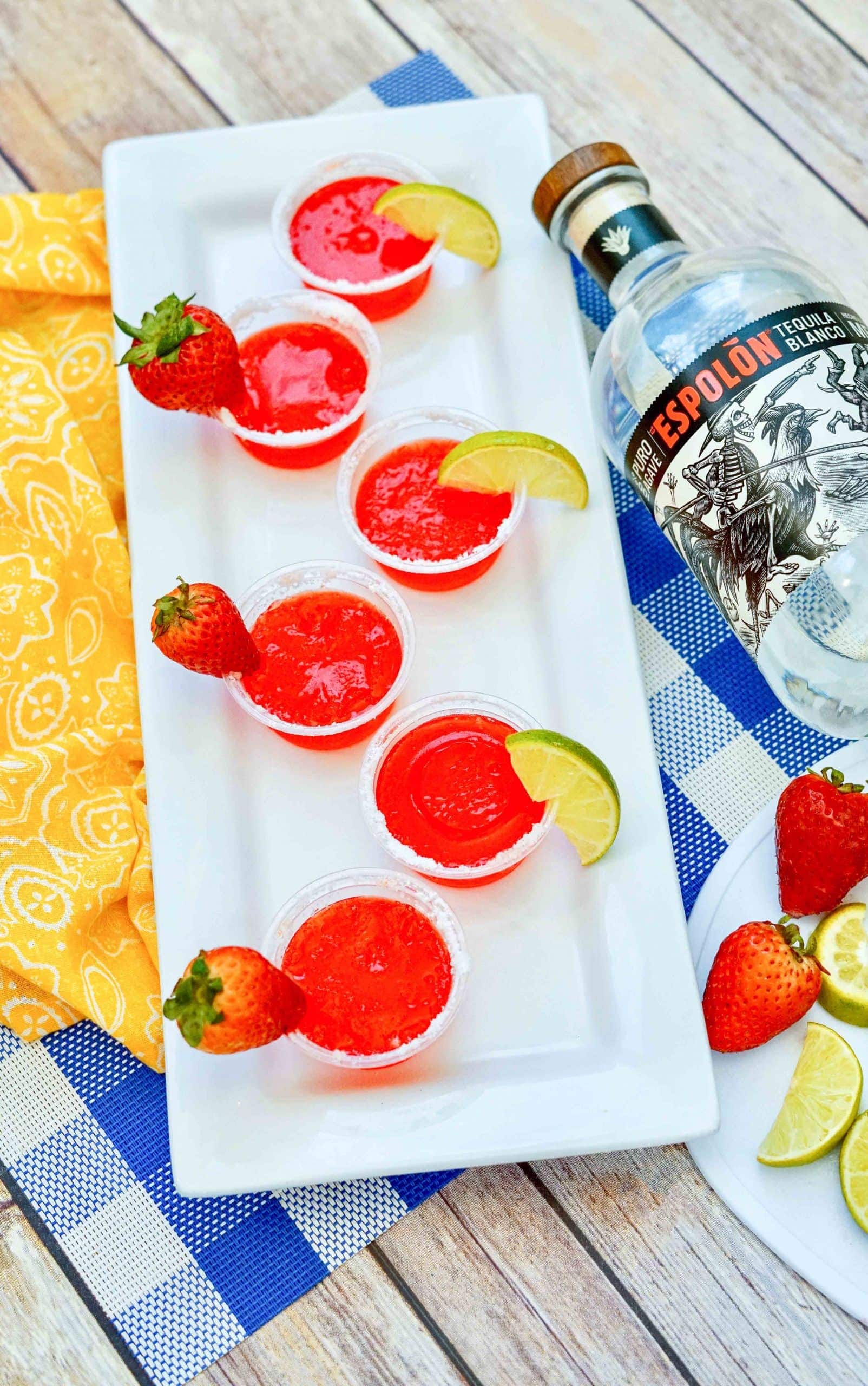 Once we all start meeting together again (some of you have already been cleared to do so!) in large gatherings like BBQs, and other parties, these are a super tasty treat for your guests. Who wants to nurse a drink all night when you can take one of these?
Related: Strawberry Watermelon Daiquiri Recipe
What ingredients do you need for these strawberry jello shot cups?
Strawberry Jello Packet
1 Cup of Water
1 Cup of Tequila
Salt
Condiment Plastic Cups
Strawberries & small wedges of Limes for Garnish
Personally, one of my favorite thing to do is grab tacos and margaritas, I mean–I truly can't tell you how much I love it. This recipe would be awesome for your next taco Tuesday night, or even a cinco de mayo type of event.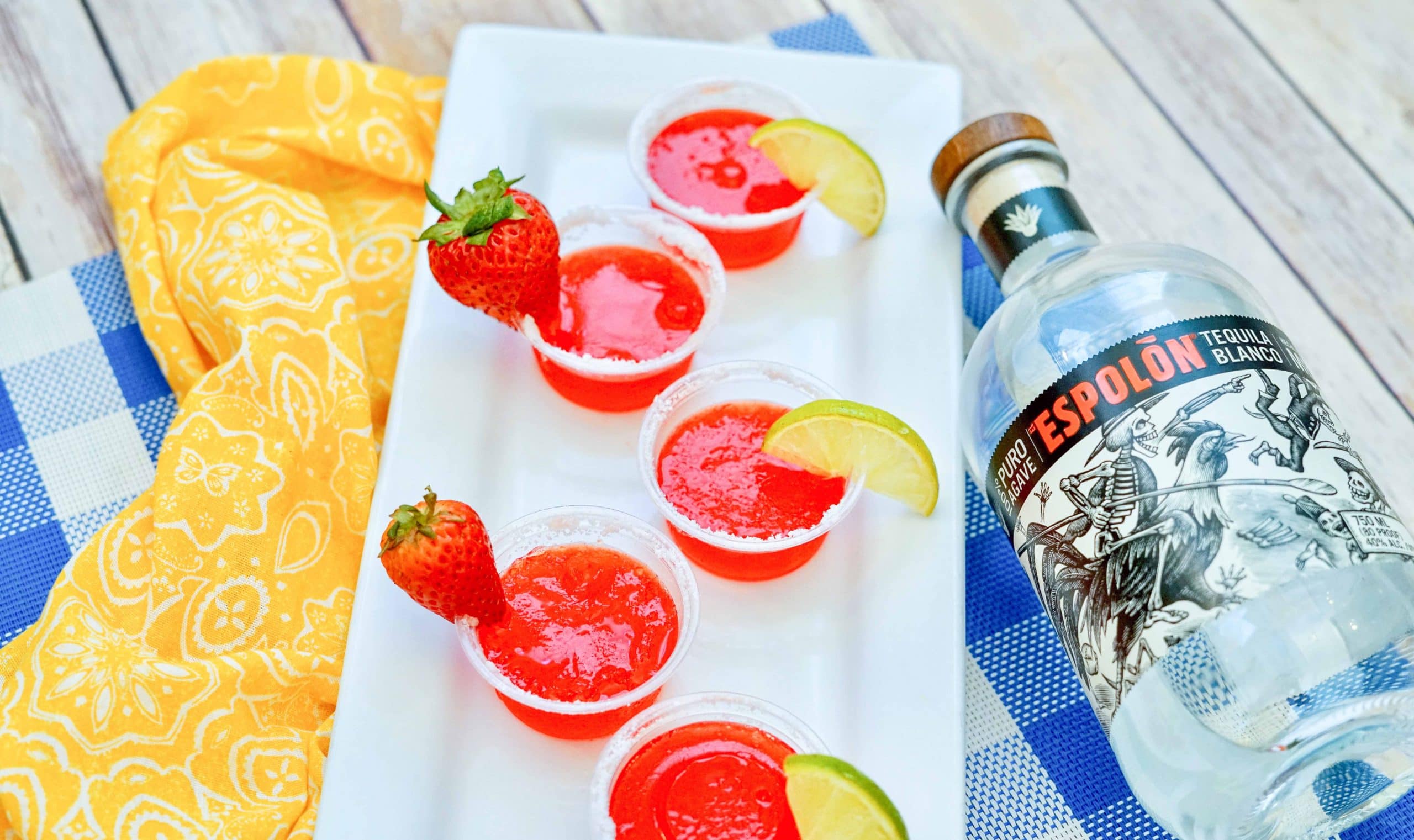 So grab your condiment cups, jello mixture and for the best jello shot recipe! You can even line the rim of the cup with margarita salt or some more fun!
These fun jello shots with a small lime slice and a salted rim are so great for the fourth of July! These margarita tequila jello shots are awesome and are the perfect size for pool parties.
Grab the recipe below for these strawberry lime margarita jello shots and impress your party guests! These strong jello shots have a nice sugar-lime zest and your next party will be better if you include these fun treats! Simple ingredients from the grocery store will make these strawberry jello shots a huge hit.
Looking for some more fun jello shots recipes? Try these!
Yield:

15-20 individual shots
Strawberry Margarita Jello Shots
Total Time:
4 hours
10 minutes
Super easy and fun strawberry margarita jello shots perfect for your next party or get together!
Ingredients
Strawberry Jello
1 Cup Water
1 Cup Tequila
Salt
Condiment Plastic Cups
Strawberries & Limes for Garnish
Instructions
Boil 1 cup of water.
Once water is boiling, pour in the strawberry Jello.
Mix well.
Pour in 1 cup tequila.
Mix well.
Pour into condiment cups.
Place in the refrigerator for several hours or until jello is solid.
Once jello is solid, cover the cup edges with salt.
Garnish with strawberries & limes & enjoy!
Pin it for later!
If you enjoyed this recipe be sure to check out my Instagram Page for the latest posts!
Before you go, check out these great posts!
27 Easy Mixed Drinks That You Can Make At Home
The Best Party Appetizers For Entertaining
The Best Milkshake and Floats Recipes
Hi! I'm Nellie. I am a busy mama of three, wife to my high school sweetheart who loves to cook, workout and stay organized! I love to share helpful printables, the best recipes and fitness tips for the modern mom. I strongly believe that every mom can feed their family well, take proper care of themselves and have fun along the way! Read my story.
Get comfortable and be sure to come hang out with me on social. Don't grab your free fitness journal before you go!