What better way to end the year than by helping to take care of yourself and/or loved ones? The holidays can be a stressful time between the holiday parties, decorating and so many other things that we have on our plate. Here is a Self Care and Wellness Gift Guide filled with products to help you relax and take care of yourself first.
(affiliate links below)
1. Healthyish: A Cookbook with Seriously Satisfying, Truly Simple, Good-For-You (but not too Good-For-You), Lindsay Maitland Hunt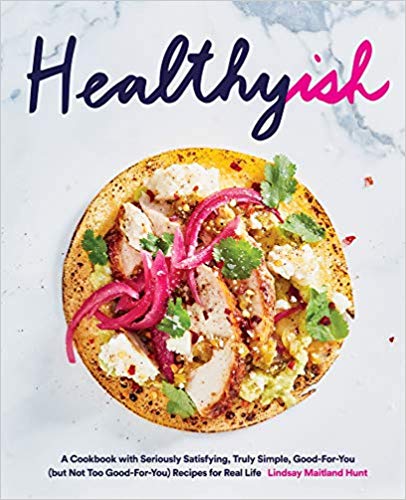 Healthyish is recipe developer Lindsay Maitland Hunt's totally doable, delicious, and dead-simple cookbook, helping us to eat how we all want to eat—healthy, but with an occasional bit of decadence.
Lindsay Maitland Hunt is an expert recipe developer who has created recipes for everyone from college students to busy families to seasoned home cooks. Now, she brings her trademark skillset to her debut cookbook, Healthyish.
For anyone on the move, working long hours, and trying to eat a bit more healthfully, Healthyish offers 131 satisfying recipes with straightforward instructions, using as few pots and pans as possible, and ingredients that won't break the bank. Not to mention, you can find the ingredients at your everyday grocery store (no garam masala or açai berries here!).
Emphasizing balanced eating rather than fad diet tricks, Hunt includes guilt-free recipes for every meal of the day, from breakfast to snacks to dinner, and yes, even Healthyish treats, such as:
Banana–Avocado Chai Shake
Peanut Butter Granola
Salty Watermelon, Feta, Mint, and Avocado Salad
Miso–Butter Toast with a Nine-Minute Egg
Pozole with Pinto Beans and Queso Fresco
Spiced Chicken and Chickpea Flatbreads with Cucumber–Dill Tzatziki
Single-Serving Chocolate and Peanut Butter Cookie
2. Pure Copper Ayurvedic Water Bottle
Pure Copper Bottle – Height: 10.8 INCH, Width / Diameter: 2.8″, Capacity: 950 ML

Feel amazing from the ayurvedic benefits of copper!

The vessel is not polished, lacquered or coated with anything at all. Just pure copper.

Care Instructions: Fill the bottle with tap water and squeeze half of a lemon, also add 1 tbsp of salt as well in it. Wait for fifteen minutes then clean the bottle with a bottle cleaning brush, shake well and rise the bottle. Do same process on outer surface, Please do not use scrub to clean the bottle in order to avoid chipping of the copper.

Made in India
3. 100% Eco Friendly Cork Rubber Cork Yoga Mat, Satori Concept
100% ECO-FRIENDLY & SUSTAINABLE PREMIUM MATERIALS — Each of our cork and rubber yoga mat is made from 100% all-natural, sustainably sourced organic cork and recyclable rubber. With no PVC's, TPE's, toxic glues, silicone, phthalates or other harmful chemicals, it's 100% non-toxic to help save Mother Nature
IDEAL COMBINATION OF THICKNESS & WEIGHT — Satori Concept's innovation created the perfect combination of the ideal thickness of 4mm with a weight of only 2.5kg. This makes it significantly durable yet lighter than most extra-large yoga mats. This is one of the most portable anti-slip travel yoga mats to conveniently carry around all day.
PERFECT SIZE FOR ALL YOGIS AND ATHLETES — Innovatively designed to be extra large, extra wide, and extra thick, our yoga mats are perfect for all yogis and athletes. Whether you need an outdoor mat, rubber mat, hot yoga mat, fitness mat, Pilates mat for Ashtanga, Vinyasa, Bikram or any exercise, it's perfect for anything, anytime, and anywhere.
4. Ultrasonic Portable Essential Oil Diffuser, ASAKUKI
5-IN-1 AROMATHERAPY DEVICE: This ultrasonic essential oil diffuser is an amazing multifunction aromatherapy device unlike any other you've ever used. It features a large and easy to clean 100ml water tank, 7 different LED light colors, multiple mist diffuse modes, as well as a safety auto-switch that prevents it from overheating in case it runs out of water.
GREATLY IMPROVES LIVING SPACE: Besides its uses in aromatherapy, this essential oil diffuser also functions as a humidifier. Use it to improve your home atmosphere quality, cover the smell of pets or smoking, and protect you family from excessively dry air, microorganisms, allergens, dust, and more!
PREMIUM QUALITY MATERIALS: When it comes to our premium essential oil diffusers, we make a point of using nothing but the same ultra-high grade, safe, and eco-friendly PP materials baby bottles are made from, as well as state-of-the-art production processes and strict quality control.
5. 100% Pure Wellness Essential Oil Blend Set,
NATURAL HEALING POWERS! These antimicrobial and antioxidant blends are designed to boost immunity, improve health, relief migraine and sinus, and support the body's natural defenses. It has a fresh medicinal, floral aroma that soothes the body and mind! The Wellness set will help fight off colds as well as congestion, coughing, and headaches. You will love these blends! It will make you feel healthy, anti-bacteria, and germ-free. In addition, it will make your home be free of any germs/colds!

6. Bento Box Bundle with FREE Lunch Bag, Meal prep, BentoHeaven
EAT SAFE HEALTHY MEALS ANYWHERE: reusable, airtight, leak proof bento box containers made of food grade BPA-FREE materials keep your meals fresh and mess free by preventing any spills leaks or smells in your bag. Great bento box ideas for lunch box portion control and special diet by keeping food separated.
7. Multi-Use Beverage Tumbler & Travel Mug, Loose Leaf Tea/Fruit Infuser, Tea Efficiency
BREW YOUR FAVORITE BEVERAGE WITH EASE: Our product has an easily to install and removable two-piece strainer and steeper basket; Steep your favorite loose-leaf tea in an enclosed mesh basket and drink directly from the bottle without getting tea leaves stuck in your mouth or use only the strainer to quickly enjoy fruit infused water or take out both the strainer and steeper and use the bottle as a coffee mug.
8. Organic Tea Sampler, Caffeine-Free Loose Leaf Tea, DAVIDs TEA
ORGANIC LOOSE LEAF TEA SAMPLER: This tea gift set comes with a carefully curated selection of 12 caffeine-free herbal teas. Each loose leaf tea comes packed in clear-topped tins so you can see all the amazing ingredients in your blend. Every tin holds enough to make approximately 1-2 cups of tea. All you need to do is scoop, steep, sip and get swept away.
9. The 6-Minute Diary More Mindfulness, Happiness and Productivity | A Simple and Effective
Gratitude Journal, UrBestSelf
PRACTICE DAILY GRATITUDE & SPREAD IT – Want to feel good? Train to be in charge of your thought patterns in an easy and structured way. This journal for women and men is A PRICELESS PRESENT for yourself and/or your beloved ones made of high quality & eco-friendly materials.
10. Fitness Tracker for Women Activity Watch, Heart Rate; Sleep Monitor Compatible with Android
and iOS, ZKCREATION
This fitness tracker monitors dynamic heart rate , uploading the real time data of heartbeats to phone app "Smart Wristband".Need to download the app and connect the watch to the phone via the app. Also support automatic sleep monitoring , it records deep , light , awake time and whole sleep time . All health data show as a chart , clearly acknowledge your physical fitness status at whole day.
Hopefully you have found something on this list for yourself or someone that could use a little extra self care in their lives!!
Hi! I'm Nellie. I am a busy mama of three, wife to my high school sweetheart who loves to cook, workout and stay organized! I love to share helpful printables, the best recipes and fitness tips for the modern mom. I strongly believe that every mom can feed their family well, take proper care of themselves and have fun along the way! Read my story.
Get comfortable and be sure to come hang out with me on social. Don't grab your free fitness journal before you go!