When you think about fall, do you think about pumpkin spice? I definitely do. I associate the cooler post summer months with pumpkin everything! I love a themed cupcake, so today I've got some awesome pumpkin spice latte cupcakes that you will enjoy!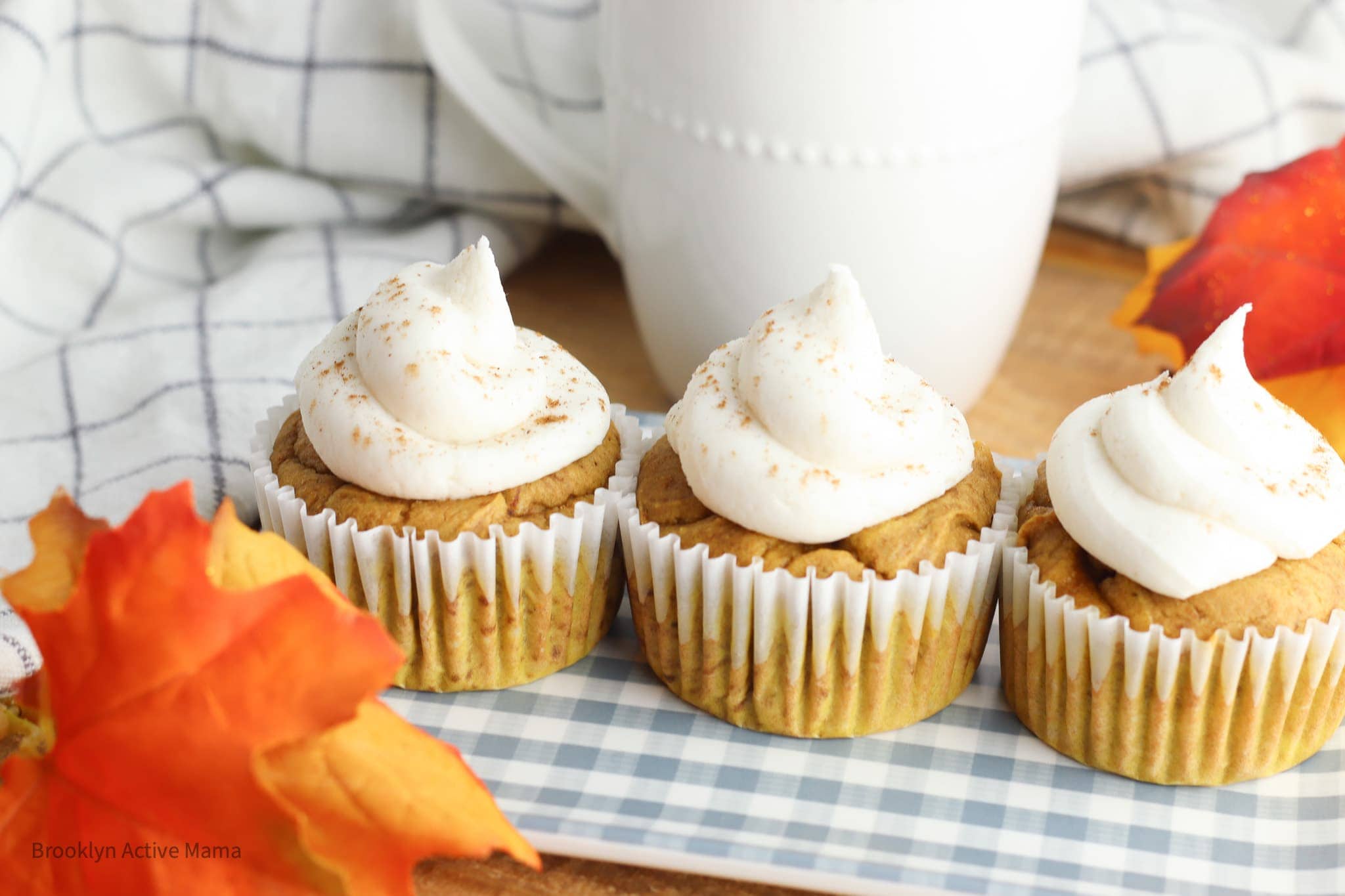 Pumpkin Spice Everything
There are so many ways to use pumpkin, like in this awesome Pumpkin Baked Oatmeal Recipe that is the perfect fall breakfast! It's super versatile, and it can be put in many different dishes.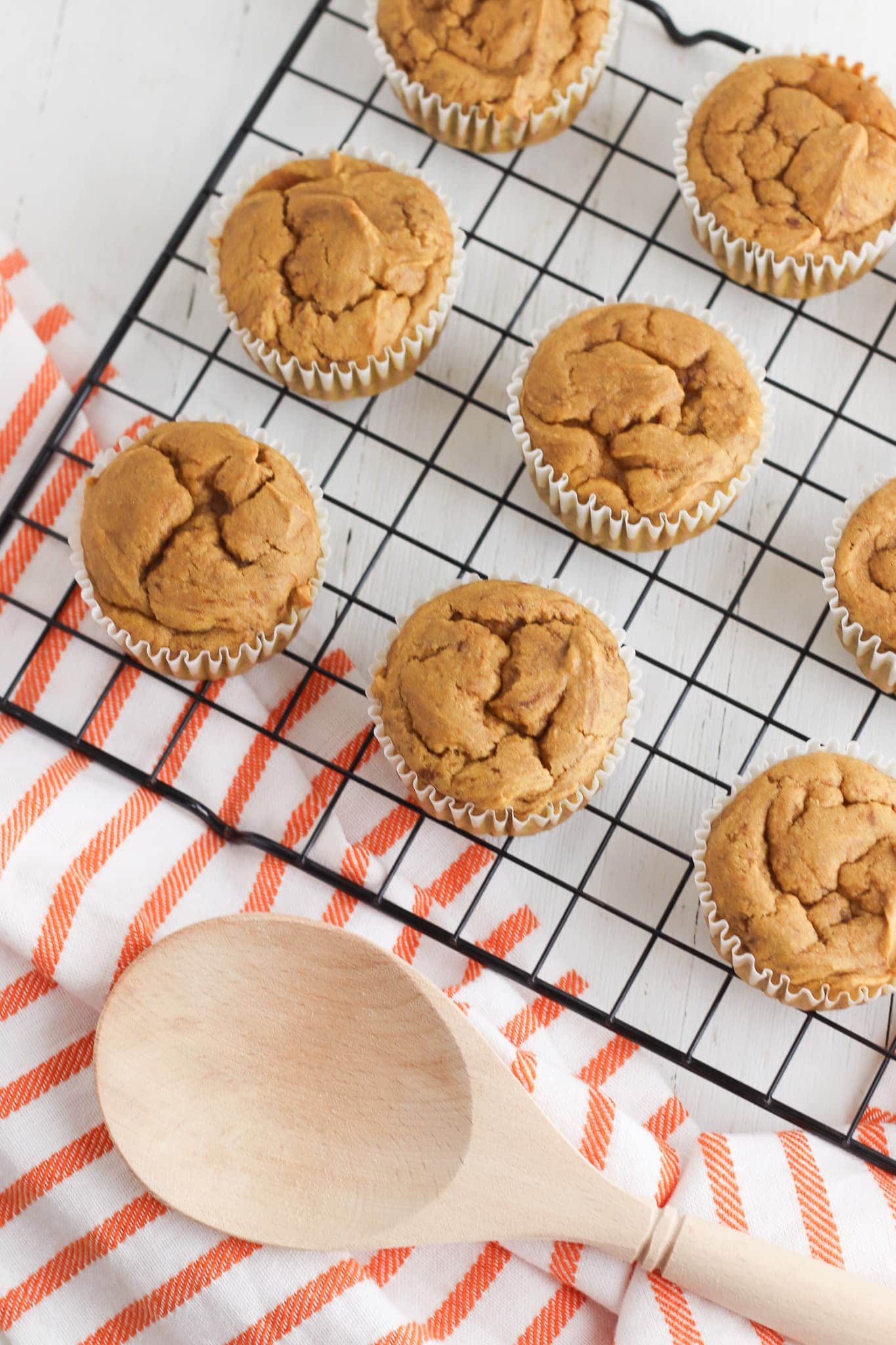 The Pumpkin Spice Latte, made popular by Starbucks, often starts selling by the end of September! It's the way that I know it's back to school time because my social media is going crazy with pictures of little brown cups filled with pumpkin spice lattes.
Related: 50 Healthy Pumpkin Recipes You Need In Your Life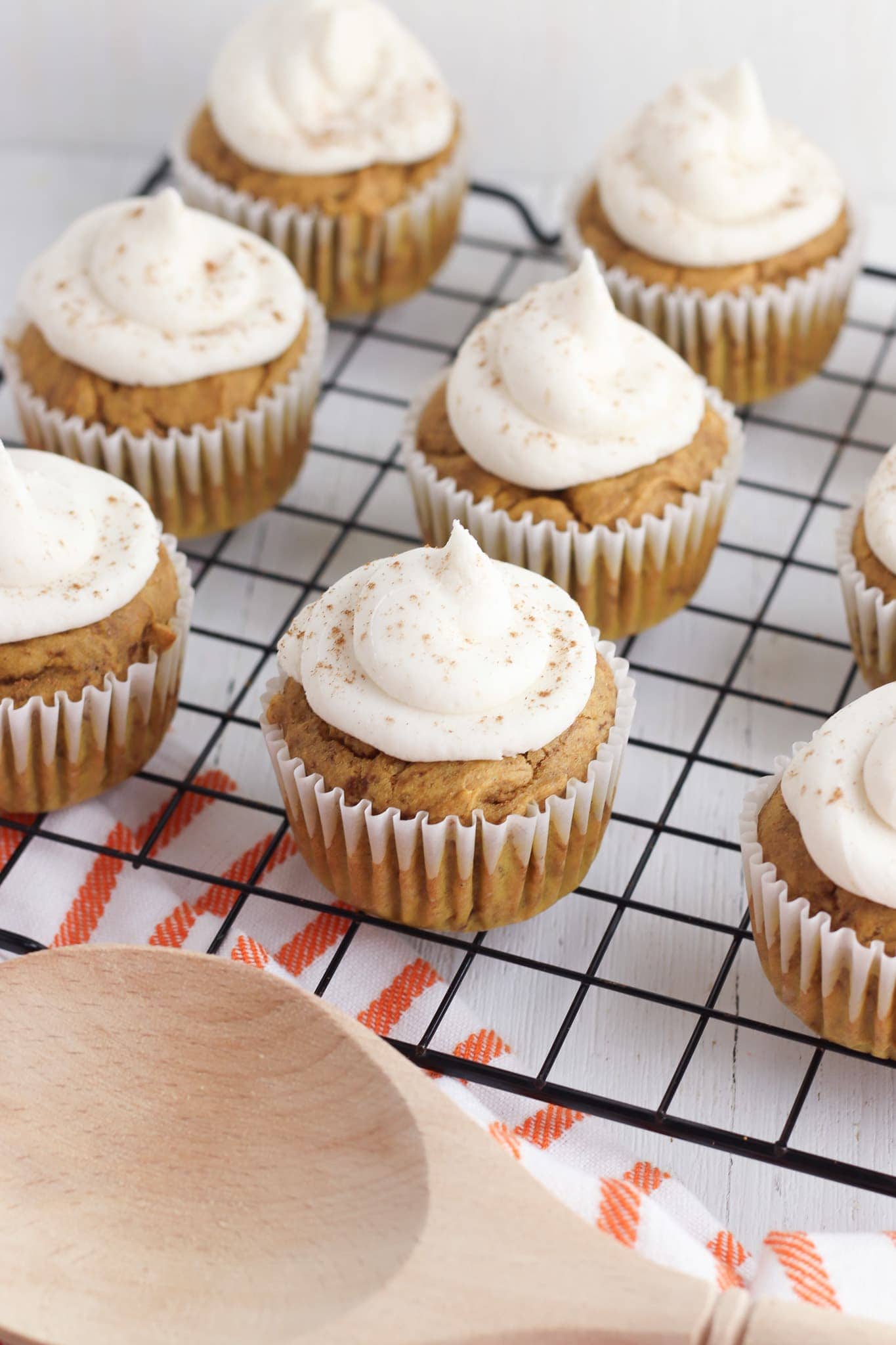 PSL Cupcakes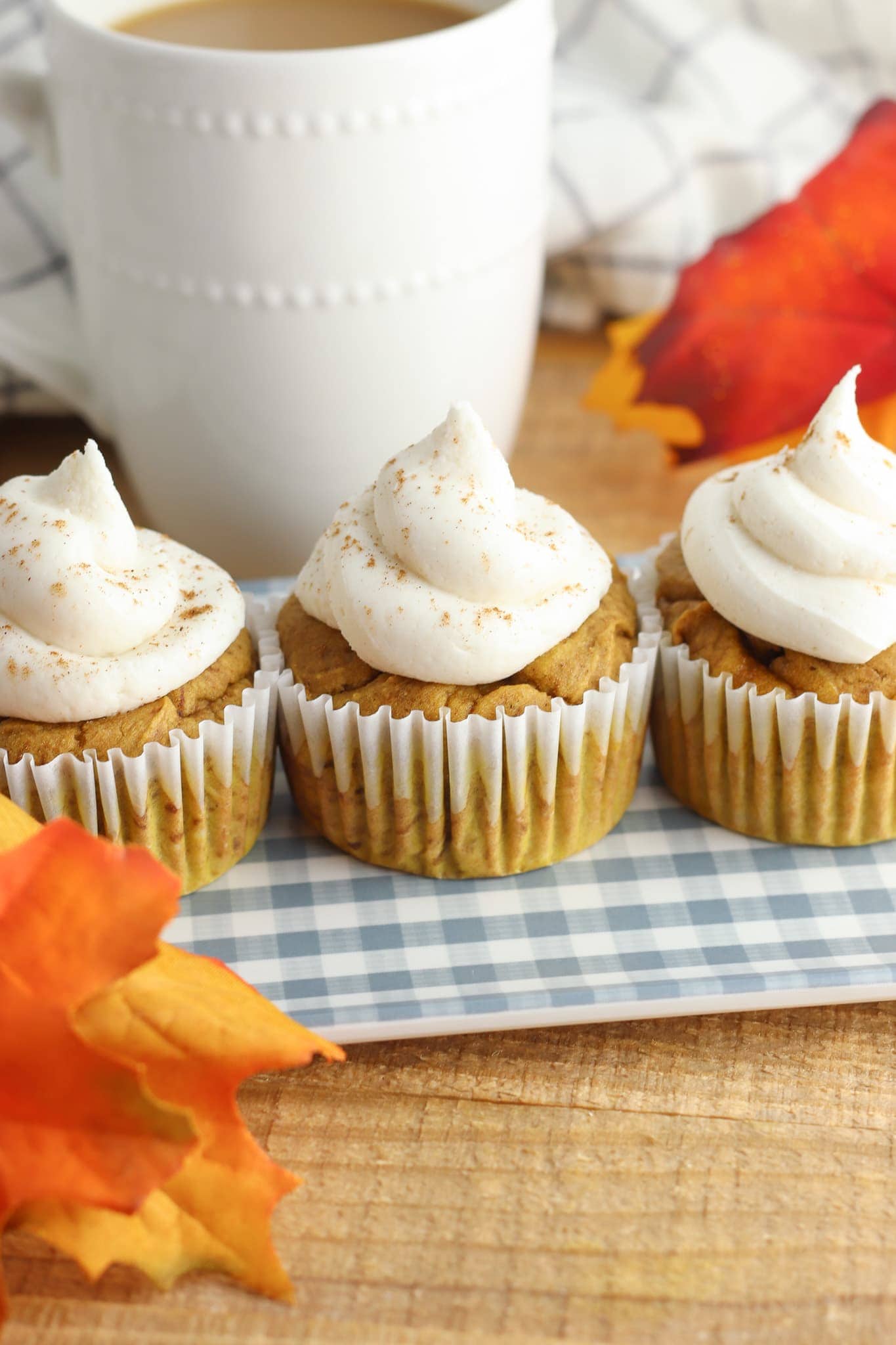 Today I've got a fun pumpkin spice latte recipe that the whole family can enjoy! If you are like me and love to bake especially when the temperatures turn a little cooler, this recipe is super easy and gives you a fix even when you can't get to your local coffee shop!
Related: Easy Instant Pot Pumpkin Apple Cider + Frugal Gifts For Mom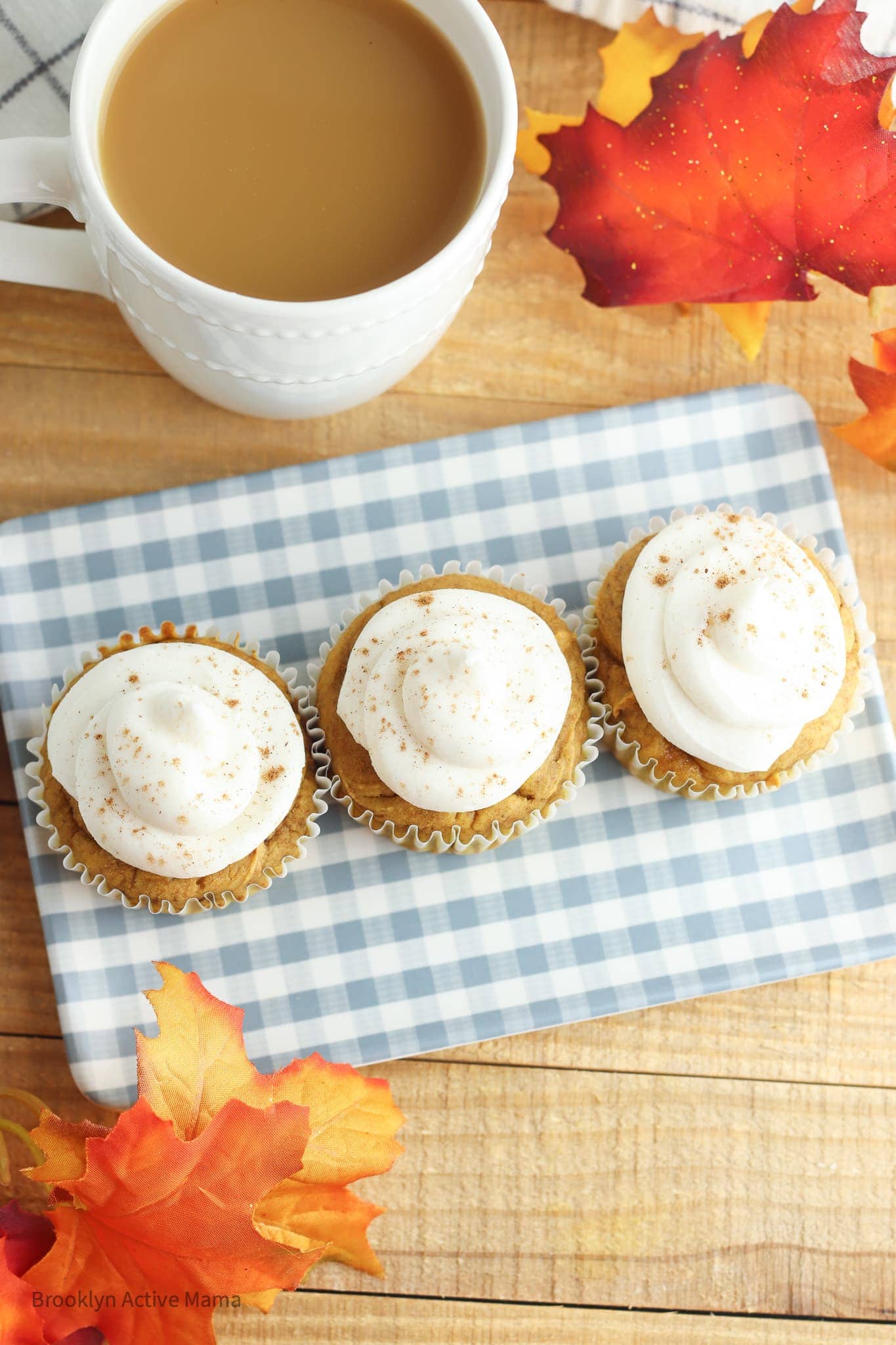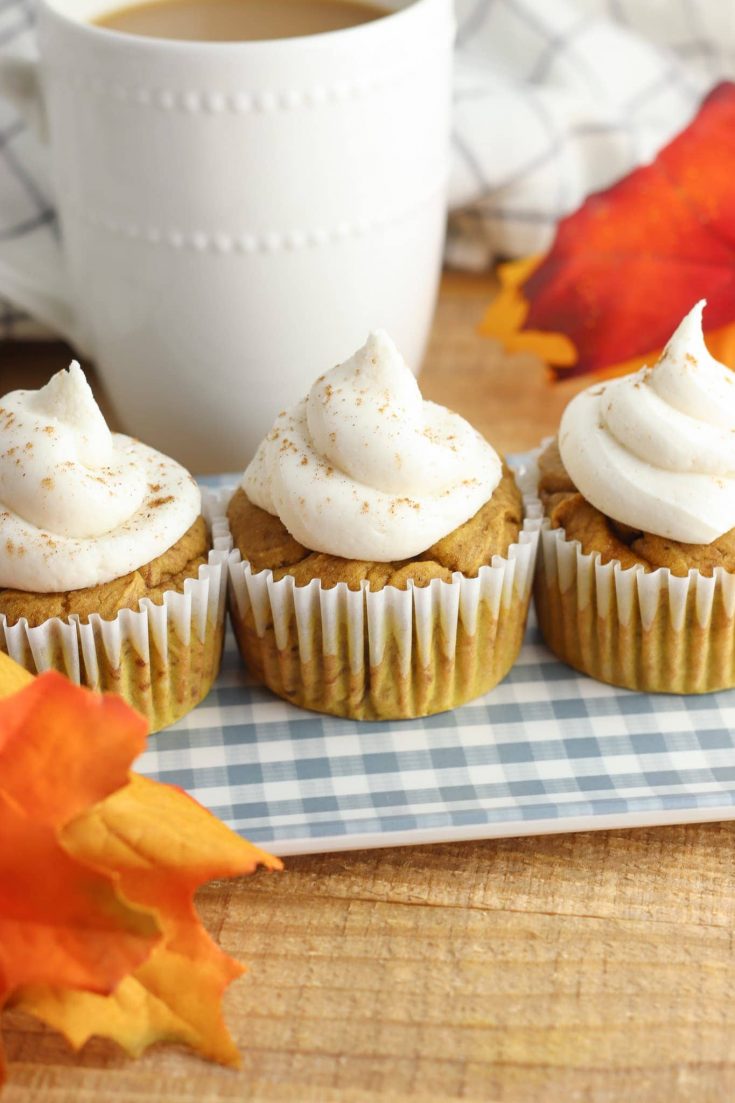 Yield: 24 cupcakes
Pumpkin Spice Latte Cupcakes
Prep Time: 15 minutes

Cook Time: 22 minutes

Total Time: 37 minutes

Get your pumpkin spice fix with these fun fall themed cupcakes!
Ingredients
2 sticks (1 cup) butter, softened to room temperature
1 cup brown sugar, packed
1 cup sugar
1 teaspoon vanilla extract
4 eggs
1 15-ounce can pumpkin puree
3 cups flour
2 teaspoon baking powder
1 teaspoon pumpkin pie spice
½ teaspoon ground cinnamon
½ teaspoon baking soda
¼ teaspoon salt
¾ cup milk
2 tablespoons instant espresso powder
For the Icing:
2 sticks (1 cup) butter, softened to room temperature
5 cups powdered sugar
½ teaspoon vanilla extract
¼ cup pumpkin spice coffee creamer
Instructions
Preheat oven to 350 degrees and line a cupcake pan with paper liners
In a large bowl, beat together the butters and sugars until light and fluffy. Add the vanilla.
Add the eggs, one at a time, beating between each addition.
Add the pumpkin and mix until well combined.
In a separate bowl, whisk together the flour, baking powder, pumpkin pie spice, cinnamon, baking soda, and salt.
Add 1/3 of the dry mixture to the pumpkin mixture and mix until combined. Pour in half the milk and mix again. Add another 1/3 of the flour mixture and beat until combined. Pour in the remaining milk and beat again. Add the remaining flour and mix until combined.
Pour the espresso powder into the batter and mix until combined.
Spoon an even amount of batter into each of the cupcake liners and bake in the preheated oven for 18 to 22 minutes, until a toothpick inserted into the cupcakes comes out clean.
Allow the cupcakes to cool for a few minutes in the pan, then transfer them to a wire cooling rack to cool completely.
To make the icing, beat together the butter, powdered sugar, vanilla, and coffee creamer until well combined. Pipe the mixture on top of each cooled cupcake and sprinkle a small amount of pumpkin pie spice over the top of the cupcakes before serving.
Nutrition Information
Yield
24
Serving Size
1
Amount Per Serving Calories 237Total Fat 1gSaturated Fat 0gTrans Fat 0gUnsaturated Fat 1gCholesterol 32mgSodium 110mgCarbohydrates 54gFiber 1gSugar 40gProtein 3g